An Aussie battler come good
Having enjoyed doing some TV commentary at the Australian Open, I'm used to the way I hear myself described.
In the media, they love to say, 'He's an Aussie battler.'
That irked me a little bit to begin with.
Just like it annoys me when I hear someone like David Ferrer called a journeyman. The guy's unbelievable. He's been top three in the world, made tens of millions of dollars and I don't see him as a journeyman; it's just because he's maybe not as splashy as some of our top names.
But I've now actually started to embrace the term battler when I'm coming on the court.
I've come to respect that a lot more, because I think it means that I've handled adversity and I've come out the other side of it.
The Aussie battler who's come good.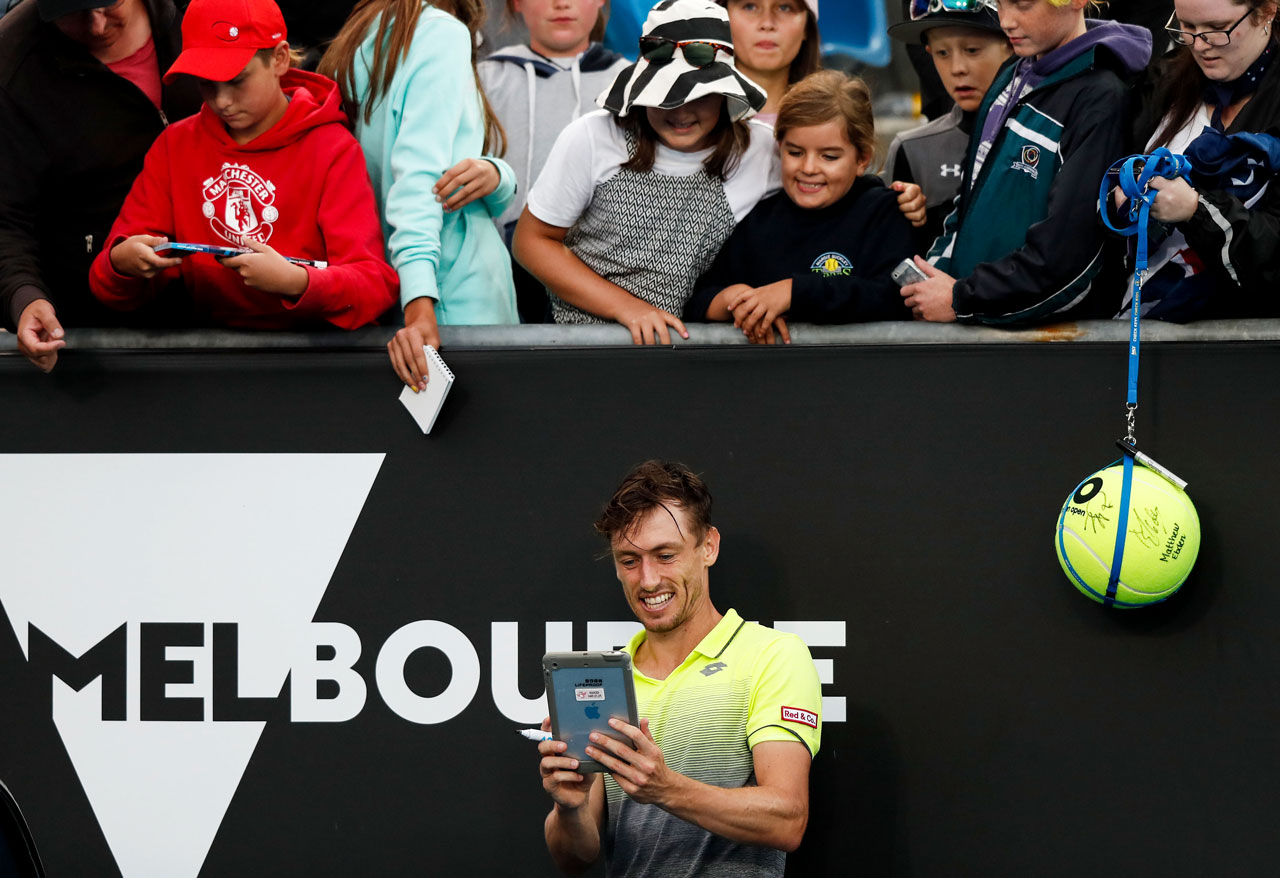 THE REASON WE DO THIS
This is why you work so hard – to be able to play in main draws in these types of tournaments, and, for me, it hasn't always come easy.
Being here is so important. Not just because it gives you that little bit of motivation during those times when you're not quite at the mark, but because it's such a privilege just to be able to do this, and to travel, which is a luxury for so many people.
From a financial point of view, playing in the slams allows you to manage the year properly, and to be able to make this tennis life work.
You'd be lying if you said the money didn't matter. That's why the ATP is fighting for a greater share of revenue at the majors: we need more players to be able to make a good living from the game. At the lower levels, so many guys are really struggling.
At the other end of the scale, it's easy to lose perspective, and time spent away from tennis can really help it sink in how lucky we are just to be competing on this stage. Thousands and thousands of people travel from all over the world to watch the Australian Open. We get to play here, and for every one who does there are thousands who tried and haven't been able to. That's pretty special.
Time away from doing this has really changed that perspective for me. I'll never take a grand slam for granted. I'll never take just being able to take playing tennis for granted, but especially at these types of tournaments, because these will be the moments that you miss the most. The moments that are the most special and the ones that you'll look back on.
So hopefully your mind will take a bit of a snapshot and you can remember it for a long time.
I played Bernie Tomic on the Saturday night on Rod Laver Arena in 2016.
I'd hit on RLA a fair few times before but that was the first time I'd played on it. It's named after one of our most iconic players, and a Queenslander, and that's very important for me. It's not something I'll ever forget.
THE ANGRY TUK-TUK DRIVER
Selfishness. It's the nature of the sport, really.
It's so hard to maintain relationships. I travel 10-and-a-half months a year, and that's tough. On my family, my friends, my girlfriend – yeah, its extremely challenging for everyone. It's not just a sacrifice for me, it's a sacrifice for them.
To succeed in this sport you do have to be a little bit selfish, but it's not the same as being disrespectful, and I think some tennis players are not as appreciative as they should be for all the help that they get.
You go back to that little kid inside you when you first started travelling. I was 18, and I had to do an apprenticeship. I wasn't good enough to go from being a junior to being top 100 within one or two years.
I'm the first to say my game wasn't ready, and I wasn't mature enough or good enough, but they're some of my best memories of tennis. 
You're a lot more bright-eyed and a little bit more open to the whole journey. It was tough, you'd be sleeping on floors of train stations and airports and literally playing just so you can afford to get a flight out of wherever you were. 
I've now actually started to embrace the term battler. I've come to respect that a lot more, because I think it means that I've handled adversity and I've come out the other side of it.
It was an adventure. You felt like Indiana Jones out there. It's easy to forget about that when you get to this level and everything's being given to you.
A lot of the really funny moments have come from the Indiana Jones days. A few years ago at a Futures event in Korea, I was with Matt Barton on a night when we just couldn't stomach any more of the tournament food, but we also couldn't afford a taxi back to the hotel.
So, after waiting about four hours for the tournament shuttle bus, we ordered a pizza.
As we sat there watching the last doubles match, waiting for both the bus and the Dominos, a tuk-tuk was driven straight up the courtside gate by a local delivery guy who jumped out and demanded to be paid by the player who was about to return serve in the super tiebreak.
We just couldn't believe it. Matty has it on film, and it's hilarious.
There are so many of those moments, and they make you appreciate it more when you have your good times in the main draws of the slams and bigger tournaments.
Even late last year, there were massive floods in a tournament I was playing in Hua Win in Thailand. The official transport had no seat belts, no nothing, it was an open-air van and, deadset, this thing was just about floating down the highway while we were on it.
I can't imagine Feds or Rafa doing that. It just wouldn't happen. But that's life, sometimes, when things aren't given to you on a platter, and they can be some of the most enjoyable and memorable times.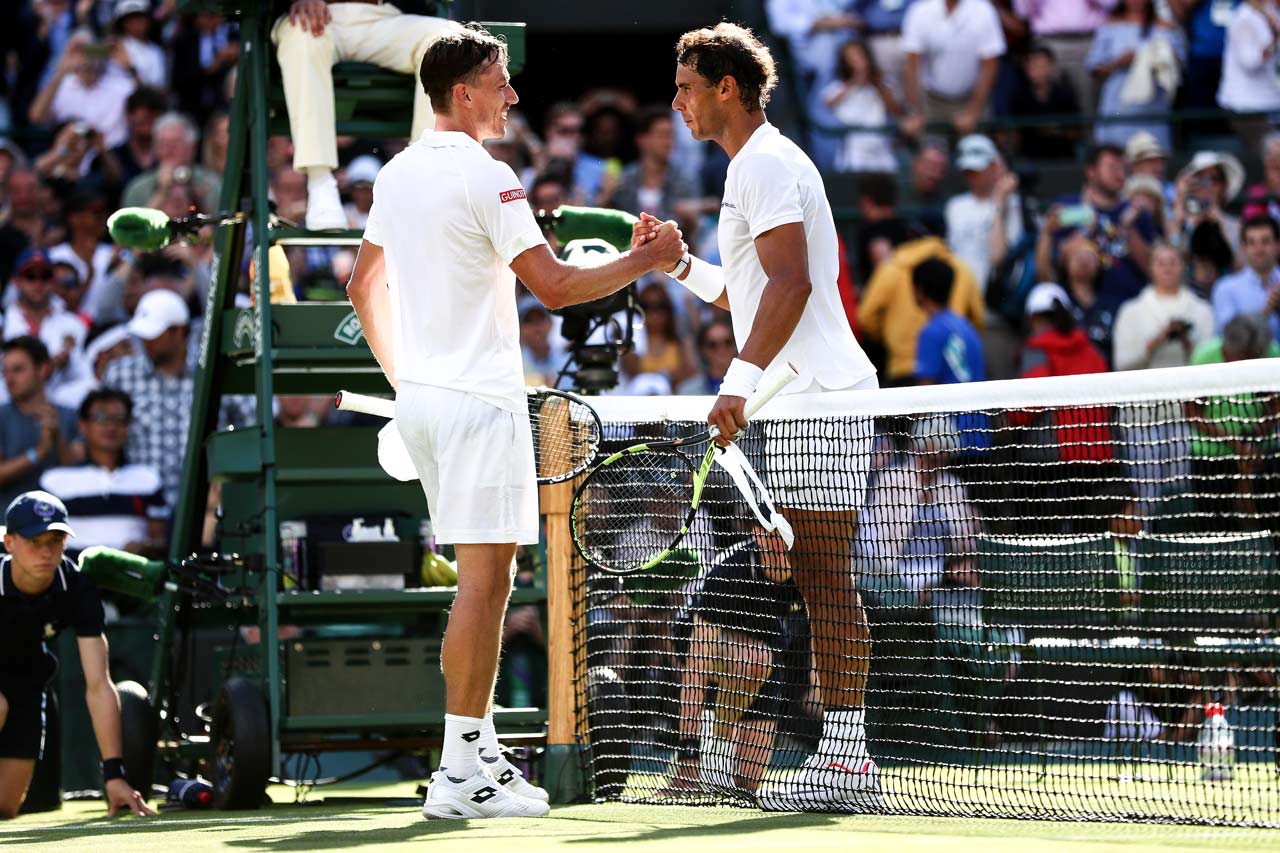 THE OFFICE JOB
It's easy to support someone when they're going really well. But those who are there in times of struggle and times of despair, they're the supporters that really come through and pick you up.
I'd like to think that every time I play on this big stage, I'm doing it for them a little bit and that really keeps that perspective in check.
I had an office job in Brisbane in 2013 at Red & Co. That was after my second shoulder surgery, one of the bigger operations you can have, so that was a full 12 months out. I didn't know whether I could come back from that one.
One of my mates, David Laverty, who first hit with me when I was 15 years old, is very successful in the business world. He could see that I was really struggling. And I was. It was really tough. There's so much doubt in your head.
What made it probably even tougher was that I was ranked 130 when I did my shoulder and I'd played club tennis the year before, so I didn't really have anything to defend and I thought I was playing some really good tennis.
I started off the year great, I played Andy Murray in Brisbane. I just thought that everything was on the up. I thought, 'Finally everything's coming together,' and I'd be able to play these types of tournaments week in, week out.
It was an adventure. You felt like Indiana Jones out there. It's easy to forget about that when you get to this level and everything's being given to you.
Then I did the shoulder and that was difficult. Lav could see that and he probably thought I needed a little bit of a change-up. Tennis is not the be-all and end-all for me, and when I finish playing tennis I don't know what I'm going to do, but that was interesting. 
It was definitely a change of pace, catching the City Cat or the bus into the city each day and sitting at a desk. But one thing it did do was make me aware that I did want to get back out there, I did want to try to get my shoulder right because, although I want to do that other stuff eventually, it wasn't my time yet.
Not being the most talented guy out there makes me even more proud of where I've got to. Definitely. Especially with the little bit of adversity, and especially early on.
Often playing with not a cent to my name. Absolutely nothing. And having to come back from a lot of injuries that would be career-ending for some people.
But I've had to rely on other talents. I've had to rely on being strong mentally, on being a tough competitor. Tennis isn't all about being talented in terms of how you strike the ball, and whether you can serve 220kmh. Trust me, I'd love to have that. But there's a lot of other little skills and attributes that define talent, also.
I wasted a lot of time when I was 19-, 20-, 21-years-old on too much self-doubt. I didn't have 100 per cent belief in my ability. I know that now.
LLEYTON & ROGER
I'm obviously very biased but I think tennis is one of the more difficult sports: on your body; having to hit a moving target; having to beat the person up the other end one-on-one.
You don't get much help on the court. It's like a boxing ring. So when you see some of our best players go at it, I really admire just how good they are.
I've had a couple of close matches with some of our really good players and if they're playing at their absolute best then there's not much chance. But I think people will know if they come up against me that if they are a little bit off I won't go away, and I will compete. Because that's one of my talents.
The great thing about tennis is that everyone starts off even. It's nil-all, and it's really dangerous to play anyone's reputation. If you do, whatever the scoreboard says, you're playing with a bit of a handicap.
Being Australian, we watched a lot of Lleyton Hewitt play, and Lleyton's so tough, made so many balls, shrunk the court because he moved so well. He competed, he was there, and you got the feeling that some players just walking on the court didn't believe they could beat him.
It's the same with Roger. Some people play the reputation and therefore they're maybe not able to capitalise if and when they do have one of those rare off days.
I get asked a lot what Feds is like. Just the other day I was having some drinks with mates and Roger's long-time Swiss coach Severin Luthi was there. Ever since I played Roger in Brisbane he's always been unbelievable to me, just so genuine. He'll say hello and he's always up for a chat.
You see him around the tournaments and he's always hitting with young kids, he's hitting with all different types of players, and Severin's an extension of that.
One of the highlights of this Australian Open, apart from playing, obviously, was just being able to talk tennis with Severin. I loved that, and it's no surprise he's part of Roger's team, because Roger's all class, as is his team.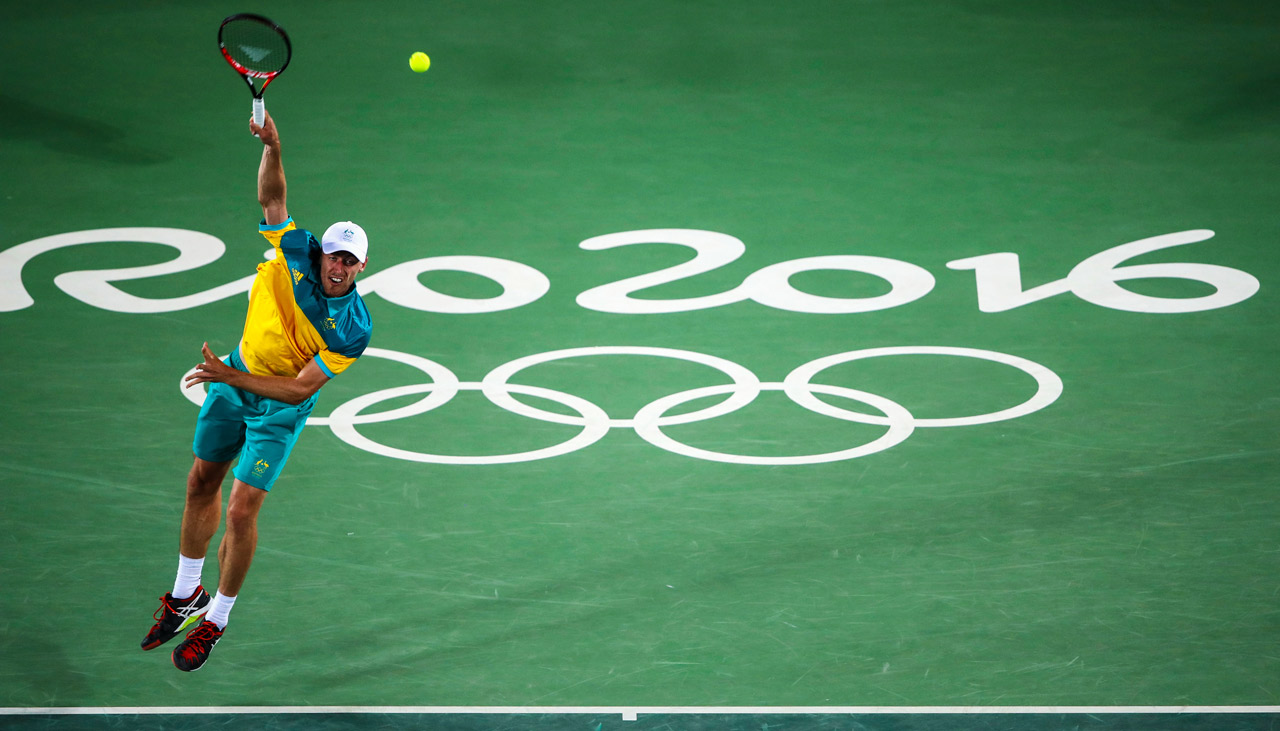 DAVIS CUP & DE MINAUR
As a tennis player, you want to represent your country. It's so special, and I got a little taste of that at the Olympics, which will always be a career highlight for me. Making my Davis Cup debut last September in Brussels lit the fire even more.
I thought my chance might have slipped by me a little bit, especially after I had to have my third operation, my groin surgery, in 2016.
Movement is a big part of my game and I wasn't sure how I was going to come back from that. Initially it wasn't great. It took a little bit of time, but I managed to hit a bit of form at the US Open last year.
I'd played a little bit of club tennis after Wimbledon, on the clay courts, and the semi-final tie was in Belgium on clay. As soon as I got on the clay I felt pretty good, felt like my game was there. I believe that I went into that tie as the fifth player, that I wasn't really thought of as a massive option, but that I played my way into that team.
I put together a great training week, and on the Wednesday afternoon I got told that I'd be playing and I'd get that number. My Davis Cup number. It was a very special moment, made more special just because of our history in the competition, and the Australians and Queenslanders that had gone before me. 
I thought my chance might have slipped by me a little bit, especially after I had to have my third operation, my groin surgery, in 2016.
It would have been great to have beaten Belgium in Belgium. They're a great team, though, and there's probably not many tougher tasks for myself: playing first match on a court custom-made for David Goffin – who, as we saw the way he finished off the year, is probably one of the best Davis Cup players and one of the best tennis players in the world right now.
And you're playing in his backyard, so it was a tough task. But I gave it my all. When I walked on the court, win or lose, I'd leave everything out there.
I love that about Alex De Minaur. I've been training with Alex for a while now, he's been in and around the Davis Cup squad, and I'm predicting pretty soon he'll have his own number.
From the first training session, I loved his intensity. Right to the very last ball, it was 100 per cent. Alex is already one of the best kids his age so if he continues with that mentality and work ethic, the sky's the limit.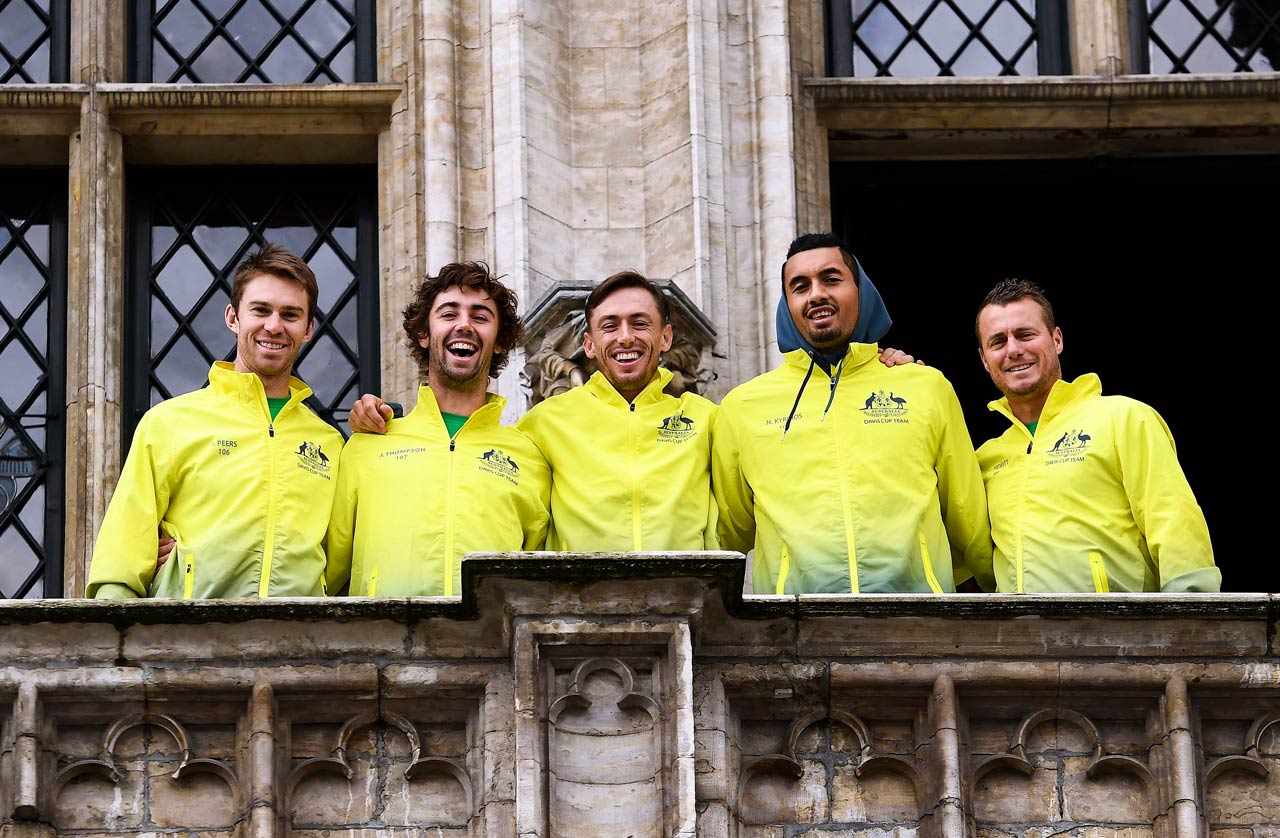 HOMETOWN PRESSURE
Millmania. That term was coined in Brisbane. I'm really proud of my support in my home town.
Unfortunately, I've had a couple of close ones that haven't gone my way there, especially against a couple of the big guys: Murray, Federer, Dimitrov. I've come very close, but some of my most memorable matches have been in that stadium, Pat Rafter Arena.
Pat was my idol growing up, and when I go to Brisbane I can feel the energy and the fact everyone's willing me on.
It's very special to play in a stadium and see your school maths teacher there, see friends littered around and playing each point with you. It's not too often you get that, and I doubt many players would get that, full stop.
I've always kept my private life and my tennis life quite separate, but those two worlds kind of come together for me in Brisbane and it creates a very special place for me. But it also creates a lot of pressure.
Brisbane is one of my favourite tournaments in one way and, in other ways, it's my least favourite. I've played centre court at Wimbledon, in the third round on Super Saturday there against Andy Murray, and for me sport won't get much bigger than that.
But I feel more pressure playing in Brisbane than anywhere else in the world. Purely because when I walk on the court I want to make these people the most proud.
I feel exhausted by the end of Brisbane – and I'm not winning the tournament. I'm not even making finals or semi-finals. But it's draining.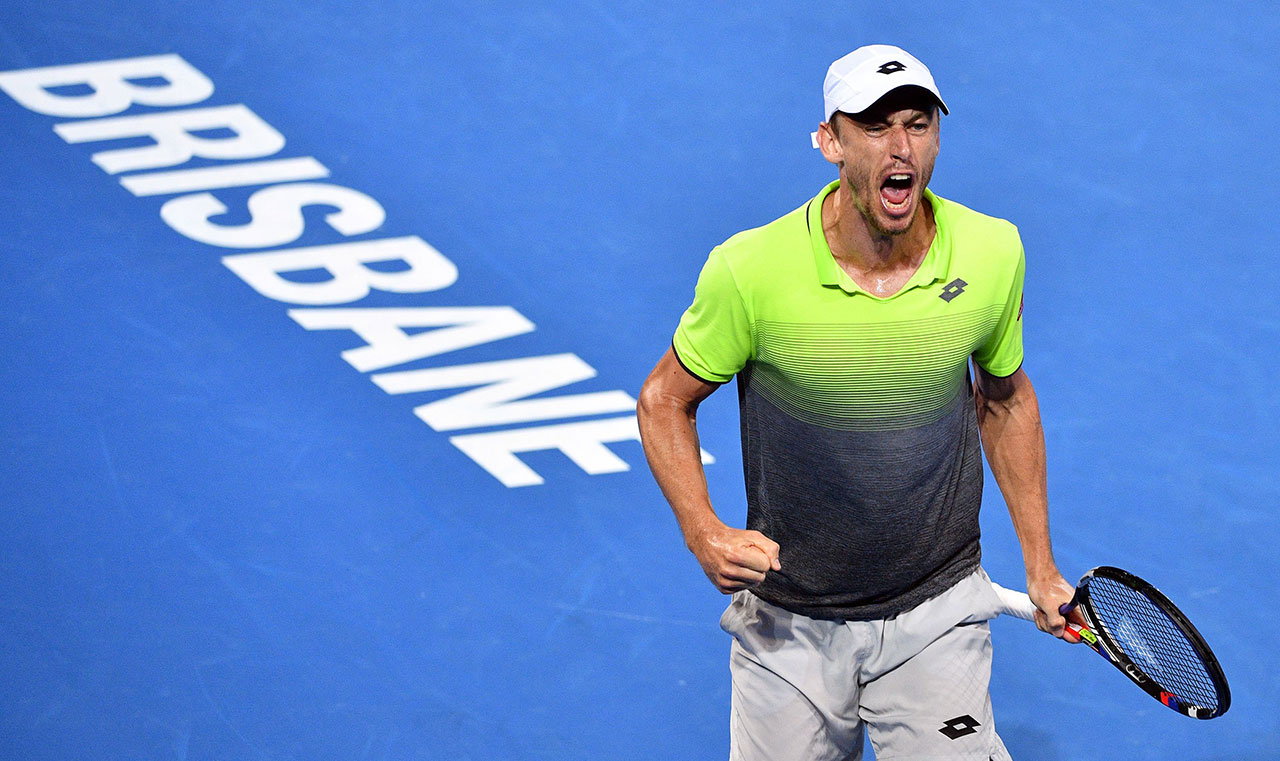 DEALING WITH TROLLS
I don't really care what anyone else thinks of me, I don't care what someone on social media thinks of me. But I do think what's happening there is disgusting.
I don't think it's controllable, but if it is, then our sport's doing a terrible job of handling that because the abuse is terrible. Even some of my family members' accounts get targeted. 
I wouldn't have social media if I didn't have to, because we cop verbal tirades day in and day out. But obviously sponsors want it and it's an important avenue to reach out to your fans.
The abuse is 100 per cent betting driven. Every now and again you check out a profile of one of these guys. You see they've got kids, and you really question what type of people they are to treat others the way they do.
More about: Australian Open | Davis Cup | John Millman | Lleyton Hewitt | Resilience | Roger Federer | Sponsored | US Open Tennis