Help! I'm turning into an Aussie!
I'm a mad AFL fan. That might surprise you given I'm an English woman in just my second year living in Australia.
It all started when my GIANTS Netball teammate Serena Guthrie and I were on tours of Australia with the England national team, the Roses. We'd sit down and watch any sport we could.
We first watched State of Origin and were like, 'Yep, we're hooked on rugby league'. Then we watched a few games of AFL. We got a ticket to one of the semi-finals at the MCG and I was like, '80,000 people, this is insane'. I started picking up on the game from there. You used to be able to watch all the games for free online if you were out of the country, so I'd put it on every night I could, trying to study the game and learn.
And then I ended up playing at an AFL club!
I confess, I was a Swannies fan. But I'm a Giants fan now with a big G on my heart. There has to be because you train alongside them, you're in their house, you literally see them every day, and you know what they're going through. Obviously, I still love Buddy Franklin, he is an absolute superstar. You can't not watch his freakish goals. But I'm all about the Giants now.
I'm becoming quite Australian in other ways too. For example, I use quite a lot of Australian lingo – often without even thinking about it.
I find myself using phrases which are not known at all in England – like 'get around each other' or 'get amongst it'. We say it pretty much once a day: 'Let's get amongst it, let's get around each other'.
Sometimes, I'm like, 'Who are you?'. I am not this person. But I am this person.
I love being part of something else, so when I was playing in New Zealand before I played in Australia, I was all about the culture, trying to learn about the Maori people and their history. I suppose it's similar here. I'm fitting in with my surroundings.
Living in New Zealand, I loved how laidback it was. I was really scared before moving here, but it's kind of just rejuvenated everything, which is fun. In New Zealand, you got to bed at like 6pm!
I was based in Hamilton. On weekends you could go to Auckland or the Coromandel which was great, but during the week there wasn't much going on. I'm from Essex near London, where there's a lot going on. And then you come to Sydney and there's just so much more stuff to do.
I love Sydney. It's got a good vibe. You can go to the city, to the beach, to Olympic Park where I spend most of my life. It's pretty cool. And when it gets below 20 degrees here, people say that's cold. That's summer back home!
FROM FANGIRLS TO EQUALS
Before this year's Suncorp Super Netball season, I was part of the England team that won the Commonwealth Games gold medal.
Liz Ellis wrote a piece saying that netball was getting stronger in other countries because of all the international players playing here in Australia. I reckon she's half right, but you still have to be good enough to play out here in the first place.
They don't take someone off the street in England and take them out here and make them a superstar. You have to be at a certain level, and I think a lot of the English girls now are there or thereabouts at that level.
Sometimes, I'm like, 'Who are you?'. I am not this person. But I am this person.
In that Commonwealth Games final, I think there were nine or ten out of our team who had played on this side of the world before. For me, it's like the fear factor has gone. I used to play against Australia and go, 'Oh my God, that's Australia warming up down the other end. I know that person, I've seen them on Twitter, Instagram and Facebook. She's really, really good'.
Now that person will be either a teammate or someone I play against every weekend.
In 2010 at my first Commonwealth Games in Delhi, I couldn't believe I was playing on the same court as Sharelle McMahon. I literally used to study her as a kid. She was my favourite person in the world and I was like, 'Oh my god, she's down the other end of the court, I'm playing in the same game as her'.
Things have kind of evolved now. The English girls had the Australia and New Zealand players on a pedestal and now they're teammates, they're competitors every weekend which is pretty cool.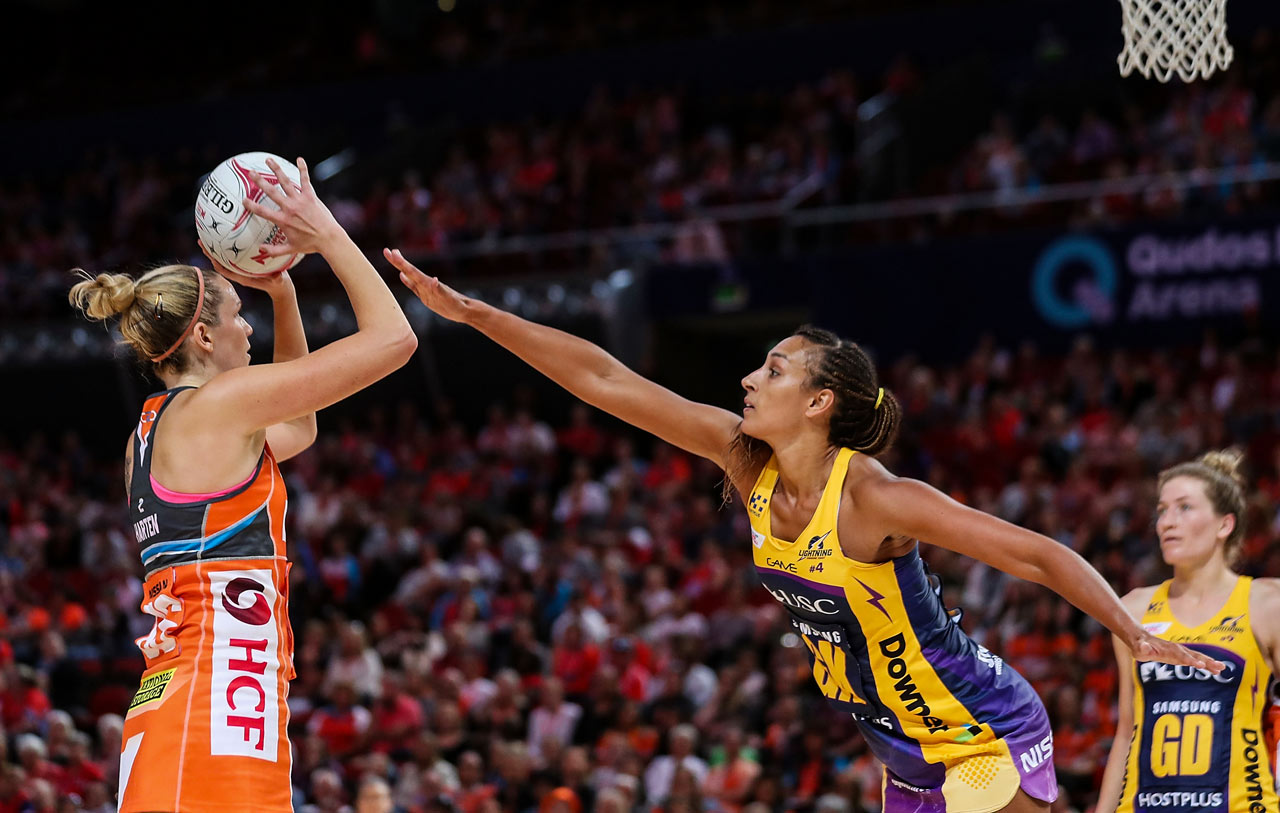 SECRET SICKNESS
There was a famous photo taken after the Commonwealth Games final where all the England players were piled up on top of each other on the court.
I'm not in that photo. I was stood up somewhere to the side with Serena Guthrie. And the reason I wasn't in the photo is that I was throwing up the night before the final. I was really, really sick so when it came to the final, I could barely stand.
I was all about playing the game and going home. I played the full 60 minutes, and in a way it helped me being sick because I didn't think about netball. When it came to the game I was just exhausted and afterwards, I didn't have much left. So when they did a pile-on afterwards, it was too much for me.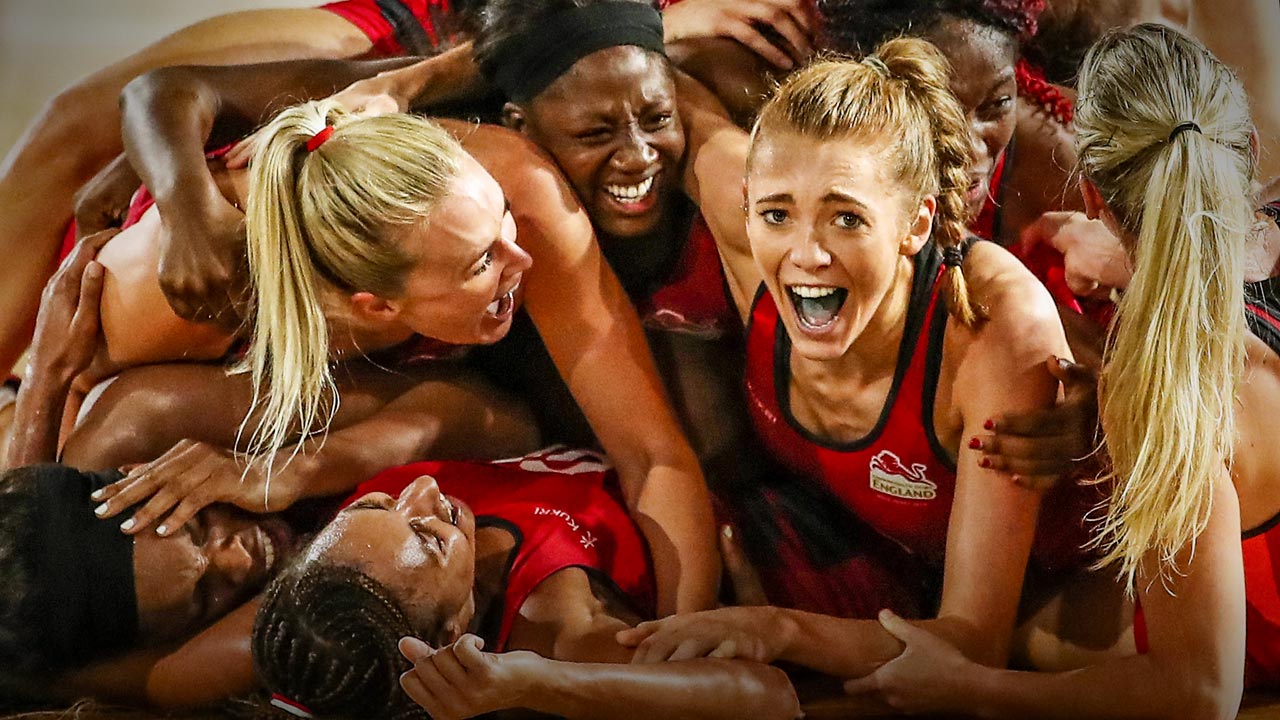 Before the game I ate almost nothing – just half a slice of brown toast and some lemonade. I kept my illness quiet because you can't go telling anyone. Netball's always been very secretive. I broke a rib last year in the finals and kind of kept that very quiet too.
At the Comm Games, we had a really strict policy about sickness. If you were sick, you were isolated. Before the final, it didn't matter so much. Just 60 minutes to play, get through that and it's all over. That was my thought process.
The game was pretty even in the first half. It was 25-all at halftime and I just remembering going into the change rooms and saying, 'When is the last time Australia was level at halftime?'.
They'd gone through the tournament up by five, 10, 20 goals at halftime in their matches. It was a really different journey for us. We'd struggled against Uganda, and struggled against New Zealand a little bit before we fought our way through. It was all about the fight for us.
But with the scores level at halftime, we thought, 'Why not us? Why can't we put up a stronger fight this time against Australia and take it to them?'.
The second half was a bit crazy. We went down a few goals, then our coach Tracey Neville made the switch between me and Helen. The last time I played on Diamonds defender Jo Weston was in the semi-final in the Suncorp Super Netball the year before, and I'd had a really good game on her.
With the scores level at halftime, we thought, 'Why not us? Why can't we put up a stronger fight this time against Australia?'
That's where that theory from Liz Ellis comes in. She's right. I had practised against Australia's defence the year before in this very scenario, so in the back of my mind there was nothing to fear. And then we just ground our way through it, got back the goals and won by one in the last second. Then came the pile-on.
We got front page in two newspapers in the UK after that, which has never happened before. I think the only time it's happened in a women's sport was when the England women's hockey team won in Rio.
I know back home the girls have been celebrated like crazy. David Beckham Instagrammed Helen Housby which was pretty cool. She's a Man United fan anyway, so that was a cherry on top of the cake for her.
It's been a bit different for us back here. We literally went from the 'Goldie' down to Sydney to start the season with Giants, no time for celebrations. To be honest, we won gold on enemy territory. There was never going to be a fanfare for us.
GIANT STRIDES
I think we kind of exceeded our expectations at the Giants last year, but then we were really disappointing in the grand final losing by 17 goals.
It wasn't pretty and it sort of put a dark cloud over our achievements. You have to be your own harshest critic, and if you're not performing in the grand final, what's all the hard work for?
But looking back, I think it probably was one step too far for us to carry on the way we did after we'd lost our captain Kim Green early in the season to an ACL injury. I think it was pretty special to do what we were able to do because she literally was the figurehead of our team. Kim pretty much did everything in terms of leading the attack, captaining off the court, and I'm proud of the way we rallied round each other.
I don't think many teams could have done the same, so it was a special year.
It's a completely different story this year. The question now is whether we can live up to the expectations that we've set for ourselves. The answer is I'm unsure, but we're going to try our best.
The Suncorp Super Netball competition is finals-level netball every week. If you compare this comp to the ANZ competition previously, the intensity has to be at least two or three notches higher. And I'm not just saying that to build it up for the media. It's intense, with so many games going to the wire. It's not always enjoyable to play, because you're never going to have a comfortable win. But I think this is what the sport needed, that intensity every week, and not just in finals.
The Giants have a great set-up. I reckon the café is where everything goes down. It's situated in the heart of the building, joining the performance department and the office staff. Some of the best convos have gone down there in that café.
Everyone has access to that place. You could be having a team talk about your attacking centre passes and then Giants CEO Dave Matthews walks in and you're like, 'Hi Dave'. He always takes an interest in netball. He's a really good guy, really down-to-earth, so you have a convo with him, then maybe couple of the AFL guys walk in. Have a convo with them, ask, 'How'd you go on the weekend?' and then you've got the AFL women as well. It's a sporting person's dream. The facilities are second to none.
SPORTS BIZ
I'm often asked about my best shooting tip. The best shooting tip on the court is make sure you've done enough off the court. I always practise before a game shooting in every spot that we receive the ball in the circle and I take shots every day just pretending I'm under pressure.
I can't say I actually think about shooting during the game. If you do, you're overthinking it. The ball just goes out of your hand and hopefully into the ring.
Personally, I'm 29 now and not sure what I'm going to do when I 'grow up'. I'm closing in on 100 international caps for England, but I know my sporting dream won't last forever. I've got a degree in international relations but I haven't touched international relations or education for seven years.
I would like to think that I can go into business one day. It might sound cheesy but with my sporting background I'd be able to bring people together. I'm not sure what that looks like as a career, but I like the idea of being able to use my degree at some point.
You meet so many people in a netball team and you don't have to get along with everyone, but you do have to communicate and cooperate. I think that's what business is. You don't have to be best mates to strike a deal and I think that's really what I'd like to go to afterwards.
But, for now, it's all about netball and the match against the Fever. In this league, every quarter of netball counts and bonus points are always up for grabs. I think this has spurred our team on to challenge every ball like it's the last minute of finals, and has stood us in good stead so far this season.
So just one more game for us to play and get amongst it before the bye next week. We're looking for a ripper second half of the season, us Giants sheilas can't wait to get stuck in!
More about: Buddy Franklin | England Roses | Giants netball | Gold Coast 2018 | GWS Giants | Liz Ellis | Super Netball