Chasing killers at the top
I first heard about the UFC when I was 12 years old, sitting in the change rooms of the gym in Bendigo where I'd started taking Jiu-Jitsu classes.
The older boys were talking about some fights they'd seen on the weekend but I was too shy to ask them what the UFC was, so I went home and looked it up on the internet instead.
The first thing that came up was a highlight video of Gabriel Gonzaga knocking out Mirko Cro Cop with a head kick – one of the most brutal finishes you'll ever see. Cro Cop's whole body shut down before he hit the canvas, leg trapped under his body at a horrible angle and eyes rolled into the back of his head.
Most young kids would shy away from that level of violence. Not me. I walked straight into the living room and told Mum and Dad I wanted to be a cage fighter.
I don't think they knew what to make of it. They just laughed it off as a joke.
From that day, I didn't care what obstacles were put in my way or how much work it took, I was going to get to the UFC no matter what.
Well, I've arrived – and I'm just getting started.
I caught Dana White's eye on his Contender series last year and convinced him I belong at the highest level. This weekend, at UFC 234 in Melbourne, everyone else is going to see what I'm all about.
The light heavyweight division is wide open and I'm backing myself to rise up the rankings. I'm coming for all the killers at the top.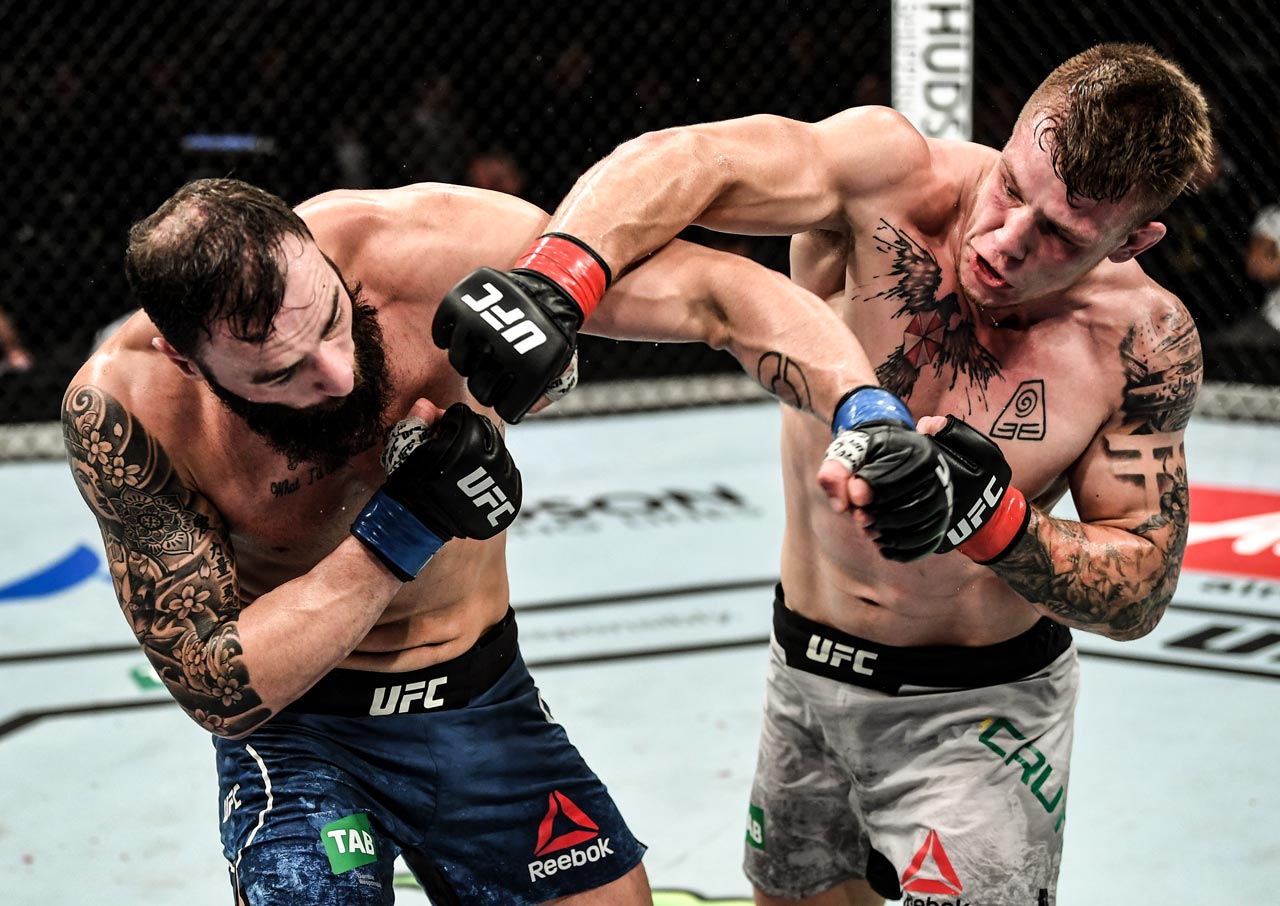 THE LEGEND IN MY CORNER
Despite what you might think, I wasn't a rough kid who went looking for fights. As far as I was concerned, people could do or say whatever they wanted to me. I'd just smile and walk away … except for when my family was involved.
There was one day at school, when a Year 10 boy threw something at my sister and it hit her. I was only in Year 7 but went straight over and smacked him.
I never got messed with after that.
I was too busy putting all my energy into training to worry about fighting, anyway. I'd get up before school to go for a run, hit the gym at lunch and train again in the afternoons. Karate, judo, Jiu-Jitsu – I loved it all.
I didn't have the typical teenage social life but that was fine because I knew where I wanted to get to.
Once a week I'd travel with my Jiu-Jitsu coach, Stewie Moulden, to train at Swan Hill. It was two hours each way but the two of us would have these long chats, going off on weird tangents and talking about the future.
On one of those drives, I remember us talking about finding a striking coach for me. Stewie wanted me to learn from the best and said he'd get me training with Sam Greco, who is one of the greatest Aussie fighters of all time.
Sam is a multiple Karate World Champion and in K1 kickboxing he competed against the very best, including Peter Aerts, Ernesto Hoost, Andy Hug, Masaaki Stake and Mirko Cro Cop. His style was relentless pressure, with combinations, and you'd never know what he was going to throw next.
Most young kids would shy away from that level of violence. Not me. I walked straight into the living room and told Mum and Dad I wanted to be a cage fighter.
It might have seemed like a long shot, but somehow Stewie made it happen. Sam agreed to take me under his wing and is the man responsible for turning me into an elite fighter. He's the best MMA coach in the world, with a passion for our sport that is inspiring to be around.
I love being backstage with Sam before a fight because I can see him get goosebumps, just wishing that he could be out there. If it wasn't for a jacked-up knee, he would be.
I couldn't have asked for a better mentor.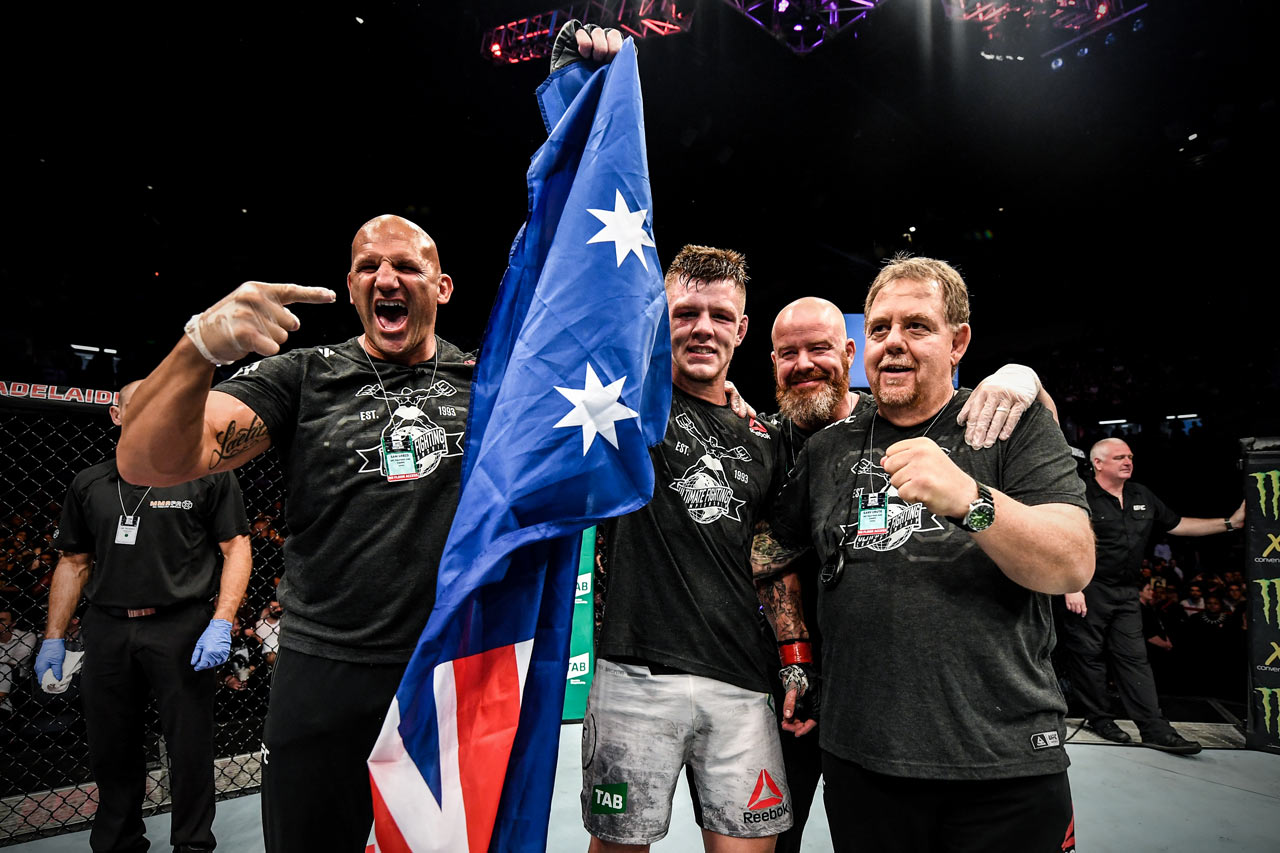 NO PLAN B
I became an apprentice plumber after leaving school, but I was really only using the job to fund my training.
I was travelling to Melbourne four or five times a week to train with Sam. It wasn't cheap, so you can imagine how many people questioned what I was doing.
'Shouldn't you be focusing on your apprenticeship more than your training?' Or, 'You need a back-up plan because fighting might not work out!'
That was never going to be my way though. In my eyes, having a back-up plan just means you are preparing to fail.
I love it when my back is against the wall, so at the end of my second year as a plumber I decided to just give it up, so I could focus on my MMA career. I started working as a storeman in Bendigo, even though it meant I was barely making enough money to put fuel in my car.
All that travel just wasn't sustainable and with my older brother working as a forklift driver in Melbourne, I asked him if there were any job openings at the company. He told me he couldn't guarantee anything, but there was a job interview lined up for me the next day.
That was good enough for me. I quit my job at the store in the morning and drove straight to Melbourne.
More about: Dana White | MMA