The checkout chick who won MVP
Last year, on the Saturday morning after I was named MVP of the West Coast Fever at our end-of-year awards night, I got up in the morning and went to work at Coles as a checkout chick.
I was rostered on and there was no way I could get out of it. I couldn't just ring up Coles and say 'Oh, I can't come in because I got MVP'. I remember thinking that once you start big-noting or getting ahead of yourself, it all goes wrong. So I had to get down to Coles and do the shift.
The shift wasn't too long, luckily. I think it was only 11-2 so it wasn't too bad. Luckily, I wasn't too tired because there wasn't too much of a celebration the night before. A lot of the girls had to leave early to fly out the next morning to the Netball Australia awards, so I was actually in bed pretty early.
One person recognised me during the shift and questioned why I was working at Coles. I explained how I liked to have something outside of netball and liked getting the extra money.
I worked the checkout at Coles for seven-and-a-half years, from my early teens to just recently. My auntie Lyn was the manager at my local Coles Forrestfield here in Perth and pretty much my whole family has worked there. I'm so grateful for the support from the team at Coles Forrestfield. It's not always easy working around my training schedule but they were so flexible with me for so many years.
I've seen and learnt a lot of things at the checkouts. A lot about people, a lot about how I want to be known and seen. People who like to answer their phone right as they're going through the checkout annoy me. So do people who get their wallet out really slowly when they could have gotten it out while they were complaining about waiting. I want to be known as someone who works hard, but also respects all people they encounter.
You get a lot of abuse from people at the checkout from people who argue about the price of an item. And I'm often amazed at what people are buying as they come through the checkouts – bulk lollies, bulk chips, that sort of thing. I shake my head sometimes but you can't say anything because you've just got to smile and nod.
I graduated last year in Exercise, Sport and Rehab so now I have a casual part-time job at UWA Sport working in the gym there. That's something that helps me keep my mind off netball all the time, and it also means I am no longer working at Coles. I have checked out!
BEATING THE ODDS
It was definitely a shock to me being named MVP of the Fever last year, especially as it was my first year playing Suncorp Super Netball.
When I was younger, I didn't make any of the academy teams. I was pretty much told that I was too short back then.
My mum, being a netball player herself, coached me in the backyard. She made me realise that if you just do the little skills here and there and continue to play outside of netball, I could go back and prove the coaches wrong and make those representative teams and show them they should have selected me.
One person recognised me and questioned why I was working at Coles. I explained how I liked to have something outside of netball and liked getting the extra money.
I owe a large amount of credit to Darling Range Sports College netball program – in particular the head coach Karly Guadagnin who was not only a coach to me, but a mentor in balancing netball, life and studies.
During high school at the age of 14 is when my netball really started to take off, making my first state 15/U schoolgirls team and playing 18/U State League for Darling Range Netball Region. I continued through the Netball WA pathway making each state 17s, 19s and 21s representative teams.
Going into the Suncorp Super Netball, I didn't expect to be playing much on the court at all last year at the age of 20. My goal was to make my debut, then eventually work my way into a starting seven position. So when I actually got named MVP, I was pretty shocked to be honest. I never thought I'd play so well that I'd be named MVP, so it was pretty amazing.
Unfortunately, last year was not such a good year for the Fever. We only won two games all season. This year we're doing pretty well, especially compared to last year. We have already beaten the number of wins we had last year after the first three weeks – and now we're four from four after beating the Swifts last weekend.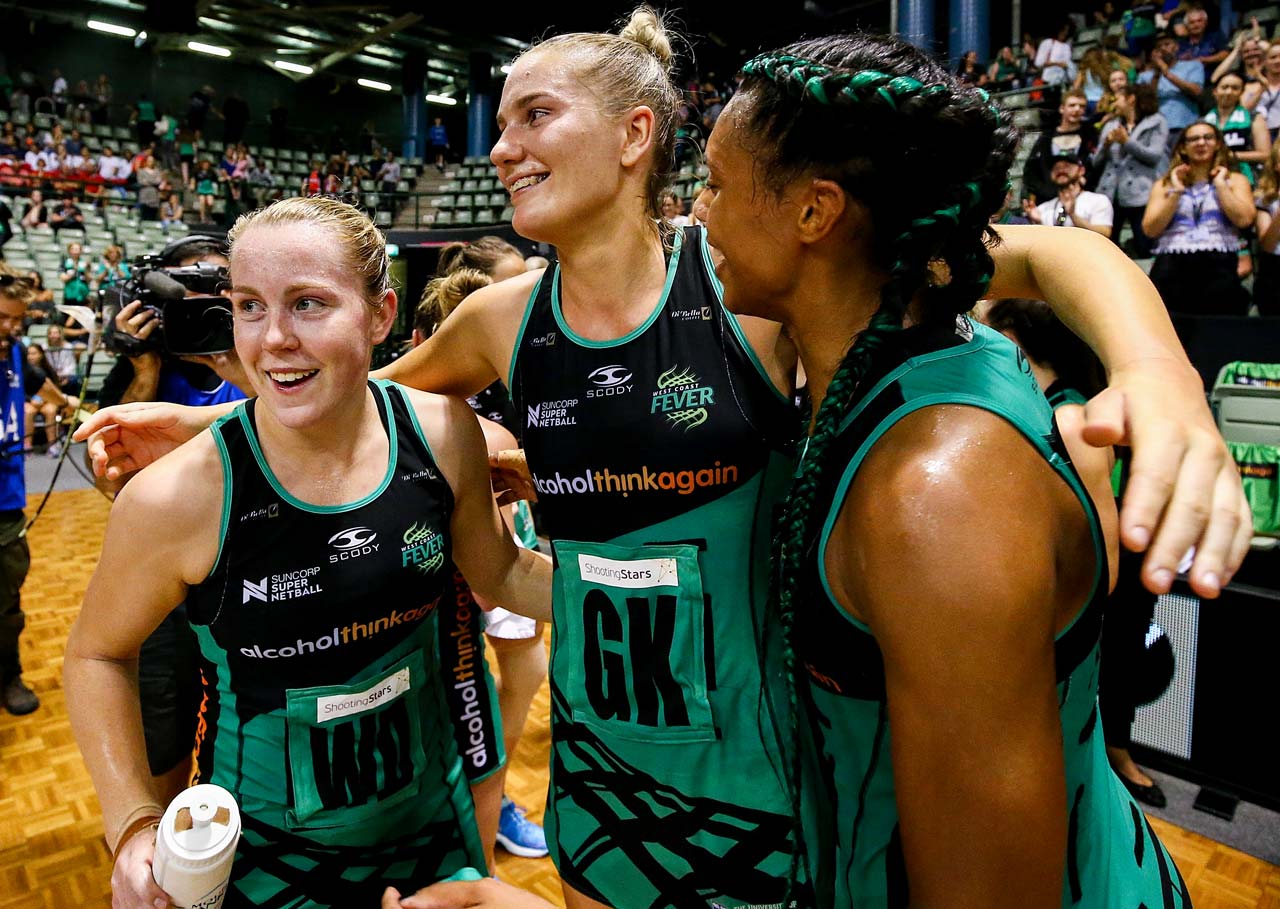 catching the fever
I can't tell you exactly what the magic formula is this year. Goal shooter Jhaniele Fowler coming over from Jamaica has been a pretty significant change for us and has definitely helped us out a lot. But apart from her, we've pretty much kept the same team from last year.
Having almost the same squad as last year means we've already got a good connection on and off the court. And I think the long pre-season has helped too. We had about a nine-month pre-season from September to April, which is pretty much a season in itself. This gave us a lot of time to work on individual areas as well as strip right back to the fundamental basics of netball.
From September through to December we were out on the ovals running, so that was fun! I'm not one that's naturally fit, so I always try and do all the extra work possible especially during the Christmas break – whether it's extra running, bike riding or extra swimming sessions just to change it up a bit. Lots of hard work behind the scenes. This is the stuff that no one sees, but it is the stuff that makes the difference.
We also did a few activities as a team to try to break it up a bit so it didn't get too boring, like stand-up paddle boarding, boxing, yoga and going to the indoor trampoline park Bounce.
We have already beaten the number of wins we had last year after the first three weeks.
There were also a lot more pre-season games this year. We played eight games against other Suncorp Super Netball teams, so it was good to get that match fitness, whereas the year before we only had two pre-season games to get into the season so we weren't really that match-fit. Or at least, personally I didn't feel that match-fit. I definitely feel a lot fitter all-round this season.
One thing I try not to think about too much is second year syndrome as a player. You can't think too much about what happened last year. It's all about what happens this year, and even though I might have performed well last year, as a team we didn't get the wins on the board. This year we're unbeaten so far, so I'm much happier to have the team success rather than just the individual success. The ultimate goal for us is to be playing finals and win that premiership!
I also had a really good break straight after last season. I played in the World Youth Cup last July in Botswana, then had six to eight weeks off. During that time, I went over with a friend Claire O'Brien who plays for the NSW Swifts and we did a bit of a Contiki Tour around Europe.
We were pretty responsible and probably not your typical people on a Contiki tour! Every chance possible we tried to go for runs and find a gym on our stops. I'm one who likes to sleep, so I didn't party too much! It was good to be able to relax and recharge without having to think about netball.
A SECOND OPINION
I wasn't always going to be able to play competitive sport… or at least if I'd listened to Dr Number One.
I've got just the one kidney. When I was born, they were both blocked and they were able to repair one. The other one they had to get rid of, so now I've got just one kidney.
It doesn't affect me that much. I'm on a bit of a reduced-salt diet and have to hydrate a lot more than a normal person, but in terms of diet, not that much. It's more that I'm not supposed to play contact sports like AFL or rugby.
Netball is classified as a 'semi-contact' sport. The contact is not deliberate but it happens. One of the first doctors I saw wasn't too happy about me playing netball so we kind of moved away from him and went to a new doctor. The old second opinion trick!
Perth people love their sport, especially when teams are winning they seem to jump on the bandwagon a bit more. We've seen that already this year where we've nearly sold out games at the 4,500 capacity HBF Stadium. Even last year when we weren't winning that much, there were still supporters who were always there backing us no matter what.
Personally, I have a big cheer squad at the games. They call themselves the 'Anstiss Army'. My mum is one of five sisters so I've got quite a big family and they definitely get around the netball, that's for sure – lots of little cousins, aunties, uncles, the whole lot. My Grammy is the club's oldest member at 95. I can't say I can tell their cheers from the rest of the crowd, but my Stewart cousins made a big poster and I definitely see that.
My dad is a New Zealander, but my heart from a netball perspective is with the Diamonds. I would love to play for the Diamonds. Mum always made me go for the Aussie team in the netball, so I've always been a huge Aussie Diamonds fan.
Somehow my dad's got me going for the All Blacks in the rugby. I like to go for teams who win so that's kind of how I've gone to the All Blacks. They're pretty successful, after all.
But I'm an Aussie girl at heart, and the Diamonds are a very successful team, so the ultimate goal is to be playing for them one day, hopefully in the near future. I guess I just have to keep playing well in the Super Netball and give myself every opportunity to be selected.
Netball has given me so much more than just the beginnings of a sporting career. It has given me my friends, an outlet to compete and so many wonderful opportunities. I've even got some wonderful personal sponsors that are big supporters of local netball.
The team at Midland City Nissan are wonderful to me and put a lot back in at grassroots. I do pinch myself sometimes and I often think back to my shifts at Coles and am forever grateful for what this sport and those in it have done for me.
More about: Super Netball | West Coast Fever | Women's Sport