How a world champion thinks
From the day I turned pro, my only goal was to be the world champion.
It's all I thought about when I was belting myself in training. It's what drove me to get out of bed all those cold, winter mornings. It's how I took all the punishment my opponents could throw at me and kept coming after them.
I've had to shift that thinking now.
I am the world champion. The belt is mine. And there are literally thousands of guys around the world, like Gary Corcoran, who are busting their guts like I have all these years to take it off me.
I know what's coming. I was those guys a few months ago.
Now, it's about protecting what I have worked so hard to own. As world champion, I have a platform to reach out to millions of people about causes close to my heart, like my message about anti-bullying. I also know that every win from here has the ability to set-up my wife, Jo, and our soon-to-be-born daughter for life.
If I keep winning, all this continues. If I lose, who knows what happens?
It's definitely a different mentality to what I've known before, but it still drives me.
Corcoran will know all about it when I take the fight to him on December 13.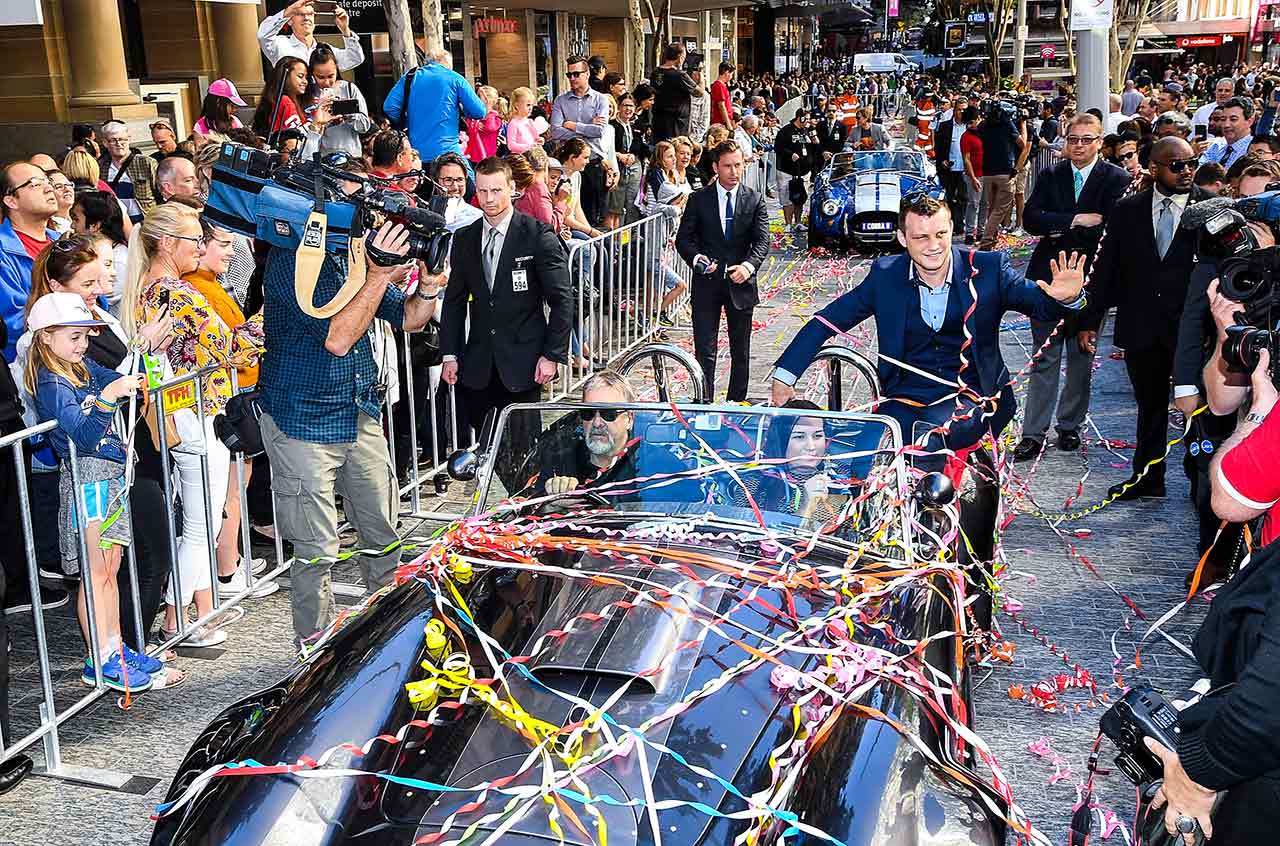 CORCORAN, CRAWFORD & MCGREGOR
Corcoran keeps saying he's going to come to Brisbane and take my belt.
He can talk all he likes. I have achieved something he hasn't. Do you see his name on the WBO World Welterweight title?
It will be a good fight. He's fit, he's strong, he walks forward and throws plenty of punches – not dissimilar to me. When he fought Liam Williams, he took plenty of punishment but was able to keep going forward until the referee stopped the fight in the 11th round.
That was the only time he has been stopped and that was in a heavier weight decision. He's got plenty in the tank. He reminds me a little bit of Denys Berinchyk, who I lost to at the London Olympics, although he's probably a bit bigger and taller. It will be a good test.
All my focus is on beating Corcoran. After that, I will set my sights on a mandatory defence, like Terence Crawford, who is up there with the best pound-for-pound fighters in the world.
You knock guys like Crawford out and there are some massive paydays to come in the future, and some accolades as well.
Every win from here has the ability to set-up my wife, Jo, and our soon-to-be-born daughter for life.
About the Conor McGregor thing. It's an offer, a call-out.
If McGregor wants to test himself against someone at the top of their game in boxing, this would be the fight he'd have. He's nowhere near the top level in boxing. I think I would easily beat him in a boxing fight, just as he would probably beat me if I got in an octagon with him.
He did OK against Mayweather. He was able to use his reach a little bit and got a couple of jabs away. I think that had a lot to do with Mayweather being out of the ring for so long.
Sometimes the people who are unorthodox, who don't fight the way you're used to, are the ones who can trouble you.
I would welcome the fight. It would be my biggest payday and the easiest fight of my professional career. I don't see him as a big challenge.
MY THOUGHTS ON Pacquiao
There's also the prospect of a rematch with Manny Pacquiao.
I'm 50-50 about whether it will happen now. People around him are probably telling him he won the fight against me and that there's no point in going over for a rematch.
If he was to come back again, he would lose all that. If he returns and I beat him again – and I think I'd do even better the second time – he might feel like he is tarnishing his legacy. Yes, he is an 11-time world champion and a legend of boxing, but there always comes a time when a younger, stronger person comes along and takes your spot.
The stuff coming out of his camp is continuous. Even now I see things pop up almost five months after the fight. I'm over it. I think I won. Most other people think I won too, including the judges who scored the fight, as well as the judges who re-scored the fight.
There are always two sides to every story and he will probably retell his forever unless we have a rematch. And then I will beat him again.
There was a certain point where we knew the rematch with him wasn't going to take place in December and we had to start looking for another opponent. It was annoying to have to sit and wait so long.
I was thinking the fight was going to happen at this time, but until the guy signs it's hard to get motivated to train. I haven't been training too hard, too long. It's like, all of a sudden, 'Crap, I've got to get ready pretty quickly now and get to the fitness level I was at.' It's difficult to do but I'm all in now.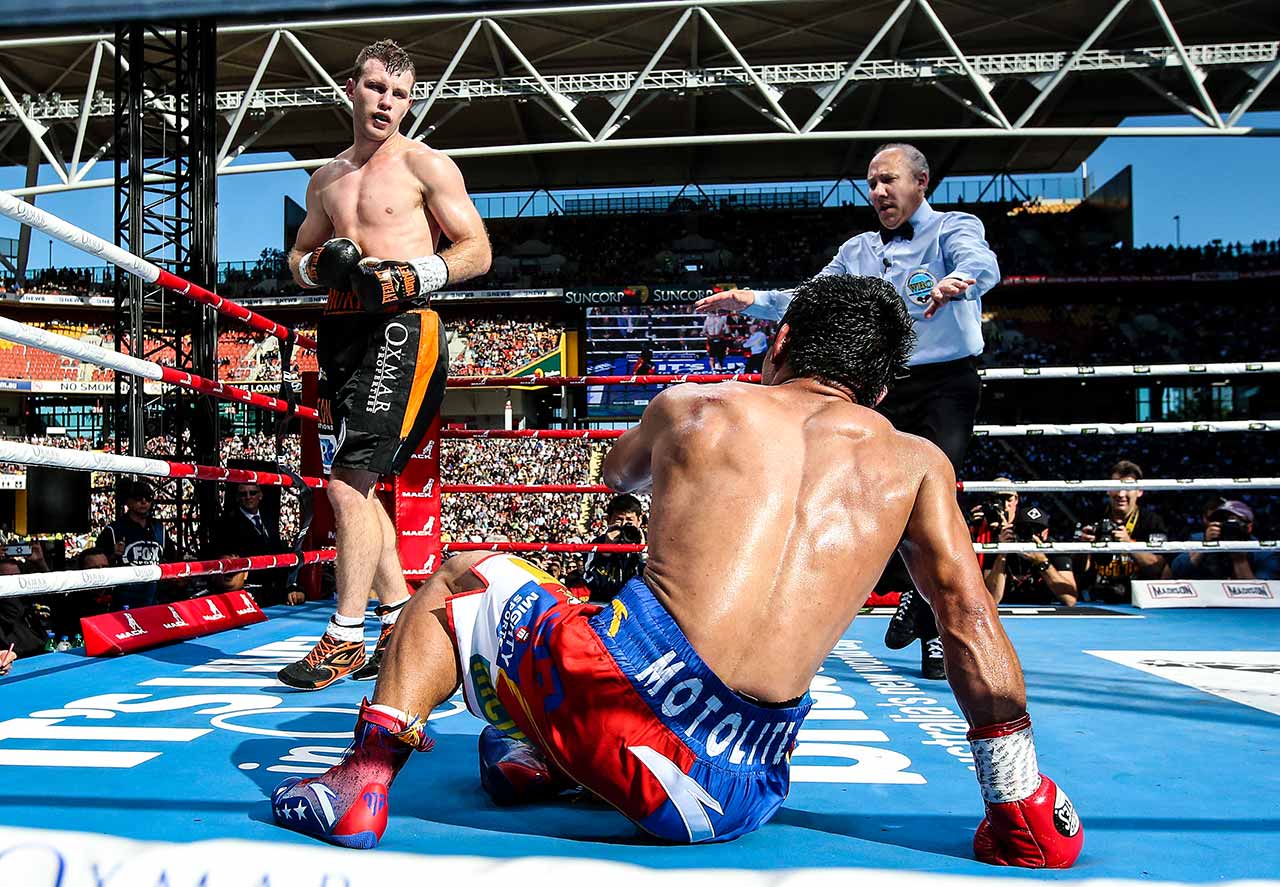 THE DON & INSPIRING PEOPLE
I don't think the Pacquiao fight has changed me as a person, but life is definitely a bit different.
I need to be careful.
I am invited to a lot more events than used to be the case and there is an expectation that I will attend. But I have to commit to training with the same intensity I always have and look after my family. I'm not great at saying 'no', but there are times when I have to. The most important thing right now is making sure I'm fit to fight Corcoran.
There are certainly lots of positive aspects to having a bigger public profile.
As I mentioned earlier, I have a much broader platform now to inspire people.
The Don award was massive. I didn't realise how big the Australian Sports Hall of Fame dinner was until I got to my table and saw Sally Pearson, Johnathan Thurston and Emily Seebohm there!
It was interesting to hear their stories – what they've done, how they did it and how long they've been able to remain at the top for so long. You can just sense the mental strength they have. To stay at the pinnacle of your sport, you've got to keep training hard and believing in yourself. It really comes down to you, the person, and what drives you to be successful. That came through consistently through the night. It was great timing for me in a lot of ways given my switch from challenger to champion.
I was proud to win an award that was all about inspiring the nation.
It's hard to wrap your head around how big that is – we're a country of 25 million people – but I see it on a smaller, more local level all the time.
The Don award was massive. I didn't realise how big the Australian Sports Hall of Fame dinner was until I got to my table and saw Sally Pearson, Johnathan Thurston and Emily Seebohm there!
I had always hoped that sharing my story of being bullied as a kid would have a positive effect in the community – to make vulnerable kids feel like they weren't alone and to make the bullies think twice about the impact their actions have.
I receive messages from kids and adults alike. Some adults get in touch to say they were bullied in the past and wished they'd had someone like me as an example back then. They really appreciate what I'm standing for.
I also hear from kids. Quite a few of them from the childcare facility I used to work at have been in touch to say how much of an inspiration I've been to them. It's the same with some of the kids I taught at school.
One that sticks in my mind is a kid who messaged me to say how much my achievements mean to him, to keep it up, and to say that he will think the world of me regardless of whether I win or lose from here on in.
Seriously, does it get any better than that?
WELCOME TO THE WORLD…
Life is changing at home, too.
Jo has just finished work this week getting ready for the birth of our little girl. She works in apprenticeships, matching employers with employees. It will be good to have her at home, resting and not having to worry about going to work.
We've bought the cot but I haven't assembled it yet. The room is still to be sorted out. I'll be looking forward to getting everything ready. It will make a nice break from training.
The idea of being a father, and the need to provide for my daughter, is already driving me to train harder and work for her future. It's a new feeling for me.
Fatherhood is No. 1 for me. That's what I want to be best at.
Holding the belt for as long as I can will help me earn the living that will give my family the life they deserve.
More about: Jeff Horn | Johnathan Thurston | Manny Pacquiao