When they took Souths away
It was November, 2000 and I was 11 years old. A march was held from Redfern to the Sydney Town Hall to protest Souths being kicked out of the NRL in the post-Super League era.
I was there, walking alongside my dad, Garry. I'll never forget it.
George Piggins was up front leading the way with John Sattler beside him. Jack Gibson and Frank Hyde were there, too. A crowd estimated at 80,000 chanting and singing songs. A real feeling of determination in the air.
Dad and I were towards the back of the march and I remember once everyone got to the Town Hall, people were climbing on top of bus shelters and up light poles to get a better view of the speakers.
This was the club I'd already fallen in love with and I was receiving the ultimate lesson in what Souths meant to so many people.
I came from a family of devout Rabbitohs fans. My mum, Michelle, has often told me the story of how her mum, Gloria, was named after the Souths theme song Glory, Glory to South Sydney.
I played for the famous Coogee Randwick Wombats club in the Souths district and we'd made it on for games at halftime of first grade at Sydney Football Stadium. But after they got rid of the Rabbitohs at the end of 1999, I didn't have a club. It was the strangest feeling.
A mad footy fan with no one to cheer for. I was lost.
When South Sydney got back into the NRL through the courts in July, 2001, it was an awesome feeling. My life as a kid – the way it's supposed to be, I reckon – was switched back on. I had a team to support again.
Now, as I prepare for my last few weeks as a Souths player before heading to England to join Warrington, it seems like the right time to wonder what would've happened if the Rabbitohs hadn't gotten back in.
How would my career have turned out? It's hard for me to imagine playing for any other club.
Fortunately, I didn't have to go looking for an alternative because the Rabbitohs and their fabulous fans refused to take things lying down and the club survived.
Thank God enough people cared.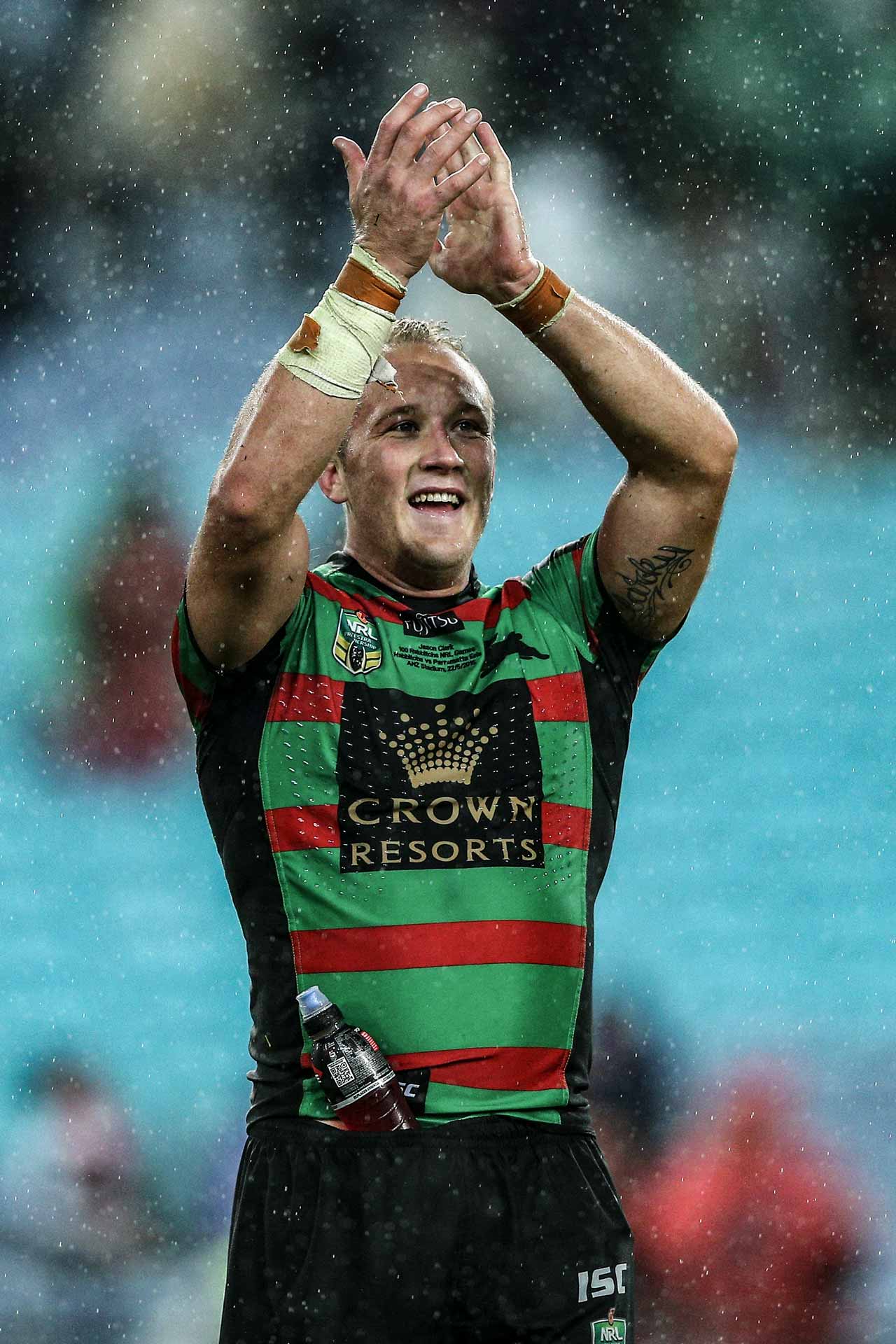 BEAR HUGS FROM OMAR
I've made lifelong friends out of people I met as Rabbitohs fans.
When I made my first-grade debut in round 25 of 2009, we had a big win over the Dragons at ANZ Stadium. The whole team walked a lap of the ground to thank the fans over the fence because it was our last home game of the season.
A bunch of Lebanese blokes gave me a big group hug and lifted me over the fence.
They were season-ticket holders who always had the same seats behind the opposition bench. I'd see them all the time after that. I ended up becoming really good mates with all of them.
I catch up with them on the phone and I've been to their houses for Lebanese barbecues. One of the guys, Omar, runs a well-known restaurant in Surry Hills called Abdul's and we catch up there occasionally as well. My dad used to buy takeaway once a month from Abdul's on his way home from work when I was a kid, as a bit of a treat.
It's funny how things work out sometimes.
I went to Abdul's with my dad once, not long after I made my first-grade debut. Omar recognised me and said, 'You're from the under-20s, aren't you? That was us who lifted you up at your debut game!' Our friendship evolved from there.
They were at it again last week, lifting me up after we beat Wests Tigers in the last round. It never gets old.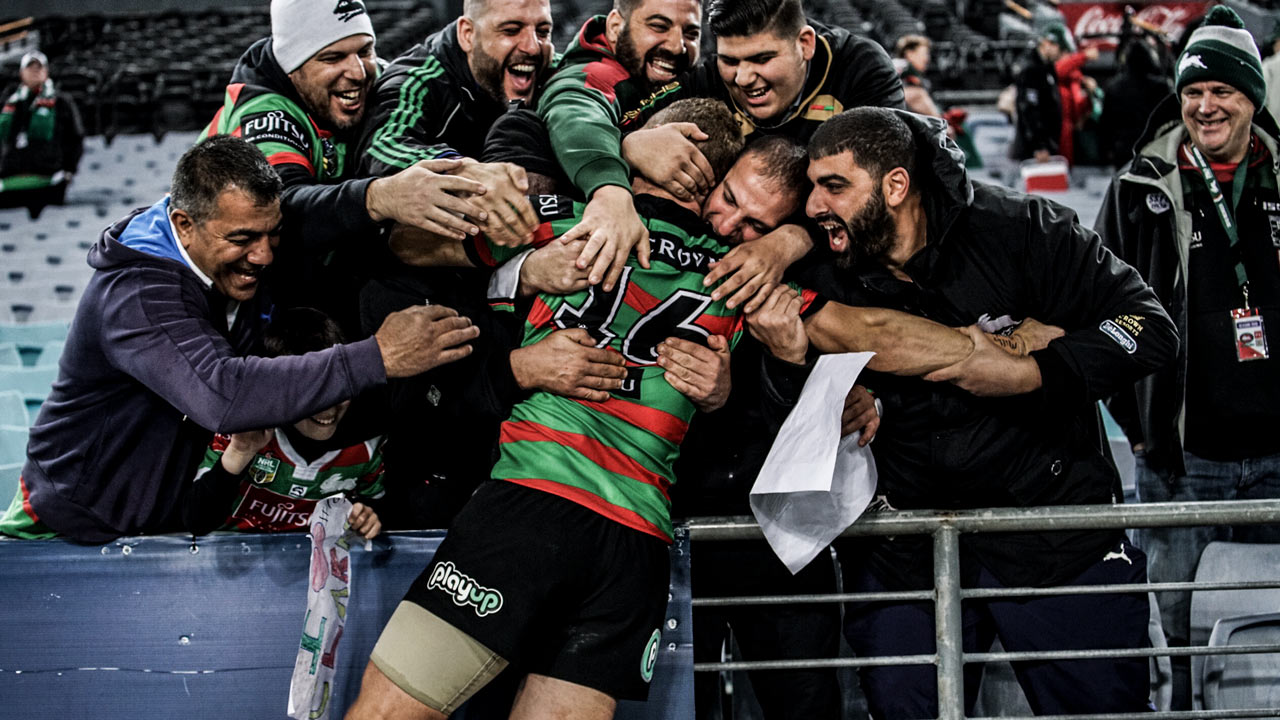 That part of the game has always been important to me. I've always made time to talk to the fans. Their support has meant a lot. They see me as a loyal Souths man who has always done his job to the best of his ability and that's how I see myself.
When Toby Stace, a Souths fan, started a petition to get the club to keep me and it attracted thousands of signatures, I felt pretty chuffed.
It's obviously unusual for people to go to those lengths over a player leaving a club. I regarded it as an honour. I didn't feel embarrassed about it or worried that it might rub a few people at the club the wrong way. We're all professionals at the Rabbitohs and I'll leave on great terms with people at the club.
But everyone's entitled to their opinion and I guess this was just another way of people expressing it.
You know it's getting close to the end of your time at a club when the regular goalkicker throws you the ball to take a conversion kick. The score blew out against the Tigers and Adam Reynolds yelled to me to take it. I said, 'No', but Reyno just threw the ball at me and walked away.
I had no choice. I only just got it over the crossbar from right in front, but what would you expect? I don't practice at training.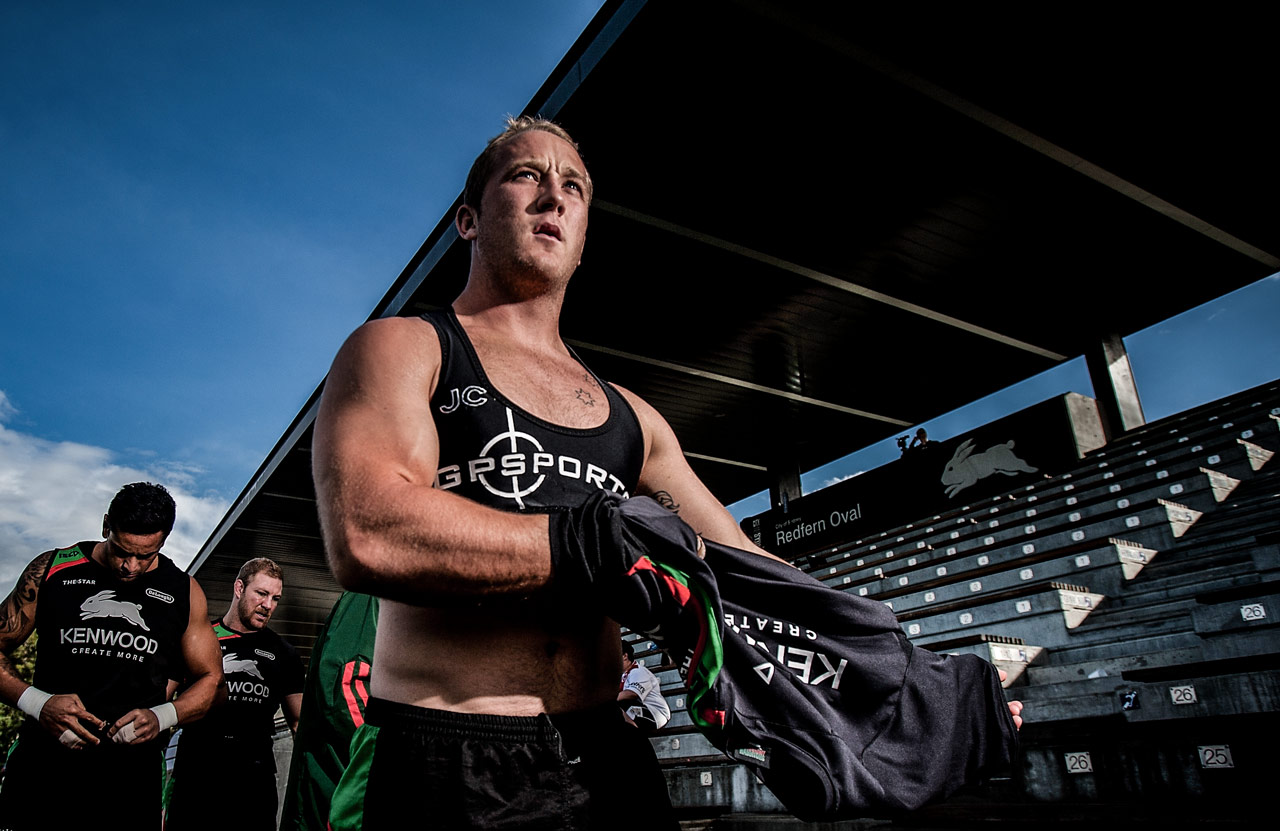 AN ADVENTURE AWAITS
If I had things my way, I'd be playing for Souths again next season. I think that at 29 I've still got a bit more to offer. But I've said before that I don't hold it against the club for not renewing my contract at the end of this season.
My feelings there haven't changed.
It's a business. People in charge have to make decisions. And they gave me plenty of notice.
What getting cut did do, however, was make me face up to the reality of potentially having to play against the club I loved. Deep down I knew it wasn't something I wanted to do but the reality was that I was a professional footballer, with a wife and three kids, who didn't have a job after this year. I needed to get one.
I would've done it. I would've played against Souths. With a heavy heart, I would've had to if that was my best option. But when my manager started looking around there was interest from England and, when you're sorting out your future, you've got to make calculated, smart decisions.
If I had things my way, I'd be playing for Souths again next season.
Warrington sounded good to me and my wife, Lauren, so I took the offer of a two-year deal.
I know a few people at the club. One of my old teammates at Souths, Bryson Goodwin, has already been there for a year and Blake Austin has signed from Canberra. I played in the City Origin side with Blake in 2015 and we got on well.
I've always had the desire to play in England. Sam Burgess reckons the Super League will suit my style of footy and that I'll love it over there. I'm looking forward to wearing a new set of colours and making new friends. I reckon it's going to be a bit like changing schools as a kid.
I've got to concentrate on the footy because that's what I do for a living, but Lauren's really looking forward to the adventure side of it with Europe on our doorstep. Our three girls are still very young. Milla's five, Andi's three and Billie is two in November, so none of them are going to be far into school before we eventually come back to Sydney.
I'm glad it worked out this way.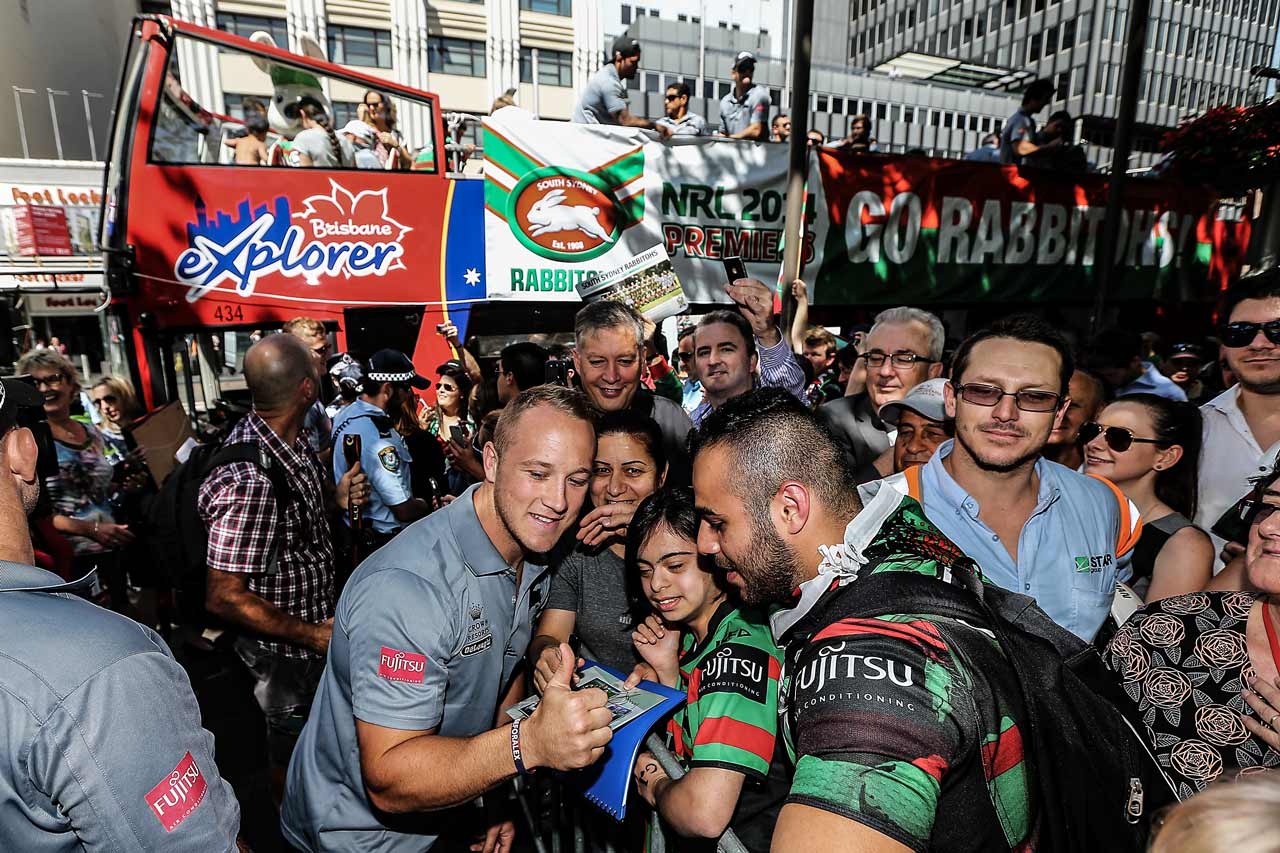 THE ULTIMATE
I told Anthony Seibold that it was my goal this season to reach 150 first-grade games.
I was sitting on 148 coming into my 10th year of first grade. I'd been in and out of the team a few times over the years and was used to the battle for positions, so I didn't panic when I didn't get a game in the first four rounds.
I was 18th man twice and played reserve grade twice. The coaching staff were telling me I was doing the right thing at training and in games. Competition was hot. I just had to wait for my chance.
I finally got it in round five against the Dragons and I've now racked up 19 games this season. That's a total of 167. I'm told that puts me 16th all-time on the list of appearances for Souths. That just feels like a phenomenal achievement to me.
The history of this club is unlike any other. Names like Bob McCarthy, Ron Coote, Michael Cleary, John Sattler and Eric Simms are legends of the game. A lot of those blokes are still around the club and pop in every now and then to say hello.
Sam and I often talk about how close those guys are and how they still spend a lot of time with each other. We want the relationships to be that way among all the current players when we finish at the club.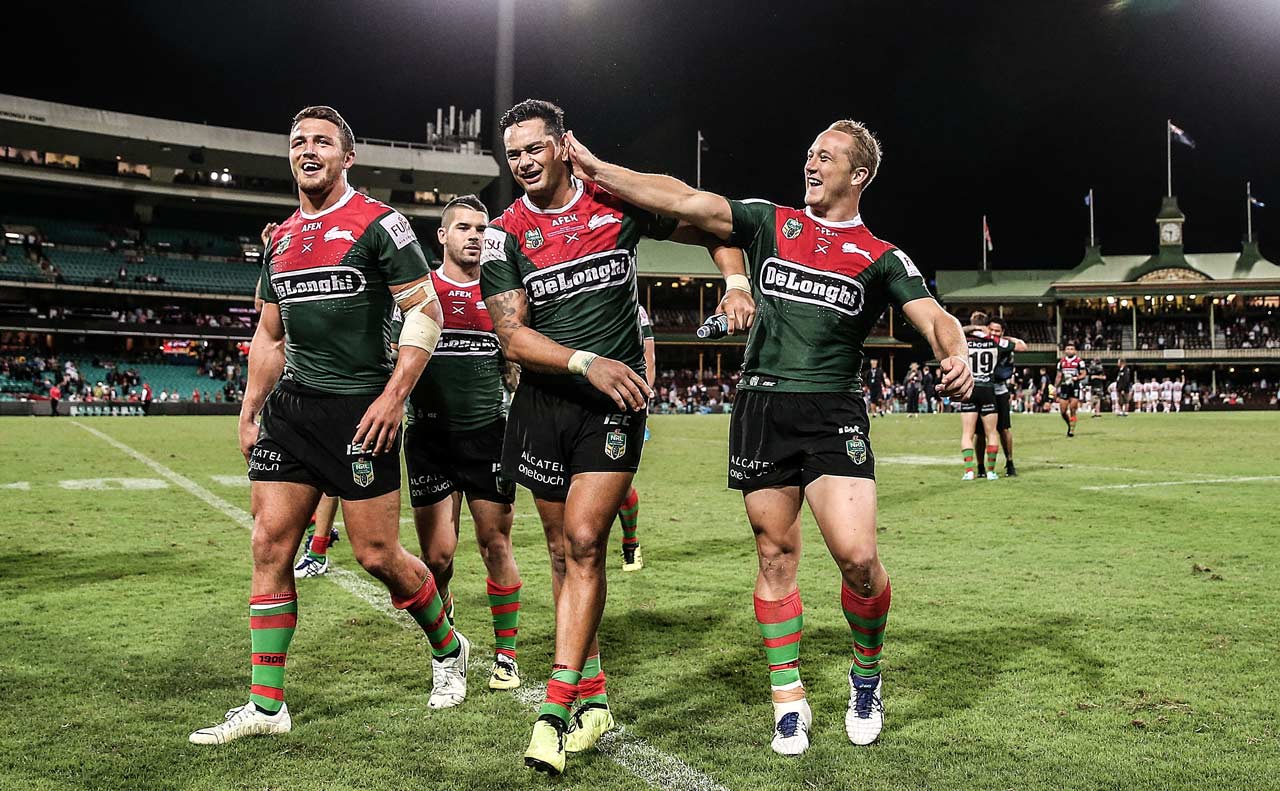 Sam has had a big impact on my football and to think how close I know we'll be in the future – and how close I believe we'll all be – gives me a great feeling.
I feel like my name is a drop in the ocean compared to the Souths club legends. But I'm proud to have played so many games for the same club as them – and to have been part of the club's first premiership for 43 years.
And I'm happy to have been able to do it alongside players like John Sutton, who became the first Rabbitoh to reach 300 games for the club this year. Sutto, myself, Reyno, Campbell Graham and Cameron Murray all came through Souths Juniors and I've got to thank the president there, Keith McCraw, for the personal interest he took in my development as a young player.
Keith has come in to present a lot of the local blokes with our jumpers for milestone games and that's part of what keeps the Rabbitohs strong as a club. It's a great tradition.
It's hard for me to imagine playing for any other club.
Dad has been to almost every game I've played in my career and mum is never far away. Funnily enough, they sit apart at games. Mum's normally around halfway with my older sisters, Rachel and Tanya, and dad sits behind the goalposts.
I can usually find them all when I scan the crowd – even at away games. The support I've had from my parents and sisters and Lauren and our kids has been enormous. It has driven me.
I believe I've served the club well. I've won the clubman of the year and The Burrow appreciation awards in recent years. Those honours touched my heart. I hope that when young players come through at Souths in the future they'll regard my name as a well-respected one.
To the fans, it's a deep-hearted thank you from me as we enter the finals series and I count down towards the end of my time at this great club. I'm so appreciative of your support and I'm humbled by it.
When I'm gone, the thing I'll miss most is walking into Redfern Oval every day and seeing the smiling faces on my teammates. Among the ones I'll miss the most is Reyno. We've been together since Souths Juniors and achieved a lot. He's a great character to have in a team.
Playing for the most famous club in the league is the ultimate for me.
More about: Adam Reynolds | Anthony Seibold | England rugby league | John Sutton | Sam Burgess | South Sydney Rabbitohs | Sponsored