The footy hero you've never heard of
I'd like to tell you a little bit about my hero.
Given what I do for a living, it probably won't surprise you to learn that he was a bloody good footballer. He ran hard, hit hard and played hard all the time. If a tougher player has ever taken the field, I have yet to meet him.
I don't know exactly how many games he played, but it would have been more than 300, maybe even 400. He was captain-coach for a lot of that time. There are a couple of generations of players out there who learned the game – the strategies, the discipline, the passion – from him.
He tried to retire at the end of 2008, but it didn't last. He couldn't get rugby league out of his system. He ended up playing for ten more years, an 80-minute player to the end. He only finished up after last season. He was 45.
I was lucky enough to call him my teammate for four seasons. I don't remember a single game – a single play – where he didn't put his body on the line when the situation required it. My brothers, Logan and Cooper, played alongside him too. If you asked them, I reckon they'd tell you he is their hero too.
His name is Craig Wallace.
Bush footy legend.
My Dad.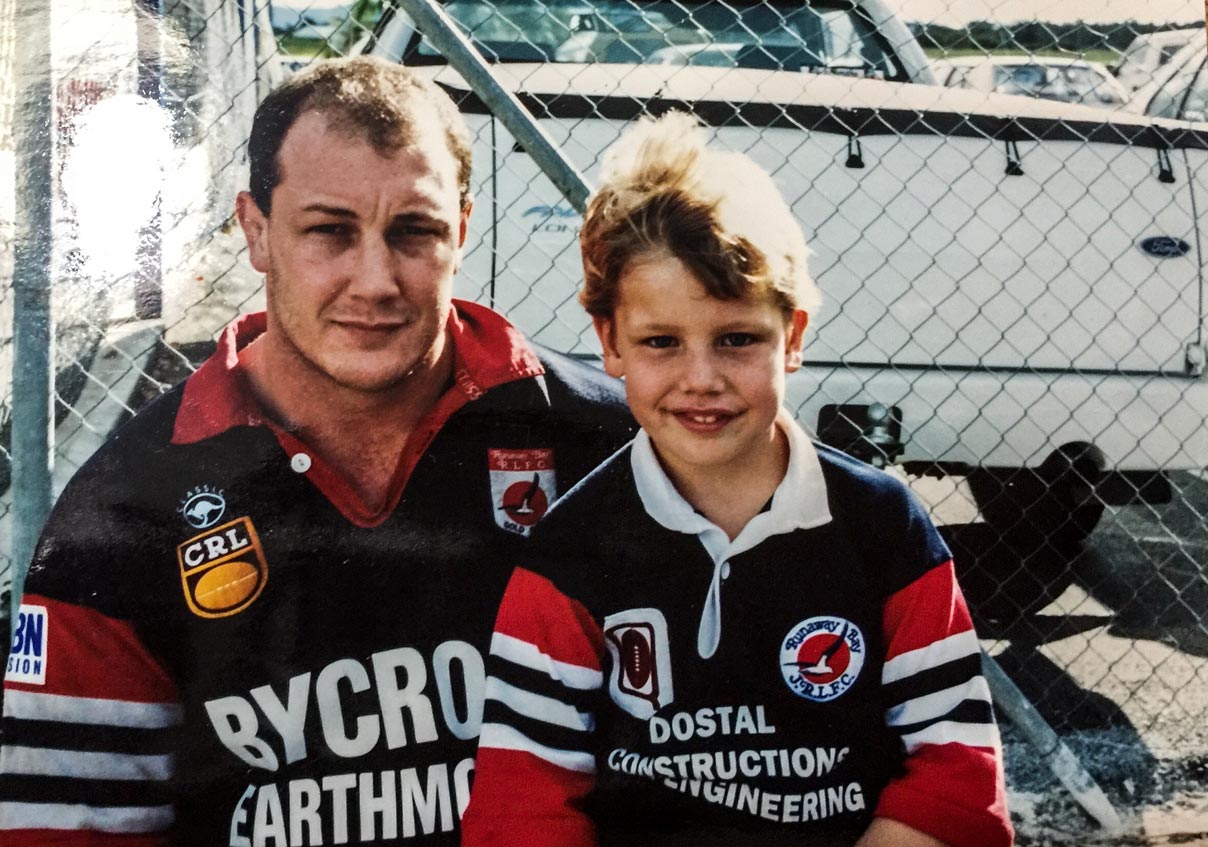 WORDS I NEEDED TO HEAR
To this day, I look for him in the stands when I play.
No one knows my game better than my old man. We use these little hand signals to communicate with each other. Run harder. Tie in.
We've got a signal for everything. He'll tell me if I'm playing well, or if there's more I need to be doing. It's reassuring to know he's there.
I also speak to him before every game. It's not so much the words he says that give me comfort, but the fact it is him saying them.
I'll never forget the hours leading up to the 2015 grand final. I was on the team bus overthinking everything. I was so nervous, there were actual tears in my eyes.
I walked into the dressing rooms at ANZ Stadium, stopped and called Dad.
'How are you going?' he asked.
'I'm shitting myself,' I replied.
'Why?' he continued. 'It's just another game. The only difference is there's a trophy handed out at the end of this one. Do what you've done all year. That's what got you here.'
It was exactly what I needed to hear. It calmed me right down.
An 80-minute player to the end. Dad only finished up after last season. He was 45.
From the age of four, when I played my first season of footy for Runaway Bay, Dad was the player I modelled myself on. I liked watching Shane Webcke, Petero Civoniceva and Scotty Sattler, who Dad played with as a junior and stayed good mates with. But my old man was the one I wanted to be like when I grew up.
I remember being about 12 or 13 years old watching him play for a combined Coffs Harbour side in a trial game against Melbourne.
I think it was Sam Tagataese, I'm not 100 per cent sure, but whoever it was, he was massive and fast and he smashed through the Coffs Harbour line from the kick-off and Melbourne scored from that set.
The Coffs Harbour team kicked off again and you could see this bloke winding up to do the same thing. And you could see our guys retreat a bit – with the exception of Dad.
He came flying out of the line and hit the guy that hard it backflipped him. The crowd lost it. I was jumping around losing my shit in the grandstand with Mum shouting, 'Sit down! Sit down!' the whole time.
If someone pulled off a hit like that in the NRL, it'd be in the highlights reel for the whole season!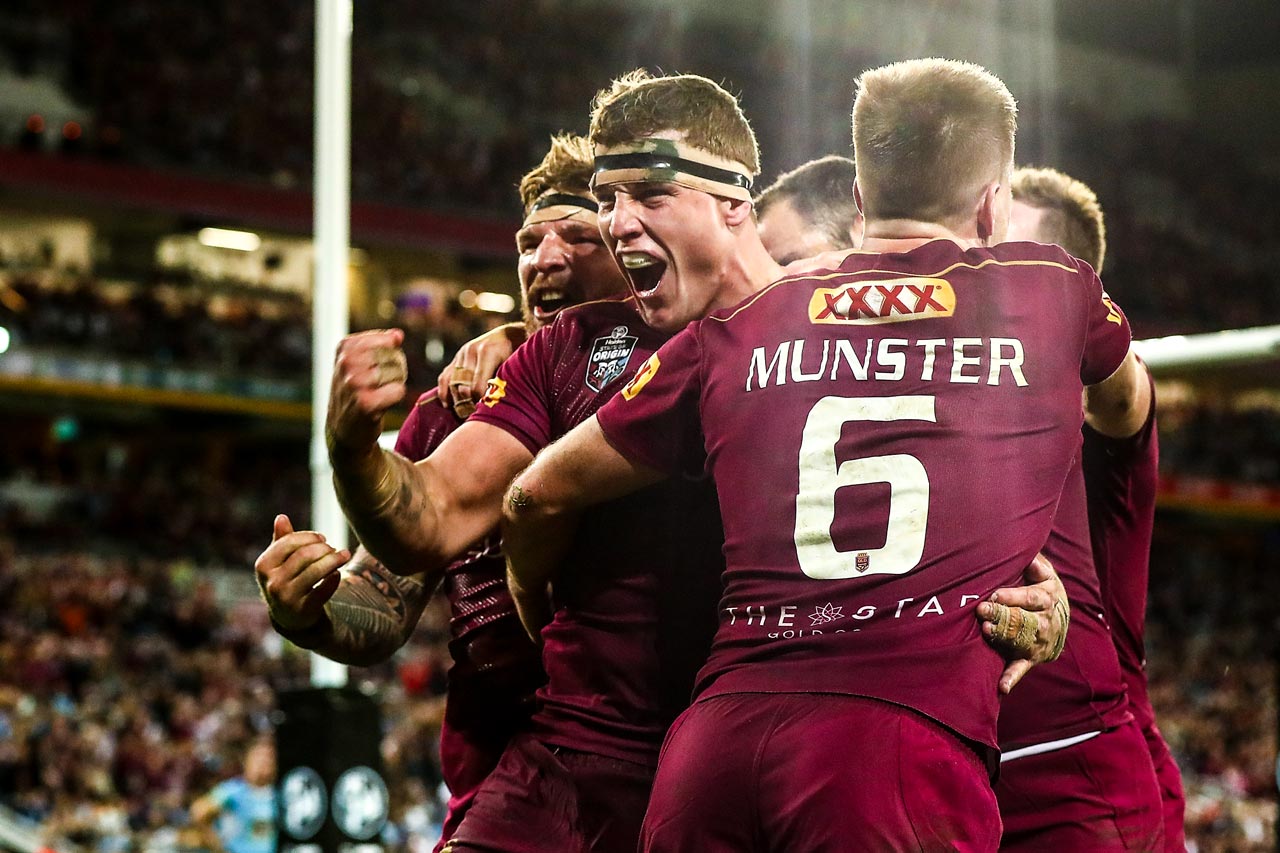 'RIP HIS HEAD OFF'
Being the son of a bush footy icon wasn't always easy.
We played for the Sawtell Panthers for a few seasons after I turned 16. In that first year, I'd run onto the field and you'd straight away hear the opposition players shouting, 'That's him! It's Wallace's boy! Rip his head off!'
Dad wasn't one to get all sentimental about playing alongside his son, either.
There was one game, I can't remember who it was against, but I put a decent shot on the ball-carrier and he coughed it up. All my teammates wandered over, patted me on the back and said, 'Well done.'
Then Dad came over – and smacked me right across the back of the head. 'Good boy,' he said, before jogging off to pack down in the scrum. It was just as well I was wearing headgear that day. That 'love tap' might've resulted in an HIA otherwise!
Those seasons of tough, hard bush footy made me into the player I am today. It prepared me for what was to come in the NRL. I will always be grateful for the experience.
In that first year, I'd run onto the field and you'd straight away hear the opposition players shouting, 'That's him! It's Wallace's boy! Rip his head off!'
I respected Dad immensely as a footballer, and just as much as a family man.
He would roll out of bed every Monday morning battered, bruised and bashed up from the day before. He would come limping into the kitchen but, if I ever asked him if he was OK, he would always reply along the lines of, 'I'm fine, I don't know what you're talking about.'
From there, he would make our lunches, drop us to school and work all day in our family surf shop in Coffs Harbour, Low Pressure Surf Co, which was open seven days a week. And then he'd pick us up, drop us off at our footy training and head along to his.
I used to love going to the Panthers' training sessions. I would finish our practice run and head straight over to the men's, making kick returns like a fullback. I remember telling him once, 'Don't you dare retire until I'm old enough to play with you.' Then Logan said the same thing. Then Cooper.
He was going to retire when we moved the family from Coffs to the Gold Coast in 2009. It was never going to take. He ended up taking on the role of captain-coach with Tweed Heads. He carried on right up until this season.
I always said that if I had half the career my Dad did I would be a happy man.
The thing I'm most proud of over my seven seasons in the NRL is that I've been able to extend our rugby league bond. To have him there for all my milestone games – my debut, the grand final, Origin and more – has been really special.
He has given me the same piece of advice the entire time.
'Do you.'
By that he means don't try and pretend to be anyone else. Be true to yourself. Run hard. Tackle hard. And the results will come.
I live by that motto to this day.
One motto I should've paid more attention to came from my mum, Sharon. She's a personal trainer. She used to always tell me to get to the gym as a teenager, but I wasn't a great listener. I wish I had. The body would be in better nick now!
GOODBYE BRONCOS, HELLO TITANS
No one will ever take the place of my old man, but I was fortunate to have a couple of father-like figures during my five seasons with the Broncos.
You could almost say I had it easy being a young bloke in a team that included legends of the game like Corey Parker, Sam Thaiday, Justin Hodges and plenty more.
As strange as it may sound, that was one of the reasons I felt like I had to leave the club. I'd reached a point where I had to step out of my comfort zone and become my own man. Be my own player.
Instead of going, 'Hey Corey, what should I do here?' or, 'Sammy, what do you think of this?' it was time for me to work those things out for myself.
As grateful as I'll always be to the Broncos, the move to the Titans is still the best decision I've ever made.
That's not to say it wasn't difficult. It was. I'd rank it up there with the hardest decisions I've ever had to make in my life. The Broncos are a great club with a proud tradition built over 30 years. The Titans, in many ways, are still building theirs.
I'll be honest: it feels like I've been at the Gold Coast a lot longer than 18 months. There have been so many changes in that time: new ownership, Jarryd Hayne coming and going, a new coach and a solid recruitment drive over the most recent off-season.
I've enjoyed it all and learned plenty. It was the change I'd hoped it would be.
The win over Brisbane last week was great, but we know there is still plenty of work ahead of us.
But hard work doesn't scare me. That's something I've inherited from the old man.
More about: Brisbane Broncos | Gold Coast Titans | Jarrod Wallace