Life lessons of a football journeyman
Thirteen years after leaving Australia to play professional football in England, I declined a PhD offer from the Manchester Metropolitan University and moved back to Australia with £3,000 in my bank account.
My journey wasn't quite what I expected, but I had a hell of a ride.
In my career, I've had to fight for everything that I've achieved. For me, my life has been about fighting for my dreams, about the will to succeed.
There was a time not so long ago that I thought my football dream was over. The Roar saved my career but, more importantly, I was able to find a sense of purpose in my life outside of football. I realised that football doesn't define who I am.
I'm currently chipping away at a PhD in Sports Coaching through the University of Queensland, the only professional in Australia to do so (don't quote me). It's psychology-based learning that investigates how coaches communicate with their players. The art of coaching.
I find this really interesting because it's a relationship that has a universal application: coach-athlete, manager-employee, teacher-student. I'm studying the dynamics of those relationships, what makes them successful and why. It's about what successful cultures look like, or what effective leadership entails.
My studies have also forced me to look back on my own life and career. I've learnt some valuable lessons along the way and it's changed how I think about successful cultures and how I approach life. I'd like to share some of them with you…
MAKE PEOPLE FEEL LIKE THEY BELONG
I left home at 15 and lived with a few families when I joined Reading FC in 2001.
The first family I stayed with never made me feel like they cared about me. They never made me feel welcome or that I belonged and as a result it made me want to leave them.
To navigate around this, I'd stay late after training and go to the gym to play foot-tennis. A lot of the time, I'd play against Brendan Rodgers, from about three o'clock in the afternoon until seven at night. What once was a problem, turned into an opportunity to work and improve because it forced me to develop my football skills when others weren't.
Brendan has gone on to have an incredible career as a coach. He almost ended Liverpool's title drought in the Premier League and is now doing a great job at Celtic, recently going a season undefeated.
In my opinion, Brendan is such a great coach because he valued me as a human being and not just as a footballer. He made me feel like I belonged and accepted me.
He built up my confidence and made me believe that I had qualities that other players didn't. That's an incredible ability to have as a coach. He let me express myself and taught me life lessons.
I spent a few Christmases at his house actually and I still talk to his family. They are wonderful, down-to-earth people and I'll never forget their generosity.
MAKE SACRIFICES
Having to leave home at 15 and move to England, I went from making decisions about what classes I might study at school to having to make decisions like, 'Do I want to go drinking this weekend?'. Real life decisions.
When I arrived in England, that was the culture. Everyone my age was going to night clubs and playing up and I didn't have my family around to tell me what I could and couldn't do. But I was raised well and I've always been driven. I knew why I was there, and it wasn't to party.
I was living my dream and loving every bit of it, even the chores football apprentices are made to do. I used to clean boots for Graeme Murty, who is now the manager of Glasgow Rangers and I made cups of tea for Alan Pardew, who was the manager of Reading at the time. Admittedly, he said I made the worst tea he'd ever tasted, and I was very quickly relieved of that responsibility. Another blessing in disguise! I think it's important for younger players to learn their trade, it lets them understand what football is: it's nothing, it's everything, it's religion.
I threw myself into other things, instead of partying. Brendan and I stayed in touch after he left Reading to join Chelsea and we started studying a diploma in Spanish together. He saw Jose Mourinho speaking to foreign players in their native languages and wanted that same level of communication.
I've always been good at making decisions and making sacrifices in order to get to where I'm going. I've cleaned boots on Christmas Day, I've missed birthdays, weddings, parties and had early nights on NYE. I am very single-minded about achieving my goals. You see my work is my passion, I am addicted to it in the best possible way.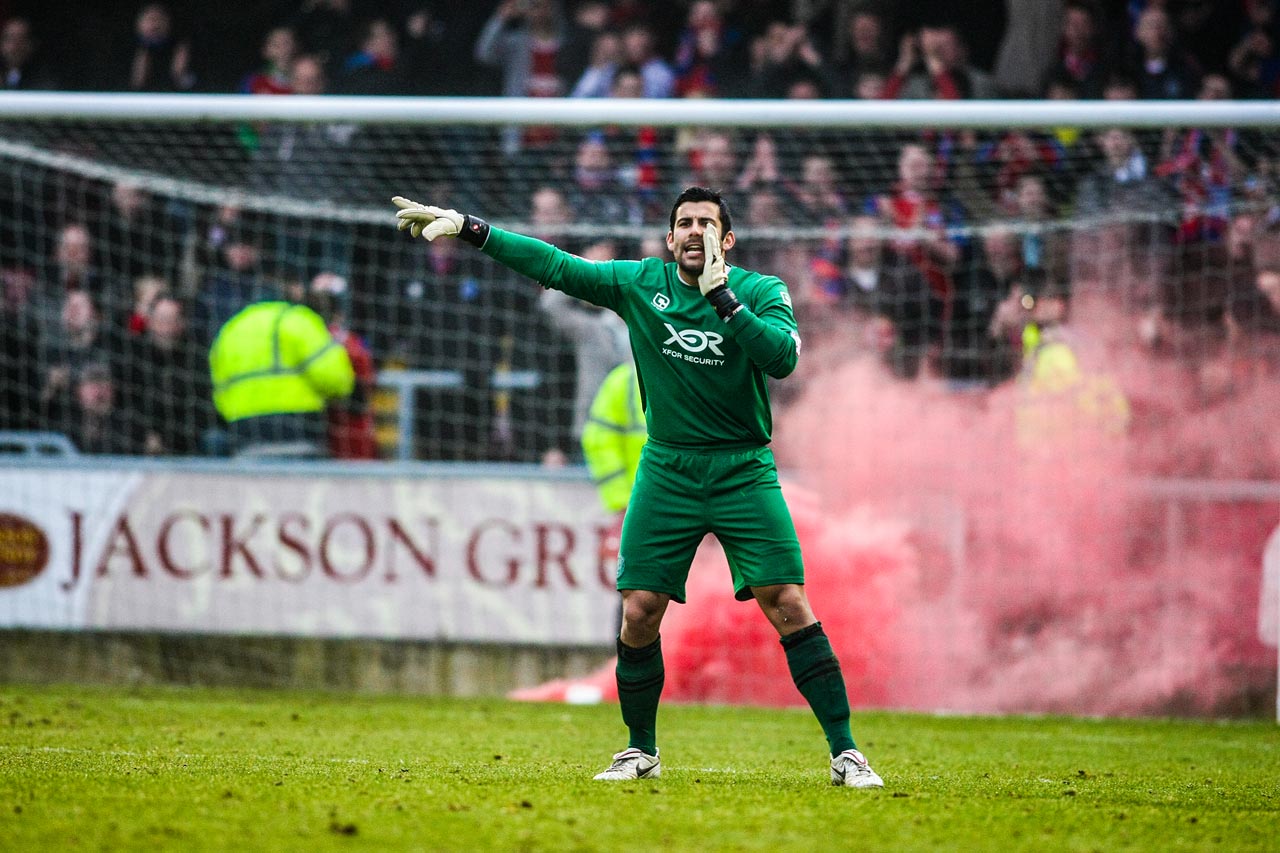 STOP THINKING YOU'RE SO DAMN WONDERFUL
I was lucky enough to represent England at Under-18s and Under-20s. That was a great experience but looking back I think it gave me a sense of entitlement, like I had cracked it. In short, I thought I was better than what I was.
Reading loaned me out to Rushden & Diamonds but instead of seeing it as an opportunity. I was unhappy, and I believed that I deserved to be playing at a higher level than League Two at 20 years old!
In the end, that was my downfall. I had a bit too much of an ego and I was naive to think I was good enough. Now I know that I can always improve.
I knew why I was there, and it wasn't to party.
In reality, I was playing against guys with 300-400 games worth of experience behind them. I quickly found out that I wasn't as good as I thought.
I started in the Rushden & Diamonds team as their first-choice keeper and was doing quite well but then I became inconsistent. Everyone in that dressing room was watching their own back. When you're the young fella in a losing team, you're going to get thrown under the bus – especially when there are older players looking to deflect responsibility. I certainly don't blame anyone and, if it wasn't for my own ego, I could've managed myself better in that time.
The club ended up getting relegated, but I had already left. About halfway through the season, I went to the club and said that I didn't want to stick it out. They wanted to drop me and I couldn't hack it. I wanted to go back to Reading.
This is how I look at that decision now – I gave up. I didn't want it enough, I thought I was resilient but I wasn't as resilient as I could have been. I didn't understand at the time that setbacks are an opportunity to learn, and that ego is the only thing in the way from learning.
Reading noticed.
They turned around and said, 'Well if you're coming back to us, that just shows you're not up to the level'. The director of football, Nicky Hammond, took me aside one day and said the club was going to go with another keeper, Adam Federici.
It was a harsh lesson for me. I was going through a break-up at the time and I was left to really pick up the pieces of my life.
I just knew I had to get back into it, put my head down and try to come back stronger. I'd learnt that you can never live in the past.
Even now, playing for the Brisbane Roar, I understand the value of hard work. I look at my game honestly and objectively, even when we win. There's always room for improvement. I'm grateful just to be healthy and to do something I enjoy. I constantly make errors and I've come to accept that I am routinely late, or on "Jamie Time" or that I have a terrible memory. The point is that I accept who I am without judgement, and know when to laugh at myself.
STOP CARING WHAT OTHER PEOPLE THINK
As a young professional, I'd convinced myself that the only footballers who got degrees were the ones who weren't going to earn enough money during their careers.
I know that sounds absurd, but football is all about ego and status. Especially in England. It's about wearing this brand or driving that car. It's very materialistic. I felt that doing something like starting a degree would mean I wasn't a good footballer.
Then, I ruptured the bicep femoris tendon in my hamstring in the late 2000s and I had to start thinking about things differently. Reality hit me hard. Having such a bad injury made me realise that I wasn't superman and this football thing wasn't going to last forever.
I didn't really know what else I could do but my Dad encouraged me to go and get myself a degree; he has three. In reality, I was a high school dropout with no other experience than in football.
I enrolled in Exercise Science at Manchester Metropolitan University, which had a specific distance learning course for footballers. It ended up being one of the best experiences I've had in my life. I wrote my dissertation in human genetic research and that says it all about how things will come if you work towards them. I still laugh at it.
And to be fair, my decision to study wasn't received badly by my teammates at all. They just let me get on with it. The only people that would make comments were the actual sports scientists, who would take the piss out of me!
I quickly began to understand the value of sports science and how it could actually help me to train smarter.
HAVE A LIFE OUTSIDE OF SPORT
After my final season with Aldershot, my career was at a crossroads. I was named player of the year on the back of a really strong season personally; but the club had been relegated from the football league.
With no contract, I came back to Brisbane for a trial. Unfortunately, the Roar couldn't sign me because of the salary cap and, when I got back to England, all the teams there had settled on their squads.
I was thinking, 'This is it, I'm done'.
A conversation with the Roar's goalkeeping coach Jason Kearton gave me hope. He gave me a priceless piece of advice. He told me to take a year off, finish my studies, stay fit and he'd see if he could find something for me the following season.
I quickly found out that I wasn't as good as I thought.
So that's what I did and it ended up being the best year of my life. I realised that I can actually do other things and be successful at them as well.
I lived in my own apartment in Swindon and immersed myself in my studies. I was happier than ever before. I stayed fit by training with Reading a bit and I played the odd game here or there for non-league clubs to stay sharp and earn a bit of cash.
I ended up burning pretty much all of my savings but, for me, football wasn't about the money anymore. I learnt that life is full of opportunities and experiences if you look for them. I don't even wear a watch these days. For me, it's far greater to look at man based on who he is or how he treats you, rather than what he possesses.
When the A-League season ended I got back in touch with Jason and told him I'd been offered a PhD. True to his word, he used his influence to land me a contract. I'll never forget how he saved my career.
Since coming home, doing work in migrant communities is one of the things that has given me a sense of purpose. The stories of the people I have met have put the life of a footballer into perspective. I like to visit kids in hospital as well. It's not something I shout about, I don't do charity for attention, it's about giving back. To give to someone is one of the best things I can do as a person.
Now, I just thank God that I've got clothes on my back and I'm not hungry. Oxygen and water is underrated. I'm one of 20-odd professional goalkeepers in Australia and I come to training every day with a smile on my face because I'm doing something that I love. I practice gratitude and empathy.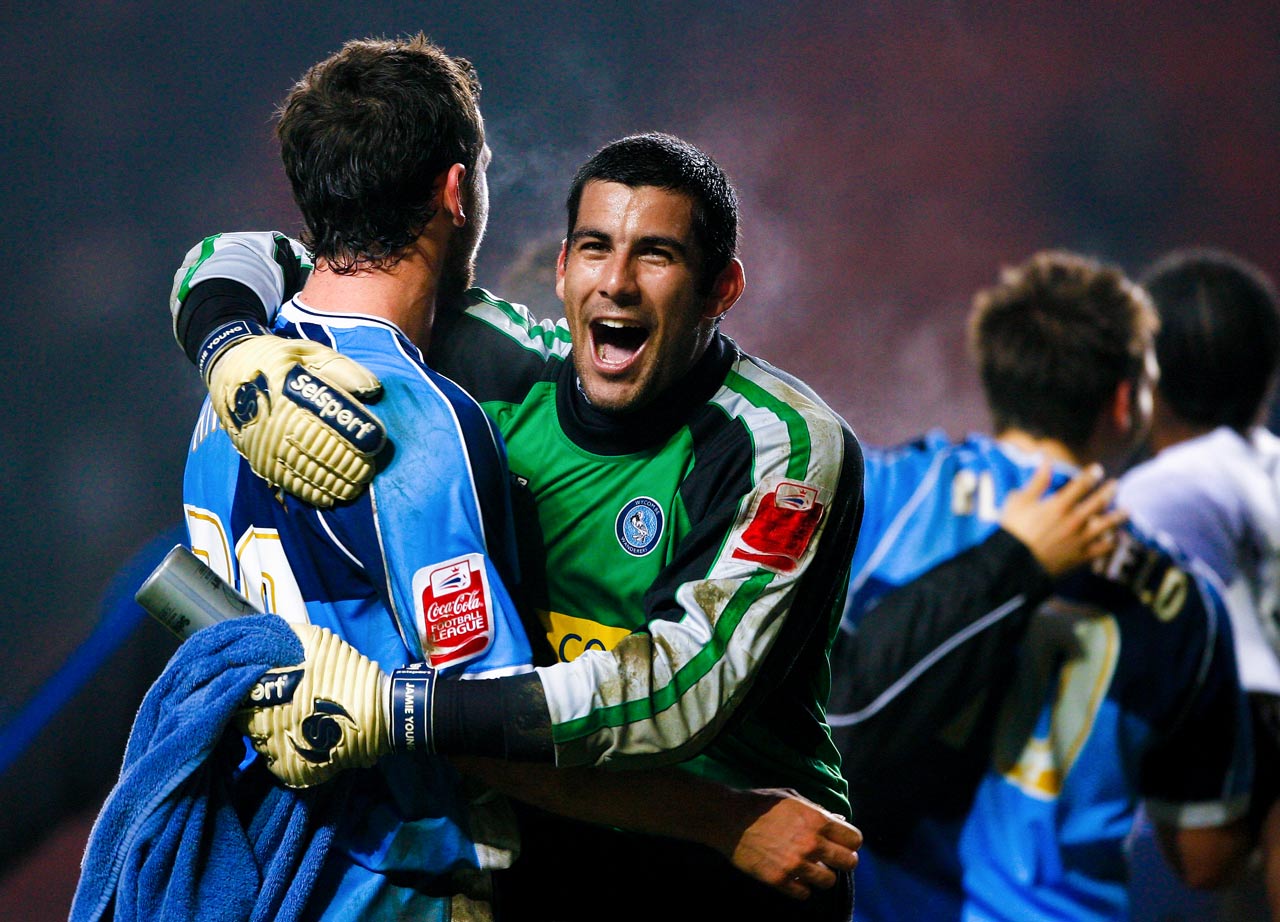 STAND UP FOR YOURSELF
My on-field argument with Shane Steffanuto was an interesting one.
We'd just lost to Melbourne City – our fourth straight loss to start the 2014/15 season – and emotions were pretty high. We had words but I was made out to be the victim and Shane the villain. The media dramatised what happened, as they like to do.
That's not how I saw it at all.
When Shane apologised to me, I was actually taken aback because I'd already forgotten about it and moved on.
At the time, I'd played close to 250 games, which is more than three quarters of the players in the A-League. Those kinds of arguments are a weekly occurrence in England. In fact, confrontations over there are often physical.
When I was in the youth team at Reading, I might have found situations like that hard to deal with. But I got used to taking care of myself.
I never enjoyed having physical fights or confrontations but it's part of the game. Football is survival of the fittest. You have to accept that you will have run-ins with people along the way and you have to develop a very thick skin.
From my time in the lower leagues, I've played with people who have been to jail. I've played with people who have murdered, sadly. I've played with people who barely had any money or clothes. You're all fighting to go up the slippery pole that is life to get to the top, or at least not fall off the bottom.
The thing about that level of football, is that no one is going to look out for you, except yourself. You're fighting for your life.
But at the same time, I also learnt not to judge people too quickly. You never know what they've gone through in life.
YOU CAN'T CONTROL EVERYTHING
The physical fights are easy to deal with, they are instant and are over. The tough battles are being told something like, 'you have to leave the club now' or 'you won't be getting picked in the team'.
How you react in those situations says much more about your character.
The elimination final against Western Sydney last year is a good example. Those are the games that every footballer dreams of starting in. It hurt when I was named on the bench; unfortunately, that's life.
Then out of nowhere Michael Theo was injured in extra time. I was subbed on in the 98th minute, at a very crucial point in the game and in our season.
I had to step up to the plate instantly and in my first 30 seconds on the pitch I made a save. The game ended up going to penalties and I stopped the final shot to win us the game. I knew I was ready because I had done the hard work.
Moments like that are all about how you handle pressure.
A lot of athletes fail to manage pressure effectively such as in the Olympics. They convince themselves that they have control of a situation, when in reality they have very little.
You can influence a game, sure, but you can't control the outcome. All you can do is focus on the process. I try and forget about the score and focus on my technique and doing the right things at the right times.
I remind myself what pressure is; it's just a fear response from your body. It's a message to your mind, telling you that you're placing a lot of importance on something.
A lot of people judge themselves harshly for struggling with pressure and anxiety but it's not a bad thing. Everyone has it. It's about how you manage it.
LEARN TO LAUGH AT RACIST FOOLS
I'm the son of two migrants. My dad, Iain, is Scottish and my mum, Cheryll, is Sri Lankan. They met in Australia after coming here to find a better life.
I've got a different culture and I've played with plenty of guys from other cultures as well. For the most part it's been a great journey, embracing those differences.
On the other hand, I have constantly been given racial abuse throughout my career, from supporters.
If it's on the football field, I couldn't care less. I'm there to focus on doing my job and if I'm listening to what other people have to say, then I'm not concentrating on my game. It's not right though, but it's part of life and has been since the dawn of time. I adopt the approach of being responsible for how I feel, it always comes back to me.
I saw it most in England. In fact, when I went to sign for Hayes & Yeading, the secretary called me a 'Paki bastard' right in front of the manager, which says everything about the mentality of that club.
To be honest, I didn't feel degraded at all because I'm very secure in my identity. The thing that upset me was his attitude towards people.
When I think back on that moment now, I feel sad for him and his ignorant view. With that said, I always try to have empathy. That person is the way they are, that's life.
In Australia, it's different. People of all races seem to get on. There are always going to be times where not everyone is going to see eye to eye, but I believe as a whole that Australia has the best quality of life on this earth.
BE HAPPY WITH WHAT YOU'VE ACHIEVED
I've spent most of my career in the lower leagues in England. I might not have reached the heights that other footballers do but I'm proud of what I achieved.
I was never able to break into the first team at Reading although I was a young, inexperienced keeper at the time, I have some special memories from my time in that squad, and still speak to the people there.
I remember making my professional debut, coming off the bench against Stoke in the first division. I kept a clean sheet and got man of the match. Pretty much how I envisioned my whole career!
When I was playing for Wycombe, we went on an incredible run in the League Cup. We punched way above our weight and reached the semi-finals, which was unreal.
We beat Swansea, Fulham, Doncaster, Notts County, Charlton and then lost to Chelsea in the semis. Not bad for a club playing in League Two! I was playing with a fantastic bunch of guys who I still talk to today. That's what made it such a special achievement.
At Aldershot, we got to play against Manchester United. I didn't get on the pitch, but it was an incredible experience seeing the likes of Sir Alex Ferguson, Berbatov, Pogba, Owen, Valencia, and others close-up.
It's funny, I went home that night and studied until 4am, and that right there is my life.
More about: A-League | Brisbane Roar | Chelsea | English football