Two passes, one invaluable lesson
The best way to illustrate what the Socceroos culture is – and why it is unique – is to take you inside a video session that took place after the friendly against Greece in 2016.
That was the moment it all crystallised for me.
We lost that game at Etihad Stadium 2-1. I remember everyone being pretty upset about it. I was relatively new in the squad and I entered the video session uncertain of what to expect.
I've been involved in teams before where video sessions are basically an hour of finger-pointing. Someone will latch onto something and hold it against a player. It's a blame game designed to absolve certain people of responsibility by pinning it on others.
LIVE stream your favourite sports. Get Foxtel & start watching in minutes. SIGN UP NOW >
So, there we were.
Our manager at the time, Ange Postecoglou, showed a moment in the game where Trent Sainsbury had tried to thread a ball through the middle of the park, a splitting pass, but it ended up getting intercepted and Greece scored.
The boss then showed a video from the Asian Cup final. It was Trent making that same splitting pass that hit Mass Luongo, who took it on the half turn and scored. That put the team 1-0 up against South Korea and, as history tells us, the Socceroos went on to win the match and the tournament.
The message was clear: he would never criticise the team for playing the way he asked them to. The commitment to the way we wanted to play would shine through in the moments that mattered.
The realisation hit me straight away.
This is what the Socceroos are about. This is our culture.
We don't have a team built around individual people and egos. We don't put some people down to make others feel good. Instead, we carry each other. We're a team based on an idea of how we want the national team to be.
I think that is quite special in world football.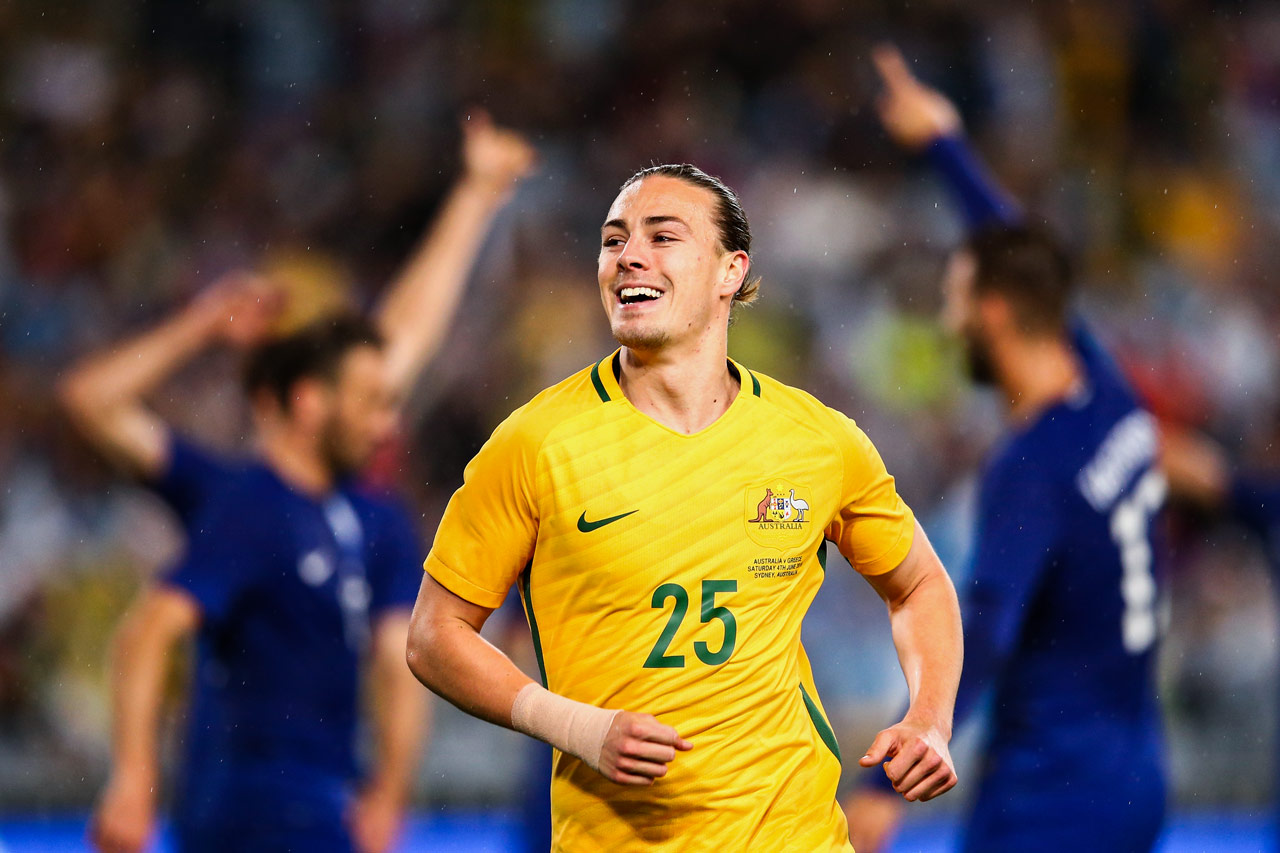 REPRESENTING TWO COUNTRIES
It's tempting to say my journey to the national team was unusual but, when I think about the paths some of the other boys have walked to get here, I realise it's not that different after all.
My international debut came for Scotland. It was in the UEFA under-19 championship. My old man, who comes from Aberdeen, still has my Scottish jersey framed on the wall in his office.
This was a strange time in my career. I had been playing for Frankston Pines in the state league back home when I was given a ten-day trial with Celtic. That was December 2009, and from that came a two-year contract. I was absolutely delighted, as you can imagine.
I returned to Scotland to take up the contract in April 2010, but the Australian federation made life quite difficult. There was an issue at the time about under-18 players leaving Australia to play in foreign leagues. I couldn't get my international clearance.
For ten months, I wasn't allowed to do anything other than train and play friendlies. It was very frustrating and, I'd argue, unnecessary. I'd been in no state academies, no institutes back home. I was a state league footballer who got a chance to go overseas and train.  There had been no obvious pathway for me in Australia.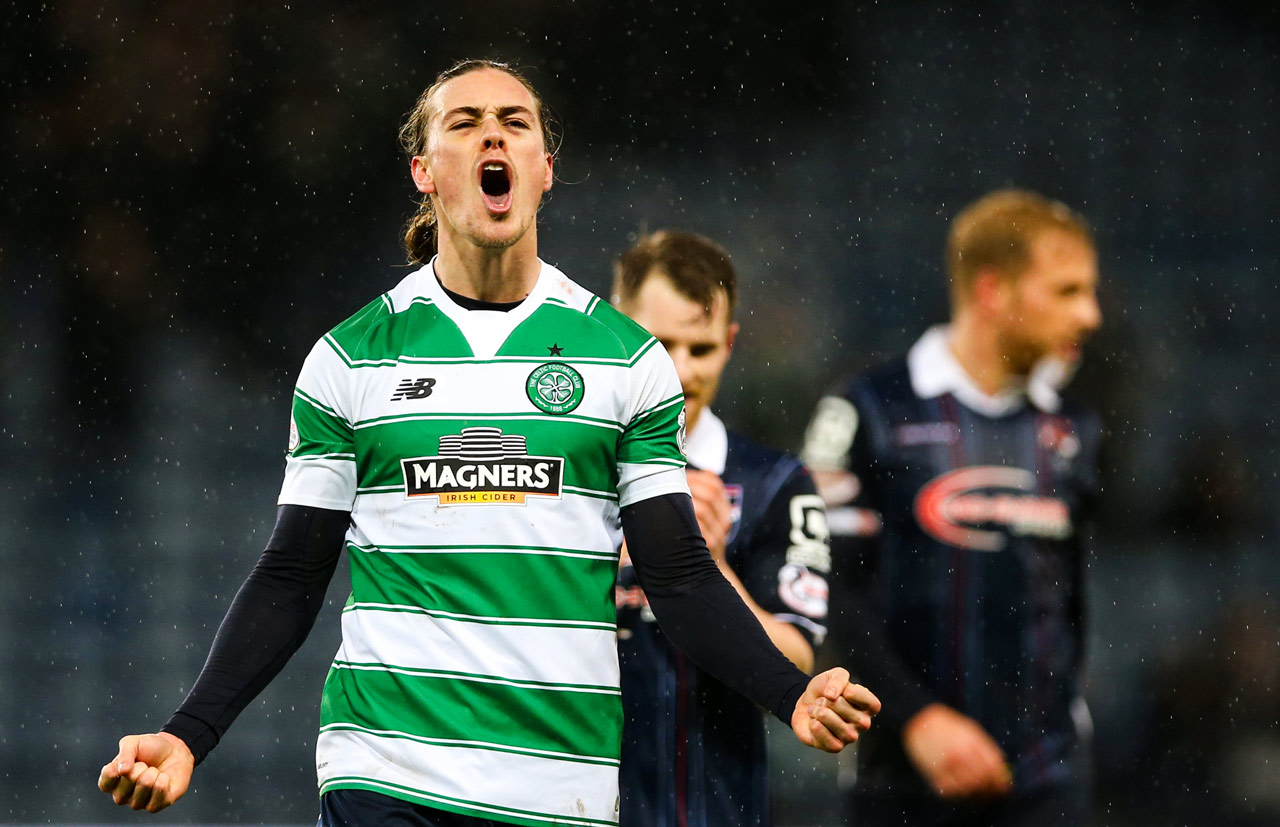 It was around this time I was approached by Scotland.
I've always had a close connection to the Scottish side of my family – more than half of them are from there – and it felt like too good an opportunity to pass up, especially with a major tournament coming up. I'd never been recognised nationally by Australia. I jumped at the chance to play international football.
But something hit me before my debut against Slovenia. 'Flower of Scotland' played over the loudspeaker and I didn't know the words. I could hear all the other boys singing loudly and representing their nation. I was representing my family, definitely, but this wasn't where I was from. It was quite a surreal moment for me.
The tournament was an incredible experience. I scored on debut against Slovenia and played against a Belgian team stacked with great players like Yannick Carrasco, who is now at Atletico Madrid, as well as Jordan Lukaku, the brother of Romelu, and Eden Hazard's brother, Thorgan. Still, I knew from quite early on that this wasn't where my future lay.
I don't regret the decision, and will forever be grateful to the Scottish FA for the tremendous honour they gave me. I just realised during that tournament, as I know now, that my heart is always with Australia.
A few months after the European under-19 championships, I received a call from Paul Okon about joining the Australian under-20s for the World Cup qualifiers in Portugal.
It was a no-brainer for me. I grew up a Socceroos fan – there's a fair chance you've seen the photos of me celebrating in the stands as a kid after the Uruguay game in 2005 – and this was a significant step closer to representing them.
05-17. 12 years apart. Same stadium. Other side of the barrier. Same feeling! ? pic.twitter.com/qkN12xQ0LA

— Jackson Irvine (@jirvine36) November 17, 2017
When 'Advance Australia Fair' played before my Australian debut, I knew I was where I needed to be. It wasn't about the anthem specifically, or the flag or anything like that. It was a feeling deep inside me. This was where I belonged.
It's the same feeling I get before every game for the Socceroos, albeit it amplifies for the big games and big tournaments with all the pressure and expectation that comes with them.
THE MELTING POT
All of us have a story along those lines.
The family backgrounds of the Socceroos are incredibly diverse.  We have boys of Croatian background, Serbian, Italian, Greek, British, Indonesian and more. And we play in leagues all over the world. Not many teams are like ours.
When we arrive in camp, we click into Australian mode. It's an easy transition. We live on different continents, we're exposed to different cultures, we play in leagues with very different styles but, when we come together as a national unit, we're one.
I love hearing everyone's stories when we get into camp. Just the other day, Andrew Nabbout was talking about the initial culture shock of moving to Japan and how he was adapting. It was fascinating. Others talk about where the A-League is at and those of us playing in the Championship in England have our own experiences to share.
Coming together as the Socceroos is like a breath of fresh air. Sometimes it's the only time of year you're around people who grew up in the same environment as you. It can be tough living away from home. I'm coming up on a decade in the UK! When you're the only Aussie in your team – or in your league, in some cases – a little bit of Aussie familiarity every now and then is a good thing.
I reckon that's why we're so adaptable as a team.
It starts with the environment we've created in camp. It's not about superstars and individuals, as I mentioned earlier, but rather the group. New players have a voice, just like experienced players. We all bring our own qualities into that team, but we do so as a collective. Whether we are changing formations, players or even managers, the principles stay the same.
Great to be back in camp with the team. Head tennis champs to kick off our time in Turkey! ⚽️ pic.twitter.com/QNgK8HofT8

— Jackson Irvine (@jirvine36) May 22, 2018
We have only lost two competitive games in the last two years – 3-2 to Germany in the Confederations Cup (they went on to win the tournament) and 2-0 to Japan in the World Cup qualifier in Saitama, which is still probably the more difficult road trip in Asia.
We might not always win games, but we nearly always find a way to get a result.
We always back ourselves to produce. When the pressure is on, we believe in what we're doing.
When you have a team of people – the players, the coaches, the staff – all on the same page, it's a lot easier to achieve your goal, even when there is a lot of external negativity. We didn't let it creep in during the qualifiers and we won't in Russia.
We don't have a team built around individual people and egos. We don't put some people down to make others feel good. Instead, we carry each other.
The qualifying campaign gave us confidence that we can fight our way through setbacks and difficult conditions. I won't forget that crazy bloody cauldron of noise in San Pedro Sulo in a hurry! It was all a massive achievement. We used a lot of players to get here, some of whom aren't here in camp now, but they should all be proud of what they contributed and how far they took this team.
We now have a core of players at similar ages, all entering the peak of their careers.
I'm excited to see how far this team can go – not just in Russia, but in the years to come, too.
THE CAMP
Turkey has been a little different to other camps I've been involved in.
It's hard physically, but the biggest difference is the inevitability that a handful of players won't be on the plane to Russia when we've all come so far together.
That's been in the back of everyone's minds. It gives the camp an extra edge. These things are never easy, but that's the reality of football at this level. It's the life we've all chosen.
And it's not like we haven't endured our share of hard knocks before.
More about: Andrew Nabbout | Ange Postecoglou | English football | FIFA World Cup | Russia 2018 | Socceroos