From third XV to Spring Tour
I had a plan after finishing high school: train hard, turn pro, make a career in sport.
I just didn't think that sport would be rugby.
It's funny looking back now, on the eve of the Super Rugby season, thinking how close I came to living another sporting life.
Cricket was my passion. Growing up, I received the NSW cricketer of the year twice for my age group and was awarded a scholarship at Sydney University to play when I left school. I thought my athletic future would be as a top-order batsman.
I liked to score quickly. Batting time was never really my thing.
As a young bloke, Jake Doran was my big rival. He plays for Tasmania and the Sydney Thunder now, but back then he was going around for Blacktown and I played for South Eastern. There was always a bit of competition between us as to who would be the leading run-scorer each season.
I made it into Sydney Uni's first grade side and we had a pretty strong team. Ed Cowan was there when he wasn't on state or international duty. So were guys like Will Somerville and Ryan Carters when they weren't playing in the Big Bash. I played against blokes like Kurtis Patterson and Charles Stobo along the way.
Rugby? Honestly, I was happy just to be playing for Eastern Suburbs and rekindling the love for the game I lost towards the end of my time at Scots College. Cricket was what I was focussed on. Rugby was for fun.
I played in the third XV in my final year at school. To think that a couple of years later I would be on the Wallabies' Spring Tour still blows my mind.
My ultimate pipedream is to be able to keep playing my footy and have a crack at the Big Bash. I doubt it's possible, but I can dream!
A CHIP ON MY SHOULDER
It didn't surprise me to learn that Kieran Read could've represented the Black Caps if he had pursued cricket. Israel Dagg and Beauden Barrett were apparently pretty handy too.
They're some of the most skilful rugby players in the world and I've no doubt that a lot of that comes down to what they learned playing cricket. I feel it in my own game.
The hand-eye coordination needed when you're facing fast bowling, the soft hands required to field in the slips … they all make you a better rugby player.
There was never a moment where I decided to switch from cricket to rugby. It just happened. I played colts rugby for Easts and was picked for the NSW under 20s. I told them I couldn't accept the selection because of my cricketing commitments.
I was lucky that Gary Whittaker, our coach with the Sydney Uni cricket team, encouraged me to play for the NSW under 20s rugby team around cricket.
I remember playing a footy trial on the Friday night and copping a bad knock to my hip. I could barely walk. But I had a second-grade cricket game for Sydney Uni the next morning against Hawkesbury at Bensons Lane. I stood at first slip and hoped for the best. Luckily, we bowled them out for 30-odd and chased it none down so I wasn't required.
I still had a chip on my shoulder about rugby.
I loved it when I was growing up. My dad, Peter, ran the footy club at Easts and my brother Will and I were ballboys. My favourite players growing up weren't Wallabies. They were Beasties first graders – Pauli Taumoepeau, Gavin DeBartolo, Tom Azar, Matt Toomua, Anthony and Saia Fainga'a and the captain Tom Egan.
But I lost a lot of that passion in my last couple years at school. They had a very professional structure. I didn't agree with it. We were told what side of the field to stand on and who to stand next to; there was no freedom to express yourself on the field. I felt like a chess piece.
Rugby? Honestly, I was happy just to be playing for Eastern Suburbs and rekindling the love for the game I lost towards the end of my time at Scots College.
A lot of the emphasis from the coaches was to minimise errors. But making mistakes and learning from them is how you grow. I didn't feel like it was a good environment for young players.
I initially wasn't going to play in year 12 to focus on my studies, but I ended up playing a handful of games in the third XV and ran the water for them the rest of the year. The thirds ended up winning the title. Everyone who played a game for them during the season was invited on stage to collect a medal. Except me. I also wasn't included in the team photo with the trophy.
I didn't realise it at the time, but it lit a fire inside me. As much as I thought cricket would be my No. 1 sport, I still had a burning desire to prove mostly to myself, but also others that I had what it took to make it as a rugby player.
Maddocks, Jack passing 020416D-3426.JPGEasts 1st Grade v Norths 1st Grade. Sport Rugby Union Club Shute Shield. Woollahra Oval. 2 April 2016. Photo by Paul Seiser/SPA Images

Posted by Eastern Suburbs Rugby Union on Monday, 4 April 2016
CHEIK CHANGED EVERYTHING
In the end, it all happened pretty quickly.
I played four games for the NSW under 20s and was called up to the Australian under 20s. We played the Junior All Blacks twice and beat them in the second game, which was the first time Australia had ever beaten New Zealand in an under 20s game.
I played one of my better games that day. I remember sitting in the far corner of the changeroom afterwards taking it in with my teammates. Then Michael Cheika walked in. I thought, 'What's he doing here?' I didn't even know he was at the game!
I was sure Cheik wouldn't have known who I was but, to my surprise, he walked straight over and congratulated me on my performance. I was stoked. We had a good chat and he mentioned to me that he was looking to take a few rookies with him on the Wallabies Spring Tour and that I was in his thinking.
That was on my mind all season. I wanted to do everything in my power to convince him to take me. But then I got glandular fever after the Junior World Cup and couldn't do any physical activity for nearly three months. I missed a lot of footy. The thought of going on the Spring Tour the next year hadn't even crossed my mind. I figured Cheik had forgotten about me.
As much as I thought cricket would be my No. 1 sport, I still had a burning desire to prove mostly to myself, but also others that I had what it took to make it as a rugby player.
A year and a half later, out of the blue, he called. I was at a 21st birthday party at the time and didn't recognise the number at first. He told me I was going to be called up to the 2017 Spring Tour. I was stunned.
It was one of the best experiences of my life.
Tokyo was perfect and weird all at the same time. It's my favourite city now because it's so unique. I'll never forget going to an onsen with a few of the other players. They're like hot spas where 100 guys are walking around naked with towels resting on their heads. It was pretty weird!
But the real pinch-yourself-moments happened during the national anthems in Cardiff, London and Edinburgh. The boys who weren't selected to play would come down on to the field with the guys in the squad for the anthems.
Being on the field when the Scots were singing 'Flower Of Scotland' is something I'll never forget.
They have bagpipes playing for the first verse, but for the second one it's just the people singing. There are no instruments, just voices. It's really stirring stuff.
Sights and sounds aside, the most significant thing to happen to me on tour was when Stephen Larkham took me to one side to tell me he thought my future was at No. 10.
I hadn't played there for quite a while, so it surprised me a bit. I was nervous at first playing as the shadow five-eighth in team drills but, by the end of the tour, I felt comfortable there.
Dave Wessels, Cheik and Steve are all on the same page. They see me as a five-eighth down the track. That's not something you can pick up quickly down at the park on your own. I understand it's a long-term thing. I still consider myself a fullback now but, with a lot of hard work, I'd like to think I could make the switch to No. 10 in 12 months or so.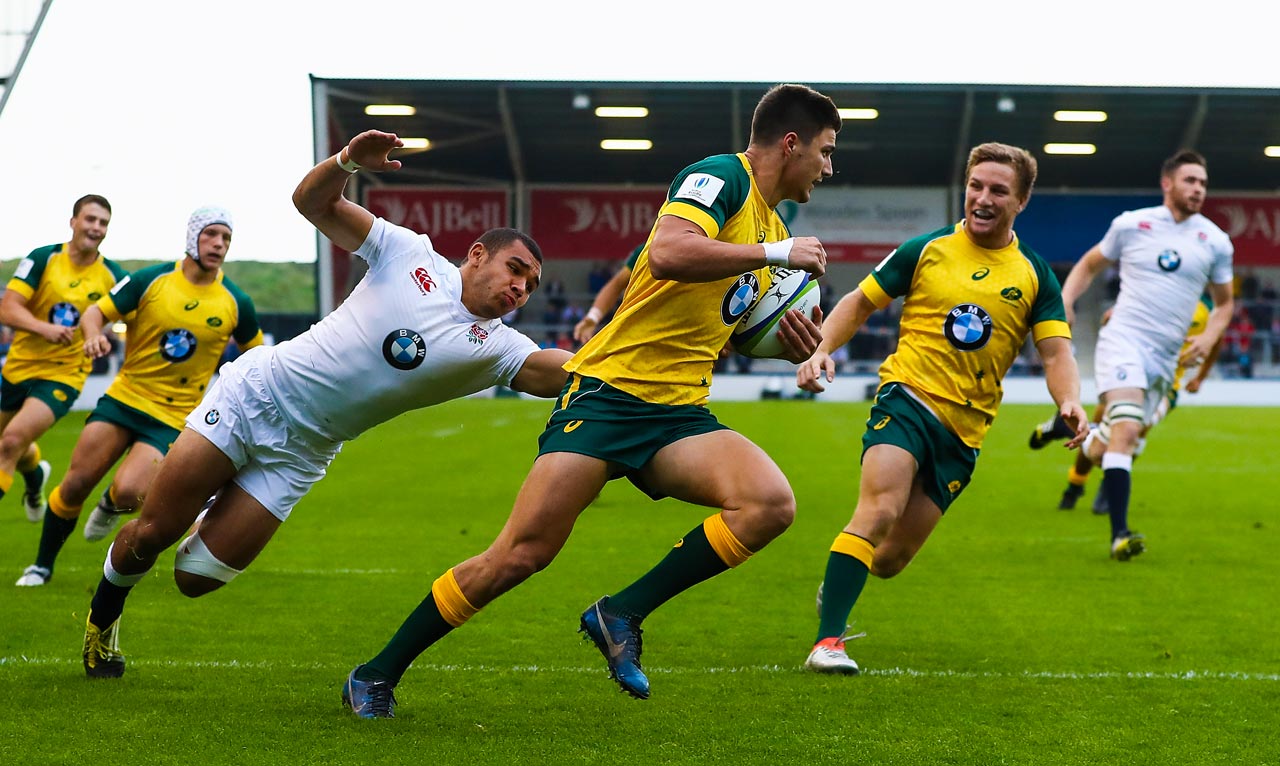 REBELS & THE BEASTIES
I played a game for the Barbarians before the Spring Tour and it was full of players from the Western Force. That turned out to be really helpful, because a lot of those guys ended up signing with the Melbourne Rebels over the off-season.
There's a great feeling within the group ahead of the Super Rugby season kick-off this week. Dave doesn't make a secret that he's here to win. It's not about coming second or third or improving things a little bit. It's about getting to a standard where we can win Super Rugby.
Dave is very honest and direct. He doesn't try to sugarcoat things. His style of rugby is attacking and that's the way I like to play, too.
Having senior guys around like Will Genia and Adam Coleman around has made a huge difference. Dane Haylett-Petty has been great. We play a similar position and he's helped me out quite a bit.
There's been a lot of talk about the Rebels and the squad we've assembled over the off-season. I think there are ten Test players in our team for round one. It's a really exciting time. We're all looking forward to showing the public here what we're all about.
I love living in Melbourne, but there are things I miss about home. I miss my mum, Bronwyn. I'm the youngest of four boys, so I'll always be the baby to her. She found it a bit tough when I made the move at the age of 19, but she's a bit more used to it now.
And I miss the Beasties.
I've had some of the best times of my life there and the proudest moment of my career is still the day I made my first-grade debut for Easts. I remember it clearly. We played Eastwood at TG Milner on a soaking wet day and went down 25-21.
To pull on the first-grade jersey of the club I had played at since I was four – and was ballboy for as a kid – was incredibly fulfilling.
Club footy is the heartbeat of rugby in Australia. I don't want to be one of those guys who never goes back. I'll play there again someday.
More about: Melbourne Rebels | Michael Cheika | Super Rugby