Career-changing act of kindness
I was at after-school care at Chatswood Oval kicking a soccer ball around with a few mates. I was about seven years old at the time and played for the mighty Lindfield Football Club. I was a striker.
I remember looking up and seeing a bloke at the other end of the field kicking goals between the rugby posts. Before long, a whole pack of media and reporters had gathered to watch him.
A couple of us kids tried to copy what he was doing. But I'd be lying if I said I recognised him. I didn't.
I had to go to the toilet, so as I walked off the field I went by one of the reporters and asked, 'Who is that guy?'
'That's Stirling Mortlock,' he said. 'The Wallaby.'
I finished up in the loo and walked back out onto the field pretending I knew who he was. I went up and got his autograph and resumed kicking the rugby ball in my school shoes at the other end of the ground.
After all the reporters had left, and Chatswood Oval was basically empty, Stirling walked up to me.
He talked to me about goalkicking. He gave me some pointers. How he walked back and how many steps he took … those kind of things.
Looking back, it was probably the moment that convinced me to give up soccer and play rugby.
Stirlo was my first sporting hero and a bloke I looked up to. He was a regular guy, from my area, playing at the highest level there was, and he had time to come up to a little kid unannounced and give me some tips on how to kick goals.
It was very motivating.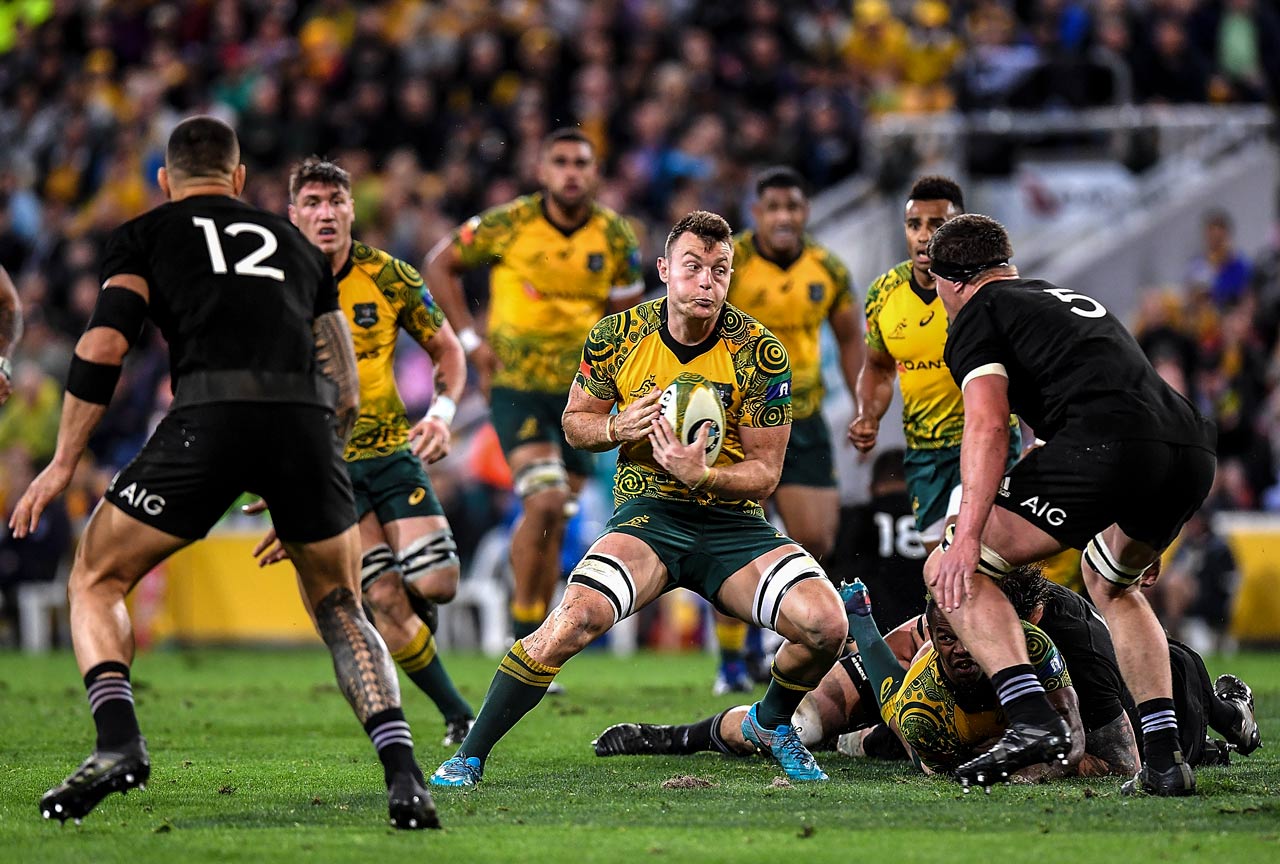 KURTLEY BEALE: SCHOOLBOY STAR
My dad claims that it was always his grand plan for me to learn some skills in soccer and then move to rugby league or union. I'm not convinced. He reckons he's some kind of supercoach!
Dad was a front-rower/second-rower in the lower grades for the North Sydney Bears in the early- to mid-1980s and my uncle, Brian 'Chicka' Norton, was one of the all-time legends with St George. I think dad would have preferred me to go to league – and there was an opportunity to go the Knights at one point – but I've got another uncle, Tony Dempsey, who played for the Waratahs and Wallabies, so the rugby union bloodlines weren't bad.
I tried quite a few sports before I settled on rugby union. Soccer was my No. 1 for a long time and then it was athletics. I started as a sprinter but when I grew a bit more I started to slow down.
I ended up becoming a shot-putter at Riverview College. I won back-to-back open gold medals in the GPS – but that was largely because Tepai Moeroa stayed in the junior age divisions.
Tepai plays rugby league for the Eels now but back then he was an incredible student-athlete at Newington College. I was hoping he would stay in his age group and not come up to the opens and beat everyone. That's exactly what he did. I got lucky there.
I also dabbled in decathlon and played pretty competitive basketball.
But I always felt drawn to rugby. I was in about fifth or sixth grade at Riverview when the buzz went around the school about a kid called Kurtley Beale who was playing for St Jospeh's College and carving up the competition.
Riverview-Joeys is probably the biggest of all the GPS rivalries. Riverview can't stand Joeys and the feeling is mutual. But that day, you couldn't help but be mesmerised by Kurtley. He might have been on the other team but he was absolutely electrifying to watch.
I played my first game of rugby when I was 11 and it wasn't long until I was playing three games every weekend – for Riverview on Saturday, for Lindfield on Sunday morning and rugby league with the Willoughby Roos on Sunday afternoon.
It wasn't until year 12 that I thought seriously about a career in rugby.
Riverview-Joeys is probably the biggest of all the GPS rivalries. Riverview can't stand Joeys and the feeling is mutual. But that day, you couldn't help but be mesmerised by Kurtley. He might have been on the other team but he was absolutely electrifying to watch.
Michael Wells, who is at the Waratahs now, was a year ahead of me and doing a program called Pathways that meant you split year 12 into two years so you could study and train.
He was captain of our first XV and we won the premiership in 2011. I asked him about it. He said Pathways was great. You're doing half days at school which gives you lots of time to train.
I asked him, 'But what about studying that second year when all your mates are out at schoolies and partying and getting on it every weekend?'
'But I'm really committed to becoming a professional in rugby,' Michael replied.
That was the moment it dawned me just how much dedication is required to become an elite athlete. I did the Pathways program and never looked back.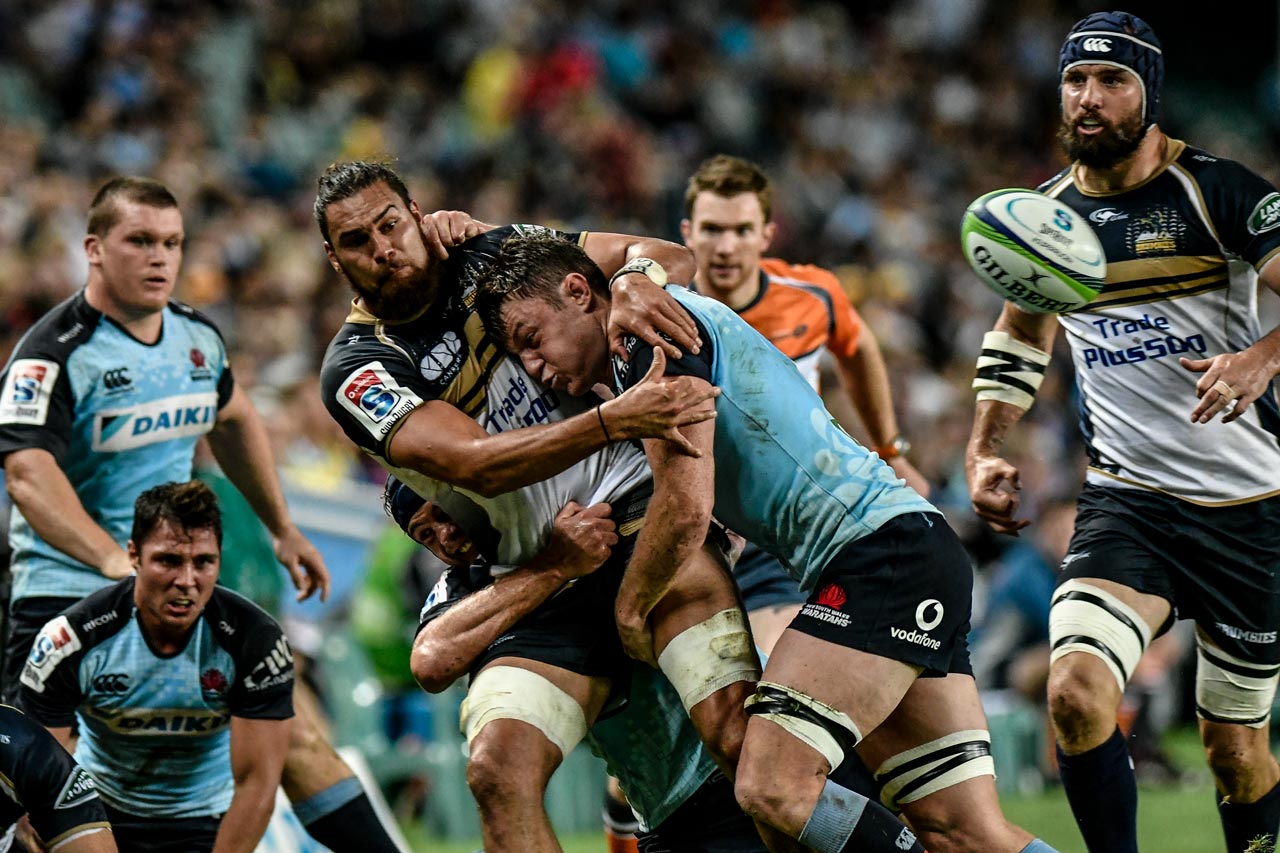 CHEIK & THE SLEDGEHAMMER
Michael Cheika scouted me as an 18-year-old playing Shute Shield for Gordon. Gordon was struggling pretty badly at the time, but I was never going to go to Uni or Norths. It was always going to be Gordon. Stirling's club.
Cheik selected me for a NSW tour to Argentina in 2013. That was the second year of The Rugby Championship and the Pumas wanted a few warm-up games before they took on the Wallabies, All Blacks and Springboks.
I was only 18 at the time. I wouldn't have been 100 kilos and I was given a 4XL jersey that felt like a tent. The first game was in Mendoza and everyone was getting whacked like it was a proper Test match. I was sitting there hoping I wasn't going to get on.
I started at No. 6 the second game in Salta. The Pumas had guys like Felipe Contemponi at No. 12 and Nicolas Sanchez at No. 10 and all these massive forwards. Fernandez Lobbe was my opposite number.
We were getting belted at halftime and Cheik gave one of his big blow-up speeches in the changeroom. He was shouting, 'No one out there is even running hard except for our 80 kilo flanker!'
He insulted me and gave me confidence at the same time! It was the first time I understood him as a coach and how he gets the best out of everyone.
There are so many Cheik stories. One of the ones that springs to mind was in 2015, which was my first contract year with the Waratahs.
The Tahs had won the Super Rugby title the year before and I didn't get picked until something like the fourth last round against the Sharks the next season. I played 15 minutes off the bench.
The next week we had the Crusaders at ANZ Stadium. It was massive – the big grand final rematch.
Now, what you have to understand is that Cheik is big on imagery. He's usually got a few objects that he likes to use to illustrate points. 
In this particular season, he had a little face mirror that he would hang on the wall. It was so small that you could only see your face in it.
It was all about walking into Waratahs training facility every morning, looking at yourself in that mirror and telling yourself that you would train as hard as you could today so you could look at yourself in the mirror tomorrow.
Cheik insulted me and gave me confidence at the same time! It was the first time I understood him as a coach and how he gets the best out of everyone.
Cheik had brought the mirror into the ANZ changeroom. He had also brought a small sledgehammer. It represented our physicality and how we would hit like a sledgehammer.
So there he was, in his pre-game speech, talking footy and swinging the hammer around. And as with all his pre-game speeches, there is always a point where he flicks the switch and revs you up.
I was sitting right next to Cheik. I looked up and he was getting more and more animated. Then, out of nowhere, he smashed the mirror with the sledgehammer. It was really loud. A few shards hit me in the leg.
I put my hand to my face trying not to laugh. The whole thing caught me off guard. Then Dave Dennis tapped me and, without saying anything, gave me a look that said, 'Don't fucking laugh.'
Cheik does stuff like that. He makes you as ready as you can be just before the game from a mental perspective. I've never encountered anyone in my career who can do it like he can. You run out there every time ready to play the game of your life.
I can't overstate his importance to me. Who's to say I would even be a professional without him? He scouted me as a teenager, put me on my first tour, gave me my first professional contract with the Tahs and handed me my Wallabies debut.
He's one of the biggest influences in my life.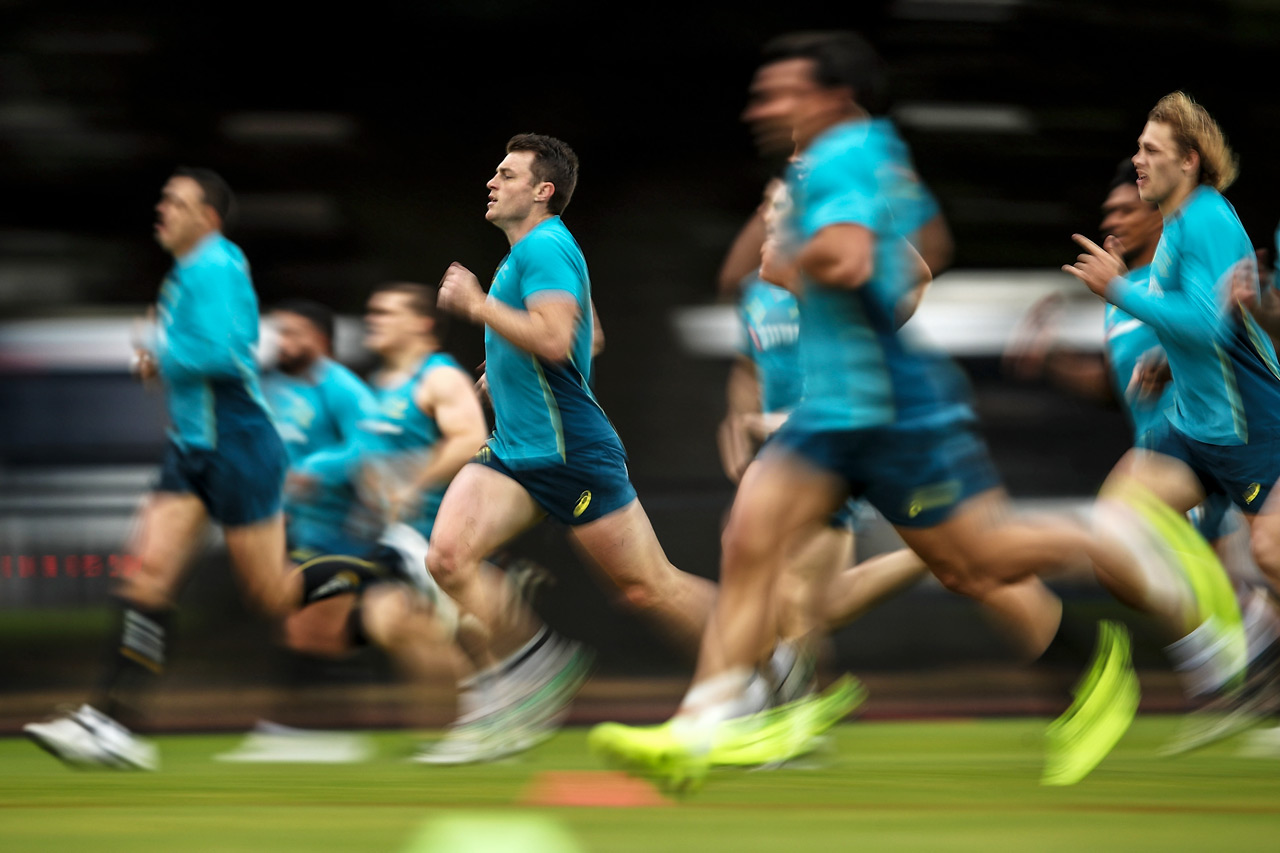 THE ROAD BACK
It's amazing how quickly life can change.
One week, I was named man-of-the-match for the Wallabies in the Test that broke the drought against the All Blacks. The next, I tore my hammy right off the bone against the Barbarians and was told I wouldn't be playing for six months.
It made me think about something Kurtley said in 2015. I was injured that particular week and I was called upon to help stretcher him off when he tore his patella. He was absolutely devastated because he had just signed the Wasps deal.
With tears in his eyes he turned to Sharron, our team doctor, and said, 'Rugby is one of those sports where you're either high or low, there's no middle ground.'
I didn't really understand it at the time, but I do now. When you're going well rugby is the greatest thing on earth. When you're on the other side, you can be absolutely off it. That's all part of the game, I'm learning.
This was the first serious injury of my career. It was the 77th minute of the game. I went into a ruck to try to get a pilfer. I went in normally but the ball carrier did an extra roll on the ground and I felt my leg get stuck.
The next thing I knew my leg was pretty much over my head and behind me. I'm not going to lie: it was by far and away the most painful thing I've felt in my life. I could feel the tendons ripping off the bone. The adrenalin numbs it a little bit, but for those first two or three seconds when it happens, it's excruciating.
I was on my front and tried to push up onto my feet. I couldn't move my left leg at all. It was completely unresponsive. I could move my foot but the leg wasn't moving. It was really scary. That's when I realised how bad it was.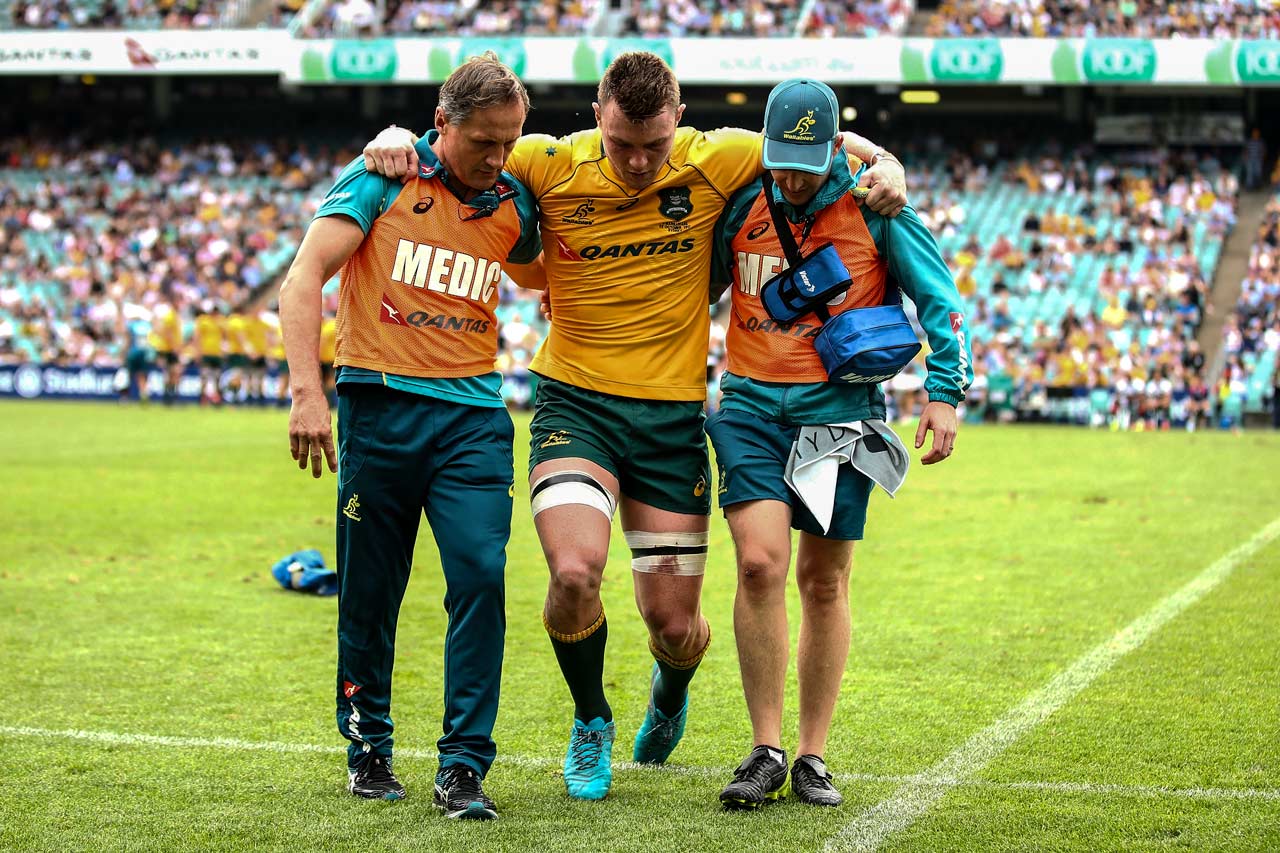 I turned my phone off for about a week after it happened. I was gutted and frustrated and didn't want to hear from anyone. Sometimes you can forget that this kind of thing happens all the time in sport. But, in that moment, it feels like everything is against you.
I was overwhelmed when I did switch the phone back on. John Eales was one of the first to reach out, which was incredible. So did Dave Dennis, who has been a mentor of mine and dealt with plenty of knee injuries. Ben Mowen also called. We had only met once on the Spring Tour in 2016 for a mid-week match against the Barbarians. I don't even know how he got my number, but I'm really glad he did.
Nathan Grey was another one who got in contact.
It was pretty amazing to be getting all this advice from players you looked up to as a kid.
For those first three weeks – when I couldn't sit down, walk or sit on the toilet – I'd have these occasional dark moments where I'd wonder whether I could come back as strong as I was before.
I'm not worried about that now.
Now, it's about making sure I do all the work to ensure I come back and pick up where I left off.
I'll just be a bit more pissed off.
More about: Joeys | Kurtley Beale | Michael Cheika | Super Rugby | Wallabies | Waratahs