My first club was a choice between the Knights and my favourite team, Wests Tigers.
I went to Newcastle.
Because at Wests Tigers, I didn't want to be known as Trevor Cogger's kid.
It wasn't just that. Newcastle was an easier commute to training, Wayne Bennett had just taken over the Knights and Graham Murray coached the juniors. On the other hand, I'd grown up a Tigers fan – I still ask Chris Heighington about the 2005 grand final all the time.
I'm proud of Dad and what he achieved. But in Newcastle, I was just me. At Wests, his son.
I want to create my own career. I don't want to be living off the name. I want to earn every spot I ever get on a team and challenge myself, on and off the field.
That desire came through when it was time to decide between staying at the Knights and joining the Bulldogs, too. More on that later.
DAD, THE MEAT-PIE HERO
My Dad played for Western Suburbs through the '80s and early '90s. He had a good career there: 160 first-grade games for 48 tries, playing in the halves, plus club records for the most games (308) and tries (88) across all grades.
One story about his career keeps coming up – I've heard that many versions by now!
During his second season, he'd played a third-grade game early in the day at Lidcombe Oval, then had a shower and went to sit on the hill to watch reserves and first-grade.
As the first-grade game was on … this is where the story always changes! He was either eating a pie and drinking a beer with his mates, or mum had just gone to get him a pie and beer. Anyway.
The Magpies halfback, Alan Neil, went off injured early in the game. The five-eighth, Terry Lamb, was carried off a few minutes later.
Then, the call came over the loudspeaker: 'Trevor Cogger, report to the sheds please. Bring your boots'.
I don't think getting a call-up like that will ever happen again. He ran out, scored two tries and won the game for them – against the Bulldogs, ironically.
The next day, the old Sydney Sun newspaper called him the 'Meat Pie Hero'.
I've always been interested in footy history. I grew up watching old games, knew who had won grand finals before I was born. I know a bit about dad's career. We've never spoken that much about it, it's been more my research into it.
Playing for 10 years – if I can do anything like that, I'll be very happy.
I've been to some of dad's reunions, where his old teammates have told me he was not just a great player but a great guy to play with. I'd be rapt if I could retire with that same accolade.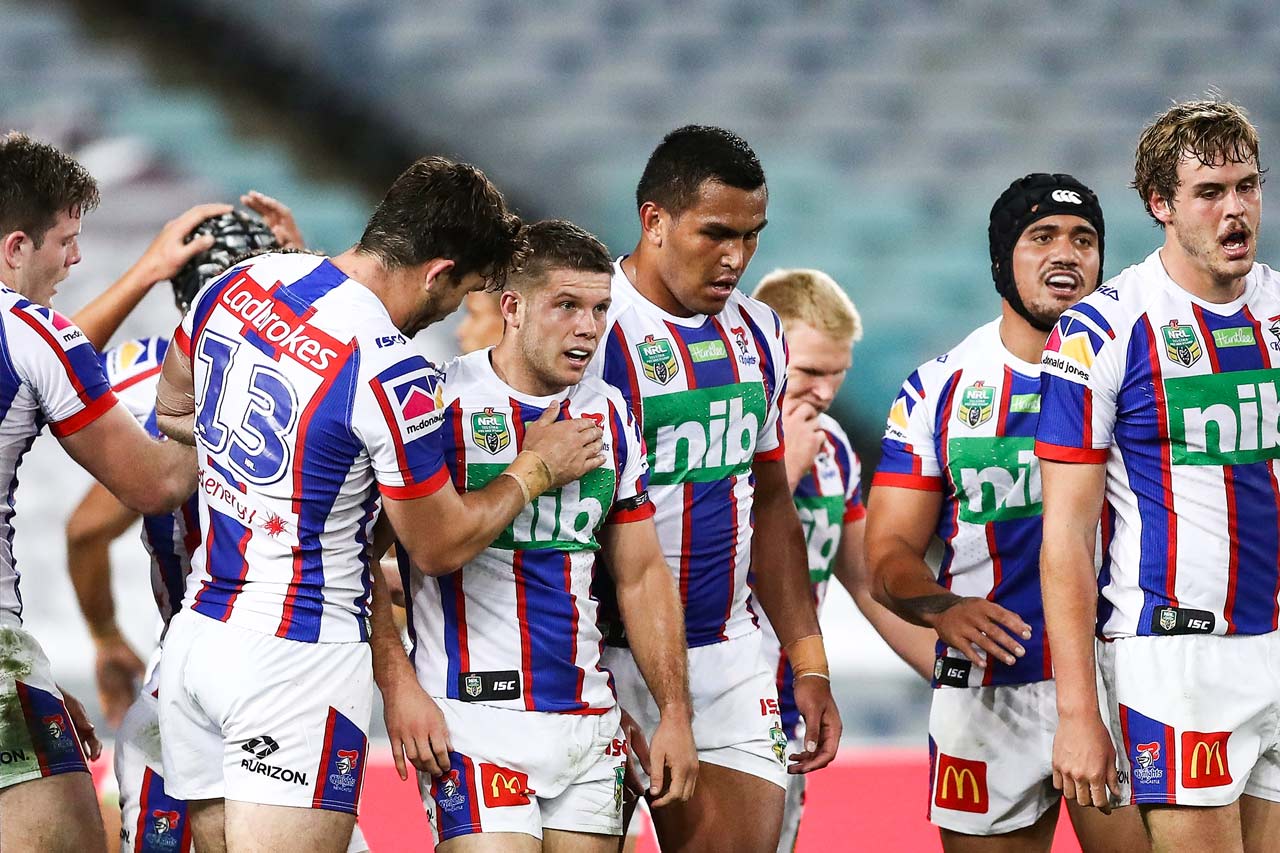 A PAINFUL LESSON
Before the pre-season for 2017, I'd had a few injuries in a row over a long period of time. Osteitis pubis, groin problems, hip problems – anything that can go wrong in that area, I'd had it.
Being young and training with the Knights' first-grade squad for a second season, I didn't want to say anything about the pain. I just thought it was what everyone was feeling. They always say first-grade pre-seasons are tough; you'll be sore but just keep going, keep backing up.
I just thought it was all part of it. I was going bloody hard, earning my spot in that squad … but next thing, I can't run and I find out that I've actually been training injured.
It was the separation between the pelvis and hip. The surgeon told me that 1-2mm is just physio, up to 5mm could be surgery … mine was 6mm. Definitely surgery. I had to get it done in round 1.
Then, the call came over the loudspeaker: 'Trevor Cogger, report to the sheds please. Bring your boots'.
I missed the first half of the season right when I was hoping to cement myself in first-grade at Newcastle, having debuted in 2016. Before that, I'd captained an Australian schoolboys tour to England and played NSW 18s and 16s.
That time out of the NRL was disappointing. A big chance to show everyone what I could do had passed by.
I got back and played a couple of first-grade games late in the year. But a couple of months after our season ended, the club signed Mitchell Pearce, having already recruited Connor Watson.
That's rugby league. The club was upfront about where I stood after that, so you get over it and move on.
I would have loved to have stayed with the Knights, to repay the faith they showed in signing me a young kid. I'm grateful that Michael Hagan saw something in me back then, thankful for the opportunities that Nathan Brown has given me to play first-grade and learn from his coaching.
Sometimes in life, and especially in footy, you just end up taking different journeys.
THE BULLDOGS SWITCH
Playing for the Bulldogs comes next season and my full focus this year is on the Knights. I'm enjoying playing a role in first-grade, as Browny told me I could when he decided against an immediate release.
But here's why I made the decision to join Canterbury.
The Bulldogs offered me the chance to be a starting halfback. During that recent trend of playing left and right halves, people started to view halfback and five-eighth as the same. But at most successful clubs, the playing style has reverted to a traditional, ball-dominant halfback with the five-eighth outside, playing in a combination on the same side of the ruck.
I've always played better as the organising No.7. At the Knights, that player will be Mitch.
So when you've got a club saying they want you for that role, putting the confidence in you, it's hard to say no.
That time out of the NRL was disappointing. A big chance to show everyone what I could do had passed by.
I've worked with Dean Pay in junior rep teams, most recently with NSW under-20s. We had a successful team there, he made me captain and gave me plenty of confidence in my ability. I'll be excited to work with him again; I like the way he approaches his coaching.
But Dean hasn't made any promises about starting. I don't want that, anyway. These days, a lot of nice-sounding promises are thrown around. You want to earn your jersey. Earn the respect of your teammates. Nothing should be just given to you.
If I prove myself, hopefully playing with Kieran Foran works well. He's been playing the game at a high level for a while now and is probably best known as a strong runner of the footy. I play best as an organiser, so hopefully it's a good combination.
Keeping an eye on the Dogs this season, there's some déjà vu from my time at the Knights. Some salary cap and roster issues to work through, some tough times. But light ahead.
The Bulldogs are a strong club. They won't accept the team staying near the bottom of the table for too long. I'm confident that going there is a good decision and they'll bounce back over the next couple of years.
I was from that area when I was younger. I was born down there, I played under-6s there with Berala Bears – I even played an under-6s grand final at Belmore Oval (we lost). I've always known what the Bulldogs are about. I know they have a culture of success and a proud history, bearing famous names like Mortimer, Lamb and many others.
Jack Cogger warms up for his NRL debut #StayTrue #NRLKnightsSharks pic.twitter.com/YDqCdrrg5c

— Newcastle Knights (@NRLKnights) May 15, 2016
I've loved my time at Newcastle and leaving was just a footy decision. But in some ways, it's also shaping as a life decision.
I'm planning to move to Sydney, having only half-moved out of mum and dad's Central Coast home while playing with the Knights. I want to be close to training, to surround myself in the Bulldogs environment. I don't know many people in Sydney. I have new teammates and have to earn their respect.
To be honest, I'm quite excited for the change. It's something that will be good for me.
I'm at an age where my mates are moving to all different places around the world. I'm keen to have a change in life, not just footy.
One thing I need to work out is whether to switch my undergraduate degree to a Sydney uni or stay at Newcastle via correspondence. I'm working through a business degree part-time and have always been interested in sports management or administration as a post-footy career; the next-best thing to playing.
The Knights boys have given me the nickname 'Business' – partly because of uni, partly because I like to be pretty meticulous with my preparation for games. I don't mind it, there are worse nicknames.
THE RISING KNIGHTS
Mitchell Pearce is a very decorated and successful player. I'm still young, so when it was decided I would be staying at Newcastle for 2018, I was keen to knuckle down and learn from him, pick his brain as much as I could. He's been great for that, even after his injury.
He was a tough guy for us to lose seven rounds in; one of the NRL's form players. His pectoral injury has given me more first-grade games than I was expecting this season. Playing a few in a row has been good for the confidence.
Browny asked me to take a dominant role in our attack – something that started when Mitch got injured, down two points with a couple of minutes to go against Wests Tigers.
Mitch had been steering the ship at halfback in that game and I was at five-eighth. When he got hurt, I knew I'd need to step up and be the main playmaker.
I guess I show my age a bit ordering the team around; some games I do it well, others I need to be better. It can be a daunting job, barking orders at all your teammates, some of whom you've watched on TV playing State of Origin. But that's the halfback's job and it's what the team wants.
After that Tigers game, Kalyn Ponga said I'd told him, 'It's my team now. Let's play some footy and win the game'. I don't know if that was it word-for-word, but it was along those lines.
Luckily enough we had a pretty good set at the end, Jamie Buhrer put a nice kick on and Shaun Kenny-Dowall got the try for a two-point win.
You want to earn your jersey. Earn the respect of your teammates. Nothing should be just given to you.
We've already won more games than all of last season. The crowds in Newcastle are up – not that they ever went down too much. Newcastle fans stick solid.
This is an exciting time for the Knights. The club is headed back in the right direction. There are still a lot of calls to be made in the next few months but I think everyone involved has an eye on a successful long-term future.
Kalyn was a big signing for the Knights and they got it absolutely right. He's a great player and a terrific bloke, one I enjoy hanging out with.
I'd seen a few of his highlight videos, the ones that went viral on Facebook. I think I'd also played against him in juniors. And from day one of pre-season, we knew he was a serious talent.
To then see him bring to the NRL what he showed us in pre-season training, delivering week-in, week-out at that first-grade level … it's been pretty spectacular, to be honest. It's different footy – not your typical block-to-block attack, he just plays what's in front of him.
He's very skilful. His footwork is brilliant, his ball-playing is like having a second five-eighth; maybe he'll end up there one day. I'm glad he's on my team for now!
He's already a big star and he'll only continue to get better. He trains hard, loves what he does and is a grounded guy. If he stays on this track, he'll be playing Origin, Tests and establish himself as one of the marquee players of the competition.
More about: Canterbury Bulldogs | Kalyn Ponga | Michael Hagan | Mitchell Pearce | Nathan Brown | Newcastle Knights | Wayne Bennett | Wests Tigers