Isaac Heeney - Contributor
When Buddy and I kicked nine
For someone who grew up around rugby league and had very little interest in AFL, it was pretty surreal to find myself playing for the Sydney Swans alongside one of the greatest players the game has seen.
I was shellshocked when I began training with Buddy Franklin as part of the forwards group. I'm a shy person as it is, but Buddy brought that out in me even more. I could barely speak a word to him at first! 
I remember my early days training with the seniors and pretty much all I could think was 'whenever you get the ball, just look for Bud'.
He took me under his wing, which was amazing, but I was kind of fixed on this idea that, if I delivered the ball well to him, I'd be doing my job, it would earn me respect from my teammates – and Buddy might actually like me, as well!
We all knew what he was capable of on the field – even I knew it by then – but, at the same time, we didn't want to be running everything through him. It would be too predictable. 
I guess what I came to understand after a little while was that, once you're on the Swans list, you're really just another player who's got a particular job to do within the team. It was like that for me and it was like that for Buddy, too. 
Having said that, there have been many times when I've felt so privileged to be out on the ground with him, to have an amazing view of some of the awesome things he does for our side. 
Against Port Adelaide, I think the year before last, when he snapped a goal from about 60 metres, I just remember standing out there on the ground, thinking, 'That is unbelievable. How is that possible?' 
Then there was the time he ran basically the length of the field against the Crows with Daniel Talia chasing him and kicked that incredible goal that had everyone talking.
Those are the kind of moments when you realise how special a player he is and how fortunate you are to be playing alongside him.
A night to remember
My first senior game for the Swans was against Essendon in round one of 2015. I slept really badly the night before, rocked up way too early to the game and managed to dress myself in the wrong clothes. We were all meant to have slacks on, but I turned up in shorts. 
I just wanted to get on the ground and start the game. I'm sure I was much the same as any young guy about to make his debut – excited, nervous and not really aware of what was about to happen. 
It turned out to be one of the most amazing nights of my life. Even though most of the game was a blur, I'll never forget the dying stages.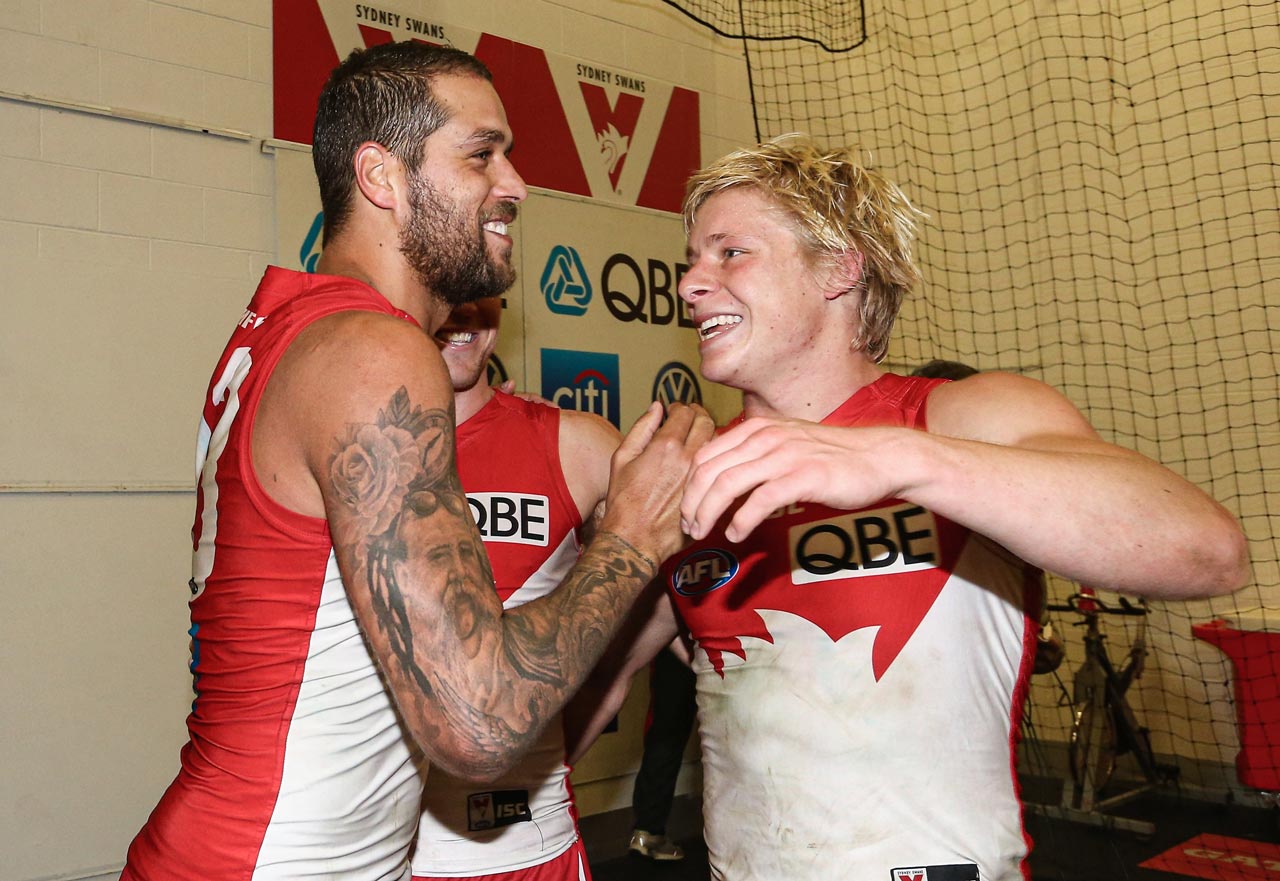 We were something like 40 points down nearing the end of the third quarter and facing a bad loss to start the season. But we managed to turn the game around in a big way.
In the fourth quarter, we kicked seven unanswered goals, including two to Kurt Tippett and two for Bud. Kieren Jack scored a goal to level it at 60-60 before Buddy scored to put us in front. 
The crowd was going nuts, all the boys in our team were going nuts – it was incredible to be out there, especially as a first taste of AFL footy!
Then, with a couple of minutes left, I was in the right place at the right time, picked up a loose ball and snapped a goal off my left foot. It proved to be the sealer to not only a great win, but a really special moment to start my career.
I felt more comfortable being part of the team after that game. But there were still a few moments when I had to pinch myself. 

Two weeks after that game against Essendon, we beat GWS by 21 points and Buddy and I kicked nine goals between us.
He scored five and I scored four and I remember literally thinking to myself, 'Far out, I'm kicking goals next to one of the best players to ever play the game'.
If the first-up win was a dream, I think that win against the Giants was the day when it actually properly sank in for me. 
More about: Adelaide Crows | Buddy Franklin | Essendon | GWS Giants | Newcastle Knights | Port Adelaide | Sydney Roosters | Sydney Swans