I didn't think I'd make it
As a kid growing up in a small country town in WA, I didn't think I'd make it in sport. I might have been pretty good in the country, but I thought if I went to the city I'd be out of my league. 
The family farm is in Karridale, about three-and-a-half hours south of Perth. We had mainly sheep and then a few cattle, and me and my brother, Vaughan, were often put to work. We'd help out with tailing and drenching and shearing and all of that, so it wasn't the most glamorous of work.
I remember one day coming home and having a bit of a cry to myself as I was walking down the paddock, because I think I got $10 for the day, and thought I was worth more than that. When I mentioned that to dad, he just said, 'Be happy with the $10'.
Character building? I guess you could call it that!
Karridale's population is about 400. There's two roadhouses, a tavern and the primary school. It only had about 70 or 80 kids when I went there and we had to go into Margaret River for high school.
Playing sport was more a social thing for us. Whether it was basketball, football, BMX or netball, it would take up most weekends and most weeknights. But I never expected to make it on the big stage, that's for sure.
The kids from all the remote places who were trying out for state teams would do camps in Perth, and I remember saying to one of the staff members, 'Oh, they won't pick me, I'm from the country'. Making my first state team, in under-17s, was probably the turning point. But I never really thought that ANZ Champs or Suncorp Super Netball was in the pipeline.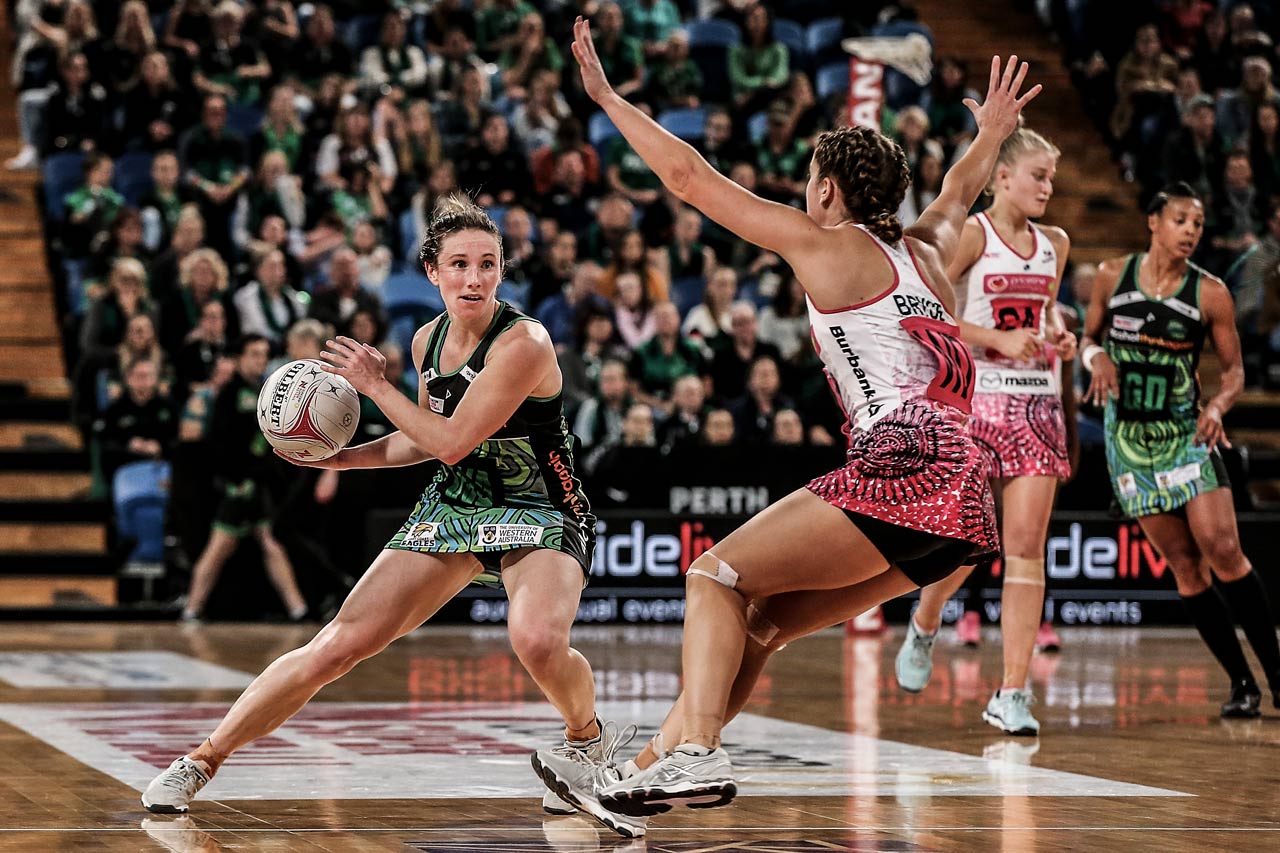 I loved basketball to start with, and we were pretty involved in that down south. Mum was the canteen manager, and me and my brother played every night of the week. Then one day my primary school netball team was short of players, so me and my best friend filled in. We were pretty much hooked straightaway, and I've been playing netball ever since. We just didn't know how far it could go.
I was spotted at a coaching clinic and selected for a regional carnival when I was about 15. I was a late inclusion, so played in the South West 'B' team, but probably still wasn't too popular with the other girls!
From that tournament, I was spotted by Netball WA to trial for the under-17 state team. I didn't make it, but I got into the top 25 and thought, 'Yeah, this is probably a chance for me. I might be all right up here'.
I made it the following year. That was pretty full-on: lots of trips to Perth, and lots of kilometres. I was on my L-plates and I think I finished my logbook in about four weeks! So credit to mum and dad. They never said no to an opportunity for me and were always driving me up and down. Then as soon as I finished school and got my licence, I told mum and dad I was moving to Perth straightaway. Which I did.
I was never the tallest kid growing up, which I definitely thought would be a disadvantage, so I kind of ruled myself out through lack of height, as well. After national carnivals they'd pick Australian squads and my name was never called out, so I thought I'd play state netball and that was probably it. And I was OK with that because, coming from down south, I didn't even think I'd get there.
I might only be 165 cm, but what I do have is a never-say-die attitude, a willingness to work hard and a really positive outlook. The workrate that I can provide has certainly got me where I am today and is something that coaches do look at.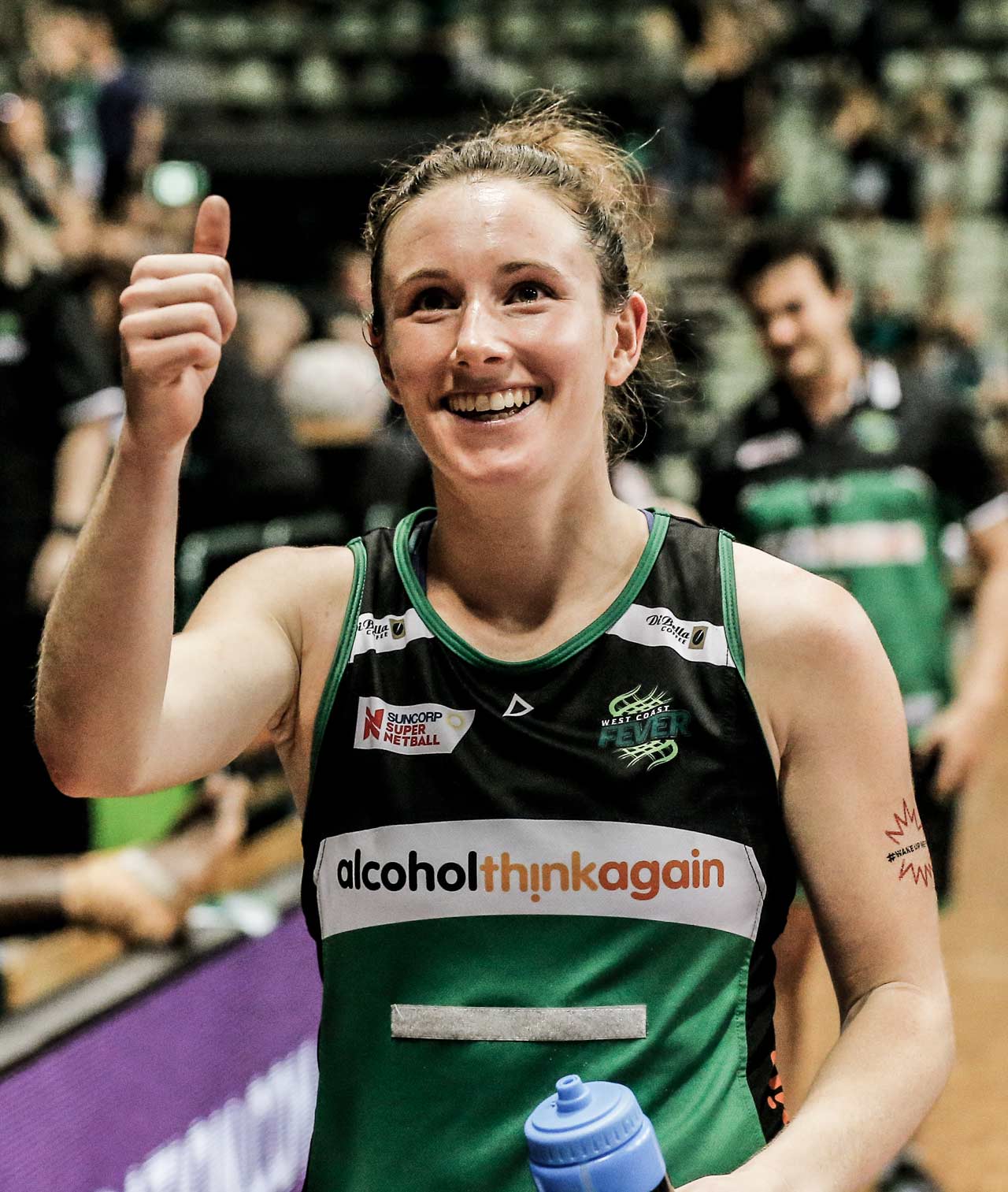 THE BREAKTHROUGH
It wasn't until Norma Plummer gave me the opportunity and put me on court that I even knew what the Fever was, really! I wasn't involved in that scene.
Ash Brazill had hurt herself, and Stacey Marinkovich, who was Norma's assistant and is now the Fever's head coach, asked me to help with numbers at training, so that's all I thought I was doing. But I impressed Norma, who put me in the team as a temporary injury replacement for Ash, and it kind of all just sprung from there.
I was against Renae Ingles, or Hallinan as she was at the time, and the fact I didn't even know who she was probably worked in my favour because I didn't freak myself out. Then once I had the opportunity and I held my own I felt that craving to get there, I guess.
I might only be 165 cm, but what I do have is a never-say-die attitude
It was nice of Norma to say I reminded her a bit of Madi Robinson. Oh man, I look up to Madi so much. I think she's an amazing netballer. If I could be half as good a netballer as her, I would die a happy girl.
It was also really nice of Nat Medhurst to say I've been one of the Fever's big improvers this year. Basically I just treat everything as a learning experience, and I was sitting behind some really strong, quality players for a few years, so I had to bide my time a little bit.
But once given the opportunity, I was begging for the chance to see what I could do. We've tweaked my game a little bit, so I can take on the drives and back my ability, and I've really grown in confidence and carried that through this season.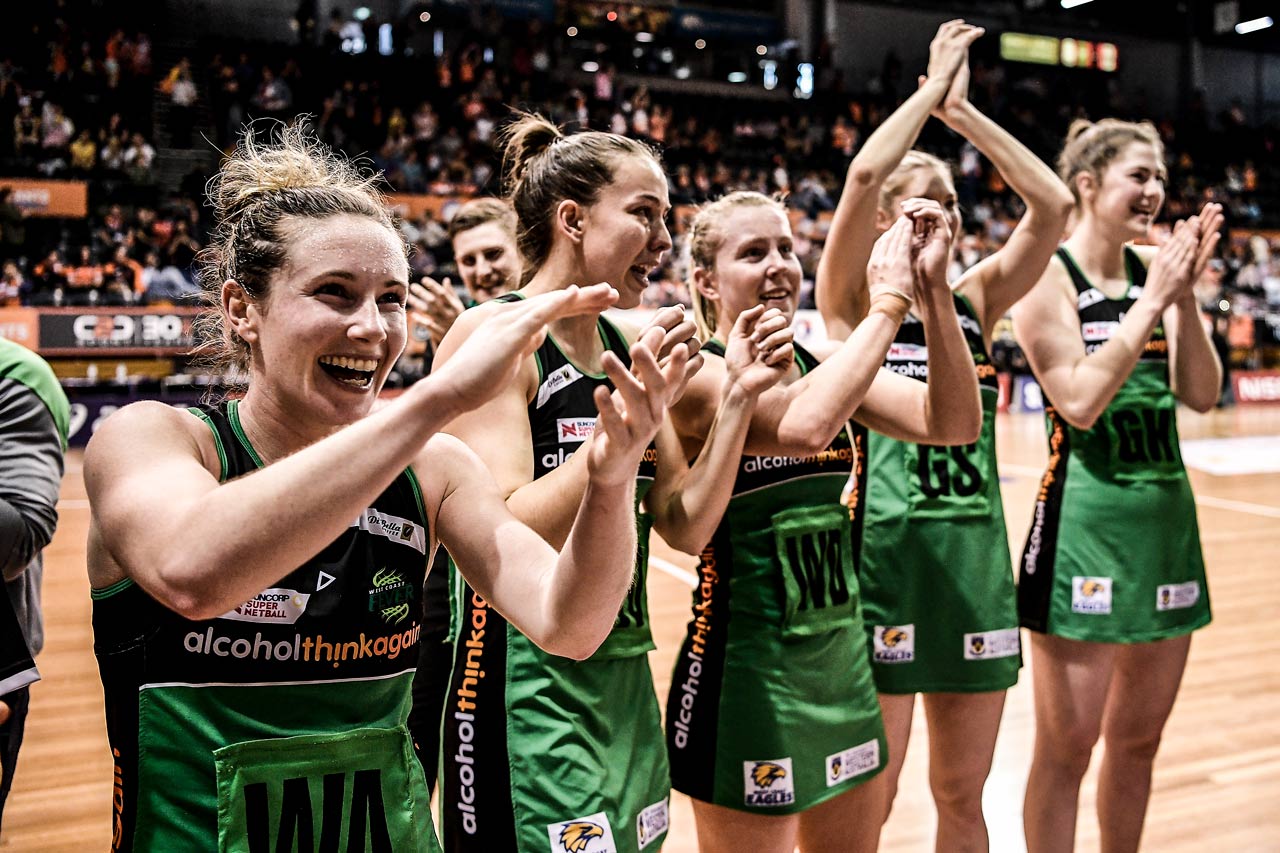 I love the competitive nature of our training environment, and getting into the gym – I think I'm almost like a guinea pig! The more years you're in it, the more training you get and the more the numbers keep going up. So I certainly apply myself, but credit to the staff around who know how to keep helping those numbers to improve.
Am I the fittest player at the club? I think so. But Verity Charles has been out with an injury, so I think she'd be on my tail!
Best vertical leap? Yes, but not the highest, just relative to my height! Mum jokes that she used to hang food from the ceiling and I had to jump to get it. 
The yo-yo test? I don't know exactly what I get, because I'm so buggered by the end of it, but it's in the 19s somewhere, so I'm on the road to 20, I reckon.
The fastest? I don't understand the results enough to know that one. Stacey Francis is pretty quick and also Vez (Charles), but I do get called the speedster in the team.
The strongest? We've started doing a new deadlift and I can't lift the highest in that one, but on weight-to-weight ratio… maybe. I do very well at squats.
I don't know exactly how many kilos – it's in the 100s though.
It's partly in the genes, I think. My mum Helen doesn't know much about sport and was probably the first umpire to call an injury timeout – for herself! But my dad, Ray, was a WAFL player in his day. He had a crack at East Perth and played a few games at Perth, as well.
And it probably helped that I've just grown up with such an outdoor lifestyle that I've never really been inside on screens or anything like that. Living on a farm, we were always out and about getting up to mischief.
'STAND NEXT TO JHANIELE'
Beating the Giants in the major semi-final was unbelievable. That was such a great moment for the club to be able to say that we've made it to our first grand final.
In previous years, that just didn't seem like it was a possibility, and to be able to play our first one at at home is just so exciting. The buzz around the Fever has been incredible.
Obviously a lot of players left the club when Super Netball started in 2017, and we only won two games. After so many years of finishing near the bottom of the ladder, people like to say that there's an expectation or acceptance of defeat that's almost been ingrained.
I do know that It was pretty hard the way we had to look at ourselves and our culture. We had to put ourselves in the shoes of other players, and think how they'd perceive us, and we couldn't finish off games and things like that in those years where we really struggled for success.
There were a lot of grey areas for us, but there's a lot more clarity now, which we've been driving as a group. I guess previously we probably thought harmony was what drove our culture, whereas now everything is about our standards and sticking to our behaviours. At the end of the day, it's about excellence, and how we can be the best at our behaviours, rather than just everybody getting along.
It's so pleasing that half the current team are West Australians. It's pretty hard when you're coming through the ranks in WA and you see that there's not many local girls playing for Fever; you wonder how there's going to be an opportunity for you. 
The way that Stacey has developed WA players is something that probably hasn't been done before, but there's a pathway that's being built now, and Fever is looking at WA players and wants them here. With Perth being so far away, it's probably not the easiest move for interstate players, and we should really make the most of the talent that we've got in WA.
Previously we probably thought harmony was what drove our culture, whereas now everything is about our standards.
Our improvement this year is not just about Jhaniele Fowler. As well as our culture, we've worked a lot on our defensive game, and statistically we're getting more ball, so that's been a big thing. In the pre-season we stripped it back to basics – where to position, how to defend – and then built from there.
But Jhaniele is just a legend. She is so cool, calm and collected, and so confident in her ability to be able to deliver for us. She wants the ball, and she wants to reward the efforts from down the court.
Little One is my nickname around the club; Jhaniele is 33cm taller than me. After we beat the Giants there was a funny picture of us together and I said to her, 'I look like Baby J, your daughter, almost – we're about the same size'. What I worked out is if you want to get in the paper, stand next to Jhaniele!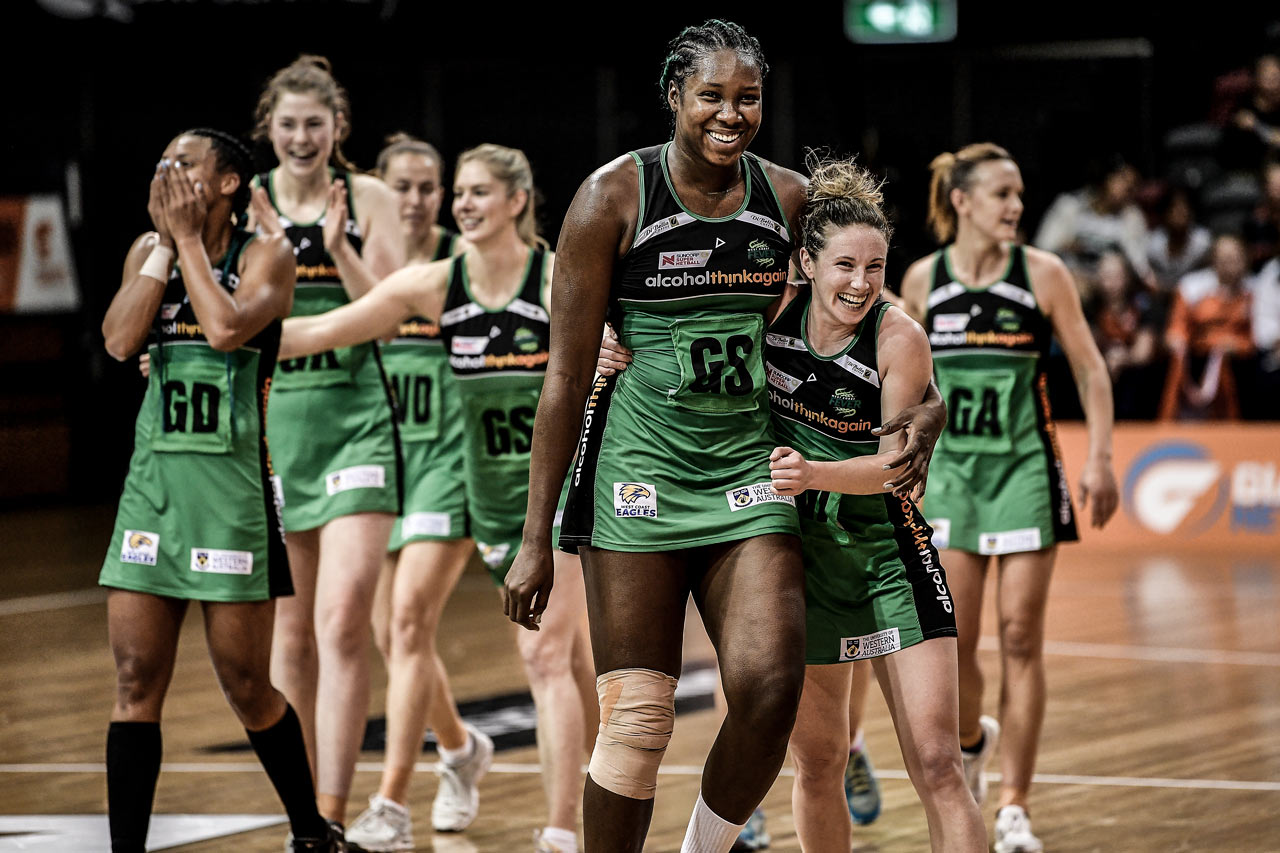 It's huge what all this has done for WA netball. The support we've had this year and the way people have got around us has been incredible, and I can't wait to see – hopefully – a full house at Perth Arena on Sunday. With the noise they make, and the atmosphere, it's such a powerhouse for us, and the set-up there makes you feel like a bit of a rock star when you walk out.
We don't have the finals experience that the Lightning have, but the week off has given us a great opportunity to freshen up. We certainly didn't want another flight because we travel so much and Perth is so far.
It's also a long way for a kid from Karridale – even if, growing up in the country, playing in a Suncorp Super Netball grand final in front of 14,000 people is not somewhere I ever thought I'd be.
I'll have company, though. The way my Grandma spreads the word, most of the town's population will be there, too. Maybe it's not quite so far, after all.
More about: Grand Final | Sponsored | Sunshine Coast Lightning | Super Netball | teamgirls | West Coast Fever | Women's Sport