Big man, big voice, big heart
I like to talk about people as people. You can have a great broadcaster who can be a complete asshole. But Darrell Eastlake was big in the truest sense of the word.
Big man, big voice, big heart. That was Darrell.
Darrell would go out of his way whenever he could. He was a genuinely good person who liked to party hard – Darrell was a great party man, and I could tell many stories that wouldn't be printable! But whatever he did in his wild days, he would never hurt anyone. He was a man of great compassion, a man who liked to help others and a man who lived for his days of commentating.
I first met Darrell in 1982. Channel Nine had secured the commercial rights to the Brisbane Commonwealth Games, and David Hill the executive producer went about putting a commentary team together.
Of course, all the people who were at Channel Nine at the time – and Darrell wasn't – were seconded to go to Brisbane. Darrell at that time was either working for, or had been working for, NBN in Newcastle. But David got Darrell to come up and do the Commonwealth Games and I first met him at a meeting of all the commentators before the Games.
He was this very good-looking, big man with a big voice. Little did I know that we would end up working together for many, many years.
In the first week of the Commonwealth Games, I called the swimming with Murray Rose. Darrell did the weightlifting. I wasn't aware of who was doing what at the time, because when you're doing these things you're very focused on your own event.
But I heard that Darrell had been very hyped up and over-the-top at the weightlifting, which at that time, had always been very low key, almost like snooker commentary. But he just took it and made it his own.
In the second week of the Commonwealth Games, he and I called the lawn bowls together. That was my first introduction to Darrell as a commentator. There we were, at this very traditional bowls club, with people in their hats and long pants and a deadly hush all over the bowling green.
Having just met Darrell, I said, 'I don't know how we're going to do this but we'll just wing it'. So I said, 'Welcome to the 1982 Commonwealth Games lawn bowling, it's going to be terrific, Australia's playing whoever it was…', and Darrell said, 'WELL THANKS, BEAR' and continued in this booming voice carrying across what was a very hushed arena.
Neither of us knew anything about lawn bowls, but we just played it by ear and Darrell made it as entertaining as he possibly could. It was quite extraordinary, and it's quite possible Darrell disturbed the lawn bowlers!
Visited old friend Darrell Eastlake at his central coast nursing home. He still has smile and a laugh. pic.twitter.com/LLcjEHx9MS

— Ian Maurice (@ian_maurice) January 9, 2016
ORIGIN SPIES
A few months after the Commonwealth Games, Channel Nine secured the rights for rugby league.
Saturday afternoon rugby league was to be part of the afternoon of Wide World of Sports. Gibbo and Chappelli would do the first hour-and-a-half, then they'd cross live to the rugby league. That was our next co-venture, calling rugby league.
Darrell was always going to be loud and I think David Hill the executive producer realised that he would be over-the-top. He needed me to work alongside him and bring a bit of peace back to the event because Darrell could be sort of erupting for 80 minutes of football.
I'd try to bring it back to some sort of normality. Darrell would get so fired up, David Hill would be pacing up and down behind us with a rolled-up program in his hand. Whenever Darrell got too over-the-top, David would bash him over the head with it!
State of Origin began in 1980 and Channel 7 had the rights to the first three years. Rex Mossop would call it, but with great respect to the people who were involved at Seven, it was just another football game. There was nothing special about it.
It's quite possible Darrell's booming commentary disturbed the lawn bowlers!
Nine got the rights in '83 and David Hill, genius that he was, realised that this was more than a football game. He understood that this was an event, a spectacle. So he went about making State of Origin just what it is today, and Darrell was a part of that, as was I and everyone else involved.
Remember that in those days Nine wasn't full-on with rugby league. In '83, we did Saturday afternoon and Origin. In '84, we only did Origin and Test matches so, unlike the guys today, we didn't get to see many games apart from the representative games that we covered.
David Hill knew it was important for Darrell and I to be very familiar with the players so he arranged for us to go to Brisbane for a week leading up to the Origin games. He hired a big TV and we played videos of previous matches just to get us into the swing of football again.
We also decided that we would take a hire car and go out to the Queensland training sessions to see what was going on. Arthur Beetson was coaching the Maroons and knew what we were up to. He then introduced 'secret' training venues. Darrell and I would wait for the Queensland team to come from their hotel and follow their mini bus.
Unfortunately for us, Wally Lewis also knew what we were doing, and he was driving the bus. Darrell and I had never seen as much of Brisbane as we did back then. Lewis driving the bus, Eastlake driving the hire car through back alleys, the wrong way down one-way streets. How none of us were not arrested, I'll never know.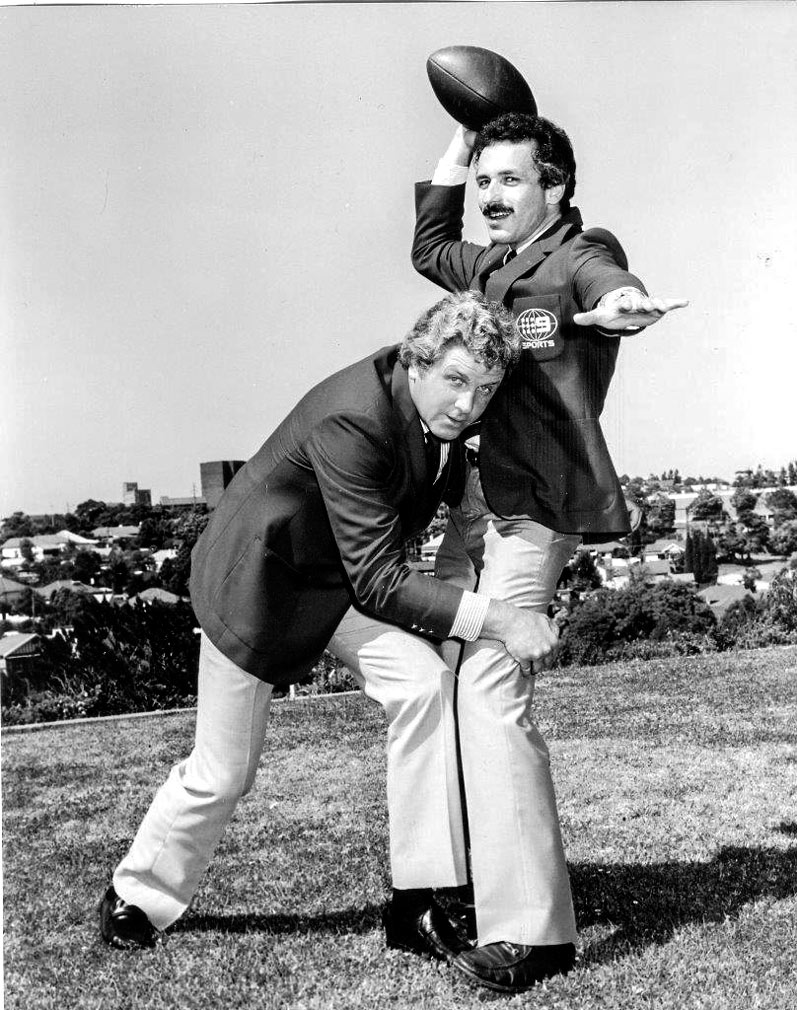 A PIECE OF PISS
We were all thrilled and fortunate to be involved in State of Origin football in those early years and I'll be forever grateful to David Hill for getting me involved. If Darrell could speak now, he'd say the same thing.
State of Origin was the greatest thing that ever happened to Darrell because people suddenly were aware of this big excitable fellow.
During an Origin game, I never tried to compete with Darrell. It would have been very stupid of me to try, so I just trod a very straight path and didn't say a great deal – just to give light and shade to the whole broadcast. And I think that's one of the reasons why the whole State of Origin coverage on Nine was so successful.
At Lang Park in the old days, they used to broadcast from the opposite side of the field to where the dressing rooms are. Unlike today, we didn't have dozens of commentators. There was Darrell and myself and whoever the colour commentator was – either Jack Gibson or Arthur Summons.
The tension that was there from a television point of view could be quite frightening and, if you couldn't handle it, they'd soon find you out.
State of Origin was the greatest thing that ever happened to Darrell because people suddenly were aware of this big excitable fellow.
I have vivid memories of Darrell and I and Arthur Summons in the first year Nine had Origin. We were standing out on the fence at Lang Park with the crowd giving us heaps as you would expect.
Arthur Summons, a man who's played at the highest level, the man next to Norm Provan on the premiership trophy, the little man who knew absolutely no fear, was visibly shaking because of the tension. I'll never ever forget that. But Darrell was thriving with it, as I was. If you're of a certain nature, then a crowd that's going right off can really fire you up.
We would work in approximately 10-minute segments. Whoever finished approximately 10 minutes before the end of the game would have to get up from his seat, walk down the stairs and walk around the hill to get to the dressing sheds to do post-game interviews.
The crowd all knew that we were from Sydney, that we were New South Welshmen, and they would throw beer at us and they would pee on us. Darrell and I have both been peed on while walking around to the dressing sheds at Lang Park. We'd be there with our blazers soaked in piss trying to do interviews.
They were wild days. Those days really were raw.
ONE OF A KIND
I went to Channel 10 in 1988 and Channel Nine still had the State of Origin. They brought Ray Warren in to work with Darrell but, before they signed Ray, I got a phone call from Sam Chisholm wanting to know how secure my contract was and whether I could get out of it because they wanted me back to do the football. I couldn't because it was my first year of a contract.
With great respect to Ray – and I'm certainly not knocking him – I don't think Darrell worked as well with Ray as he did with me, because there just wasn't the light and shade that was there before. But so be it. That's the way it goes.
I don't think that Darrell ever felt as comfortable working with a new crew as he did working with the old crew. Eventually, he was eased out of the State of Origin football telecast because in the following year Channel 10 had it, and he was still under contract at Nine, and Channel 10 tried to get him over to join me again but they couldn't.
After State of Origin, Darrell did a few different things, and they were good. Some of them were really quirky like darts in an Irish bar and those sorts of things. But they just didn't have quite the same impact as working live, nothing ever does. You can't beat working live.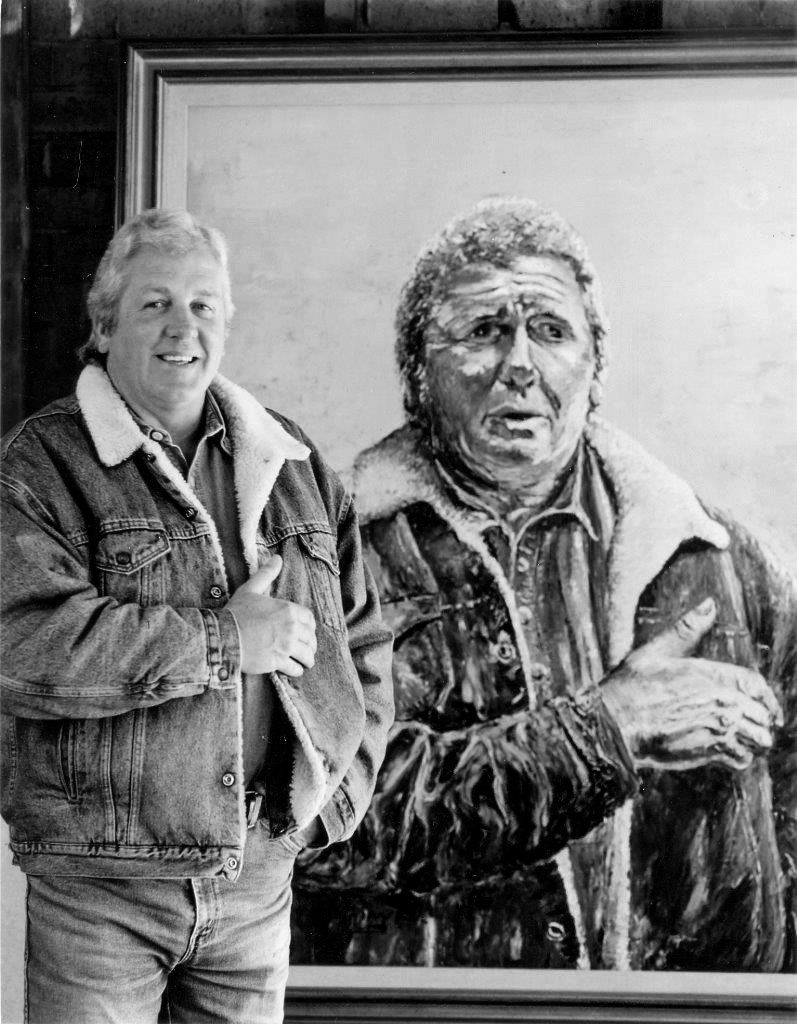 I think Darrell felt a bit miffed that there weren't the live things to do that he used to do. I'm not too clear on what happened with his contract with Channel Nine when it eventually ended, but he drifted off and did some commercials and a few things. But really deep down, he was still longing to get back to doing what he loved best.
On or off the screen, Darrell was a very excitable character. The passion would rise in anything that he really enjoyed, and broadcasting was his great enjoyment. He loved rugby league and surfing and surf boats, and many other things were right up his alley. And always his enthusiasm and passion came through with his exuberance and that big booming voice.
Darrell and I have both been peed on while walking around to the dressing sheds at Lang Park.
If Darrell was starting out now, and he was doing exactly what he was doing back then, I'm not sure that he would get a guernsey today. It's too clinical now. I'm not knocking these people, don't get me wrong. They've got a job to do and they do it well, but sports coverage is very clinical, and it was pretty raw back in the early '80s when we were doing it.
I would suggest perhaps that producers today wouldn't see the value in an excitable voice like Darrell's and that would be a great pity, because I do think that football commentary and sporting commentary in general for that matter today does need someone a little bit different.
So big D has made his final call. Thanks mate for the privilege of working alongside you. Thanks for being a big part of my life. Gibbo, Maxie Walker, Richie and Tony Greig are just about to have their heavenly peace disturbed.
More about: Sports Commentary | State of Origin