I was born Deyvison Rogério da Silva in a city called Gravata, a little town in the north of Brazil near Recife. Then, when I was three, my mother moved us to Joao Pessoa in the state of Paraiba.
It is one of the oldest cities in Brazil and surrounded by rainforest. It is known as the city where the sun rises first because it is further east than anywhere else in the country. The beaches there are beautiful. That's where I grew up.
I started playing football on the streets. A local club in Joao Pessoa found me and asked my mum if it would be possible for me to train every day in the club. That's where I first made a name for myself as someone that scored a lot of goals.
My step-dad saw me scoring all these goals and said I reminded him of a very good striker who played for the club he loved, Bahia, as well as several others like Internacional, Fluminense, Corinthians and Sao Paulo. He also played a few times for the national team.
His name was Raimundo Nonato Tavares da Silva, but everyone called him Bobô.
His nickname became my nickname.
It caught on with all my friends and when I turned pro I decided to wear Bobô on the back of my jersey. A few years later, teammates said I reminded them of Christian Vieri, who was also nicknamed Bobô. He was very successful with Italy then, and he grew up in Sydney. Now I am here. It's funny how things happen sometimes.
I was 15 or 16 when Corinthians came to sign me. That was huge. They are a big club in Sao Paulo. They are known as Timão, which means Big Team. They have won the Campeonato Brasileiro Série A seven times and three Copa do Brasil titles and they were the team I supported when I was younger.
There were many great players at the club during my time there – Carlos Tevez, Javier Mascherano, Ricardinho. I couldn't believe my luck to be playing in a place like that. A few years earlier, they had won the first-ever FIFA Club World Cup!
I played for Corinthians between 2003 and 2005. We won the Serie A in my last season there, ahead of Internacional, Goias and Palmeiras. Tevez was our captain and he scored 20 goals. I played 14 games and scored three goals. These will always be special memories for me.
CORINTHIANS, BESIKTAS & SYDNEY
Corinthians was my first professional club but I have fond memories from my time playing for Besiktas.
I spent five-and-a-half years there and we won a lot of trophies – a Super Lig, a 1. Lig, a Super Kupa and four Türkiye Kupası. I have a great connection with the club and supporters. They still send me messages on social media all the time.
There was a game against Trabzonspor that might be my favourite memory.
We went down 2-0 early in the game, before coming back to equalise. I scored the goal that put us ahead in the second half. That was huge! But then, our goalkeeper was sent off for a handball outside the box.
We'd used up all our substitutes and needed someone to finish the game in goal. I didn't think twice. I put the gloves on.
I played more than 10 minutes in goal and made three important saves for the team. We beat them 3-2 and my goal was the winner. It was unbelievable.
Being a goalkeeper is very hard. But still, I think it's more difficult to be a striker. There is a pressure to score in every game. For a goalkeeper, you cannot make every save in every game. It's impossible.
His name was Raimundo Nonato Tavares da Silva, but everyone called him Bobô. His nickname became my nickname.
Another memory is the time we played Liverpool in the Champions League in 2007. They had a great team with Steven Gerrard, Jamie Carragher, Dirk Kuyt, Javier Mascherano and Lucas Leiva. I scored in a 2-1 win in the Istanbul leg. I played a hand in Serdar Ozkan's opening goal, then slid a shot under Pepe Reina to give us a 2-0 lead. Gerrard scored very late but we were able to hold on.
Our fans were so loud you couldn't even hear your teammates speak out on the pitch. I will never forget the atmosphere that night.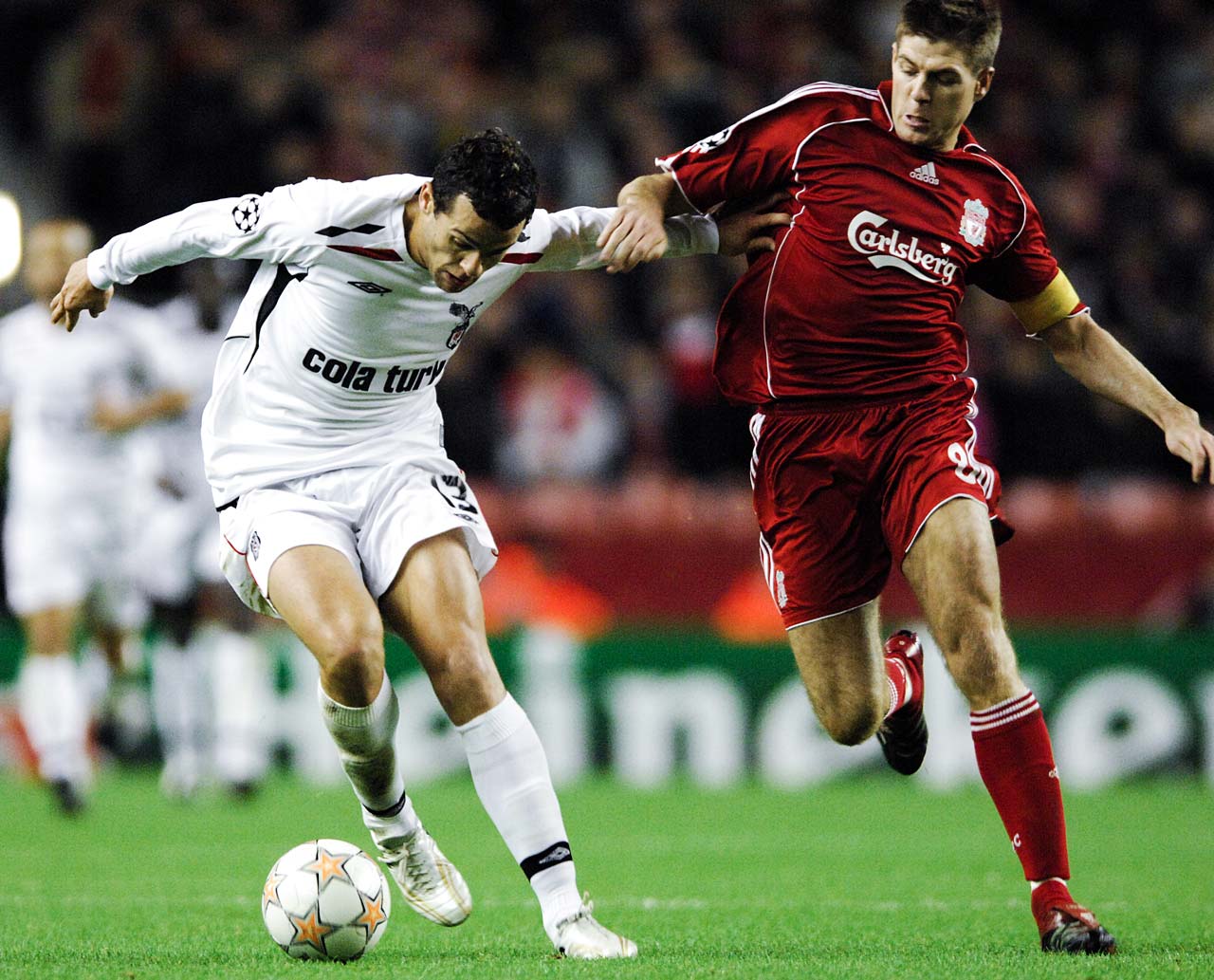 I played six years with Besiktas, including 11 Champions League and 14 Europa League games. From there I played for Cruzeiro EC, Kayserispor and Gremio Porto Alegre.
And then I received a call from Sydney FC.
Sydney is different to any other team I've played for. At other clubs, the atmosphere is not so good.
At Gremio for example, when players weren't in the first XI they'd start to do small things that undermine the team and ruin the atmosphere. They start to talk behind their teammates' backs and badmouth them. It's not good.
At Sydney, we have a great atmosphere and a good bunch of boys. It can be hard to find that in football. Here, training is my favourite part. We laugh so much every day and have a lot of fun.
When my wife, Raquel, and I decided to come to Sydney it was a big shock for the kids. It's never easy for them to change schools and move to a foreign place but, after two years, my family and I are very happy.
I want to stay for one or two more years, I think.
It's very easy for a Brazilian to feel at home in Sydney. It was a big surprise when we arrived that there are a lot of Brazilians here! I didn't expect that.
When I was in Turkey, it wasn't like that at all. Here, if you go to Manly or Bondi, Brazilians are everywhere. Sydney also has some of the very best Churrascarias.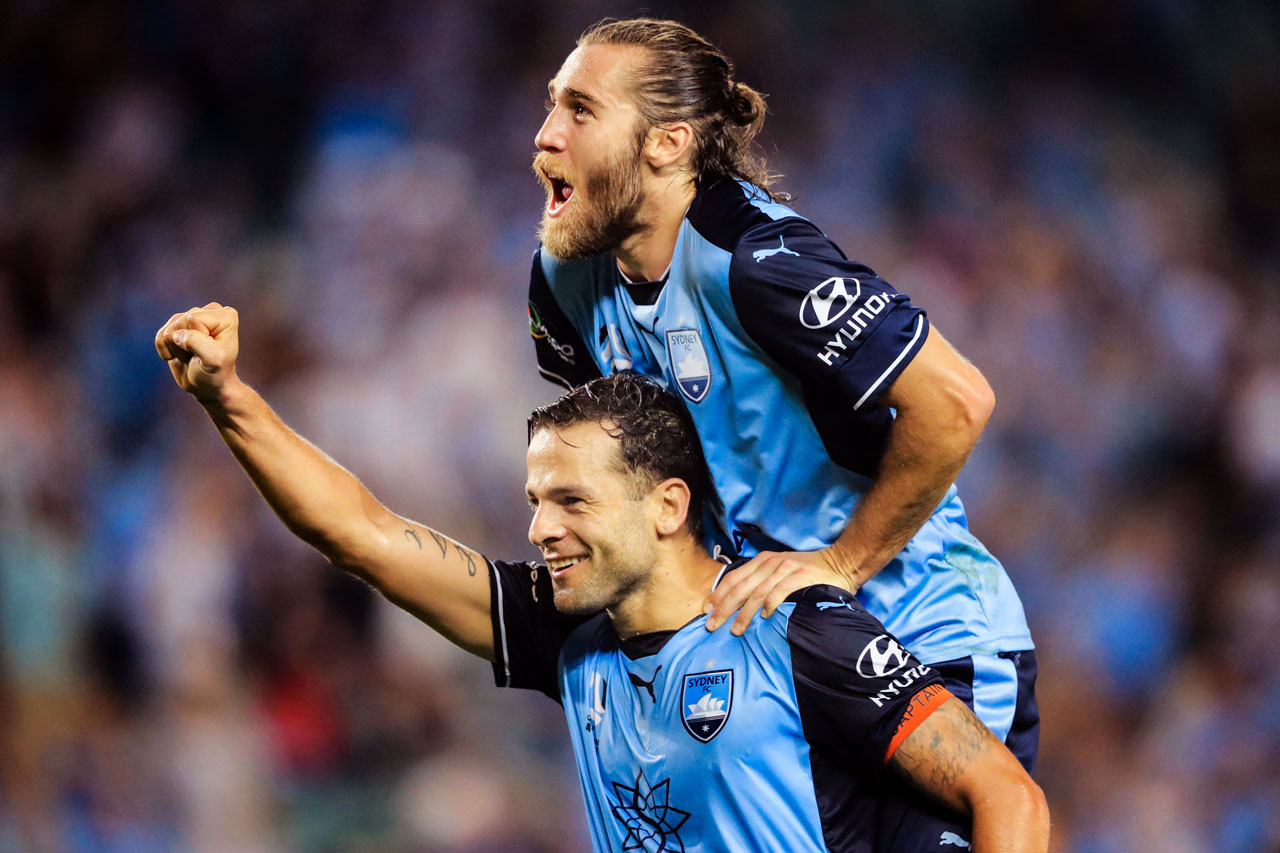 ARNIE & THE RECORD
Graham Arnold is an unbelievable coach. He built our culture. It will be sad to see him leave the club after this season.
After four years at Sydney FC he has won everything. I think it's time for him to take this new challenge with the Socceroos. I think he'll do a great job there. I hope so!
There's something that Graham says every day that I really like.
He says, 'Just win, win, win!'
That's what football is about. You can play well but, at the end of the day, the result is what matters.
I say it all the time now. It's something I say to pump myself up and my teammates.
The other thing I like that Graham says every day is: 'Believe'.
He wants us to believe in ourselves, believe in our teammates, believe that we can do anything. He talks about this every day until you do start believing.
I didn't really think about the A-League goal record so much. I just focused on doing my job. I think when you worry too much about goals, they might not come. You have to be natural and just do your best.
When I renewed my contract last year, I said I can do much better. Now, after 26 goals, I feel great. I feel confident.
Sydney is different to any other team I've played for. At other clubs, the atmosphere is not so good.
But the job is not done yet. Now, it's time to focus because the season is not over.
First, Melbourne Victory in the final round, then a very important match in the Asian Champions League on Tuesday. We play Shanghai Shenhua and if we lose we will be out of the competition.
We had a difficult start to our campaign, but we have worked hard to give ourselves a good chance of qualifying for the next stage.
I think we were much better than Shenhua when we played in China. After that game, we were so disappointed because we felt that we let the game slip when we should have won.
The time to relax will come later.
When I get days off, I like to load up the car and leave with my family for some exploring. We've been to the Blue Mountains, Newcastle, Hunter Valley, Port Macquarie and Canberra. But, to be honest, we like Sydney the best.
In the off-season, we want to get away and see the Sunshine Coast in Queensland and also Melbourne to see some friends. If you have any other recommendations, please let me know!
More about: A-League | Bobo | Graham Arnold | Liverpool | Sydney FC | UEFA Champions League