Three more years of hard yakka
The best netballers in the world play in Australia. It's the place to be. The league here is outstanding and head and shoulders above the rest of the world, proven even more so after these first two seasons of Suncorp Super Netball.
This made the decision to sign with the Swifts for another three years an easy one. 
The temptation to move clubs never even crossed my mind. Sydney isn't just where I play my netball now, it's my Australian home. Looking at the two years I've had and how it's progressed my game, it was probably the best decision I've ever made – not just coming to Australia, but to this club. It was a daunting move as a 21-year-old but one I'm so glad I did.
As a younger girl I witnessed a lot of the English girls – like Geva Mentor, Jo Harten and others – come out to the Aussie and Kiwi leagues and return as completely different players.
They came back as world-beaters; with such confidence and knowledge of their abilities and of the game.
That was my dream, as well.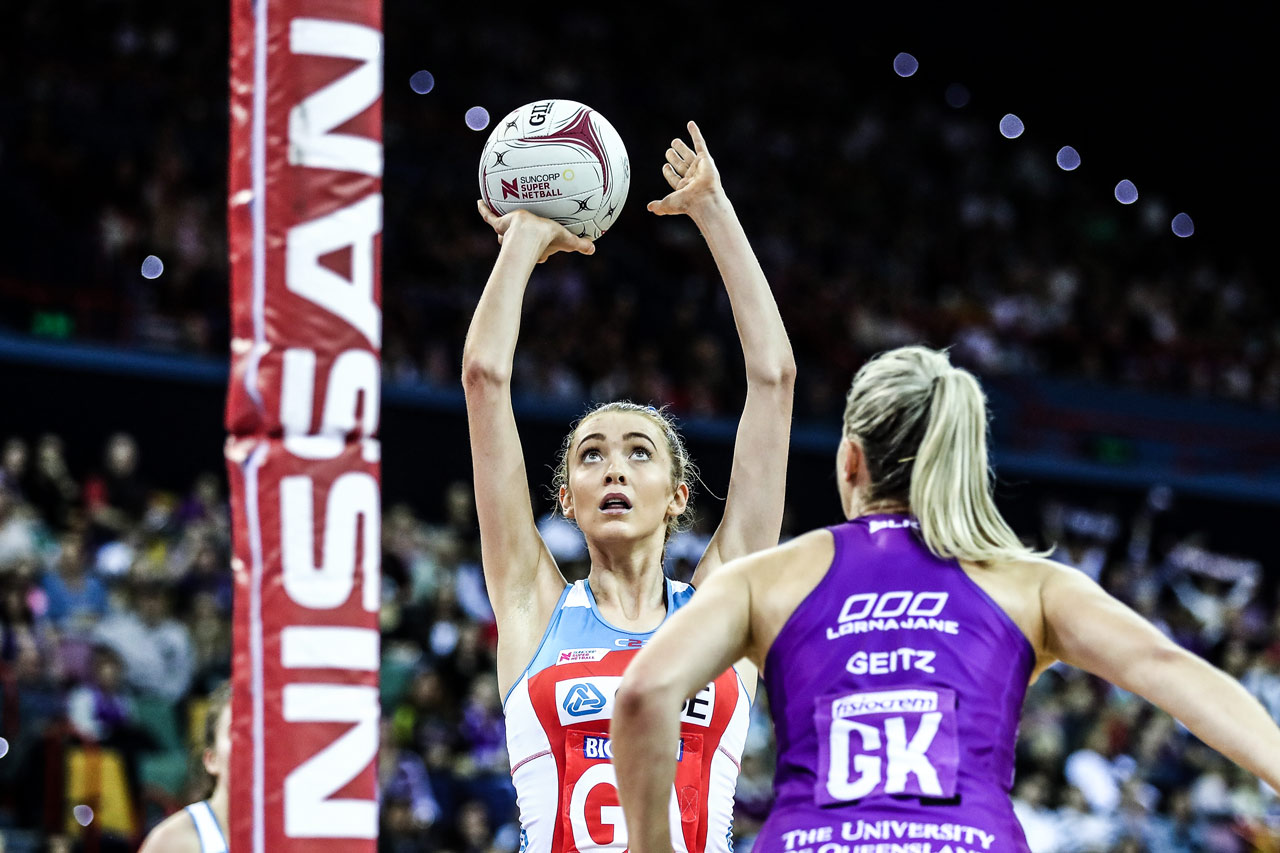 FREEDOM, PASSION, HIGH INTENSITY
Here at the Swifts a lot of the girls are similar in age, which can make a big difference when it comes to life outside of netball. The majority are from out of state and a few, including me, from a different country.
We've become each other's family, support network and genuine friends – it makes the whole experience infinitely better. We spend a lot of time together outside of netball because we want to, rather than it being a forced thing.
We're also at similar stages in our careers; we're all learning how to play our best netball consistently and wanting to take the next steps on the international stage. It's a brilliant place to be to grow as a professional athlete. 
My game has improved considerably since my move out here, yet I still have a lot of changes to make and much more to give. For me, I think it's about finding consistency; I'm at my best when playing with freedom, passion and at high intensity. Bringing that consistently game after game is the key.
I love the pressure of being a shooter. All the hard work the whole team does means nothing if we don't put the ball in the net. It can be a scary thought being only 1 of 2 players who can do that job, but we practise for that pressure in training.
There's nothing like delivering for your team in an actual game, especially if it's a big one. Everyone has their own role to play in netball and when it all comes together, it's a very powerful feeling. 
UNITED LOVE
I grew up in Cumbria, two hours north of Manchester, pretty close to the Scottish border. I was constantly outdoors as a kid and always up to something adventurous.
I pretty much played every sport I could when I was younger. Netball, football, athletics (100 metres and high jump), tennis, hockey, gymnastics – the list goes on. I literally used to do everything that was on offer to me; I just loved sport and the competitive environment that came with it, whilst being able to have fun with my mates at the same time.
I'm still a huge football (soccer) fan. Manchester United is especially close to my heart.
My dream would be to play a little bit of footy on the side – Ash Braz-style – however that's unfortunately not possible, at least not right now!
Maybe I'll take it up again socially after I finish netball.
Any takers for a five-a-side team, please let me know.
Liverpool supporters sadly will not be considered.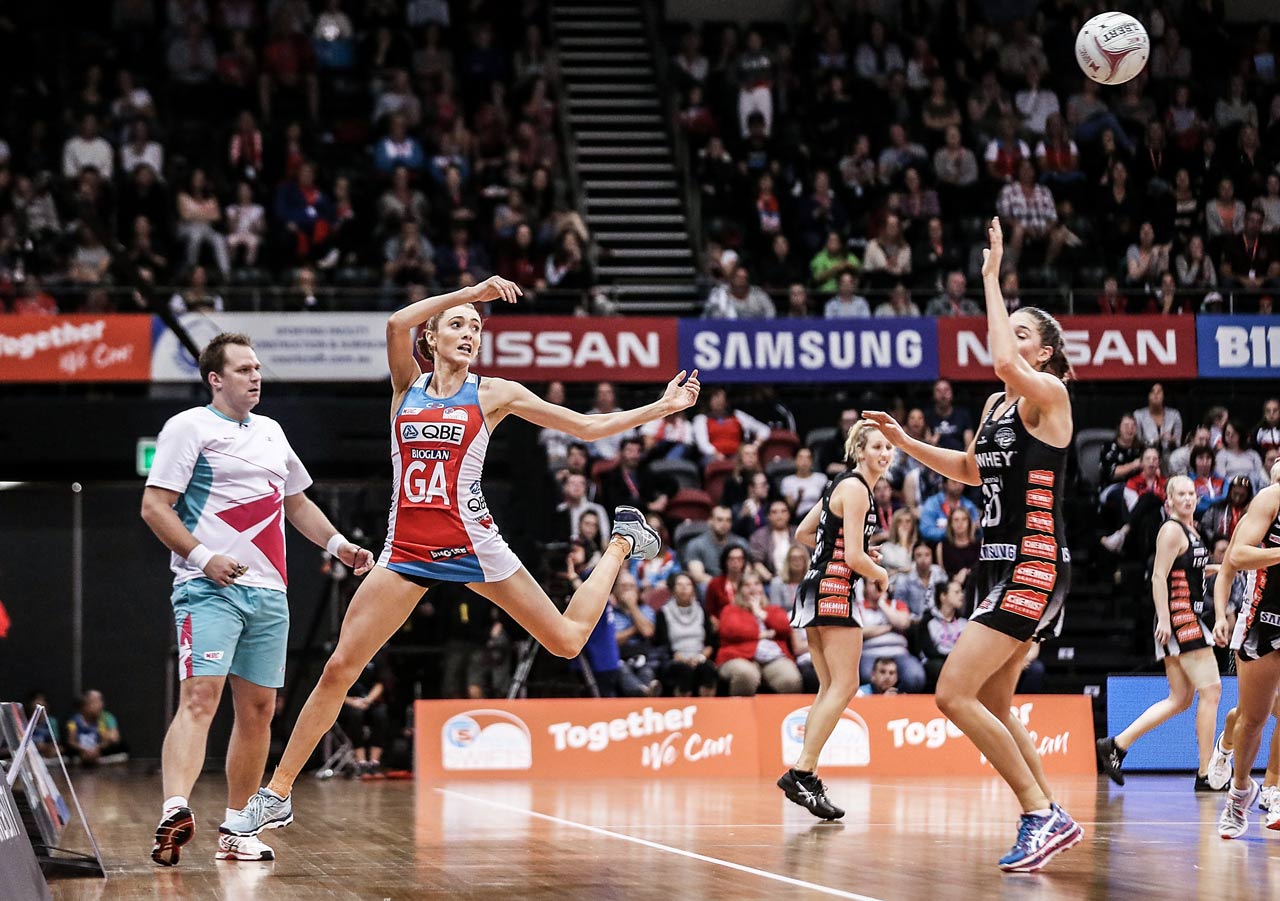 MY AUSSIE MUM
Last year was my first real taste of elite club netball. The Swifts squad had been depleted and it felt like a completely fresh start for all of us.
Only a couple of girls had been involved in the Swifts' program previously, and it felt like we could rebuild something completely different with a brand new group. I loved it. I loved playing professional netball week in and week out. It kind of feels like playing an international game every weekend, such is the intensity and spectacle of each game.
From last year to this year it feels like chalk and cheese, almost, for the Swifts. The big positives for us came in the first half of our season; we were winning games that we just weren't winning last year and we won twice as many games as in 2017.
Beating the Firebirds in round one was a big deal for us. This team hadn't beaten them in a while, and suffered back-to-back defeats in the ANZ Championship grand finals of 2015 and 2016. To get a win on the board against that team was a big step.
Last year, a lot of the talk was that we couldn't finish off the final quarter or the final five minutes of the game, which was true. However, we proved in the first half of this season that we can. We've beaten three out of the four teams that have made the finals this year. 
I love the pressure of being a shooter. All the hard work the whole team does means nothing if we don't put the ball in the net.
Elite sport is tough, though, and we dropped off in the second half of the season. In a league like this one, you can't afford to not be at your best and we were punished for it. It's devastating to not make the finals, especially as I truly believe this group is going to be something special – when we hit our best we're a force to be reckoned with.
It all comes back to consistency, something we can hopefully bring more of in 2019. We know that we can get the wins on the board and deliver in the pressure situations, we just need to do it more often. Watch this space.
A lot of us have re-signed with the club already. I've talked with the girls about what we've created, and the great culture we have here.
A lot of that has come from our new coach Briony. She's been a breath of fresh air for us; not just a great coach but good with us as people.
She feels a bit like my Australian mum. It's nice to know there'll be a lot of familiar faces around and that we can build on what we've done so far. For me, it also goes way beyond what happens on the court: we set standards for what it means to be a Swift, how we represent the club, how we engage with fans and treat people and so on.
It's important to live by those standards, it creates good people and not just good netballers.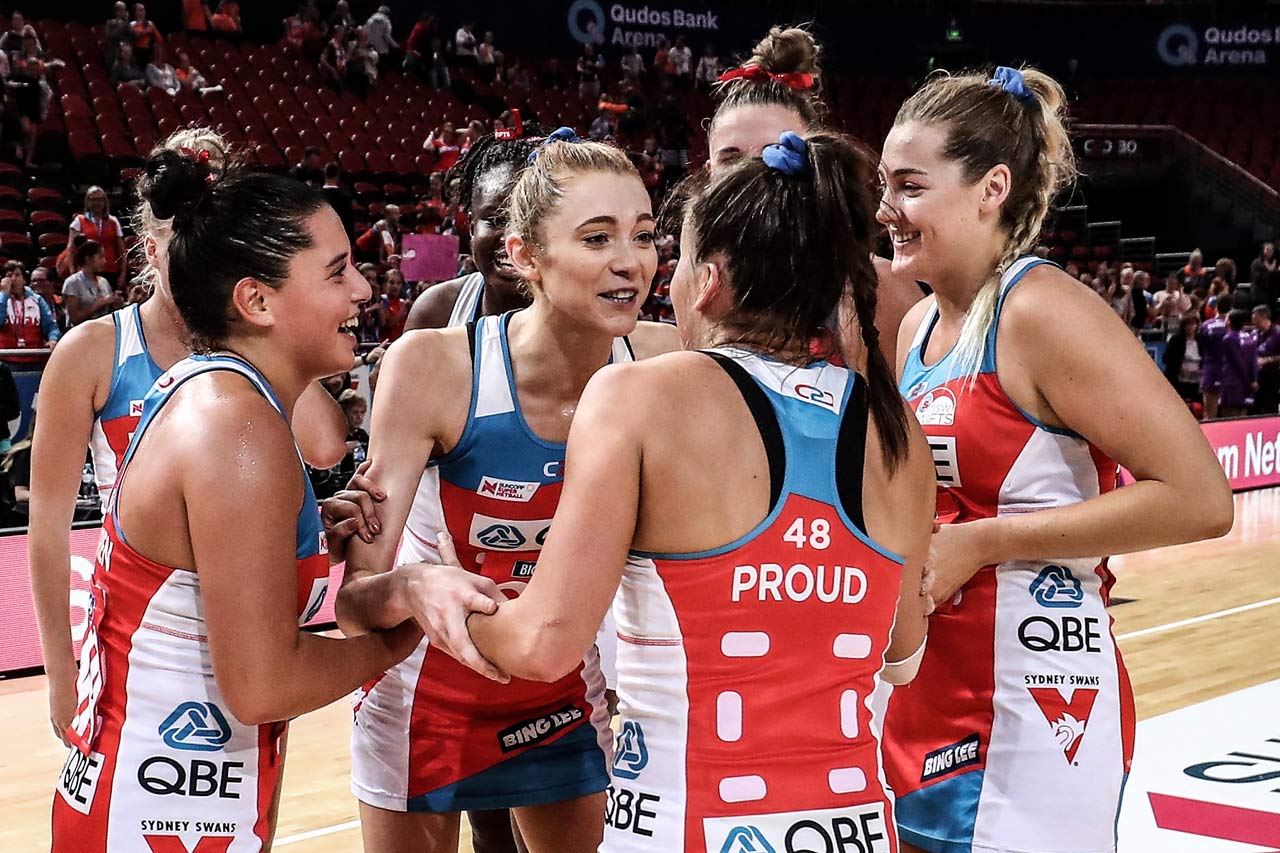 THE IMPORTS DEBATE
There's an argument that having imports in Super Netball has cost Australia at the international level, but I think it goes both ways. This is the best league in the world, so you're going to attract the best netballers in the world and this league will inevitably make those players even better.
Yet the internationals are also making this league better; if you took every import out of the league it would be far less exciting – and less challenging for the athletes who were left. 
So I think it's a relationship where we help each other. It definitely has helped the English team having a few more players come out here, there's no doubt about it, but on the other hand all the Aussie girls have come up through these leagues and systems for their entire career.
If anything, it just means that international players are playing against each other more regularly, sizing each other up before playing for their country against each other.
The internationals are also making this league better; if you took every import out of the league it would be far less exciting.
Back in England we've started a fulltime netball program, which we've never had before. The girls who are based in England – and whenever Australian and New Zealand based athletes go back home – we fall into the fulltime program in Loughborough, where you're getting paid to be in that camp-based environment on a weekly basis.
This has made a huge difference to our team and what it's allowed us to achieve, most noticeable on the Gold Coast.
The Commonwealth Games was monumental for us. It feels like a long time coming for English netball. We've always felt like we were on the cusp of doing something like that, but we'd never delivered in a big tournament.
After getting that gold medal we've really felt the support from back home; it feels like it's changed netball in England. Young girls can look to netball as a viable career option now, something which hasn't always been the case. Hopefully, at next year's World Cup in Liverpool we can continue riding the wave that has been created.
They're very different competitions, but I want a gold medal in everything! 
BECOMING MICK DUNDEE
*Alarm bells* 
I think I'm starting to sound a bit Aussie. We've had another English Rose, Nat Haythornthwaite, come over to join the group. She sounds so English it's even noticeable to me!
Some of the things that the girls say every day just get ingrained in you. Like hard yakka. That feels like a normal thing to say now. Or saying, 'How're you going?' instead of, 'How are you?' all the time. It just feels so natural.
The Australian culture seems to suit me. I hope I don't get too much abuse from my mates when I go back home and sound like Crocodile Dundee. 
Next up for me is hopefully the Quad series with the English Roses against Australia, New Zealand and South Africa. It's over on this side of the world in September.
After that, I'll finally fly home and see family and friends. However, then there is a tour to Jamaica a week later and I'll be putting my hand up for selection for that, too.
I have to be honest, though: I'm excited for a little down time! This year has been non-stop, it'll be nice to recharge the batteries and get ready for an even bigger 2019.
More about: England Roses | Gold Coast 2018 | Jo Harten | NSW Swifts | Queensland Firebirds | Sponsored | Super Netball | teamgirls | Women's Sport