Could I be any more excited?
Four years ago, my netball team at the time, Manchester Thunder, won the English Netball Superleague grand final. I happened to shoot a goal in the last seconds to help us win by one.
It was the best moment of my netball career up until that point; I remember really clearly saying in an interview, 'Nothing like this will ever happen to me again'.
Then the 2018 Commonwealth Games happened.
You never really dream that you're going to have those kinds of moments in your career. I feel unbelievably blessed to have done it with two incredible groups of female athletes.
There were a lot of similar circumstances between the two wins. There were a few of the same girls that I was playing with, and obviously my England coach Tracey Neville was my coach then for Manchester. It feels very special to almost come full circle from that time.
I was 19 when we won that final in 2014, and it definitely catapulted my career forwards. Off the back of that, I went to the 2014 Commonwealth Games in Glasgow.
We ended up missing out on a medal in Glasgow, which was devastating. We lost by one to Australia and again by one to New Zealand in the semi-final. It was the lowest I'd ever felt playing netball.
I do however have a lot of special memories from those Games; it was the first time I was included in the senior squad, playing alongside players like Geva Mentor that I'd looked up to for so long, and it's where I got my first cap for my country.
But the way the tournament ended was a huge disappointment and was hard to deal with. I think we gave so much in the Australia and New Zealand games that when it came to the bronze medal match against Jamaica, people were already down about not being in the final, which was where we wanted to be, and it was tough to recover from it.
We've always had the players capable of delivering the performances that we did at the Gold Coast Games. I think it was just a psychological thing. We had to change our behaviour, the way we approach games and how we finish them off.
We knew we were good enough to go goal for goal with Australia, New Zealand and Jamaica – I think it was just about putting the finishing touches on. We'd never really hit our very best consistently in a major tournament, but we did this time around. We've always had amazing athletes and talented netballers and I think we finally gelled it all together.
Sport is so cut-throat. I I think that's why I love it and why so many people around the world love it. The tiniest little things make such a huge difference. Four years ago, we lost two games by a point and got nothing. This time, we won the semi-final and final by one point and won a gold medal.
We know exactly how Australia and Jamaica felt in those moments, and credit to both teams for amazing performances at the Games.
It's tough when you're on the wrong side of something like that, but when you're on the right side of it, it's one of the best feelings in the world.
the essence of perfection
Scores were level in the last seconds of the Commonwealth Games final and the ball was in my hands. All that was ringing in my head was, 'Just don't bloody miss'.
If it hadn't gone in, the game was going to extra time. We had a lot of tired bodies on the court. We'd given so much in that 60 minutes that it could have been a different outcome if it had gone past regular time.
The shot itself just kinda trickled in… nowhere near textbook execution. Sometimes a perfect moment isn't actually perfect in every sense, which is fine by me.
It felt incredible to deliver for the team in that moment, but to be honest the entire team took that shot with me. Especially our very own ninja, Jo Harten.
All that was ringing in my head was, 'Just don't bloody miss'.
In the semi-final I missed in the dying seconds and she rebounded the ball and scored to win it for us, to send us to the final. That's what team sport is all about to me, backing each other up and having a never-say-die attitude.
The final goal was just finishing off the hard work that the rest of the team had done. It was a special moment but I'd say the entire game was pretty special for us.
TREnd it like beckham
There were a couple of epic photos taken after our win. One was of all us in a pile-on, with me happening to be looking at a camera with a blue bloody tongue… (it was a powerade energy drink FYI).
All of the celebrations are a blur, to be honest. Everyone was just screaming and hugging and trying to find words. I'm glad we have these pictures to remember that moment.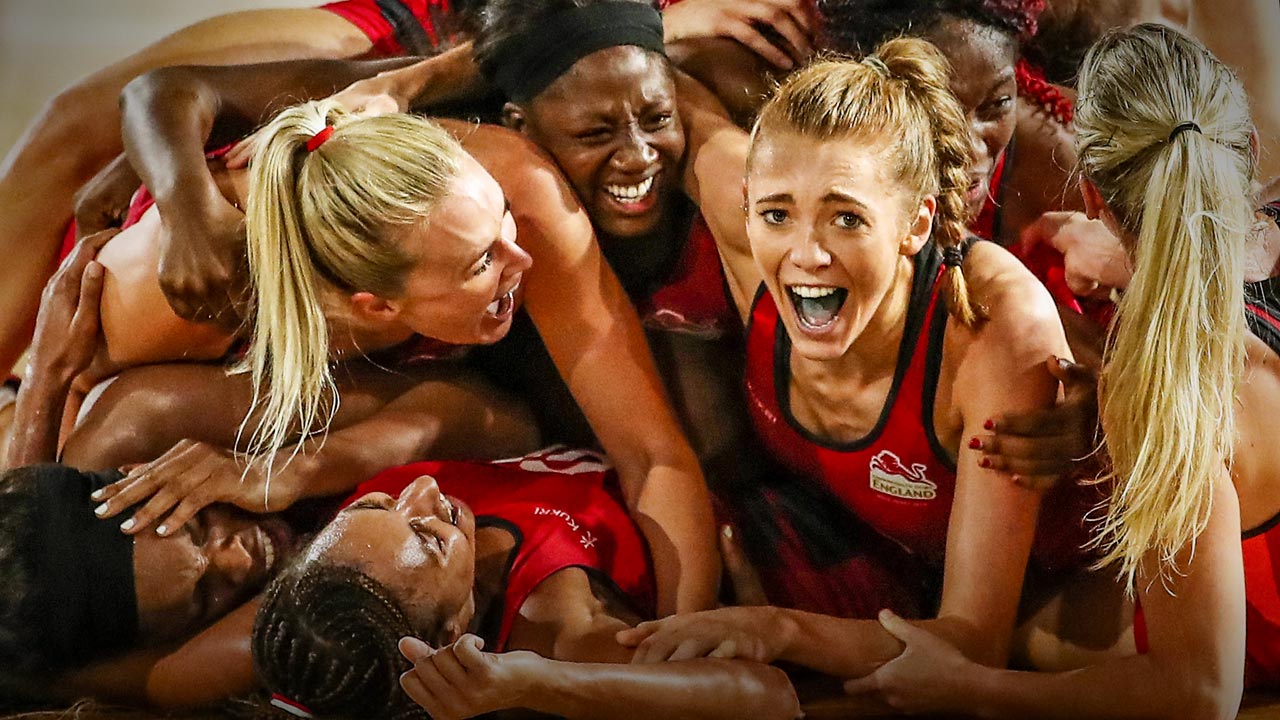 There's another shot which I put on my Instagram of my reaction after the final whistle. It sums it up for me, confused and emotional. England have never had that kind of moment before; I was lost in the magnitude of it all, as were the rest of the squad.
In the game, you're not really thinking about what happens after the final whistle if you were to win. You're just thinking about the process and about doing your job. I think that's why it felt so shocking. You're almost in a bubble while you're playing. And when the final whistle sounds, the bubble pops and chaos ensues.
I'm a huge Manchester United fan, and Gary Neville posted that same Instagram photo to his social media, which was amazing. He's always been incredibly supportive of his twin sister Tracey, as has her whole family.
Then David Beckham commented on my picture which – I'm not going to lie – was almost as good as the gold medal.
I'd never, ever thought in my entire life I'd have contact with David Beckham. I was fan-girling HARD. I got the notification on the bus when we were on the way to the beach to do some media with the girls and I was genuinely emotional.
Then David Beckham commented on my picture which – I'm not going to lie – was almost as good as the gold medal.
I was so excited and amazed to see not just the netball community, but a global community reach out and be supportive. I think netball really needs that recognition on a global stage, and it was incredible to get it from such a superstar of sport and someone that I'd looked up to for some time.
Hopefully, I'll get to do a couple of things with Man United. They've reached out and been really kind and said some lovely things. Fingers crossed, when I do eventually get back over to England I'll be able to sort some things out, which would be a dream come true for a Red like me.
a swift return
I couldn't be more excited about the Suncorp Super Netball season which starts this Sunday for us.
This is my second year at the NSW Swifts. We've got an amazing group of girls and I'm so proud to be in this environment with these Aussie chicks (and our Trinidadian twerker and my housemate Sammy Wallace). They're so professional and at the same time make me feel like I'm at home with my mates and family.
Last year, we had the inexperienced tag on our backs – we don't want this anymore.
I think hopefully you'll see a more mature side this year. We came out and shocked a few people with our performances last year against the top sides, but our last quarter let us down at times. I think it came down to mental strength for us, a lot of the girls hadn't really been in that position before and we found it difficult to close out games.
We've been working a lot on that; our new coach Briony has been outstanding for us. She really believes in all of the girls and has given us so much confidence. I'm excited to see that being put into our performances this year and hopefully get wins on the board.
The recognition factor is definitely a bit stronger this year for me. The girls back home in England have felt it too – they've been on breakfast TV and they've been doing so many interviews and getting invites to things, it's just incredible.
Aussies love their sport and love getting behind their athletes male and female; it's really nice to have Swifts fans reach out and be supportive.
Obviously. what happened at the Gold Coast was great for English netball. However. I also think it's great for the sport as a whole. The top sides in the world are all pushing each other and it makes predicting results tough. It's great to keep the sport interesting and for fans to be engaged like they are right now.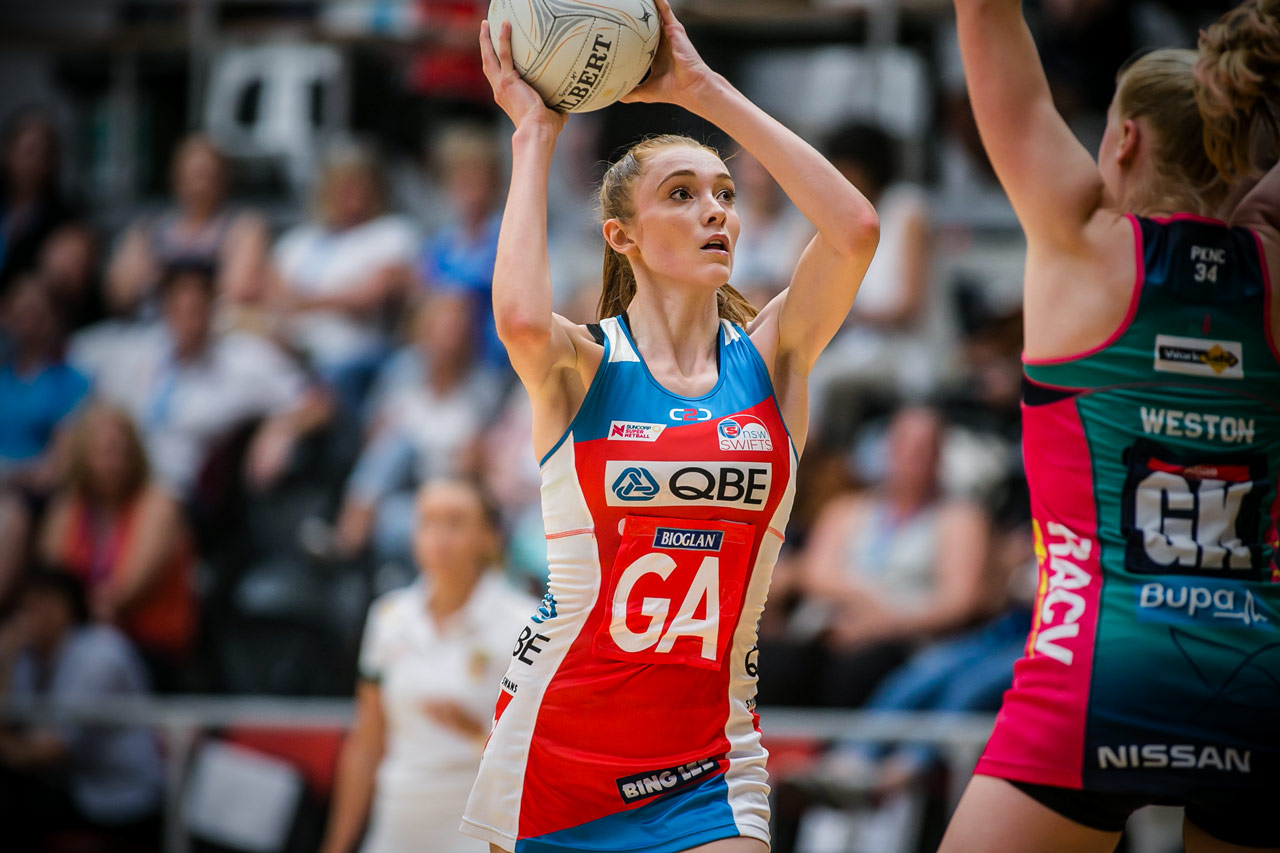 I absolutely love living in Sydney (minus the occasional episode of sunburn). The lifestyle really suits me. It's not even summer right now here in Australia, but it's still so much warmer than back home!
I really love having that life balance and spending almost half a year in both countries. I get to go back to England and see my friends and family, and hook up with the England girls and do all of that training. Then I get to come out here and have such a great time with all my Swifts teammates and enjoy an amazing city like Sydney.
I feel pretty blessed. I was 21 when I made the decision to come out here and sign with the Swifts, and I'm so glad I made that decision. It's been life-changing for me. I was a small-town country girl who never really dreamed of this lifestyle, it feels very surreal and I want to enjoy every single moment.
Away from netball, I've studied two years of a zoology degree at Manchester. I've always loved animals and biology and been passionate about education.
To be honest, I have no idea what I'll do after my netball career, but I like having a balance between sport and study. Having other interests beyond netball allows you to meet different people and experience completely different things.
But at the moment, it's all about netball – beginning with our game against the Firebirds this Sunday afternoon in Sydney at 3pm.
In the words of Chandler Bing… could I BE any more excited?!
More about: England Roses | Gold Coast 2018 | Jo Harten | Manchester United | NSW Swifts | Super Netball | Women's Sport