Bringing home cricket's future
Early 2004, I think it was, when I first saw this remarkable thing they were calling Twenty20 cricket.
I was the coach of Victoria and was leading a tour of developing players to England. While there, I wanted to catch up with my old friend and former Tasmania teammate, Jamie Cox, who was playing for Somerset at the time.
I went to see Jamie play a game in London and I was stunned by what I saw. It was a wonderful spectacle. There was big hitting, great fielding, thousands of excited people in the crowd and I thought, 'Wow! Where has this been hiding?'
We'd never seen anything like it in Australia. There had been attempts to update the game. I remember being a guinea pig for an experiment in splitting one-day cricket into quarters when Denis Rogers ran the Australian Cricket Board, as it was then. But Twenty20 was completely different. As soon as I saw it, I knew it was a winner.
Shaun Graf was on that tour with me. He was the Cricket Victoria operations manager and a former teammate of mine at WA. When I next saw him, I could hardly stop raving about the game I'd just watched.
I told Shaun we had to tell the board at Cricket Victoria about it. We had to tell them there was a new format of the game being played in England and that we should get properly involved.
Shaun spent time promoting the idea to the board and the response was positive. Up the road at Cricket Australia, people caught on and all of a sudden the ball was rolling. Within a year, CA had established a national state-based Twenty20 competition.
We in Victoria took the new competition very seriously. We knew that 20-over cricket was going to become a major component in the game and we went all-in. We became fully invested in preparing and playing our best, making sure we interacted with the crowds and promoted the game.
The state-based Big Bash competition started in 2005 and went for six seasons before the franchise system was established and it was renamed the Big Bash League. Victoria won four of the first five editions, including the first three in a row.
The players loved 20-over games and relished having a great atmosphere return to domestic cricket. The fans turned up in sizeable numbers. By 2010, we had 43,000 people attend a game we played against Tasmania at the MCG. From that point, there was no turning back.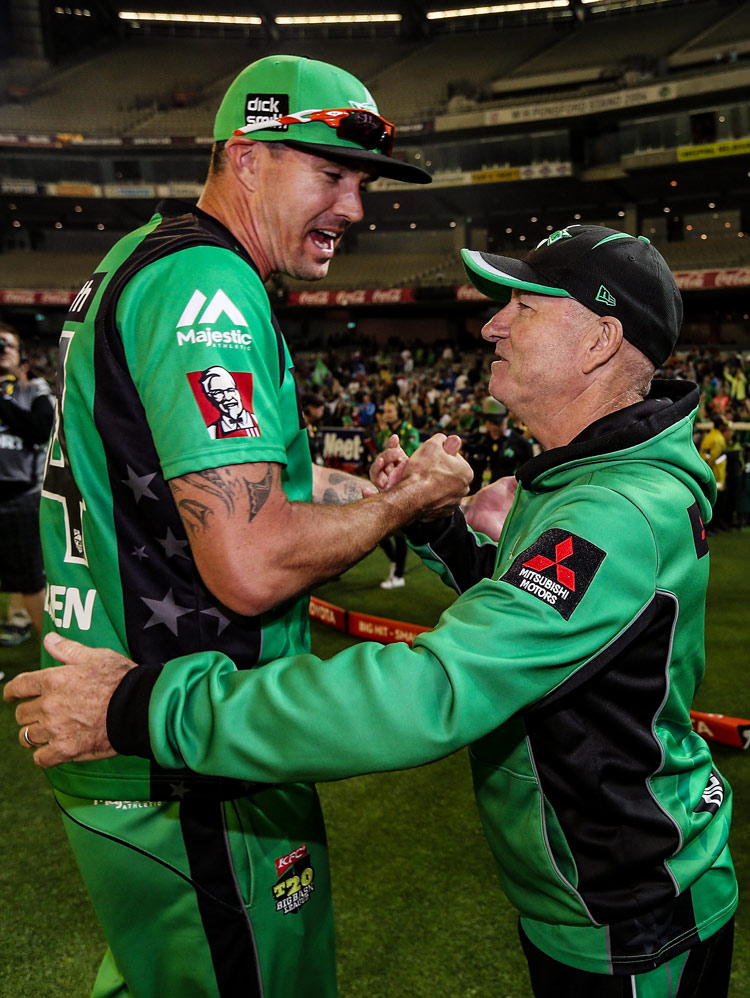 A NATURAL EVOLUTION
As a coach, the emergence of Twenty20 meant a new approach, new tactics and new team structures. I found it fascinating and enjoyable and I still love it.
I've been very fortunate to have had some wonderful experiences as the inaugural coach at the Melbourne Stars in the BBL and Delhi Daredevils in the Indian Premier League. I've been coaching the Sydney Sixers since 2015.
The razzmatazz of these competitions is a far cry from my heyday as a player at WA and Tasmania. I played 112 first-class matches and was part of a couple of Sheffield Shield-winning sides. However, far from trying to belt strike-rates above 100, my job a lot of the time was to just occupy the crease.
It was a different era. All domestic games were played over four days and they tended to conclude late on the fourth day. By batting for hours and hours, us top-order batsmen considered we were doing exactly what was expected of us.
I remember Dennis Lillee and our other Test bowlers saying to Bruce Laird, myself and others, 'Just stay out there as long as you like. We're lapping up the rest'. I was more than happy if I was keeping Dennis happy. Good luck to the new players who have that feeling of clearing the pickets. It's a feeling I rarely had!
I found myself going at different times to Dan Vettori and Glenn McGrath, for instance, and having to say, 'Sorry boys, you haven't made the side'.
My playing career ran from 1977 to 1991 when Test and Shield cricket were the staple and one-day cricket was emerging. But my attitude has always been to have a healthy respect for all forms of the game. I think they've all got their place and will continue to thrive well into the future.
Each brand of cricket has its beauty and mystery. But there is no doubt the game was ripe for change around the time that T20 came in. It's a natural evolution, to some extent.
I've been involved in all the big changes, all the incarnations of the game in the modern era: new rules, formats, lights, coloured clothing and the rest. They've all been great additions, and adjusting and learning has been a really interesting and significant part of my journey.
More about: Australian cricket team | Big Bash League | England | IPL | Melbourne Stars | Sheffield Shield | Sydney Sixers | T20 | Test cricket