All Blacks great to caddy dad
A No.10 and a goal-kicker.
Playing those two roles probably made it even more challenging for my son, Ryan Fox, in schoolboy rugby. Inevitably, if you're in the same code as your father played, there will be comparisons drawn.
I only ever noticed it overtly in one game but he's spoken about being targeted on the field, due to being the son of an All Blacks flyhalf. He reckons he often heard, 'Let's smash Fox's kid'.
I'm pleased, in a way, that he's chosen to do something different in his sporting career and is carving his own way. And carving it well, I'm proud to say: he'll contest the British Open at Carnoustie this week, off the back of some good form that has him Top 10 in the European Tour Order of Merit.
The Open was the first major he ever played, at St Andrews in 2015, and this is the third time he'll contest it, so I think he has a special affinity for the tournament. He likes links golf.
His golf career has flipped things on its head. Ryan is now rightly being recognised for what he's doing himself. In rugby, he would perhaps have always been known as the son of Grant Fox, whereas in golf, I'm the father of Ryan Fox.
Before choosing golf, Ryan probably had more affinity with cricket than rugby. He played just a year of first XV and suffered some head knocks, while he played three years of first XI cricket at school and senior cricket in Auckland his first year out.
His late grandfather on his mum's side, Merv Wallace, played cricket for New Zealand for many years. He made his Test debut at Lord's and captained New Zealand later in his career, so there's some cricket pedigree in the family.
Where we lived in Auckland, we had a good section for him to play in, plus a decent-sized deck. He was whacking cricket balls, swinging plastic golf clubs, tennis racquets, kicking rugby balls, soccer balls, you name it. He was into it all, as young kids are.
My first recollection of him playing golf is on holiday in Fiji, where we went quite a bit from when Ryan was very young. He'd join us in the golf cart and want to hit some balls. Probably in his last year at school, he decided that golf was something he'd quite like to try and pursue. He didn't play his first tournament, as such, until he was 18 years of age.
DAD THE CADDY
Ryan did well in his first tournament and was noticed by regional and national selectors. He progressed to play for Auckland and New Zealand Golf, who treated him very well and gave him some great opportunities.
My wife and I were adamant that Ryan have something to fall back on, given it is such a difficult career path, so he did an arts degree in psychology – which has probably been beneficial to his golf.
When the study was finished, a three-year course done over four, he was straight over to Q-School in Australia. He got his card and embarked on his professional career at the end of 2011, just before turning 24.
I caddied for him throughout those early professional years, right up until he went to Europe. I was fortunate enough to have my own business, so I was also able to make the time to support him.
And starting off from the Bank of Mum and Dad, Ryan is earning his own way nicely now.
I loved it. You want your kids to be happy, healthy and chasing their dream. I travelled with him and shared that experience. I play a little golf myself, off a handicap of about 2.6 (I should be off a bit more!)
I'm pleased, in a way, that he's chosen to do something different in his sporting career and is carving his own way.
But when Ryan got on to a bigger stage, he needed a caddy who could genuinely help him with the golf. It was time for me to step aside and for Ryan to take on a full-time professional caddy.
I was a bag carrier who made sure he got fed and watered and, occasionally from a mental perspective, I could help him. But when it actually came to properly plotting his way around a golf course, there wasn't a lot of advice I could offer.
Starting out, I was someone Ryan could lean on. When he was getting a bit tough on himself or down in himself, a bit angry, I could try to be the calming influence. I could bring him back to focus on the now, not the past, nor look too far ahead.
At the end of the day, it's only a game and I think that's the way you've got to treat it, because expectation gets in your way. The key is being able to free your mind, to just go and play like you don't care. I know that's easier said than done but if you can find that place, you can stay in the now.
Golf's a game of hit it, find it, hit it again, really. Once you've hit it, there's not much you can do but find it and whether it's gone where you want it to or not, you can't ask to have it over again. You've got to go and deal with the outcome, focusing only on what you must do next.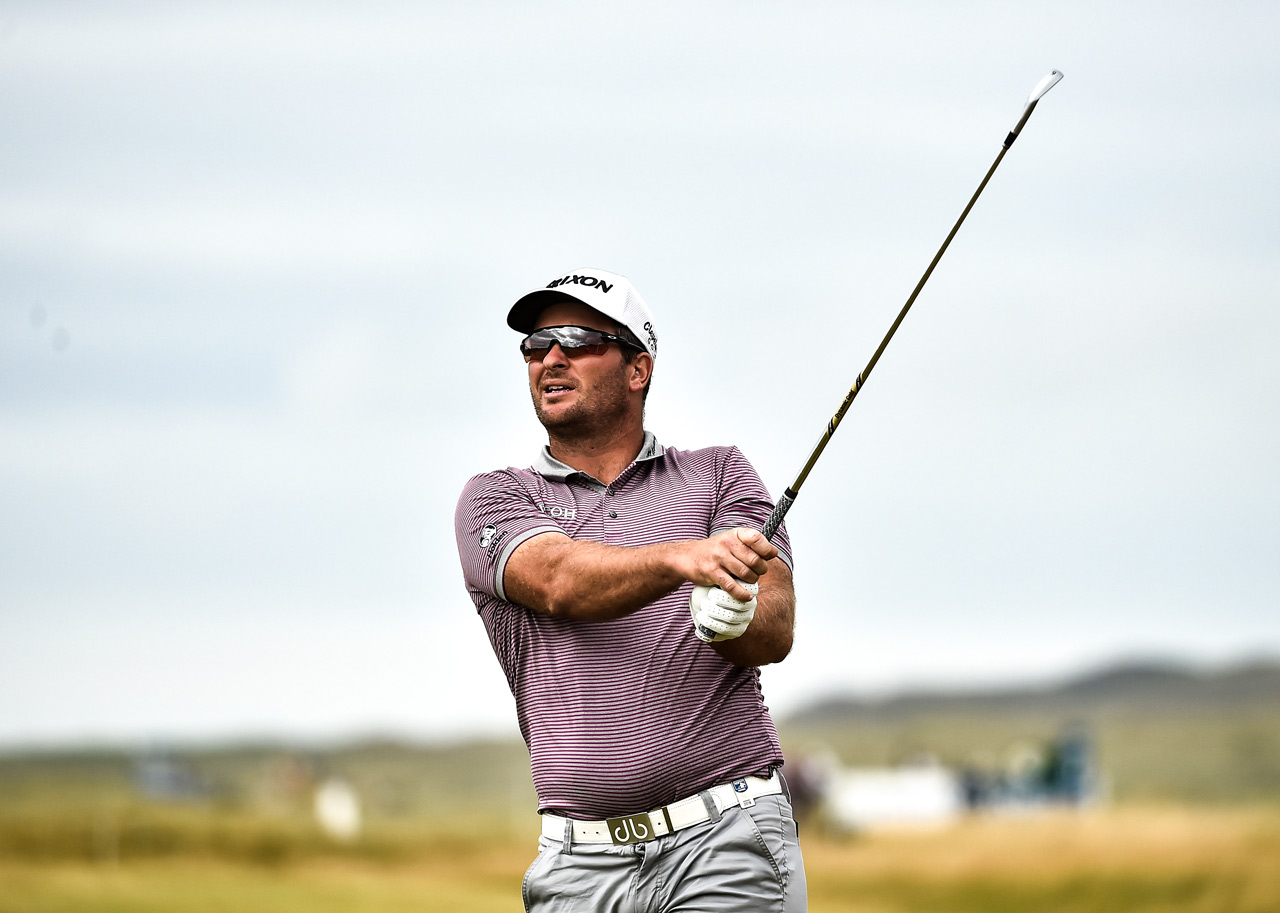 I guess Ryan got some value from the lessons I'd learned during my rugby career. And there are some similarities in golf and goal-kicking, striking a static ball towards a target. I'm a great believer in 'practice makes precision'. You've got to work hard and you must find routines and processes that can bring you success.
Ryan used to play rounds of golf for his practice. We had a lot of conversations when he was younger about what type of preparation was most likely to be beneficial. We don't play rugby every day, we practise.
But Ryan just loves to play golf. Even when he comes home in the off-season, he just plays with his mates. He enjoys their company and loves getting out to hit a golf ball. It's taken a bit of time for him to understand that playing is not always the best way to improve; sometimes, you've just got to do a boring old thing called practice, put the time in.
Now, Ryan is coached by Marcus Wheelhouse, a former European tour professional and world No.1 amateur. His recent good form has seemed to coincide with Marcus travelling from New Zealand to work with him in the UK.
I think that coaching, no matter what sport it is, is a critical ingredient. Ryan's been fortunate over the years to have some very good coaches.
I'm a great believer in 'practice makes precision'. You've got to work hard and you must find routines and processes that can bring you success.
Marcus is refining and polishing his game. It's not just about the technical parts of the golf swing, it's also about how to prepare the workload and focus areas that are needed in a week. Especially in a major week.
Carnoustie hasn't treated Ryan well in the past. He's played it a few times and he's found it a hell of a challenge. Whatever happens in the Open, I know he'll take what it dishes out and do his best.
As he told me: 'Dad – I'll just go and play'.
At the moment, the playing is going pretty well! There's no expectation of a particular performance or finish. No pressure on himself.
One thing you may notice: Ryan plays quite quickly. He always has. That's the routine that works for him and once you find it, you stick with it.
ALL BLACKS' ROUTINE
I played 46 Tests and scored 645 points for the All Blacks, primarily from goal-kicking, a skill I had refined my whole life. I was fortunate that rugby took me as far as winning the World Cup, at the inaugural tournament in 1987.
My father was a goal-kicker. We'd play in the morning and then go to watch him play in the afternoon. I just always liked kicking a rugby ball.
Eventually, dad built me a set of goalposts in one of the front paddocks on our farm in the Waikato. I didn't have to worry about the front lawn anymore, with a couple of fence battens and a piece of three-by-one for posts – a fairly tiny target. At least down on the paddock there were no windows around, either, no flowers or shrubs that I was destroying!
My father was an old toe-hacker, torpedo style. On the farm, with the cold and the dew, the old leather balls could get very heavy and it was rough on your toes. My earliest recollection was seeing Barry John in the 1971 Lions, kicking with his instep. I thought, 'Well, that won't hurt my toes'. I was about nine years old at the time.
It takes time to build a successful goal-kicking routine; you gradually tweak and refine, you go through trial and error until you are confident that you have found something that works and is repeatable. This was before kicking tees, too, of course; we either dug a hole in the ground or used sand.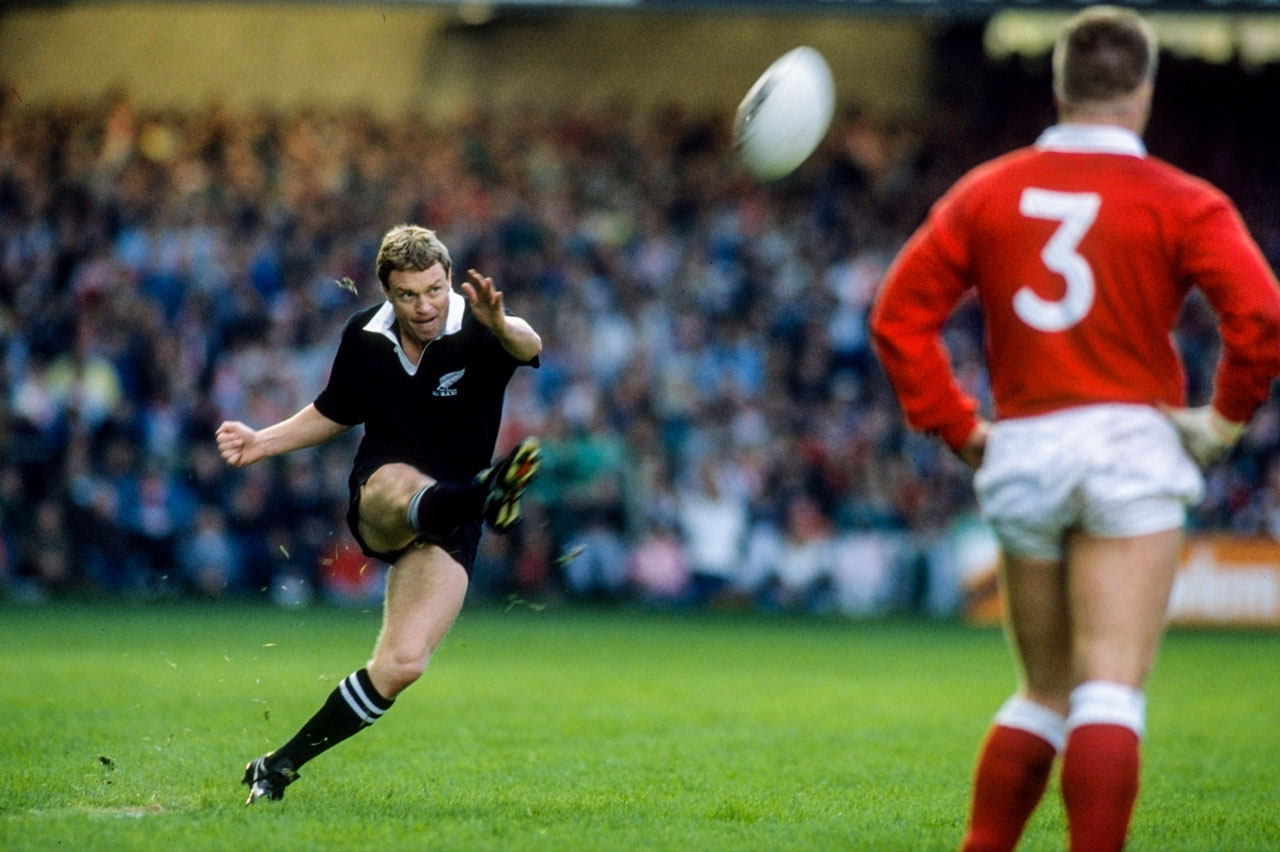 I would have been 24-25 before I ultimately settled on a process that I took through for the next number of years. My angle of attack, how many steps back, how many to the side; all of those were getting quietly refined throughout. Plus, the slight forward lean on the ball that became a trademark.
I was six stutter-steps back and two-and-a-half to the side. And I had a shortened version, a four-and-two, for when I was closer to the goalposts; and particularly for conversions, so they weren't charged down. I refined that shorter run-up and I often used that for penalty kicks as well, because I got comfortable with it.
I had a breathing routine to relax me and a little mantra going through my head as I was going through a visualisation process.
The mantra: all I used to say to myself was, 'Head down, follow through'. It's tantamount to saying, 'Watch the ball'. I'd visualise the ball going through the goalposts, get a positive picture in my mind. I'd visualise the line, the ball flight, exactly where I wanted it to go through the posts.
My breathing routine was in for one second, out for one second. In for two, out for two. I'd watch the ball, then look at the goalposts as I took my last breath; in for three, out for three. The last breath in was where the mantra came in: 'Head down, follow through'. Watch the ball, stay down and transfer your weight through it, don't try to look at the outcome. Just trust it. On the exhale, when I'd relax, that was the trigger to go.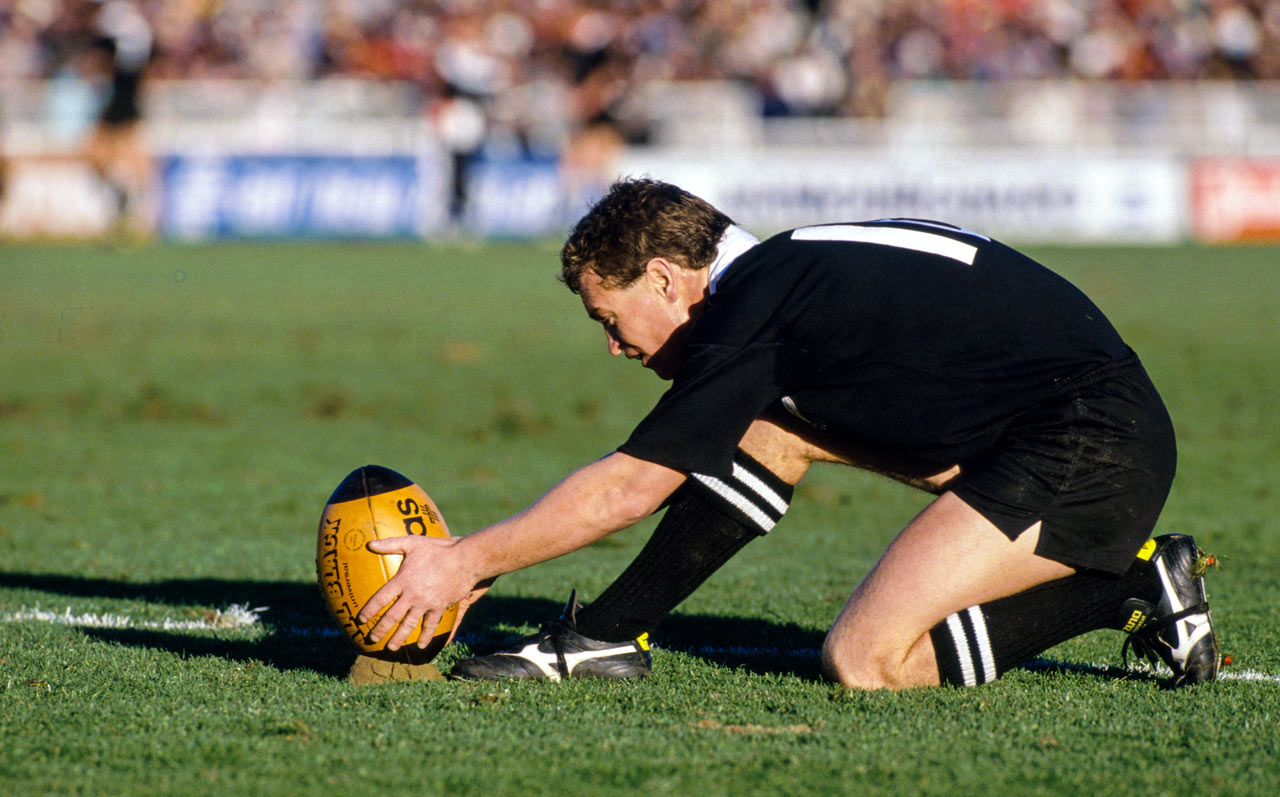 The day before a game was my big goal-kicking day, I would have a session of about 50-60 goal kicks. I wouldn't do many through the week, unless something was going horrifically wrong. All my workload on weekdays was around my other types of kicking: punting and kick-offs, both placed and drop-kicks.
Apart from when we were on tour, we worked day jobs, so we trained at night. It could be hard – the floodlights at the club ground weren't anywhere near what we'd get if we were training at Eden Park!
If I was playing nowadays, I'd be doing an awful lot more practice. Practice makes precision.
More about: All Blacks | British Open | Greg Norman | New Zealand | Rugby World Cup | Test cricket