Grant Birchall - Contributor
I'm tipping it wasn't a cheap dog
I have a dream about once a week. I'm running onto the MCG to play footy.
I wake up and I'm still injured. It's been that way since round 15 in 2017. There have been plenty of times, last season and this one, where I've been edging closer to a comeback. I've had in mind games to get back for, and then I've had a setback and that ruins that.
It's not the MCG just yet but I'm having a kick this week in the twos. I've been close since that last game I played, but not as close as I am right now.
This week I presume it's half a game. If I get through that okay, maybe a full game the following week. From there it all depends on my performance. I guess I should be right after two VFL games but I haven't really sat down with Clarko [coach Alastair Clarkson] or the medical staff yet.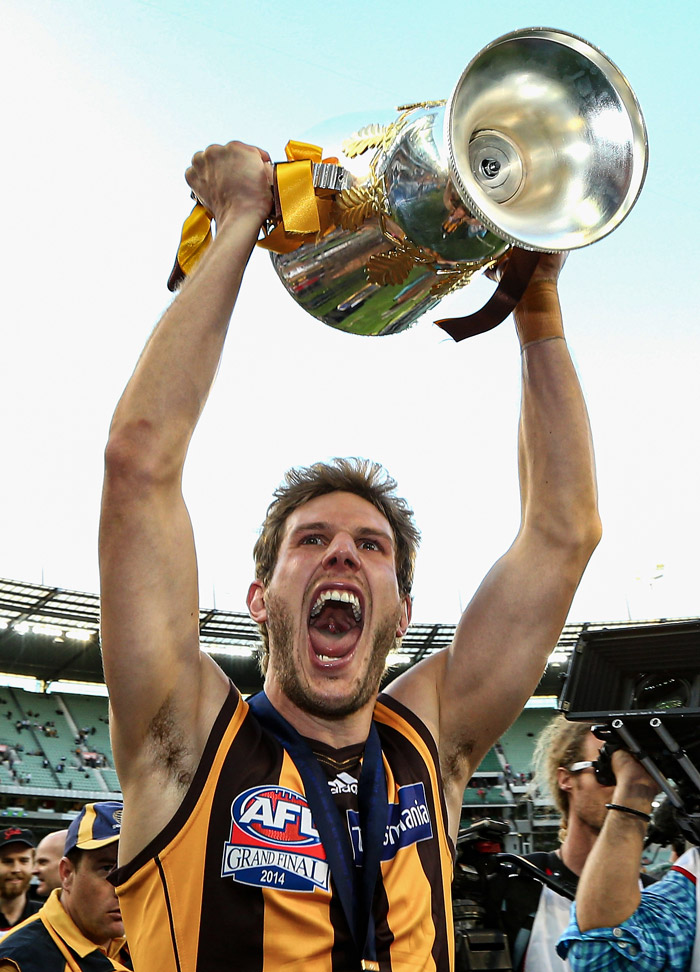 'NO MATE, THIS IS YOUR DOG'
A couple of the boys who have been through longterm injuries  understand what it's like. Jaeger O'Meara has been through it with his knees. Maxy Bailey, a guy I got drafted with who is now a development coach at Hawthorn, went through really tough times with his knee. He played just six senior games in his first five years because of injuries.
Clarko has been unreal. I have a really close relationship with him and, especially the last couple of years while I've been injured, he's been terrific for me.
It's great to know he has my back. Not that we're always on the same page.
A few weeks ago, I was at out having a few quiet drinks with the boys and I got a text message from Clarko asking if I was down Brighton way, near where lives.
He asked if I could be at my place around 8.30. I said 'no worries', and that night there was a knock on the door and it was him and his boy Matty. Matty was holding a six-week-old Labrador pup. I thought it was their dog and I was like 'no worries, let it run around outside'. I thought they wanted to come in and chat about footy. He said, 'no mate, this is your dog'.
I said, 'you're kidding me? I've got nothing for her. I haven't been brought up with dogs, I know nothing about them.'

He told me to give it a go for a little bit and see how I coped. I didn't name it. I was a little rattled to be honest. I didn't know what to call it, what to do. I just ran with 'doggy'.
I lasted 24 hours. I had an absolute gutful of it. It was running around, chewing and pissing and crapping everywhere. Just a bit too much for me. I texted him and said, 'mate, you're going to have to come around and pick this up – it's doing my head in'.
It was after the Richmond game and we didn't have a great day. Lost by six goals. I thought, 'oh no,  he's going to be a bit shitty and angry at me'. But he came and picked it up and it was no worries at all, and now he's got it at his place.
He does come up with some different ideas and, if he reckons he has a good one, he will go through with it.
I lasted 24 hours. I had an absolute gutful of it. It was running around, chewing and pissing and crapping everywhere. Just a bit too much for me.
Just before the dog turned up, we'd been chatting about my calf. I've had issues with that for the past couple of months and he was talking about my rehab and he mentioned about going for walks.
I live in Glen Iris and there are some really nice parks to walk in. I thought it was a good idea. He asked if I had a dog to take.
Next thing, he's rocked up on my doorstep with one. I'm tipping it wasn't a cheap dog. I live on my own so there's plenty of room for a dog to run around. There's a lot of hard work with a dog in those early weeks but in rehab I thought, 'I can't handle this'.
Maybe he was trying to take my mind off things. He's very thoughtful. Maybe he thought it would be good to have some responsibility, and something to keep me company. But I handballed it back to him pretty quickly!
THE LONG WAY BACK
I had been very lucky with injury throughout my whole career. My first 10 or 11 seasons I hardly missed a game, just the odd soft-tissue injury and a week here and there.
I broke my jaw earlier in 2017 and after I came back I landed awkwardly. There wasn't a big explosion or traumatic event but I knew the knee wasn't right. They put me in cotton wool for the rest of the season and I had the PCL surgery.
I was confident it would be a relatively quick recovery. I thought, 'yeah let's do it'. The club doctors said it was the best way, so I was 'no worries'. I think Luke Hodge and Jarryd Roughead had similar surgeries and came through the other end fine. I was thinking it would all go smoothly and I'd be back out there before I knew it and unfortunately that hasn't been the case.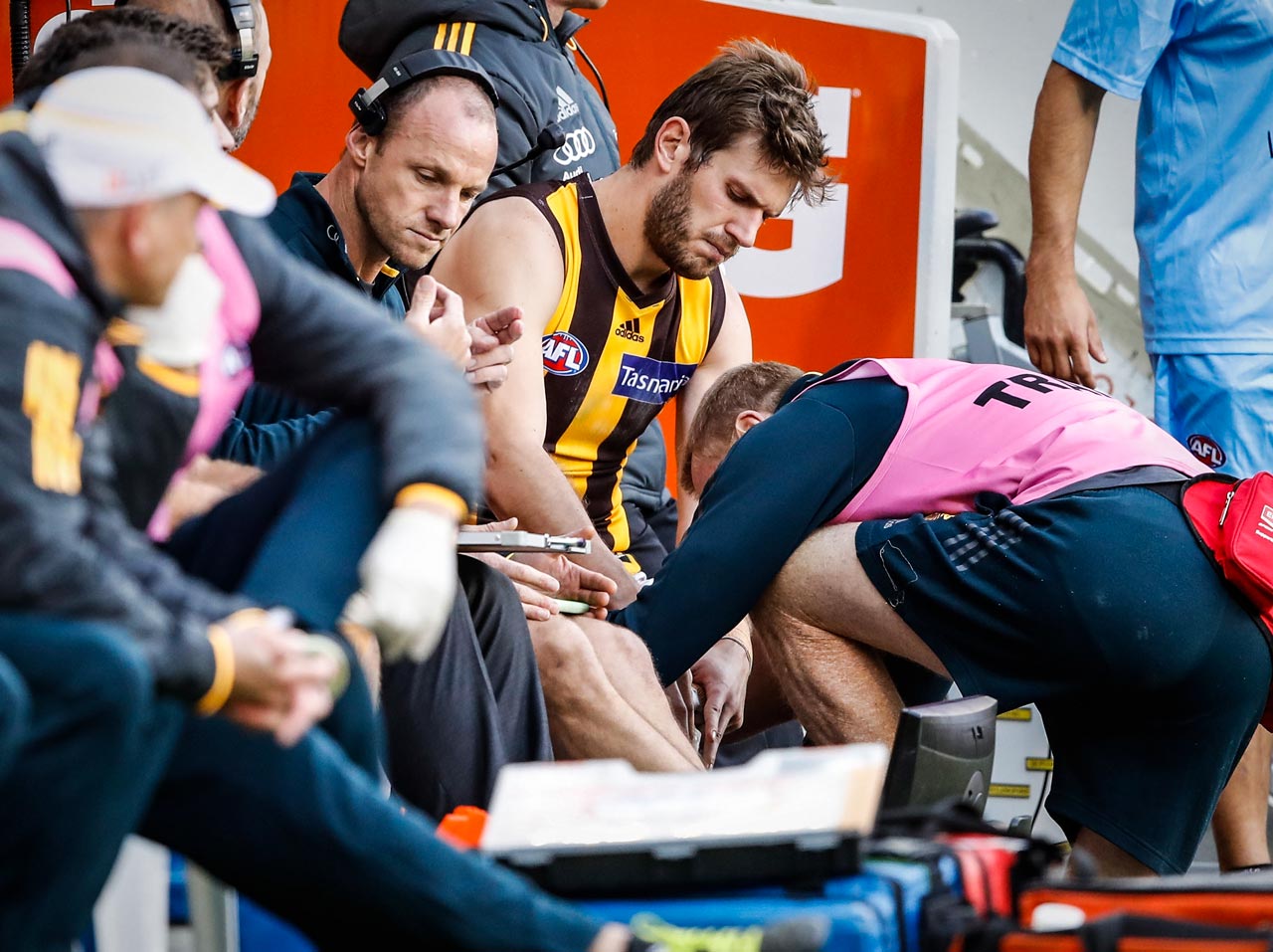 The whole way through I've felt that I was close but just not close enough. You start your rehab and it progresses really well. I'd be two or three weeks away from playing again and something else would break down, which has been really frustrating.
Early on in my rehab it was my knee that was causing all the problems, so I'd go in and have an arthroscope. I'd get back into training and then soft-tissue stuff would take over – calves, hammies – mainly because I hadn't been conditioned to playing footy.
Rehab can be a lonely place. If the boys are out training and laughing and you're stuck in the gym by yourself that can be a struggle. It's important to have good relationships and people you can talk to. I feel like I've dealt with it pretty well, but there have been times where I've found it challenging.
More about: Grand Final | Hawthorn Hawks | Injuries | Leadership | Luke Hodge | MCG | Resilience | VFL