Late last year I received an email asking me to call the Deputy British High Commissioner in Canberra.
'Oh dear, what have I done?' I thought to myself. 'Are they revoking my citizenship because we won gold at the Comm Games?' I've been a dual UK-Australian citizen since 2015 and the thought did cross my mind that something had gone wrong. Thankfully, it was nothing like that.
I phoned the Deputy High Commissioner and she said, 'We have some great news. We would like to award you a CBE.' She said they'd received a phenomenal application for the Queen's Honours. If they could award me a damehood immediately they would, she added, but there is a process to go through first.
I could hardly believe what I was hearing.
The Honours list was embargoed so I was supposed to keep it secret. But I just had to tell my mother. It must have been three or four in the morning in the UK, but Mum answered the phone, I told her the news and she was ecstatic.
My boyfriend's reaction was less enthusiastic. When I told him I'd been named a Commander of the British Empire, he said, 'What's that?' I explained that, if there was a coup or disaster or something, the people would turn to me to help run the country. 'Oh, fair enough,' he said, and carried on cooking. He's American, after all.
I suppose my feeling about the CBE lies somewhere in between. I feel proud, mainly for my family, as I've discovered they were the driving force behind the application. Once they initiated it, all sorts of people, from the Mayor of the Sunshine Coast to company CEOs, added to it, singing my praises for my services to netball.
It's a lovely thought and I'm very grateful. However, I've never been comfortable with individual accolades.
My parents taught me to remember that I'm a small fish in a big pond. As you go through life, they'd say, you don't achieve things alone, there are many people and actions at work that make things happen. It's absolutely true. It's something I've seen happen time and again through netball.
On the surface, the CBE has provided me some extra letters at the end of my name, which my friends have found quite amusing. 'So, do we call you Lady now?' they've chuckled. 'Are you Lady Geva Mentor?' It's a bit of a laugh. But, on a deeper level, I see being awarded the CBE as a significant marker in my life.
It caps off an incredibly successful couple of years professionally. Being named in 2017 the inaugural captain of the Sunshine Coast Lightning was a massive honour and our team then strung together two premierships straightaway, which is quite unheard of in any sport.
In between those premierships, our England team secured an amazing win at the 2018 Commonwealth Games. I've been playing for England since I was 16, more than half my life, and that was by far the finest moment I've been involved in.
Then, to be voted the No.1 netballer in the world shortly before receiving my CBE was testament to all the great athletes and friends I played alongside during the previous year or two.
There was much to celebrate professionally. But I can now fairly comfortably share that it was also a tumultuous time in my life privately. It was an extremely challenging period, but one from which I've emerged stronger, more knowledgeable and, above all, much happier.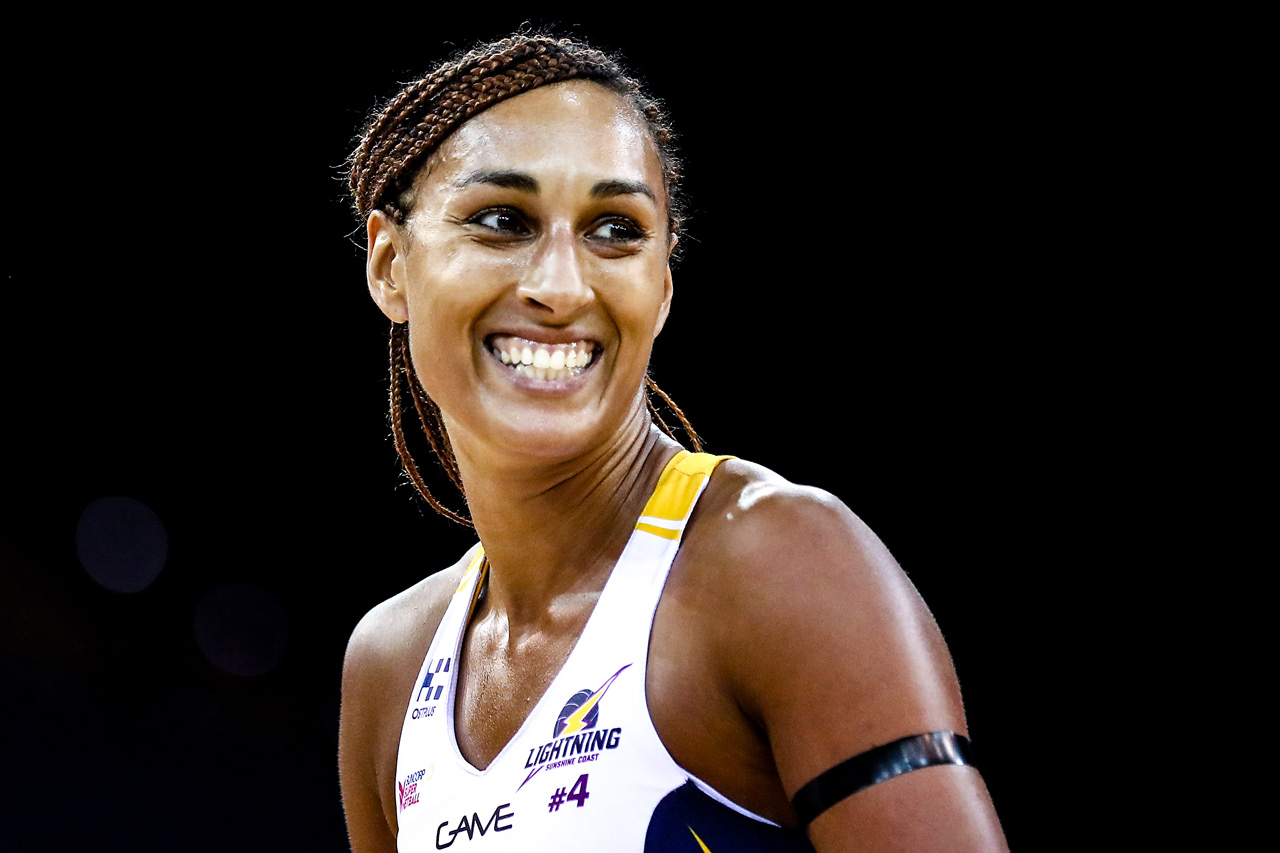 Peace from turmoil
I've thought quite a lot recently about how bizarre it is that things can be so amazing in your professional career, yet such a mess in your personal life. Similarly, it's remarkable that in your sporting career you can be so confident and take charge, but in your home life you accept such negativity and being controlled.
Those peculiarities began to stare me in the face in 2017.
During that first premiership with Sunshine Coast my marriage started to fall to pieces. Last year, during the Commonwealth Games, things blew up. I was in the athletes' village, trying to focus, trying to block out my problems. It was extremely difficult.
Then, during last year's premiership, we separated and started doing all the paperwork and whatnot that you have to do. There were a lot of discussions and disputes, as there always are when these things happen.
We'd met in Melbourne in 2012 and it was typical me – I didn't put myself first and instead tried make everyone else happy. We were to be married in Australia and, even though it didn't feel right, I sort of felt I had to go through with it because I had relatives coming from the UK and elsewhere.
I thought maybe things would become better after a while, but it never happened. It started to go downhill and we ended up getting the divorce finalised last year.
My England and Sunshine Coast teammates, I think, were aware things weren't great for me behind the scenes. But I tried to mostly laugh it off. It was one of those situations where if you don't laugh, you'll cry. Truth is, no one really knew the extent of what I was dealing with and how emotionally draining it was.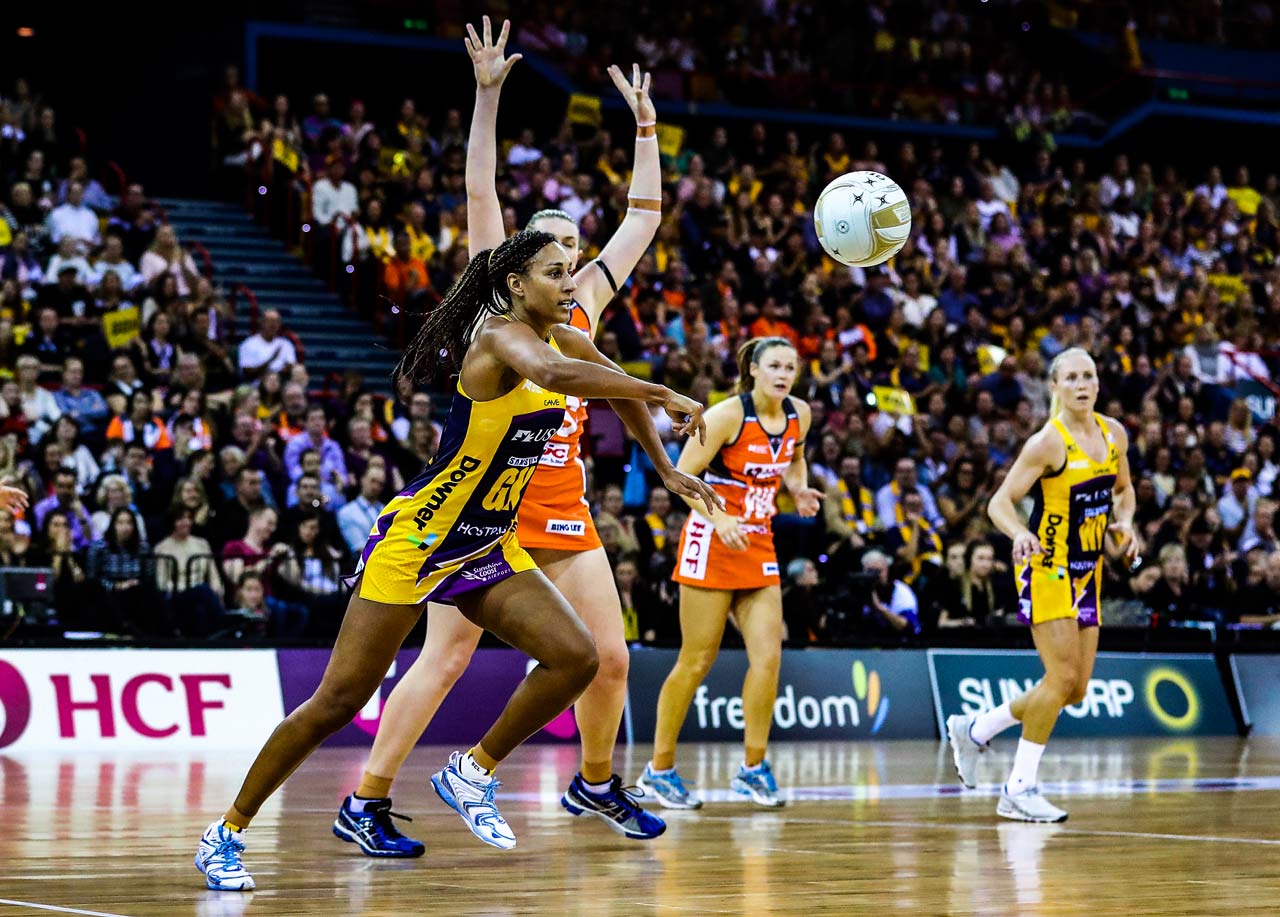 We have a motto in our sport that you 'leave your shit at the door', which is what I did. I was able to enjoy the big moments with my teammates and use netball as my escape. There were tough times, for sure, but being able to ride those emotions within netball was, I believe, a blessing in disguise.
However much it helped to focus on netball, there were some big questions and fears hanging over me which were hard to contend with. One was whether I'd ever meet someone again. I'm not very good at going out and meeting people and felt some anxiety about that.
The other big fear I had was that, being 34 years old, I wondered if it meant I'd never have a family. I'd like very much to become a mother at some stage. These were genuine worries for me and I'm sure I'm not the only person who's felt such concerns amid a breakup.
Fortunately, I'm able to see things in a better light now. My personal life is a lot more settled and positive. Someone came along, we have things in common and enjoy each other's company.
We returned recently from an amazing holiday to North America, England and Europe. It was just what I needed, to go away, reset and come back fresh.
It's a new start for me now. After two successful years with the Lightning, I'm back in Melbourne, where I spent six years at the Vixens, and will be representing Collingwood, a very proud club so rich in history.
I've been voted co-captain with Madi Robinson. Madi and I work really well together and I'm looking forward to hopefully helping take the team through a successful 2019 campaign.
Apart from that, it's just nice to finally have a home base again. Since the 2018 grand final I've basically been living out of my bag or in hotels or going to camps and on tours. Setting up in Melbourne has felt right. Having peace in my personal life and a place to call home is so important.
More about: Collingwood Magpies Netball | Diamonds | England Roses | Gold Coast 2018 | Sponsored | Sunshine Coast Lightning | Super Netball | Women's Sport