I'm Australia's best athlete
I'm one of the fastest fighters in the world, if not the fastest.
I'm the best athlete in Australia. I truly believe I'm the hardest worker in Australian sport.
'Ferocious' Kambosos. It runs nice and smooth. From my hometown of Sydney to all over the world, everyone is starting to take notice of the name.
I'm Greek-Australian, descendant of an ancient and mighty heritage. Spartan warriors adorn my back as I go to war. They inspire me with their immortal words: 'Never retreat, never surrender'.
I truly believe I should have been born back in the times of the 300. That's the kind of savage I am. I bring that raw aggression to the boxing ring. Kill or be killed.
I'm prepared to put my life on the line to get what I want: a world title. I'm 15-0, soon to be 16-0. I'll next fight in the first week of December, in the US.
And sometime next year, I will fight for a world title and I will win.
When you think about a world title every single day from 11 years old, when it's the only thing that goes through your head … I will not be denied. I cannot be denied.
Yet the 11-year-old me was obese. I weighed the same as I do now, 61kg. I was bullied, teased and picked last for sports during lunchtime at school.
Here is how I became Manny Pacquaio's sparring partner and the future lightweight champion of the world.
FAT KID TURNS FIGHTER
I'm named for my father's dad, George Kambosos Sr. Both of my grandparents, on mum and dad's side, came over from Greece with absolutely nothing.
They had to work two, three jobs, while speaking very little English. They cleaned, cut hair, made wooden furniture. They worked their arses off to raise their families. I believe I get a lot of my drive from them.
At rugby league training as a kid, the coach would say, 'Right, boys, go for two laps.' I would come dead last but I would never cheat myself. I would never cut the corners. I would go from corner to corner of the field, every time. Other players always cut the corners.
One day, my dad, Jim, decided to test me in the car on the way home.
'Hey, why don't you cut the corner? Cut the corner and see if you can come second-last, third-last.'
I was only 10 years old and I told him, 'No – I'm not gonna cut the corner. I'll do it the right way and it will pay off one day.'
Dad was proud.
It was when I was 11 that my father, a very smart man who's guided me well from a young age and is still one of my managers, made a decision that changed my life.
'Look: we need to get into some different sports in the off-season to help you with footy, to get you fit. You're going to be in B-grade and I know you don't want that.'
He first suggested nippers because we lived in the Shire, but I said no – big fat kid, I ain't doing that! So next he said, 'What about boxing? You like the Rocky movies, let's go try it out.'
I fell in love with the sport straightaway. I went from 61kg to 44kg.
I had my first amateur fight at a Golden Gloves tournament, which I won. I was anxious beforehand, thinking, 'What am I doing?' The gloves went on, the headgear went on, the official told me my fight was next, and I was like, 'Shit – this is going to happen.'
I bit down on that mouthguard, jumped in that ring and found my calling.
I'm one of the fastest fighters in the world, if not the fastest. I'm the best athlete in Australia. I truly believe I'm the hardest worker in Australian sport.
My footy got better, too, and I made the Sharks development squad. But dad warned me what was coming.
'You're going to come to a crossroads. You're not going to be able to do both sports, it's too hard.'
Ricky Stuart was the Cronulla head coach at the time and one day, he sat us all down. A champion former player, a big-name coach … and I realised I had no interest in making the NRL anymore.
I wanted to be a fighter. The raw, man-on-man factor of boxing got me. There was no team to protect you. It's you who puts in the work, you who gets the accolades, you who makes or breaks your destiny. I loved that.
I told my dad and he said, 'Well, you've reached your crossroads and you've made your decision. Let's put everything into boxing, or you're going to be a tradie like myself.'
Dad is an electrician. He still works long, hard hours; something I hope to change with my success.
Dad tested me a lot of times. He'd tell me, 'There will come a stage where there's going to be girls, where your friends are going to go out and party, go drinking. You're going to have to train for boxing or play footy the next day, so you're not going to be able to do it. You're going to have to tell your friends 'no'.'
And he was right. I had to tell my mates a lot of times, 'No – I can't do it, boys.' I lost a lot of friends over it. You find out who your real friends are.
One time, the boys had a house party on a Friday night. We were at school and I'd just got my licence; I was driving a little shitbox Toyota Corolla. I'd organised to drive them there; I wouldn't drink but I'd come to the party and have some fun.
Then I got a phone call from my old coach: 'You're going to spar a very seasoned professional in the morning.'
I thought about everything dad had said. 'Right, boys – I'm going to take you there, but I'm not coming.'
'What do you mean you're not coming?'
'I've got to spar in the morning.'
All the boys jumped out of the car. The party's going off, there's a lot of girls there – and I had to drive away. Ninety-nine per cent of kids would have gone to the party. It was so tempting.
You've got to sacrifice a lot to chase the dream.
I lost contact with those guys. You look at them now and they're grinding away at normal jobs every day, not driving the best of cars.
I'm driving a Jeep Wrangler and looking to get a nice sports car – when I actually have time to drive it. Right now, I'm too busy becoming a world champion and a household name.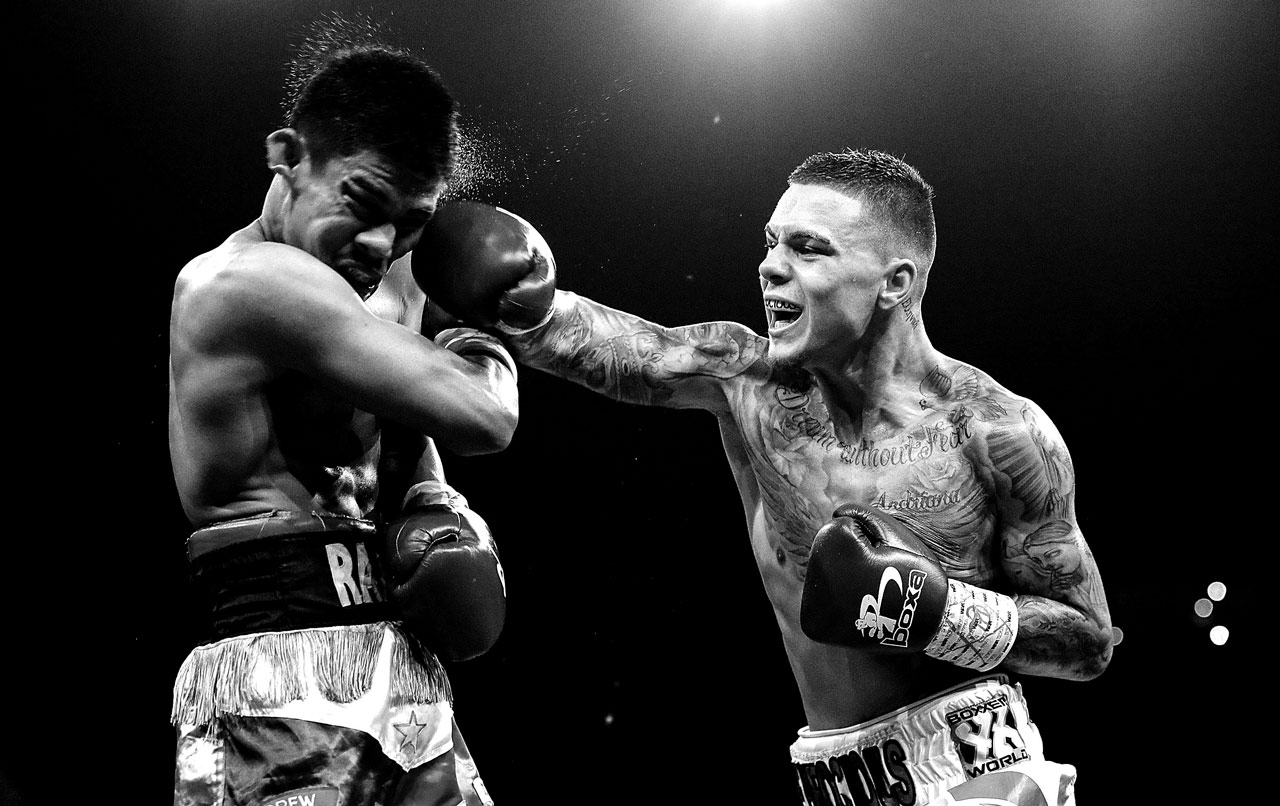 A MOMENT OF FORTUNE
My dad and I said we'd go to America when I reached 10-0. I contacted a fellow Aussie there, Justin Fortune. He has a Hollywood gym and coaches celebrities like Childish Gambino, Frank Grillo and Curtis Stone. I love that scene.
He also coaches Manny Pacquiao.
It turned out Justin was coming back for Joseph Parker vs Solomon Haumono, so he suggested we do a couple of sessions in Australia to see if we gelled. We did – quickly. These days, we can sit there for hours and talk shit without ever talking about boxing.
I was about to fight Brandon Ogilvie, a world-rated Australian guy, and I wanted to get an edge by training and sparring in the US. I went to Justin's gym and he threw me in the deep end by having me spar the likes of Sergey Lipinets, who just lost his light-welterweight world title to Mikey Garcia.
I put on a show. I gave Lipinets a touch-up.
Justin said, 'Mate, you're not going nowhere – you're staying in the US. You need to be here. You're my fighter now. I'll make you a world champion.'
I went back to Australia and fought Ogilvie. It was a bloody fight, but I made it look easy. I beat him up.
At rugby league training as a kid, the coach would say, 'Right, boys, go for two laps.' I would come dead last but I would never cheat myself. I would never cut the corners.
My next fight was against Qamil Balla and I hit the US to spar with Jose Ramirez, the WBC light-welterweight champion, plus Ray Beltran, who just lost his WBO lightweight world title to Jose Pedraza. These guys were former sparring partners of Pacquiao. It was all a little test.
While I was sparring them, at Freddie Roach's Wild Card gym in LA, the Pacquaio vs Jeff Horn fight was announced.
Freddie came over and said, 'Do you want to spar Manny Pacquiao? Your style will help Manny.'
I said, 'Of course I'll spar Pacquiao.'
Freddie was a little bit iffy about me being Australian. He thought I'd cop a bit of shit.
I said, 'Mate, I'm the bad guy of Australian boxing. I don't give a fuck. I don't care what people say. I'm coming to help out a legend.'
Jeff didn't like it. There's still some beef there. We will fight one day.
Manny won that Horn fight. It was a close fight, don't get me wrong, and Jeff fought great; the fight of his life. He did everything he could, but with Manny being the world champion, I believe he'd done enough to retain the belt.
But that's boxing. And look where they are now: Manny's back on top, looking for a big title fight, and Jeff's back on the Australian circuit looking for a circus fight with Anthony Mundine.
PACQUIAO, ISIS & THE ARMY
Manny Pacquiao is a legend. He's done more than anyone in boxing history, things that no one will ever do again.
I remember watching him knock out Miguel Cotto. Put a beating on Oscar De La Hoya. Now, I'm in the ring with him, training with him, running with him, having breakfast and dinner with him.
Speaking together and having a laugh, too. I was there when the Australia-Philippines basketball incident happened. 'These guys, man – they've got to learn how to fight!' After the Horn fiasco, I'd just done an article in the Philippines media talking about building a bridge between Aussies and Filipinos by helping Manny – there went that bridge!
For a young fighter, it's amazing to be alongside Manny's greatness.
Yet that first trip to the Philippines took sacrifice and risk.
When I was in Pacquiao's camp for the Horn fight, in General Santos City, my partner, Rebecca, was heavily pregnant. That's why I couldn't fight on the undercard. She was about to give birth any minute.
I'd been offered this amazing opportunity to spar Pacquiao and I was like, 'What do I do here?' We both agreed to take the risk and I was checking my phone for messages after every morning run.
After every single training session, Pacquiao sits and prays. We were praying with him and I'd say, 'Please don't let the baby come. Let it be healthy if it does but let me get back home in time to see this miracle, this once in a lifetime thing.'
My prayers were answered. I made it back before my little girl – Evaliah, who is such a beautiful inspiration in everything that I do – was born.
But not before being told that ISIS wanted to take Manny out, while he was running alongside me in the mountains. That was scary.
ISIS had just taken over the whole town of Marawi. They were executing people. ISIS is no joke, they don't play around.
And they were saying they were going to come down to the mountains, a two-hour drive from Marawi, and sniper us. We had direct threats that if they find us, we're getting taken out.
If that sniper misses Manny, or wants another target, I'm getting hit. You can't help but have that go through your head.
I asked Manny, 'Are you sure this is OK?'
Manny: 'It's OK – we have the army.'
He wasn't kidding. We had an army entourage.
Even so, it was the fastest we ran the whole camp!
It wasn't the only time we ran with army protection, or with a SWAT team.
Manny is not only the most famous person in the Philippines, he's a politician – and that means there are always people wanting to kill you.
When we were there last time, three mayors were executed within a week due to speaking out against drugs and criminals. Manny is obviously against that stuff, too, so they try to take him out.
When I left last time, for an eight-week camp having only just got back from a 10-week camp for my debut fight in the US, I told Rebecca and Evaliah goodbye. You never know what can happen.
On the plane to that fight, against Lucas Matthysse in Kuala Lumpur, we flew with some Filipino mayors and other politicians. I was like, 'Man, these guys have been getting taken out!' We felt like a big target and the airport didn't seem to have the best security. Who knows what can fucking happen?!
It was in God's hands, but we're all safe.
MANNY, THE MAN
Manny grabs my plate. 'You have to try this.'
We're sitting next to each other for dinner and Manny Pacquiao is personally serving me food, in his palatial home after he's been served by all his guys. So great, yet so humble.
It's crazy. It's crazy that I'm there at all, like so many others who are with Manny.
He doesn't need to help people out, but he looks after so many people because he knows what it's like to be in that situation as a young kid. To be poor, to be hungry, to want to better your life.
He does it out of the goodness of his heart. He's a great man.
Back in the old days, you wouldn't even pay sparring partners. You'd get them on the undercard and pay them that way. We were getting paid per week for our time there, then getting paid to fight. Manny looks after us like kings.
We're running up in the mountains, sweating in the General Santos City heat. Even up there, people line the road to wave to Manny and cheer him on. I'll look over at him as we're grinding it out together. I still pinch myself.
'There's Manny Pacquiao.'
The same when I land a good shot on him in sparring. We've sparred 110 rounds together.
Ever since our very first sparring session, Manny and I have had a good relationship. He can see a big future for me – he told me, 'You will be a world champion.'
After the start of his last camp, Manny said, 'We want you to fight on the undercard. Would you like to? You're sparring me – I'll get you on the undercard.'
I said, 'If you can make it happen, let's do it. I'd love to fight on your undercard, it's always been a dream of mine.'
The next day, when I saw him in the morning for the run, he said, 'It's all done. All good. Contract's been sent to your manager, sign it and let's go.' Awesome.
I'll always be there to help Manny if I can. I'd love to be there right to the end for him.
Manny is so inspiring for me. He's 39 years of age, a wealthy sportsman and senator whose phone doesn't stop, and that camp he was coming off the controversial loss to Horn.
Yet he's still grinding. Still so motivated. I was saying to him in between sparring: 'C'mon Manny – you're the challenger. Let's get that belt.' He was hungry for it.
I watched Manny win another world title when it would have been so easy for him to hang up the gloves. And Matthysse is no joke. The guy is a beast, yet Manny made him look like an average fighter. If Manny came out like that against Horn, he would have blasted him out, too.
THE FUTURE IS COMING
Lou DiBella is one of the biggest promoters in the world, a guy who has worked with many champions. Now, he's my promoter.
When I first met Lou, he told me: 'I've been a fan of yours for a very long time. I'm excited to have you as part of my stable and guide you to world titles.'
The entertainment and charisma I bring to the ring is perfect for American fans. And Lou is based in New York – a lot of Greeks there. Imagine one day filling Madison Square Garden with Greek and Australian flags.
I made a statement with my first fight in the US during May, blasting out a heavier guy in Jose Forero. I did the same to JR Magboo on Manny's card in Kuala Lumpur.
I'd knock out Jose Pedraza, the WBO lightweight champion. No doubt about it, I would knock him out. I just watched him take the belt off my old sparring partner, Ray Beltran, who's at the end of his career. Ray just got away from the game plan.
Pedraza is nothing special. He's next going to fight the WBA champion, Vasyl Lomachenko. I would love that fight. Lomachenko is a great fighter, you can't deny that when he's a dual Olympic gold medallist and already a multiple world champion.
But he's never come up against a guy like myself, a guy who is so hungry, an absolute beast. If I can land on Pacquiao, I can easily land on Lomachenko. If I hit him, I'm going to hurt him. I'm going to frustrate him. I truly believe I can get that win.
If that ISIS sniper misses Manny, or wants another target, I'm getting hit. I asked Manny, 'Are you sure this is OK?' Manny: 'It's OK – we have the army.' 
There's plenty of guys I want to fight worldwide. Anthony Crolla from the UK, England vs Australia, would be a massive fight. I'll go to his backyard, Manchester, to beat him up and retire him.
Then there's Gervonta Davis, Floyd Mayweather's boy. He's with Floyd, I'm with Manny. Let's see what happens when two guys from those camps get in the ring. He talks a lot of shit, I talk a lot of shit. That's fucking exciting. I get goosebumps just thinking about the lead-up, let alone the fight.
There's a lot of pressure for a guy like myself. If you talk shit, you have to back it up.
One slip-up and it's all down the drain. The sponsors, the big money. Cut any corners, make any mistakes, and you're back to the Australian scene.
But pressure makes diamonds. I was an undiscovered diamond about a year ago, but now I'm becoming the best diamond on the market.
I'd love to have a world title fight in Greece one day. Maybe in front of the Parthenon. And of course, in Australia.
I have a promotional company: Ferocious Promotions. I'm looking forward to getting young Australian fighters under our banner, bringing them up the right way, guiding them to world titles.
But first, I'm going to get my own belts.
I want my legacy to be not only as the greatest Australian and Greek fighter, but as one of the all-time greats in boxing.
I want the world to remember 'Ferocious' Kambosos as a multiple world champion, a fighter who kept fans on the edge of their seats from round one to the final bell.
Make that the final punch.
THANK YOU
While head coach Justin Fortune drives the operation, I have also had some rock-solid, loyal guys with me from the very start who are still chasing the dream with me today.
Guys like my father, Jim Kambosos, one of my Australian coaches Chris Bakis, business accountant Spiro Markopoulos, uncle Alex Andriopoulos, my close mate Huss Fayad, and all my loyal business sponsors.
Alongside the newer faces like my powerhouse promoter Lou DiBella, my American manager Peter Kahn (who has managed multiple world champions) and my performance coach Meer Awny, these are the men behind the success of George 'Ferocious' Kambosos Jr.
More about: Anthony Mundine | Boxing World Champion | Cronulla Sharks | Jeff Horn | Manny Pacquiao | Resilience