Fruit picking to World Cup
I was playing a game of 500 with Cam Munster and Kenny Bromwich in the back of the team bus.
It was the day after the Storm's Grand Final win and we were focussed on our card game when Frank Ponissi, the team manager, grabbed the microphone and switched on the PA system.
Frank told us the Kangaroos squad had just been named.
He said seven Storm players had been selected.
He said three of them were debutants.
Honestly, it didn't even occur to me that I would be one of them. A couple of reporters had asked me after the Grand Final if I thought I was a chance at Kangaroos selection. I laughed at them. All my focus had gone into beating the Cowboys and then, hopefully, getting the call-up to represent Tonga. I hadn't even put my name forward for the Kangaroos. In my mind, there was no chance.
Anyway, Frank started reading the names out. He began with the automatic selections – Cameron Smith into Cooper Cronk into Will Chambers. He read out Billy Slater's name and there was a big roar around the bus because Billy hadn't played a Test since 2013.
Then he read out big Jordan McLean's name. The bus went mad.
Then he read out Cam Munster's name. Everyone went crazy again.
Then, last of all, he read out my name.
I honestly couldn't believe it. I hadn't been tipped off. Everyone was walking around the bus shouting and congratulating each other and I was just standing there, happy and stunned.
I texted my partner Rebekah and told her the news. She was as surprised and excited as I was.
It was a bit harder getting hold of Mum and Dad, Pelenatita and Taniela, because they were still commuting back to Bundaberg from Sydney after the Grand Final. When I finally did get hold of them, I took a few moments to think about everything they had done to get me here.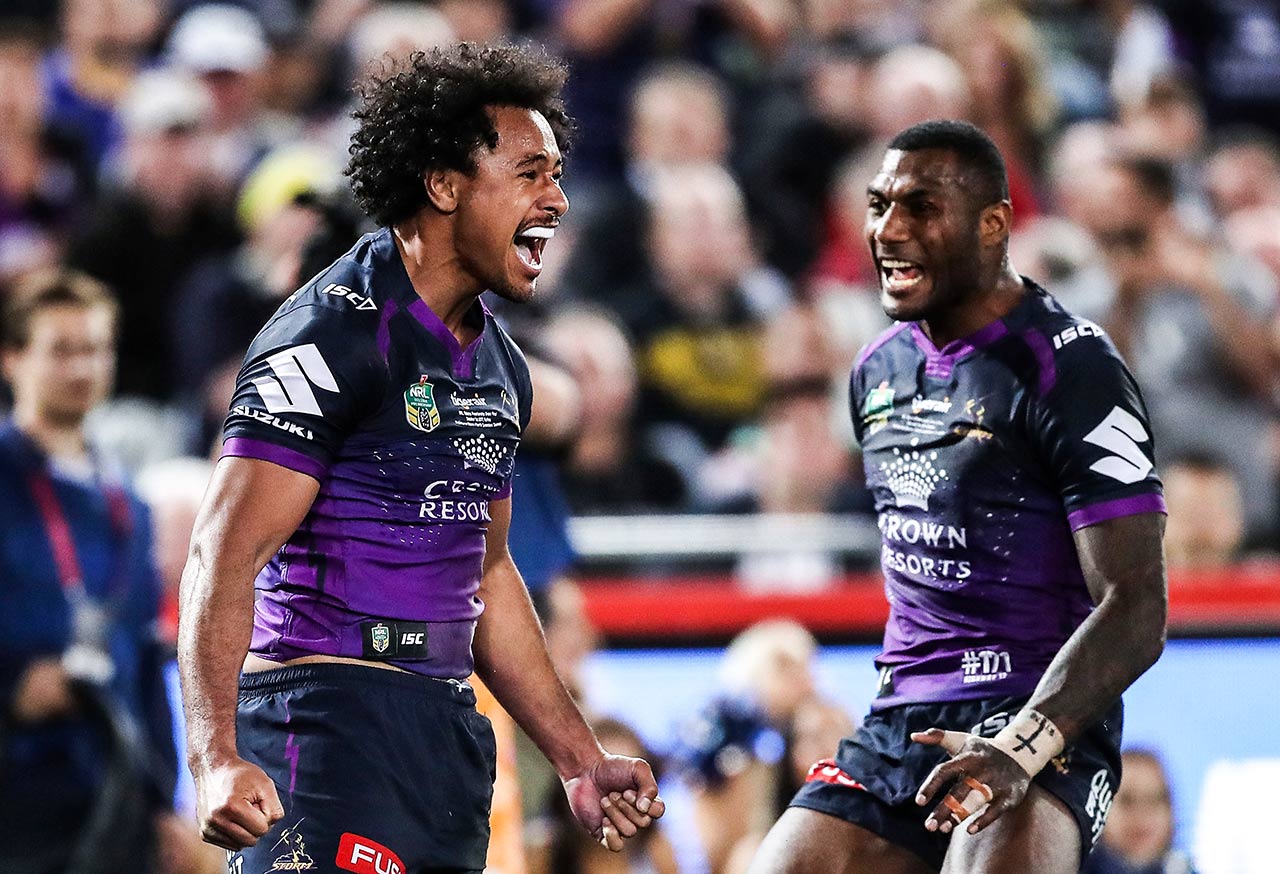 FRuit picking & sore backs
Mum and Dad are from Matahau, a few kilometres west of Nuku'alofa, in Tonga. They had the first three of their nine kids – Monica, Antonio, Lotiola, Magdalene, Seini, Patrick, Moana, Mele and me – in Tonga before moving to Auckland. That's where I was born.
When I was seven, we moved to Bowen in Far North Queensland for a year before settling down in Bundaberg. Mum and Dad were determined to make a better life for their kids and Bundy was the place that offered us the most opportunity.
Mum and Dad were fruit pickers. They would pick whatever was in season, always for long hours and sometimes for seven days a week. They'd go from mangoes to tomatoes to watermelons to lychees. Everything.
On the weekends, or when we weren't in school, all the kids would go out and help Mum and Dad in the orchards or the fields. When I was little, I would sleep in the car while they were out there picking and bring them out water.
When I was older, Dad would drag me out of bed to help out with the picking. It wasn't much fun. Fruit picking is bloody hard work. By the end of the day your lower back is blown out. It's hour after hour after hour of bending and lifting. I look back now and think, 'Far out, how did we ever do that?' At the same time, I reckon it made me.
I honestly couldn't believe it. I hadn't been tipped off. Everyone was walking around the bus shouting and congratulating each other and I was just standing there, happy and stunned.
It taught me that life ain't easy. It taught me the values of hard work and helping others rather than just thinking about yourself.
Every little bit counted back then. We'd do whatever we could to earn a few extra dollars to help the family out. It didn't matter if it was school holidays or weekends. We were all out there working for each other.
I'll never be able to thank Mum and Dad enough for everything they did for us. We would be in school mucking around with our friends and having a great old time while they were working their arses off to feed us and keep a roof over our head.
It was the same with our sport. They would support whatever we did. Training was Tuesday and Thursday nights and Saturday was gameday. They would often be working while we were playing.
'WHAT about tonga?'
Life in a house of 11 people was … busy! There was a bedroom for the boys, two bedrooms for the girls and one for Mum and Dad. There were bunkbeds everywhere. There was only one toilet and one shower so it was first in, first served. The same went for meals.
Mum and Dad ensured we kept the Tongan culture alive in our house. We would have a Hangi for big occasions – first birthdays, holy communions, baptisms, all those kinds of things.
We went to mass every Sunday. We would have prayers every night in Tongan. When we moved to Australia we didn't really have other Tongan parishes or community around so, as kids, we lost the language, which is a bit of a shame. Our parents would talk Tongan and we would understand it, but we couldn't say it back.
Dad has retired now and Mum works in aged care in Bundaberg.
When I finally got hold of Mum to tell her about my selection in the Kangaroos squad, the first thing she said was, 'But what about Tonga?' That's how much the Tongan culture means to her, as it does to me.
I said to her, 'You can't be throwing that at me now!' and we all had a laugh. They understand that to be called up to the Kangaroos is the highest accolade in the game. They're really proud of me.
They're also happy that Patrick made the decision to sign with the Storm from the Cowboys for next season. He got injured representing Tonga in the Pacific Test and missed the Grand Final – which made it easier for Mum and Dad to decide who to cheer for! – and he'll join the team in Melbourne soon.
I told the coaching staff when they signed him that he's the best of the three of us (I hope Antonio doesn't mind me saying that!). I'm really excited to see what he can do with us in Melbourne. I'll be pushing him hard in training and keeping an eye on him.
REServe grade to worlD CUp
It's amazing to think that this time last year I wasn't a regular first grader. In fact, if you'd told me at the end of 2016 that I would finish the next year having played every game for the Storm, won a premiership and earned selection in the Kangaroos squad, I would've thought you were nuts.
The back half of 2016 wasn't great. I was flying up and back to the Sunshine Coast most weeks after the captain's run to play for the Falcons in the Intrust Super Cup. That takes its toll on you, all that flying up and down the country. I was left out of the Storm's 17-man squad for the Grand Final, too. I was really disappointed.
I remember thinking to myself, 'What am I doing here?' Not being considered among the Storm's best 17 players for the 2016 Grand Final was a slap in the face. I knew I was better than that. I needed to go out there and show it. It was a bit of a lightbulb moment.
Fruit picking is bloody hard work. By the end of the day your lower back is blown out. It's hour after hour after hour of bending and lifting. I look back now and think, 'Far out, how did we ever do that?' At the same time, I reckon it made me.
I was really motivated when I went into pre-season. The Storm lost four players from that Grand Final team and one of them was Kevin Proctor. I knew there was a spot up for grabs. I had to make it mine. I didn't just want to make the 17. I wanted to start in the backrow.
I'm lucky to play with coaches who motivated me and players who helped me.
Cooper Cronk had a big impact. He made my job in the team really easy. He told me where and when to run. I can't thank him enough for all the help he gave me. He made me look like a better player than I really am!
Billy Slater was great, too.  He helped with my timing off the back, catching the ball earlier and how I presented myself when I pass it back to him. You've seen our combination this year. We've had a good thing going. That comes from all the hours we put in together at training. He would pick up on the little things – like turning in too much, or catching the ball on my chest rather than catching it out in front of me so I could pass earlier. Add all these things up and they make a massive difference.
I've also got to thank Cam Smith for being a calming influence. He's great with those little short balls and making sure I'm running onto it, or running lower, or targeting some of the defenders we'd looked at during the week. That helped me a lot.
None of it has sunk in yet. There's been no time to reflect, jumping straight from NRL finals to the World Cup. I'm still pinching myself that I'm about to make my Kangaroos debut against France.
When the World Cup is over, though, I'm looking forward to taking a little bit of time out to think it all through. It's been a year beyond anything I could've imagined. I hope 2018 brings more of the same.
More about: Billy Slater | Cameron Munster | Felise Kaufusi | International rugby league | Kangaroos | Resilience | Rugby League World Cup | Tonga