I'm playing the rest of this season for my late grandmother. All my efforts for the Dragons will be dedicated to her memory.
I got a text message from my father on Thursday morning, just before we boarded the flight to Auckland for our game against the Warriors. He let me know his mother, my grandma, had passed away.
Regina Meinhold – or Oma, as we called her – was 97 years old.
That's amazing in itself. Her life story is even more so.
WARTIME & PEACETIME
My grandmother's history is incredible.
She was half-Latvian and half-Polish and was one of 11 children. She came out to Australia after the Second World War. She met her future husband and my future grandfather, Andrew Aitken, at a party in Canberra. He had come out from Scotland.
It was obviously a long, long time ago, but my dad – also Andy – has filled me in on a lot of the details. Andrew died of bowel cancer when he was 31. My dad was only one at the time.
Oma met someone else later in life, but while my father and my uncle Bob were growing up it was all her on her own, working a variety of jobs to put food on the table and look after them.
She worked at Parliament House in a waitress/hostess-type role, she was a dressmaker, she took in boarders. Dad says there were times he and uncle Bob didn't see a lot of her because she was so busy working like a Trojan for the family to survive.
Oma was actually lucky to still be alive to make it out to Australia in the first place.
Dad says she was working in a secretarial-type role in the German town of Heilbronn when it was bombed towards the end of the war.
One day she had left to go home by train and, 15 minutes later, the bombs hit.
Oma could speak fluent German, Polish, Russian, Latvian and English. One of her jobs was in Germany, working as an interpreter for Russian and Polish migrants and prisoners of war.
She used her interpreting skills to help migrants in the courts as one of her jobs in Canberra.
The fact she spoke such good Russian led to her establishing a friendship with Evdokia Petrov, who became famous as part of the 'Petrov Affair'.
Dad says Oma was in a store in Canberra getting some materials for her dress-making when Mrs Petrov was in there. That's how they met. They started talking and Oma agreed to do some sewing work for Mrs Petrov.
After the Petrovs were granted political asylum in 1954, my grandmother and her remained close friends right up until Mrs Petrov died.
One day she had left to go home by train and, 15 minutes later, the bombs hit.
Dad has got a newspaper clip from when a Canberra exhibition was opened 50 years after the Petrov Affair and Oma was interviewed. In the story, she says a big reason Mrs Petrov decided to stay in Australia was because she valued their friendship so much.
Oma had a daughter, Rita, with her second partner. She has been a key figure in Oma's life as well and dad is close with her. Rita did a terrific job looking after Oma later in life.
My grandma was a very intelligent and strong woman. To be able to live to nearly 100 and almost all of it independent, under her own steam, says everything about her.
I would have loved one more chance to see her and give her a big hug, to let her know how much she meant to me and the rest of the family.
I know she is looking over me now, proud and with lots of love.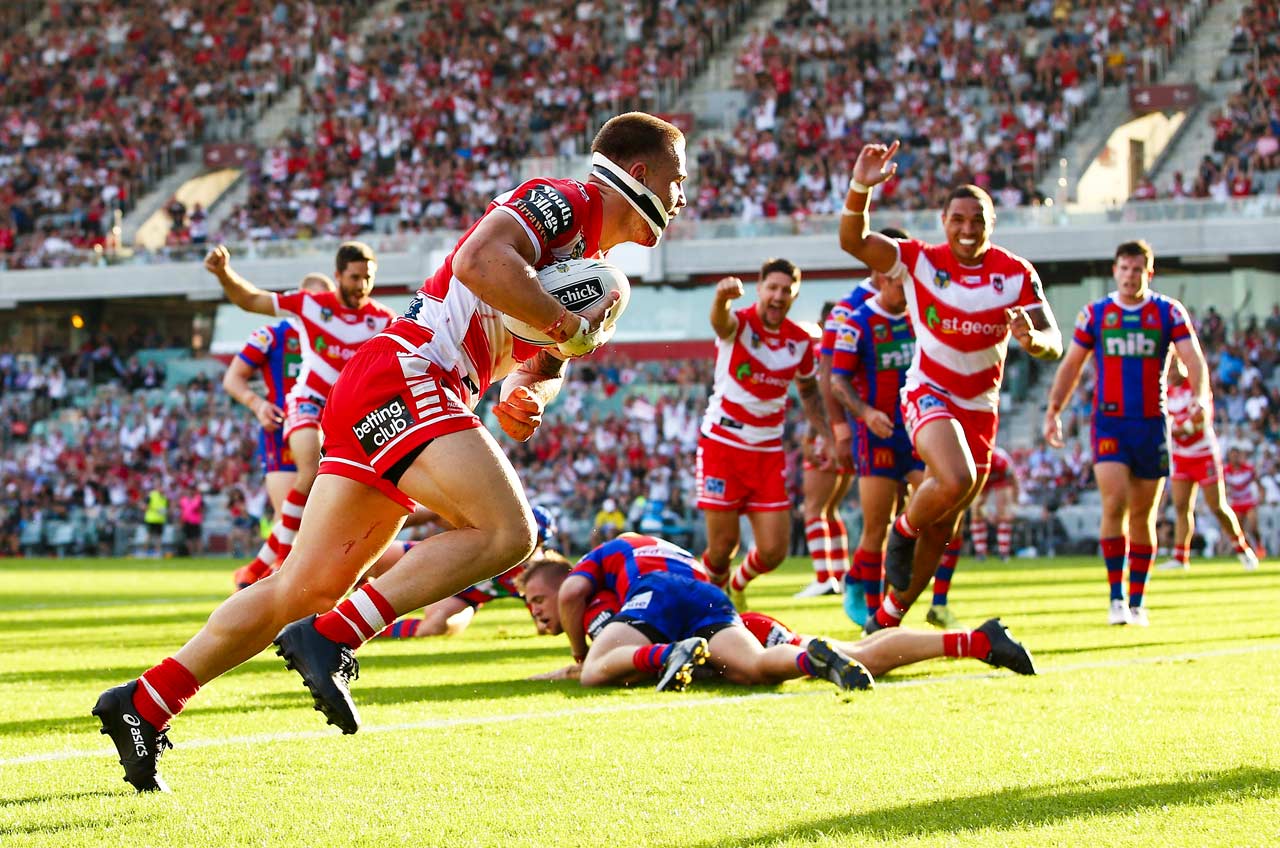 'I LOVE YOU, OMA'
I'd only learned a couple of days earlier that things had taken a turn for the worse. Her body had started to shut down and she'd been put in palliative care.
Oma had lived on her own and looked after herself right up until she was 95, when she entered a nursing home, and she was still in pretty good condition until recently.
But she's gone now and I didn't get the chance to say goodbye as I would've liked.
Since we were playing on Friday night, I'd started making plans to drive down to Canberra on Sunday to see her in hospital.
I knew from the way dad was talking that things weren't good. She had deteriorated quickly. But when someone has been around for so long, you still get it in your mind that they'll be able to kick on for a bit longer, no matter what. I just didn't think it would happen that quickly.
But that wasn't to be and I'm wearing my heart on my sleeve for Oma now.
Two years ago, I represented Scotland in the Four Nations tournament in the UK. It was my way of honouring the memory of the grandfather I never met.
I guess I'm lucky that if I never knew granddad, at least I had my grandma for a long time.
I'm wearing my heart on my sleeve for Oma now.
My other grandparents, on my mum Jill's side, had a great influence on me as well.
Val and Jack, my nan and pop, were hard-working farmers who are also no longer with us. Pop worked on the farm right up until he died. Mum got her appetite for hard work from them and I'd like to think it has passed down to me as well.
My parents have given me great direction. I'm doing a university course in exercise science part-time as well as playing footy.
I'm fortunate enough to have a loving and caring family with my mum and dad and three brothers – Andrew, Aidan and Wayde. We'll all miss my grandma and we'll send her off the right way.
Every game I play this year will be played with her in mind and close to my heart.
I'll always remember her with great fondness.
I love you, Oma.
MY SECOND FAMILY
I regard the Dragons as my other family and just the same as I've been fortunate to have been brought up by great people, I work with great people as well.
Plenty of experts have come up with reasons why our form is so good that are related to the players we've got, and the style we're using, and all of that stuff is relevant.
But none of it could happen without the enormous self-belief and confidence we have within the group. I believe that is only possible because we get along so well.
You can have all the great players and all the ability on the field, but if you don't really care for each other that much and that level of mutual respect isn't quite what it should be, it's going to pull you up short as a team somewhere along the line.
I'm mates with everyone at the Dragons, but my best mates here are probably Kurt Mann and Jack De Belin.
Me, Jack and Mitch Rein were like a little tripod when I first came into grade and that made my transition to first grade a lot easier. They took me under their wing and looked after me, and the rest of the group was also very welcoming.
You can underestimate the importance of being able to get along with the people you play alongside – I mean really get along. This is a great place to come to training. There's no arrogance or egos. No-one thinks they're better than anyone else and I believe that's why this team's been building.
This season we made a couple of key signings and, on top of what we already had, it's taken things to another level.
Ben Hunt is a great bloke to play with. He gives me confidence. He's a great communicator and with him on my inside and Jason Nightingale outside, it gives me two very experienced players who know how to read the game well. That helps me, as a centre, to make good decisions on the edge.
We've got a great spine. Ben's a bit more of a steady half and Gareth's more off-the-cuff at five-eighth. They complement each other with their styles and they're both great leaders. Ben has taken some of that workload off Gaz's shoulders and that's been great for him.
Cameron McInnes is a hard worker at hooker. He has come a long way in the short time he's been at the Dragons. He's in the leadership group now, which only has four players in it, so to be recognised like that at just 24 tells you what he's like.
Matt Dufty at fullback … what a lightning-fast player and so deceptive. He has come a long way this season already. The way he used his speed and step to blow past Matt Moylan for a try against Cronulla last week was fantastic.
And everyone can see how well our forwards are going. It all starts with them every week.
INGLIS, ORIGIN & INSPIRATION
The try I scored against Greg Inglis when we played Souths two weeks ago got a huge amount of publicity. I loved scoring it, but I was careful to put everything into context in my own mind.
He's one of the greatest players to ever play the game and I've got a long way to catch up to anything close to what he's done. He's also coming back from a major injury and that is never easy to do. So I wasn't going to get carried away with one try.
It's a respect thing in my mind. He deserves all the respect in the world because of his record and what he's still doing. It won't be long before he's back at his damaging best again.
Of course, it was a special moment for me to be able to get around him and score, but I'm not taking anything away from him.
Sometimes you make a miss and the other guy scores a try. It's just part of the game and it happens to all of us.
I don't know Greg very well, but we shook hands after the game and he said my form was good. I noticed he said a couple of positive things about me in the media and I really appreciated that from someone like him.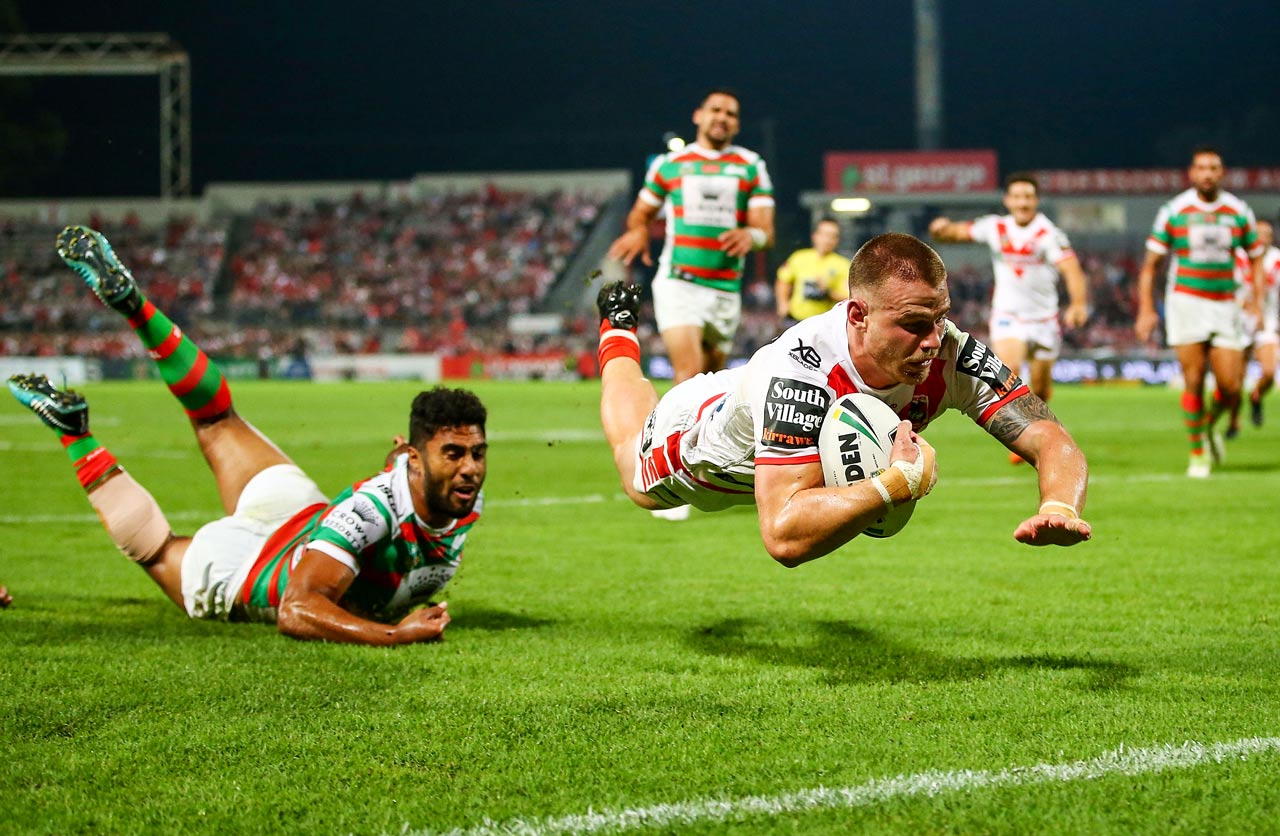 As a younger player, I respect the experienced players and I hope the older players give you respect too, because we're all on the same field playing the same game. I think anyone who's good enough to play in the NRL deserves respect.
I'm happy with the way I'm playing. I always thought I had a lot of potential, but a few injuries got in my way earlier in my career. Now I'm stronger and I've got a bit more experience, and I feel comfortable with the players around me on that right edge for the Dragons. I'm learning quickly.
As coach, Paul McGregor has created an environment that has enabled me to play first grade with confidence and I've grabbed it with both hands, I think. He encourages me to use my power and strength to beat people. He says that's what I'm good at and that's what I should do.
I've had a few mentions as a possible State of Origin player for NSW. I'm not counting on making Origin, but I'm confident I would go well there. I think my form's been good enough to warrant consideration and that I've been one of the better centres in the NRL so far this season.
But the thing is you've got to keep it up. It obviously takes more than just a few good games to get into the NSW side, so I've got to keep playing well and if the Dragons can keep winning, it will put me in good stead.
It's a dream to play Origin. I've been imagining it since I was a kid.
If I am lucky enough to get there, I know who I'll be dedicating my performance to …
More about: Cameron McInnes | Euan Aitken | St George Illawarra Dragons | State of Origin