The Thurston you don't see
It was the Preliminary Final against the Eels and I was practicing my goal-kicking in the warm-ups.
I had a couple of shockers. They missed by miles.
At that point, you're usually isolating in your mind what went wrong and trying like hell to make sure you don't repeat those mistakes in a live game situation. That's magnified even more in a knock-out game.
Fortunately for me, I had one of the greatest pressure kickers in history watching me.
Johnathan Thurston called me over as I was walking back to the sheds. He gave me some advice. I won't say exactly what it was, but it helped me convert all four of the Cowboys' tries and we went on to beat Parramatta 24-16.
It's pretty special having someone like Johnno around the group at this time of year.
There has been plenty written about the hole it left in the team when he went down with a season-ending shoulder injury after Origin III – and, don't get me wrong, it did – but less said about his off-field leadership and its importance for us during the second half of the season.
It's been immense. The same goes for Matt Scott. With Thumper, Johnno and Paul Green, it's like having three of the best coaches you can imagine breaking down your game, analysing the opposition and setting the strategy.
You can see it at halftime. After Greeny addresses the team, Johnno will take the ballplayers to one-side for a discussion about what went right and what went wrong during those 40 minutes. Thumper does the same with the forwards.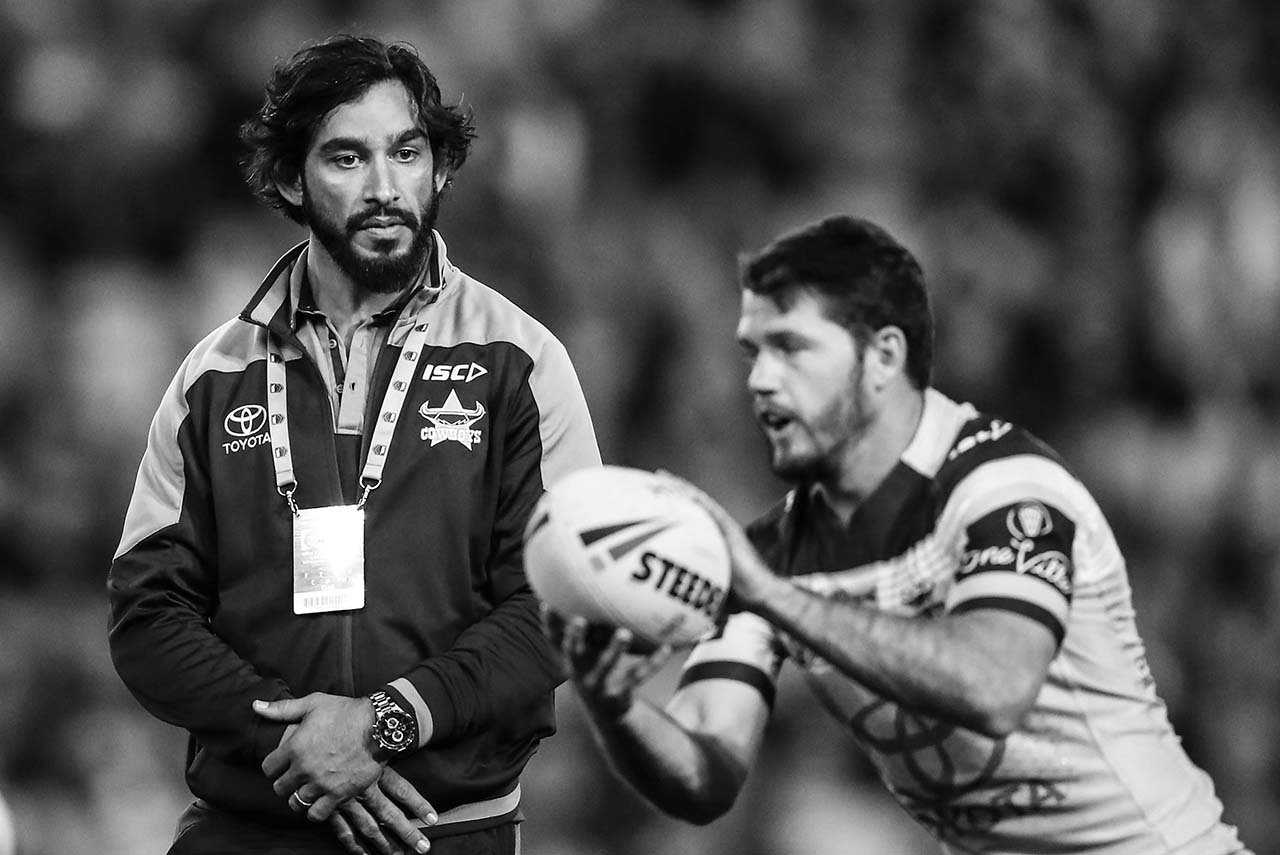 THE GOALKICKING DUTIES
This has been the longest period of my career where I've been a team's primary goalkicker.
I grew up in Goondiwindi, a little town of about 5,000 people on the Queensland-NSW border, and I used to ride my bike to the local park and kick goals whenever I was bored at home.
I've messed around with it ever since as a kid in the Roosters' system and during my time with the Northern Pride in the Queensland Cup. At the Cowboys, I would get a look in whenever Johnno was injured or on rep duty. But it was never a fulltime thing.
I wasn't happy with my kicking in those first few weeks after Origin III. Johnno was brilliant during that period. Our kicking styles are quite different, but he has been helpful with the mental side of it.
Obviously, there's an extra edge to goalkicking in the finals. Coming from eighth place, every game has been a knock-out contest for us, so in the back of your mind you're aware of the importance of your shots at goal. You lose, you're out.
Having Johnno there to provide advice and support has been huge for me.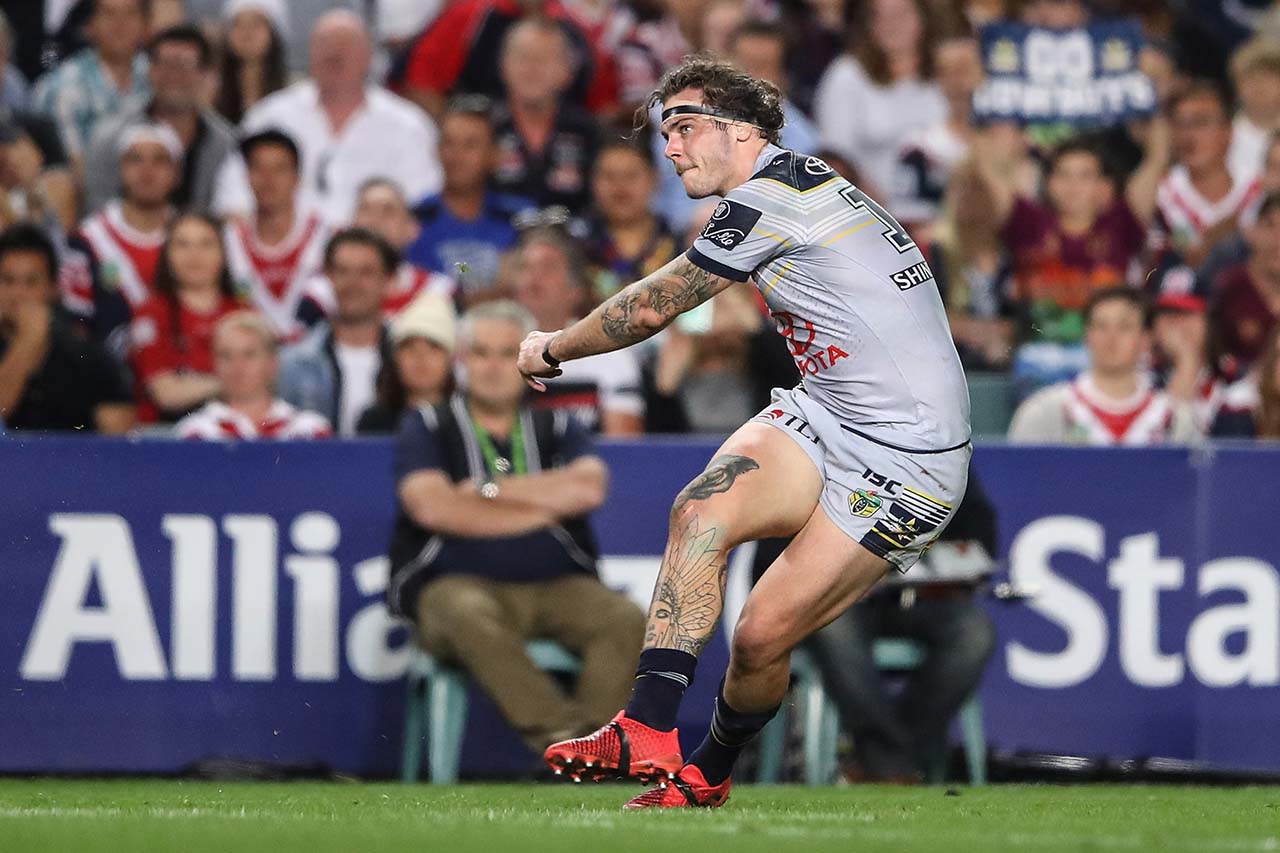 TATTOOING AN ENTIRE TEAM LIST
Townsville is an incredible place to be this time of year.
Just this morning I went down to the shops to get some groceries for breakfast and there were kids on the street asking me to sign their shirts, all excited about the Grand Final.
It happens all the time. Someone wanting to shake your hand. Another wishing you good luck and congratulating you on the season.
Probably the most remarkable act I've seen came via Shari, my tattoo artist at Good Vibrations in Townsville. One of the guys who works with her did a tattoo for someone straight after our 2015 Grand Final win.
It had the Cowboys logo, the score and our entire team list from 1-to-17. All the way down his back.
I've got tattoos all over me and even I think having the names of 17 footballers inked on you is pretty hectic!
But that's how it goes up here. They love their Cowboys and we love them back. I can't really speak for what it's like for other teams, but I can say the relationship between the team and the city in Townsville is something I'll always treasure.
They've been on a real emotional roller-coaster the last few weeks, as we all have. We lost our last game of the home-and-away season to the Broncos on a Thursday night, then had to wait for the Dragons-Bulldogs result on the Sunday to know whether we would grab the last finals spot.
I was having a late lunch with my partner, Kate, and a few mates at The Watermark, down on the water in Townsville, watching the game. It was so up-and-down. There was only six points in it and the Dragons were on the attack late. They spilled the ball in the last few moments to guarantee the Bulldogs a win. We were through.
I can't really speak for what it's like for other teams, but I can say the relationship between the team and the city in Townsville is something I'll always treasure.
So many people had already written us off at that point. They thought we were lucky to be there, that we were just making up the numbers, that we would be rolled in the first week against the defending premiers.
We never saw it like that. Even when we had that run of losses in the last six weeks of the home-and-away season, there has always been great belief within our squad that we had the dedication and depth to get the job done.
That's made this period quite satisfying. It's different from 2015 because, back then, a lot of us were going through a Grand Final experience for the first time. But we know what that's like now. I think that has been invaluable for us as we've got past the Sharks, Eels and Roosters.
SURPLUS TO NEEDS
The day after I finished high school I jumped on a plane to Sydney to start training with the Roosters' under 20s team.
I had three years there before the club told me I wasn't part of their plans for the next season. As a young bloke, that's tough to hear. I understand that the NRL is a business, and there were no hard feelings, but it's still never nice to learn that you're not wanted.
It took a couple of weeks for me to sort out the next chapter of my life and career. The Cowboys offered me a train-and-trial opportunity, but their coach at the time, Neil Henry, told me their squad was pretty much settled and that I should give it a go with the Northern Pride.
A couple of weeks after I started with the Pride I was offered a contract for the next season. My journey with the Cowboys had begun.
I didn't use the experience with the Roosters as extra motivation in the finals. There's more than enough to think about in a game that big without bringing emotions into the picture. That said, it's always nice to get a win against an old club.
Matt Scott called the forwards together after our final training run and broke down how the Roosters would come at us. He'd been watching a lot of tape and had plenty of thoughts about who to watch out for, how to defend certain players and so on. That was really useful.
The game started with us trading sets before Michael Morgan put in a great kick that forced a repeat set. We got on a roll from there. We knew that was our chance to turn the screws and put the pressure on them.
Morgo has been amazing this season. He's taken on Johnno's role and done it his way. There are obviously things Johnno can do that he can't and vice versa, but he's still managed to lead us around the park brilliantly over the second half of the year. He deserves every plaudit that comes his way.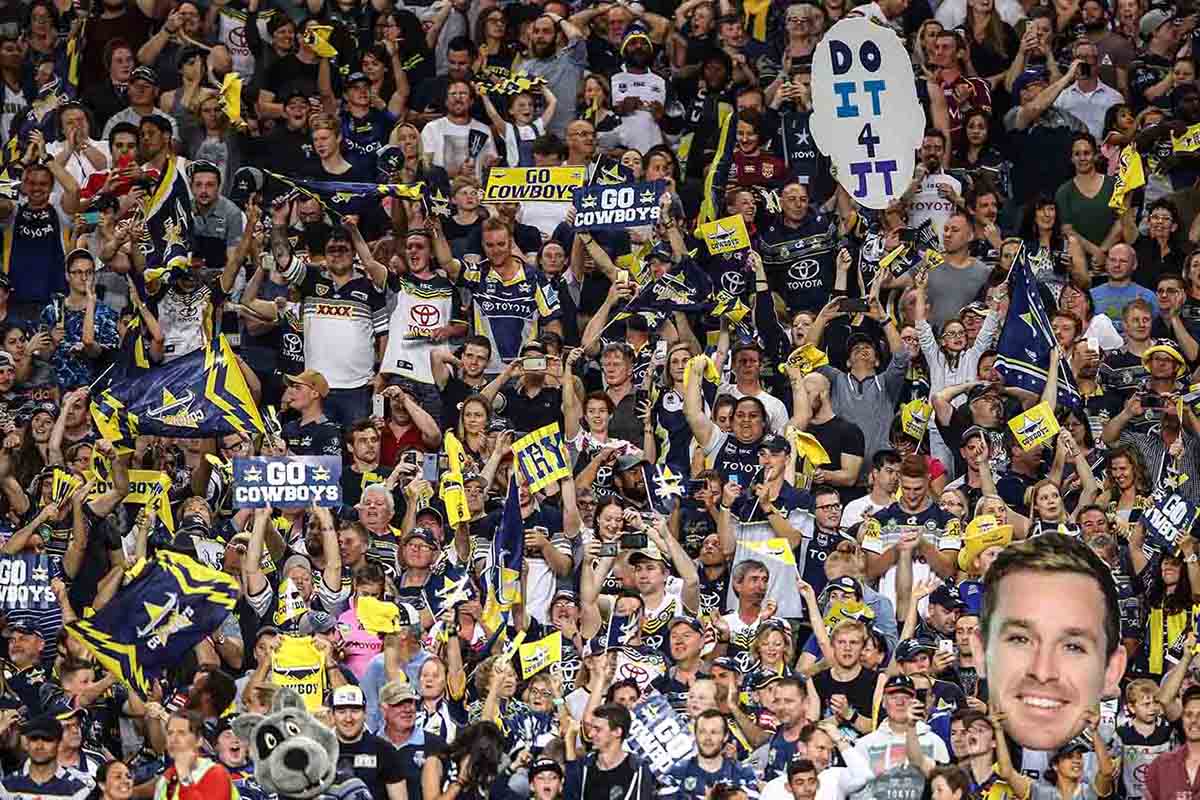 COWBOYS > ADVERSITY
The Cowboys have been through plenty this year. Personally, I missed pretty much the whole pre-season after undergoing neck surgery. I didn't have the work under my belt when the season started. It showed. This has probably been my most inconsistent season in the NRL from a performance perspective.
As a team, we've obviously had to cope with the losses of Johnno, Thumper and that six-week period leading up to the finals where we played a lot of top eight teams and lost five of those games.
In many ways, that was the making of us. We knew we were putting in the hard work, but our execution was lacking. We knew that if we could address that, we would be dangerous in the finals.
That's how it's proved so far.
More about: Johnathan Thurston | Melbourne Storm | North Queensland Cowboys | State of Origin