I was super-humbled to be named All Australian ruckman last season. But then I almost wished it had never happened. The extra bucketload of pressure I put on myself was ridiculous.
I was already dealing with mild depression and anxiety, and then to have that thrown on top amplified everything. I was overwhelmed. I naturally put lots of pressure on myself anyway and it started to spiral out of control.
I was thinking irrationally. I was like 'Now I've got to be the best this season. If I don't get All Australian again then I've failed. And, if I'm the best, I have to win every single hit out'.
Which is impractical. It's impossible. Brodie Grundy and Max Gawn don't win every single hit out but they're still the AFL's best ruckmen.
It started this very bad cycle of thinking. Such dark thoughts. And by putting so much pressure on myself, I almost fell out of love with the game.
To be All Australian is such a huge achievement and such an honour. You don't want to be the second best ruckman. I'm very competitive in that way. But with all this pressure that I put on myself, I started to see everything in a very negative light.
It's something that I'm still struggling with and working through going into this season and it's important that I share the journey. It's so important to open up this discussion about mental health, especially because we're role models now.
The past few years have obviously been an amazing, incredible dream-come-true to be a part of the inaugural AFL Women's. But participating in this elite environment is also a job – and a high pressure job, because you've got so much scrutiny. Both internally at the club and externally through the media.
BEST THING I EVER DID
There's now a sports psychologist on staff at the Giants and when we all sat down and had a chat as a team it was one of the most beneficial things I've ever done.
We talked about needing to be vulnerable with each other; we have to understand each other's struggles and be able to bond as a team in order to play the best footy that we can. So the senior girls in the leadership group shared some of their struggles with mental health.
About anxiety, not feeling like they fit in, things like that.
After one or two girls spoke, the most incredible thing happened: we ended up going around the circle and everyone shared their own struggles. It was very eye-opening to me because I thought I'd been alone.
And I'd been like, 'why are you thinking this? You're an elite athlete, your dream's coming true, everything's happening, why are you feeling like this?'
But hearing that my teammates also had their own struggles, and really similar struggles at that, helped me open up to acknowledging my own journey and encouraged me to reach out for help.
It's something that I'm still struggling with and working through going into this season and it's important that I share the journey. It's important to open up this discussion about mental health, especially because we're role models now.
I've been working with the sports psychologist closely in the past year and it's something I'll probably do for multiple years. It's good to be competitive because you always want to push yourself to be the best. But when it gets to that unhealthy level, it's something that you need to start addressing.
Until the sports psychologist helped me see it, I didn't realise I'd almost started sabotaging myself. I'd been going through rehab for injury and had been purposely doing more than I probably should have. I hadn't been listening to my body.
It was almost preferable to fail because of injury rather than 'failing' by not being the best. By self-sabotaging I'd have an excuse to fall back on. I'm still not quite where I want to be mentally and physically this off-season. But it's a process and I'm working through it.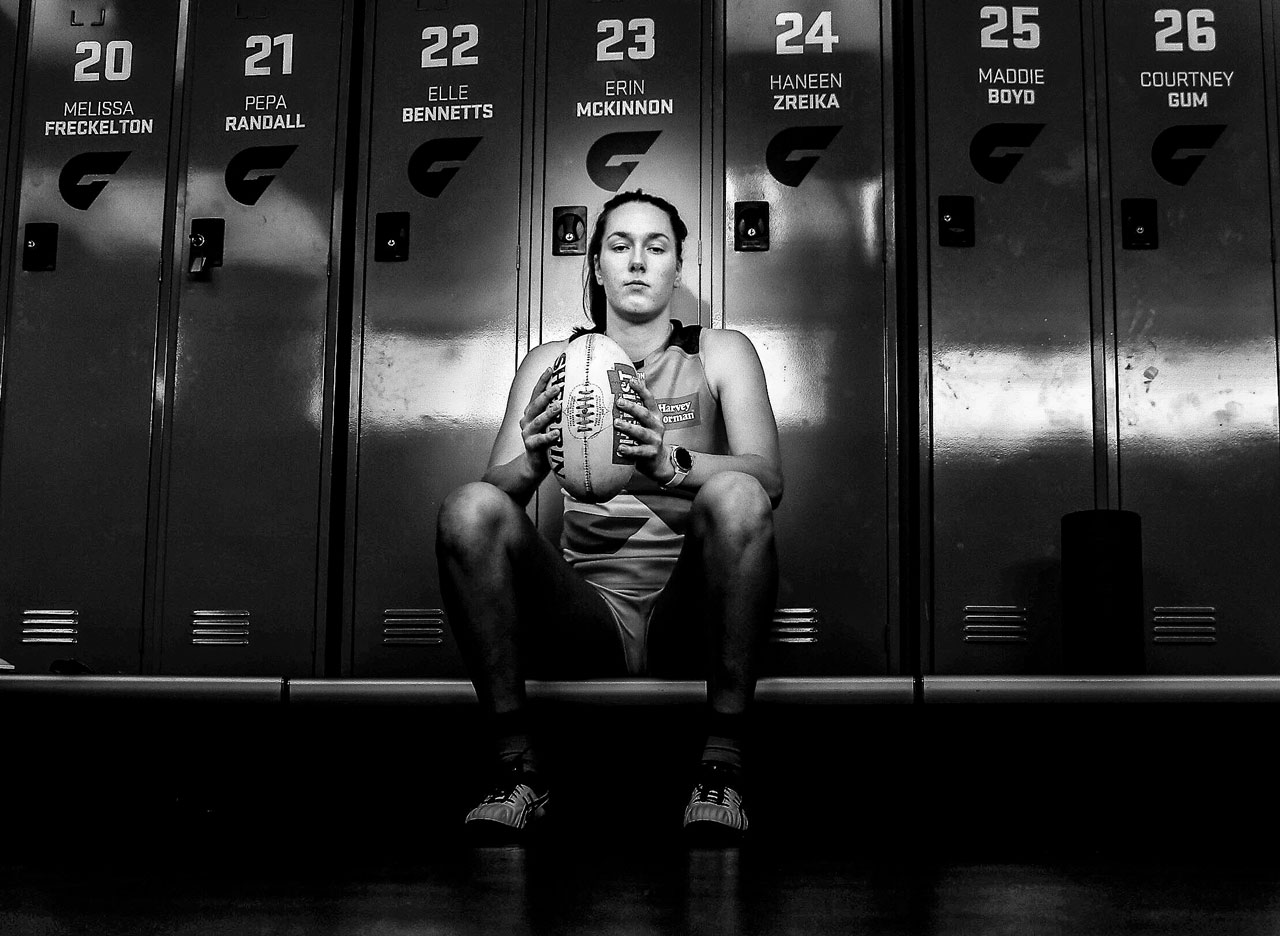 A HEALTHY EDUCATION
Going through school I noticed lots of my friends – and lots of girls, particularly – dropping out of sport in years 11 and 12 in favour of studying.
That's where everything starts going downhill mental-health-wise, with the stress and everything.
I was always a perfectionist who wanted to do very well in school and during my last few years I had teachers saying, 'Look, I think you should start quitting a few sports, drop back on your sport for a few years'.
To me that sounded completely absurd because footy was my escape from school. It provided me with the balance that is so important in life.
I'm studying an exercise and sports science degree, and I definitely don't think I'd have done as well at school as I did if I hadn't been playing sport. It really helped me to manage my time productively and gave me a release.
So I want to encourage girls to stick with their sport, or have a hobby – especially going through Year 12, which is a very stressful time. Sport also helps to maintain physical health at a time when it's often put on the backburner and there's so much evidence linking physical health to mental health.
More about: GWS Giants | Mental health | Women's Sport