Sledging, toughness & Marta
I didn't really have time to play with dolls when I was a little girl. I rarely had sleepovers or play-dates. I couldn't do much hanging out with friends. I kind of missed all that.
But you can't achieve something special without making sacrifices and I spent ages sitting in the back seat of my parents' car while they drove me long distances from our home in Cowra to get specialised coaching.
I'm sure it would've been nice to do a few more of those normal things, but I'm not sad about it. I don't have any regrets. The alternative is pretty good. It's great, actually. I'm happy playing football. I wouldn't want it any other way.
I'm 17 years old and I can say I've already represented my country, been to an Olympic Games and visited so many fantastic places around the world, doing what I love doing.
I know how hard I've worked, but when I started making my name as a 15-year-old, playing in the W-League and breaking into the Matildas, there seemed to be this perception out there that I got things easy.
I'd get comments on social media like, 'She shouldn't be where she is at her age.' Or, 'She doesn't deserve it.' It made me angry.
I think, since I began playing more regularly for the Matildas and pushed my way into the starting side, that perception is changing. I've had some amazing support and I really appreciate the fans and the mentors who have backed me.
But I still hear and see a few comments from people saying I should be preserved and not exposed to this level of football too early because they think I'm not ready for it, I might break down, or they should look at using the more experienced players. That sort of stuff.
Others think because I've had a good run with my career and nothing has really gone wrong yet (that they can see) and I've managed to pick up a few endorsements, it's all been handed to me on a plate.
It hasn't. I know what I've done and how I got here, everything that happened behind the scenes. Critics can say whatever they want, but they don't know the back story. I do.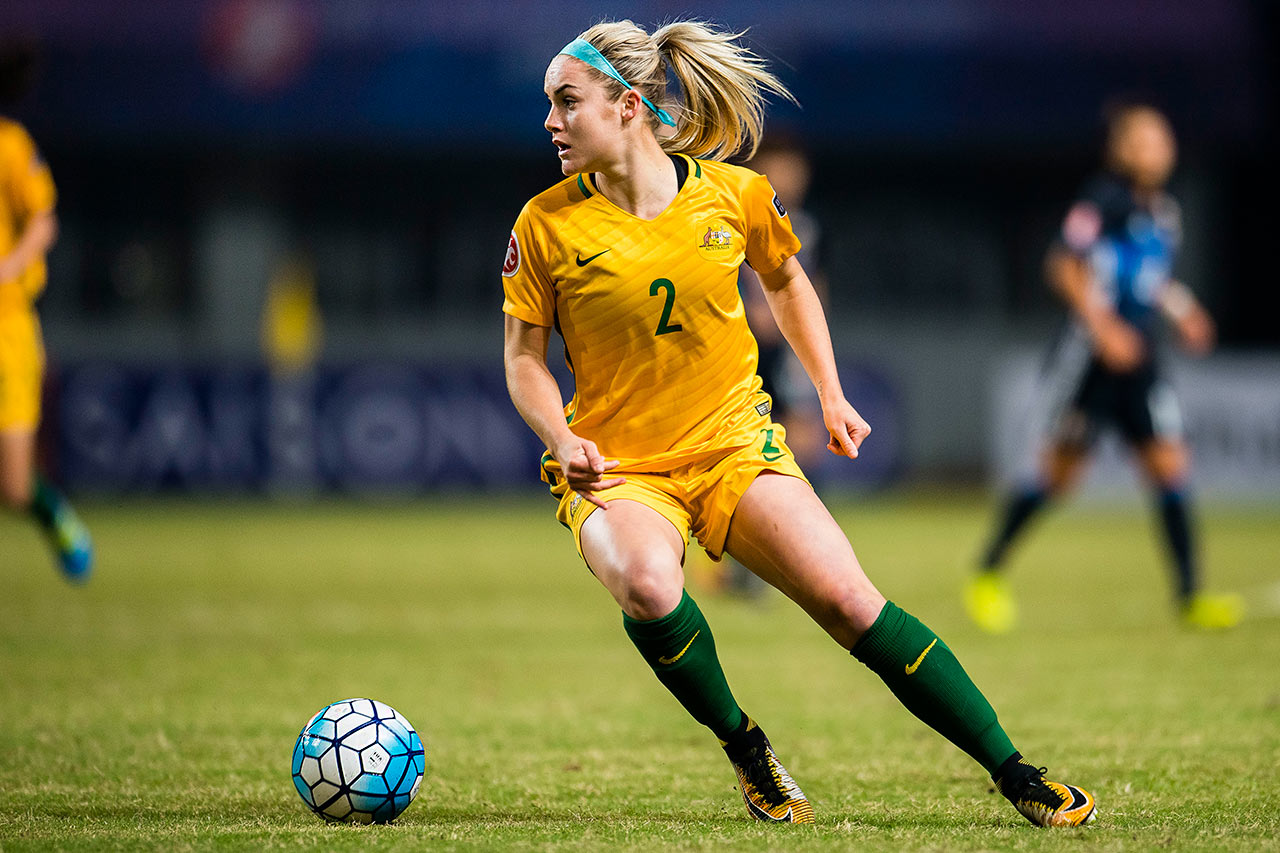 DIVORCE & LEAVING HOME
The amount of driving my parents did for me as a kid was ridiculous.
Three times a week we'd go to Canberra – two hours down, two hours back – so I could train in the Coerver program. Mum and Dad were both teachers, so as soon as school finished we'd be in the car and gone.
One day a week we'd go to either Bathurst or Orange for some more specialised coaching and on Saturdays we'd drive four hours to Sydney so I could play Metro League. I was the only girl in the Project 22 squad.
I was still playing against the boys at that stage. I'd been playing against them ever since I started, at three or four. It taught me to be aggressive.
The boys don't go easy on you, so you have to fend for yourself. They're all trying to get the ball off you and they'll knock you over to do it, so I had to learn to be physical. If I'd grown up playing with the girls I don't think I'd be the same player I am today.
I moved to Sydney with Mum when I was 12 and still in Year Six at school. I went to King Park Primary so I could join the Westfields Sports High program ahead of time.
I found it very hard that first year, being away from Dad, my friends, the house back in Cowra, adapting to city life. But this is what you've got to do if you want to make it. It isn't simple. It's definitely not easy.
I know what I've done and how I got here, everything that happened behind the scenes. Critics can say whatever they want, but they don't know the back story. I do.
My parents had started to have problems and eventually they divorced. I was young, so it affected me. I struggled with it for a while, but as I got older I realised why it happened. I'm kind of OK with it now. I couldn't have made it to where I am without all of the help they've given me.
I think I've experienced a lot more than the average 17-year-old girl. I've grown up very quickly and become quite mature. I'm mentally strong.
You're always going to get critics, there's always someone willing to tell you you're rubbish, but I've grown up with a good support network that has helped me overcome that.
I've learned to block the negative stuff out and some things have happened to help speed up that process.
SLEDGING & TOUGHNESS
Last season I was playing in a W-League game for Western Sydney Wanderers against Adelaide United and the Adelaide coach gave me stick for the entire first half.
Playing at right back I was right up against the sideline and he decided he was going to try and get in my head and put me off my game.
His player would be running at me with the ball and he'd be like, 'You can get around her, she's nothing,' and, 'Who's Ellie Carpenter, you can beat her,' and, 'She's not fast, she can't defend you,' and a few other things.
It was constant and it was loud. My teammates could hear it and were asking me if I was OK. Even our goalkeeper heard it from where she was, because she asked me about it when we were walking off at halftime.
I was shocked by it. I was thinking, 'What are you trying to do? Are you trying to put a 16-year-old off her game with this stuff? Is that how you want to win? Well, then, good on ya for that.'
It did get to me a bit. It wasn't much fun. I hadn't experienced that sort of thing before, but I'm actually glad it happened because now I know what I must do. I have to block it out.
It made me tougher. It'll happen again and I'll be ready. I'm pretty much ready for anything that comes along now.
PUTTING IT TO MARTA
Marta is one of the greatest players ever and I was marking her for the Matildas in our second game against Brazil when they were out here in September.
She took me out right at the start of the game, sat me on my backside, but I wasn't backing off. I thought, 'OK, yep, I'm in a game. If she wants to give it to me I'll give it right back to her.'
I think the rest of the game we were pretty even. I gave her a few bumps and knocked her on the ground a few times. It was a good battle and a great experience for me.
I liked it because her testing me out physically showed she was thinking I was competition for her. If I was weak, I would've faded, but it was quite the opposite. I was, like, 'Alright, let's go, I'm up for this.'
I think I've experienced a lot more than the average 17-year-old girl. I've grown up very quickly and become quite mature. I'm mentally strong.
Now that I've had a few consecutive games as a starter for the Matildas, the next challenge is to keep that spot. That will be hard. There's a lot of competition. There's no fluking a spot in this team. There's no getting something you don't deserve, or you haven't earned.
The girls have been great since I came into the squad. It's hard as a 15-year-old, you don't know what to say. I needed a period of adjustment, but now I feel comfortable in that environment. I feel like I can have my say.
I only recently returned from China, where I was in the Young Matildas team that was trying to qualify for next year's under-20 World Cup. We had to beat China in our last game to get through, but we lost.
It was a crushing result, but you have to learn to get on with it in football because there's always something else coming up.
Now I'm getting ready to make my debut for my new club, Canberra United, and in a few weeks the Matildas have got a couple of home games against China.
THE NEXT BIG MOVE
I'll be living away from home now. Mum doesn't have to drive me around every day. She'll still be there to give me advice when I need it, though.
I'm planning to make the big move overseas after the W-League season finishes. I'll definitely be playing over there somewhere, it's just a matter of deciding on a club and I'll take some time to do that.
My manager has got some offers for me from the US and Europe. I'll concentrate on the W-League and then I'll talk to my coach at the Matildas, Alen Stajcic, and my family before I settle on one. But at this stage I'm kind of leaning towards the US.
I've seen girls like Caitlin Foord and Sam Kerr go to the US while they were still teenagers and be successful and I want to do the same. I love travelling as well, so it all makes sense to me. It would be cool to play overseas, really exciting.
Growing up in a country town, you try a lot of different sports, but Mum and Dad say that as soon as they saw me play football they said, 'Yep, she's going to be a soccer player.'
I'm so grateful they've backed me all the way.
More about: Ellie Carpenter | Matildas | NWSL | Resilience | W-League