Before I joined Collingwood's AFLW team as a cross-code rookie last year, I'd represented Australia in junior netball, won an under-age world championship medal in beach volleyball, and played indoor volleyball professionally in Europe.
But I actually feel like a failure – either because I haven't pursued those sports for long enough or I haven't achieved at the highest level and attained a gold medal or a world championship.
What I have had success in, though, is personal development. I've had all these experiences and got a wealth of knowledge in a variety of areas; that continual growth is how I measure my achievement now.
It's just been bloody hard and I wish I could've told that to my junior self.
I couldn't be more grateful for the opportunities, because I've had more than most people, but I'm still so reliant on my family. I've struggled for that financial independence for such a long time.
I've barely had any money to my name, I've been in debt, and my parents have helped pay off my credit cards. You're funding your own dreams and your own sport, trying to claw your way to the top, and yet you're still not independent. It's a really hard knock and you continually question why you do it.
You begin to get both internal and external comments saying, 'Well, why don't you just get a fulltime job? Why don't you go down a different path? Maybe you're just not as resilient as you once were?'.
It's these rattling of voices questioning your decisions, asking, 'Haven't you dragged yourself through enough mud already?'.
I said to a friend the other day that feeling all these conflicting messages was like being in a bad relationship. You love that person or that sport so much that even though it's hurting you, you keep going back to it. In the end, you just need to grow and move on.
Growing up, I had all the dreams and the ambitions to be a successful sportswoman and no thoughts outside that: I wanted to be great, I couldn't foresee a future without sport and I struggled with my identity outside that. At that point, I couldn't see a me out of the sporting world.
And that hurt.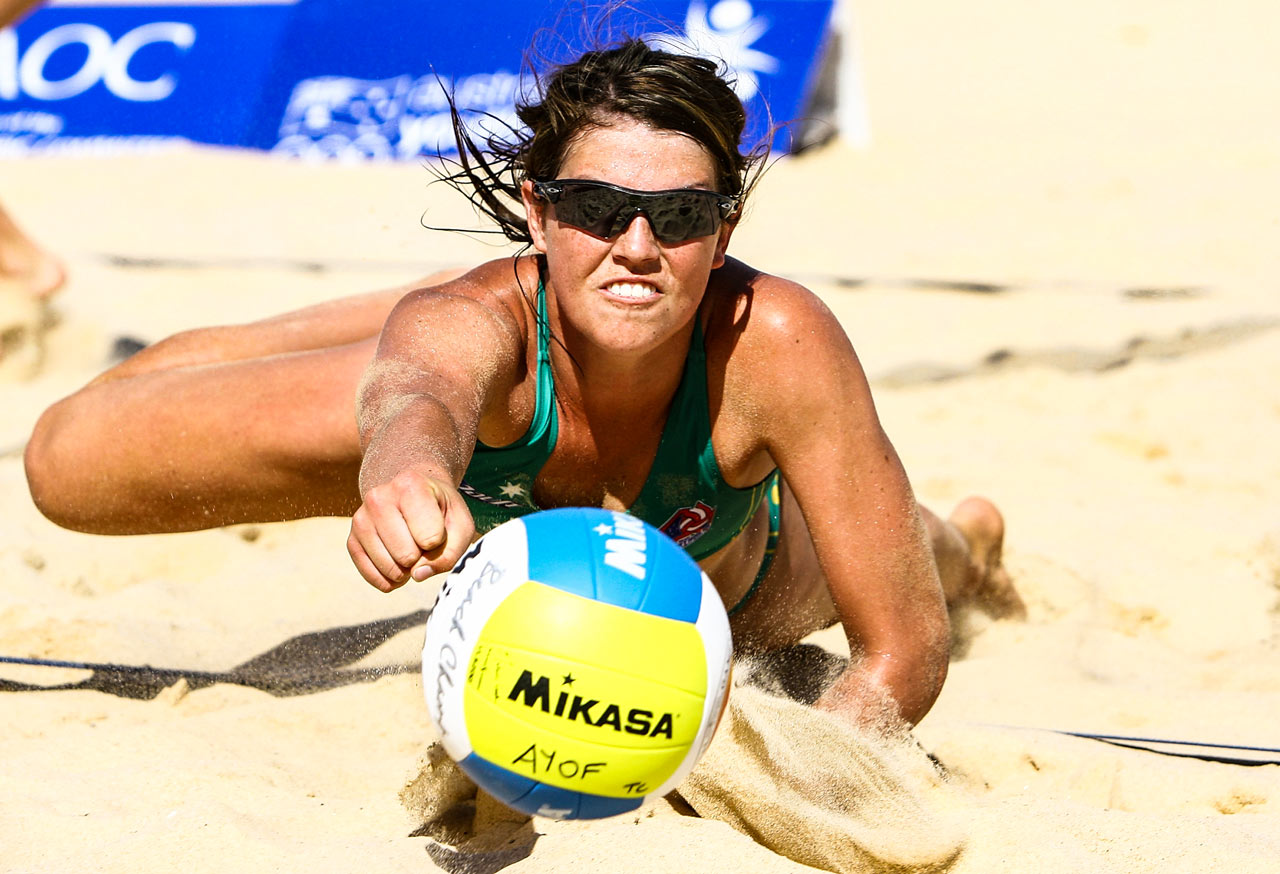 LIVING IN 16 HOUSES
I moved from Bendigo to Melbourne to attend a sporting school when I was 16. That was the same time my parents separated, I didn't feel like I had that grounding of home any more and I missed valuable times with my siblings. To this day, I've moved to 16 houses and lived in three different countries and I'm still only 26.
Living out of a suitcase is hard – although you don't become materialistic, which is good! But, God, it becomes a headache, and it's all so temporary. I started to question my relationships, 'How long am I here for? Where am I going to be in six, 12 months' time?'. I couldn't picture what everything would look like in a year or two, so the ability to make plans or set goals was thrown out the window.
My time in Adelaide, where I was on an AIS beach volleyball scholarship until 2012, was the spiralling point. You know you've been given this amazing opportunity, and I loved it, I really did, and yet I struggled going to training every day in the end. I was questioning my ability and comparing myself to others. To the point where I didn't ever see myself being good enough in that environment.
It's these rattling of voices questioning your decisions, asking, 'Haven't you dragged yourself through enough mud already?'
I always had this 'big team feel' about myself, too, but beach volleyball is very much about you and your partner. I struggled coming along, day in and day out, and wasn't sure how to separate my emotions from my job. If I wasn't having a good day, I didn't know how to face my partner. If I was having a great day, I didn't know how to explain my bad days.
There are so many measurements of personal achievement and I needed outside help to reassure me I wasn't alone with my thoughts. I started seeing a psychologist and began taking medication, because I just didn't know how to process and control that spiralling of thoughts. You want so much from yourself and you want to make your family proud – I couldn't help but feel like I failed in that environment.
My counsellor had suggested that I keep a log of my thoughts, and a few years ago I went a step further and passed them on to my family. I started writing them email letters, just to provide the insight of, 'Hey, this is how I'm feeling, these are my emotions, this is a something that's happened and this is how I've felt'.
It's been very helpful. The conversation, even at the dinner table, is much more in-depth now, rather than just scratching the surface. You can share your shitty days or your bad thoughts, but then at the end of the night it can be turned into something positive.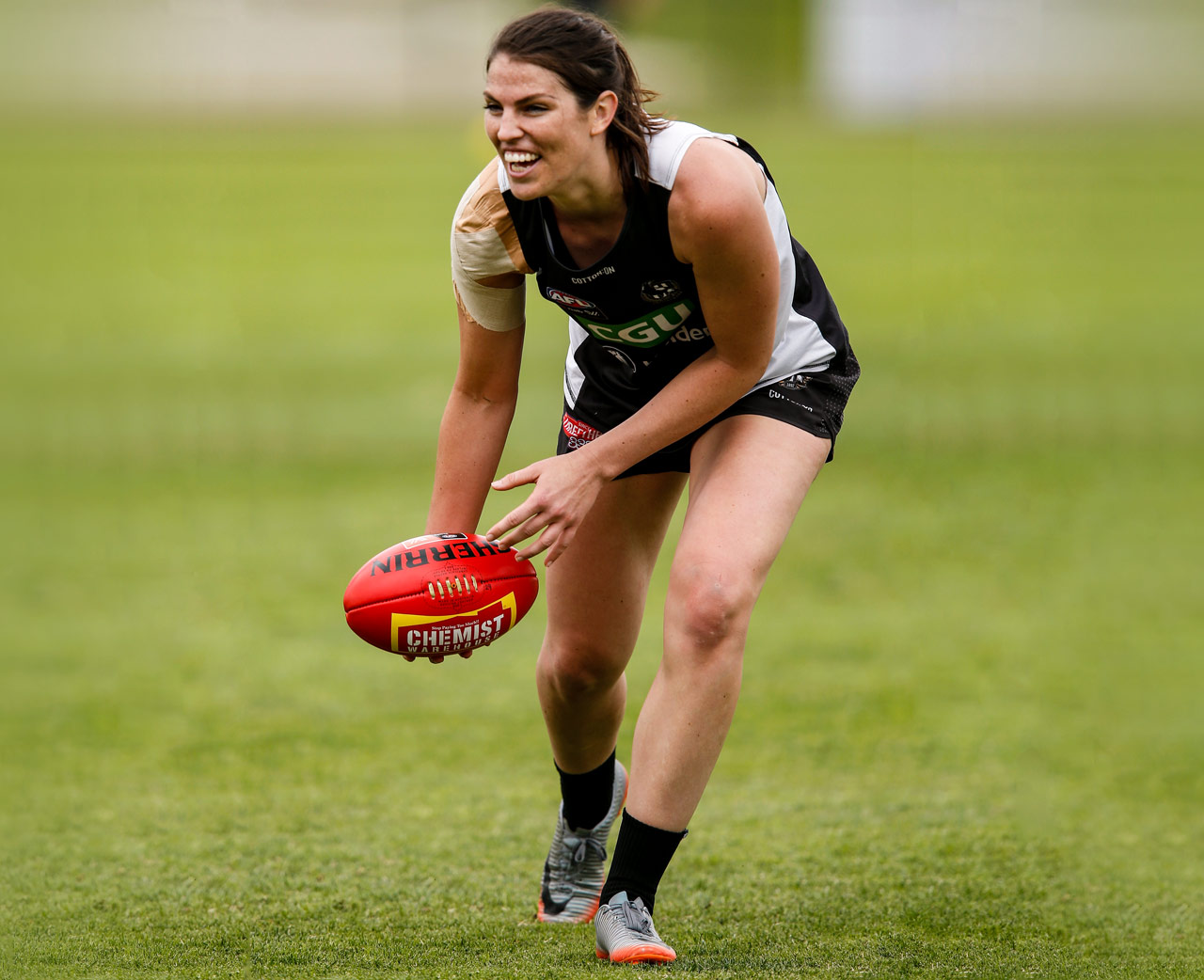 FROM GERMANY TO COLLINGWOOD
I was drawn to wanting a bigger 'family' in my team, so after leaving the AIS I got straight back into indoor volleyball with the national team. It's not a fulltime program and it's one where you need to take unpaid leave and fund yourself to participate. You do it, however, because you love it, and my performances led to the opportunity to pursue for my first indoor contract in Finland.  
In between my seasons in Finland and Germany, I came back to Melbourne and played State League netball in 2014. I did it for a bit of reconnecting, and to sidetrack my mind from volleyball and from my high expectations.
I was playing netball again with people who'd been in Super Netball – it was pretty brief, but it made me think I should maybe give it another try, and also provided that sense of regret that perhaps I'd moved to the wrong sport. Netball has grown so much, and again I felt that slight bit of failure that I maybe had made the wrong choice.
But there was a silver lining. The fitness instructor for my Ariels team then was Cecilia McIntosh, who played for Collingwood in the first AFLW season, and then put my name in the mix to Magpies coach Wayne Siekman.
I was in Germany on a volleyball contract when Collingwood offered me the opportunity. I didn't hesitate.
I was a Magpies supporter growing up. I love football. I'm my brother's brother; I've always said I admire him so much that I always wanted to be a little replica of him. His mates joke with him often about how I've made it to the AFLW with so little experience over him. They don't let him forget it!
I always wanted to play football, I loved kicking a ball in the backyard and at school. Selfishly, when the approval for AFLW was announced I was a bit annoyed that I wasn't a part of the inaugural AFLW season because I feel like that was such a great movement for women and everyone involved will never forget it. I just would've loved to be part of it.
But the opportunity did come, and I can see the attributes I have to offer from my sporting past and the fact that I have just a different outlook to add to the game. I hoped when I decided to play AFLW that I could learn the correct skills and work hard at it, and I'm getting there.
At six foot, I am deemed tall in the football world, but I am on the very average end of height in the volleyball world! A volleyballer's abilities are to jump and have an aerial influence at the net, but then to also dive to the ground and keep the ball from hitting the floor. So my instincts in footy are throwing me up in contests, then getting me dirty at ground level as well.
From netball, all the peripheral work, footwork, speed and preliminary moves to out-manoeuvre players are something I'm going to have to train a little bit more, but which have provided a really good background.
The biggest challenges are the finer football skills definitely – it's the repetition to execute again and again and again – but it's also been the 360-degree element and the amount of people on the field. You look up with the ball in hand and you've got so many options. To see the best one at that particular moment is hard when there's a sea of people ahead.
I'd only played two games of footy when I got elevated from the rookie list for the first two rounds in 2018: the big season opener Collingwood-Carlton game, then against West Coast in front of 46,000 people over at Optus Stadium, which was incredible, and my fourth game of football, anywhere.
I got dropped back down because my game-awareness wasn't quite there yet. That did take quite a lot of talking-through and understanding why, because I'd always believed I could make any team possible, and that was probably the first time I've been dropped, in any sport.
I had to understand that I wasn't just a one-year vision, that I was going to be a long-term project, but that was a bit hard to take, because I wanted it then and there.
I just had to trust the process of what my coaches were telling me; that was that they did see great improvement and that I had great drive, but I wasn't still quite there and, of course, you always do what's for the benefit of the team.
I've barely had any money to my name, I've been in debt, and my parents have helped pay off my credit cards. You're funding your own dreams and your own sport, trying to claw your way to the top.
I've been working on a lot of physicality. That's running, and endurance – coming from a 9m x 9m volleyball court to ovals which can keep changing in size – and also about my power on the ground to make sure that I can out-contest whoever's next to me. It's not about who my opponent is, but knowing that I can beat that person at any particular point in time.
I do wonder: what if I'd found footy earlier? But don't think I'd be as strong a person if that had been the case, so I have to thank the amount of hiccups that I've had throughout my career! I also know the fact that I am coachable means my skills have developed quite quickly – and to have the high expectations on myself has been a good thing this time.
I played the whole VFLW season for the Magpies the winter, which has helped my development and my confidence leading into AFLW in February. I've been listed as the No.1 ruck in 2019. I've worked hard and tried to earn that spot through my work rate and I'm looking forward to proving myself.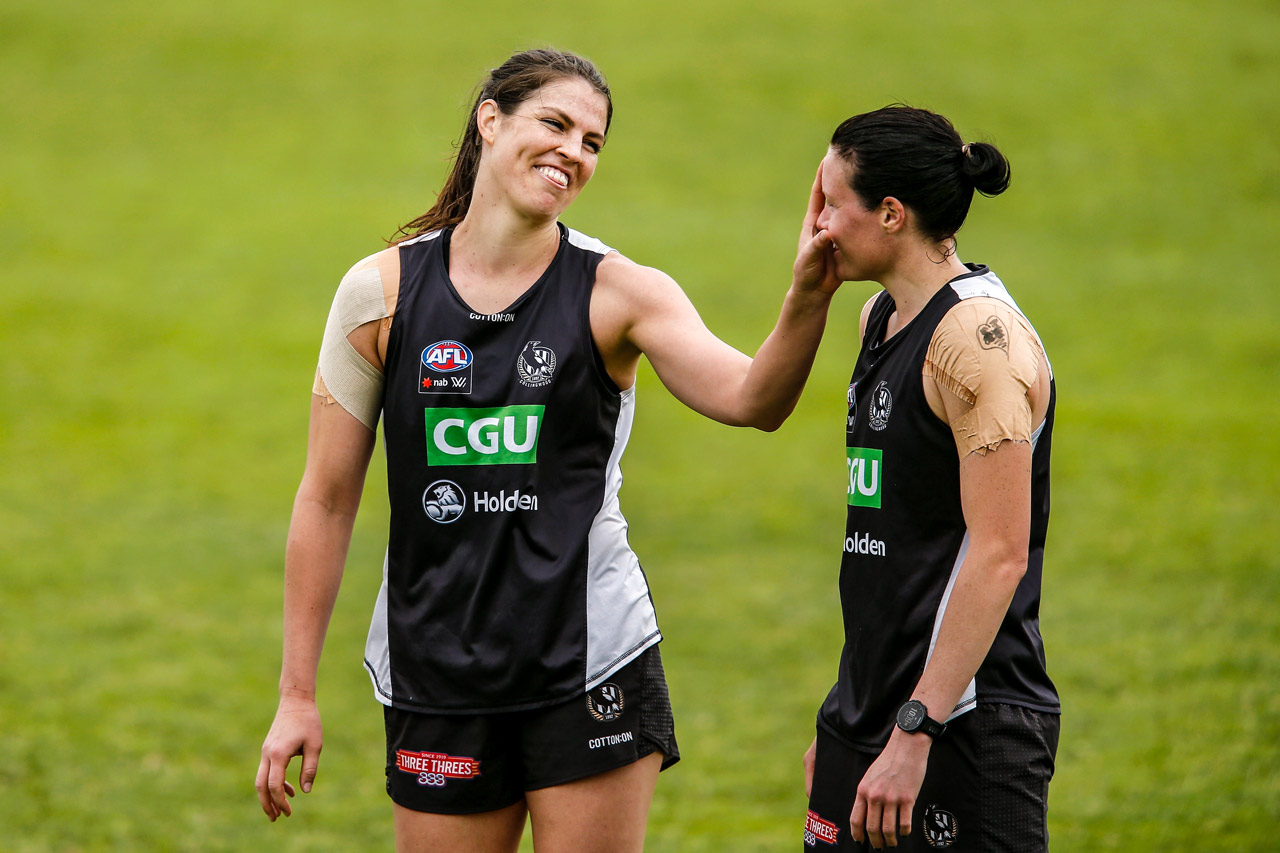 CHANGING GOALS
The biggest thing I've learnt on my sporting journey is that it's OK to change goals. As a young child, I always aspired to be great, and it was always in the back of my mind that I wanted to be idolised, just as I had to my idols.  
I wanted to be a tennis player, I wanted to be a netballer, I wanted to be a volleyballer – then beach volleyball came along, which gave me that Olympic pathway. That was the pinnacle for me, and I got to the AIS and was in the program for about three years, before something hit.
My goals changed when I was there; like many other athletes you have your reassessing points, and when you've made your pinnacle the Olympics and you realise you can't achieve that, your visions change and you have to reassess.
So I've accepted that it's OK to change direction. I know how to let things go and accept that you can have a bad day, but also that there are so many personalities in the world and you don't have to have approval or get along with everyone. I found it's when you seek that reassurance that's when things can start to spiral.
It's also about cutting yourself a bit of slack because, well, you don't know what you don't know. We're all constantly evolving, and something this year might not be the same in five years' time.
But I wouldn't change, because I'm a stronger version of myself. I can see that so clearly now. I've gone through all the shit. I've gone through enough experiences to know that there's a lot of personal development that you can take from it, and be grateful for that.
After everywhere I've been, I'm so happy with where I've ended up.
More about: Carlton | Collingwood | Resilience | Super Netball | West Coast Eagles | Women's Sport