I never thought I would play at Wimbledon. One hundred thousand per cent no.
There are a couple of reasons: firstly, I found it really tough growing up with my disability. I was OK, but then I got bullied at school and it became really hard. I don't think I'd be doing much, if anything, now if not for sport. It saved me.
I went through a tough time when I was just playing video games and eating junk food on the couch. If that kid who was embarrassed to go out of the house was told he would have played Wimbledon, there's no way he would have believed it.
I ended up playing basketball first, and I won Paralympics gold and silver medals for Australia. I'd played tennis a bit as a kid, but I never thought I'd come back to it, and then when I did, in 2013, I never thought I'd be playing Wimbledon.
Now I've won two more Paralympic tennis gold medals and five grand slams, and pulling on the all-whites for the first time is the definition of a dream come true.
I love the Australian Open, but people ask me why Wimbledon has got that thing that everyone loves. It's an intangible prestige. There's just that feeling about it, and to come here and play is so cool.
I've lobbied for 10 years to get an opportunity at Wimbledon, because my division, the Quad division, hadn't been here. To be able to play an exhibition is amazing, and I can't thank them enough. Hopefully next year it's the full tournament and then we can leave our legacy for the next generation.
I've always tried to break down barriers. Not only in my sport, but for people with a disability everywhere. We've always had this roadblock of playing at the All England Club and to have that finally taken away and get to play here, I can't believe it.
I'm loving the crisp whiteness of it. I think I look sexy in the whites! Being from Melbourne, all you wear is black. And also you get really dirty hands being in a wheelchair, so it goes on your clothes, so I normally wear dark clothes. But I'm loving the all-whites.
'THE BEST DAY OF HIS LIFE'
I don't go out there to inspire. I go out there to change stereotypes and stigmas. I just want to show the public, whether able-bodied or with a disability: be proud of who you are.
Unfortunately, there are really low expectations of what people with a disability can do. I'm just showing you can still do whatever you want to do. You can still play sport. You can still get a job. You can still go on a date. You can still travel. You can still do things that people take for granted, but there's this misconception that we can't.
I was in an advertisement for a bank back in Australia, and I've got videos of little kids hugging the TV every time that came on, because they saw someone like them. When I was a little kid and getting bullied, I never saw anybody like me. Not on TV, not in newspapers.
I wanted to be Pat Rafter, but I couldn't be Pat Rafter. Because I can't run. Hopefully for this next gen, there's someone they can be, and they don't have to be embarrassed about their disability. That's pretty cool.
It's tough to say what I'm most proud of in my life, but probably winning the singles gold in Rio. I gave up everything: basketball, a career, so that was pretty awesome. I loved winning gold in basketball, loved playing a team sport, but when you're out there by yourself it's all you.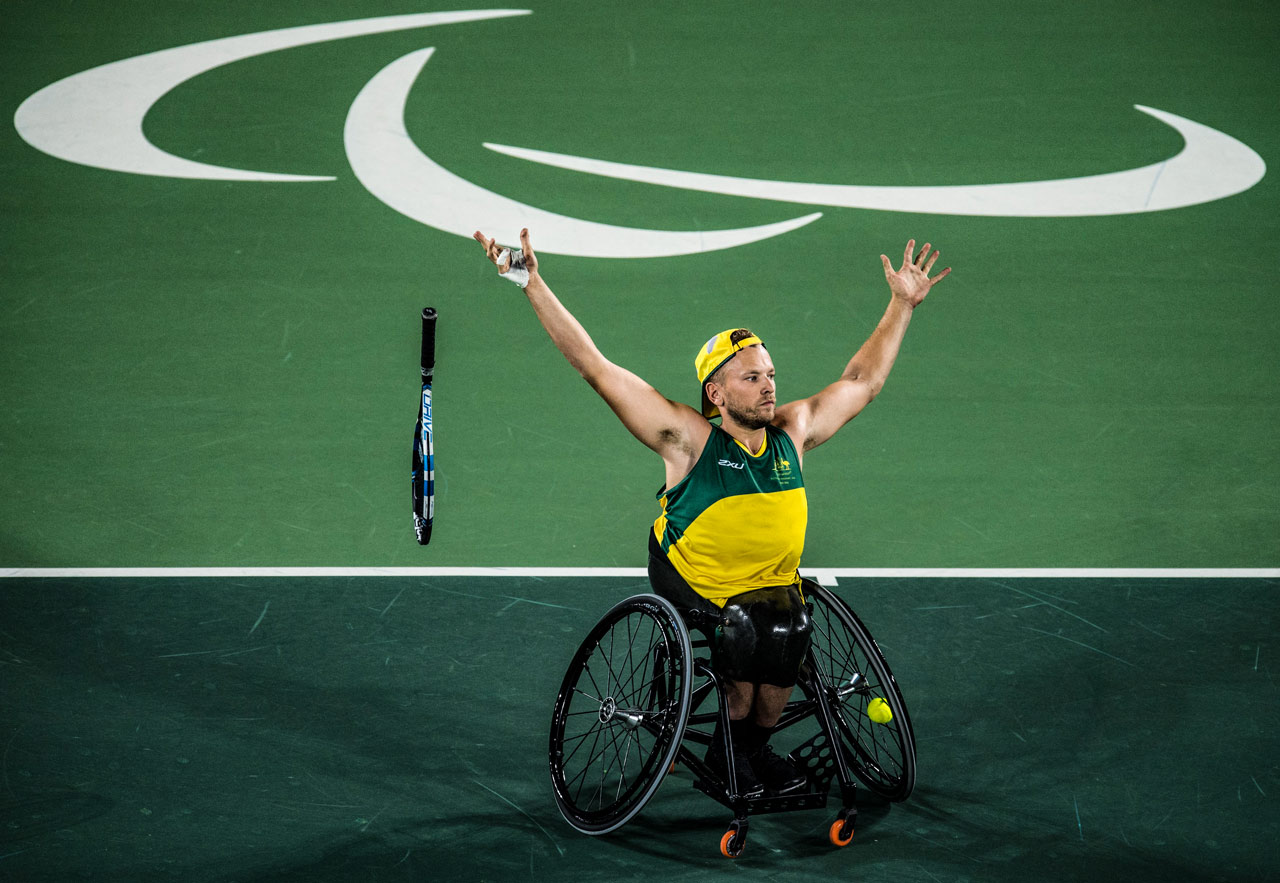 The second thing is starting the Dylan Alcott Foundation to help young kids with disabilities. This year, our first fundraiser was a music festival, Ability Fest. It was for anyone – no matter your race gender, sexual orientation, abilities. Of the 6000 people who came, 500 of them had disabilities, and 300 of them had never been to an event of any kind before because of lack of access or understanding.
A mate of mine is a doctor in ICU, and he had a 21-year-old patient who was about to pass away. He had muscular dystrophy, which is a pretty heavy disability, and he was pretty sad and my mate noticed he had an Ability bracelet on, and my mate said, 'Did you go to Ability Fest?'. His face lit up and said it was the best day of his life.
It's pretty cool to be able to provide that opportunity for someone, but what I learnt was that it was also easy: it just takes a couple of emails and a bit of money to make things accessible. We had elevator platforms, more bathrooms, sign language on stage for deaf people, sensory areas for people with autism in case the music got too much.
People just don't think about providing those things. But it's not hard. For people to say it was the best day of their life was so cool, and I'm so lucky that I do lots of things. What I don't do is sleep enough.
THE BIG BREAKTHROUGHS
I wouldn't change my disability for the world. I really wouldn't.
I used to say that the Dylan in the wheelchair and the Dylan that walks is the same Dylan, but that's not true, because the Dylan in a wheelchair is a much luckier, better version of any other Dylan.
If I could walk, would I have just played at Wimbledon? Maybe. Probably not. But I have. So who cares about what I could have done: I just worry about what I can do and what I'm doing right now.
I want more people with a disability to be proud of their disability, as well, because that's one of the reasons I've had such a happy life: because I love who I am. I get it; it's hard having a disability sometimes, and we need society to be more inclusive. But if you're proud of who you are, it goes a long way towards that.
As a sport, we've come so far. On Australia Day, after an early finish to the Federer-Chung semi-final, there were four matches they could have moved onto Rod Laver Arena, including myself and my partner Heath Davidson's doubles semi-final.
Ten years ago, no-one cared about wheelchair tennis. If you'd told me that Channel Seven and the Australian Open would put a wheelchair tennis match on TV, on Rod Laver, over a mixed doubles that I think Martina Hingis was playing in, I would have said, 'Are you kidding?'. But it happened.
I've always tried to break down barriers. Not only in my sport, but for people with a disability everywhere.
There were 12,000 people there, including Eric Bana and Mark Webber, but also a million people watching on TV. That was huge, and for the Australian public to go, 'Oh my God, these guys hit the ball hard, and it's good to watch', was so special.
Then there was the ANZ. It was amazing for such a huge company to put someone at the front of their brand and not once say, 'He's in a wheelchair'. They didn't care. They just said proud supporter of Dylan Alcott and Australian tennis. The disability was a side-product. It didn't matter. They loved who I was, and it's never been done like that. It was a life-changing two weeks.
I'm probably biased about the ad, because it was on a lot, and that does get annoying, but for some reason people seemed to like mine. The tennis players, even Roger Federer, they were like, 'Mate, loved your ad'. And they see a lot of ads.
The Newcombe Medal was another big one. Australia has some great Paralympic athletes. People like Kurt Fearnley and, in the past, Louise Sauvage. Until 2016, no disabled athlete had ever won 'The Major Award'. It was always 'the athlete with a disability' category.
The main award was always reserved for the able-bodied athlete. For the first time ever, Tennis Australia said, 'Nuh, he's the best tennis player, we don't care that he's in a wheelchair'. That shattered the glass ceiling and led to RLA, full coverage.
It just keeps progressing, and it's not just me doing that. I mean, I'm part of it, but it's everyone else embracing my ethos, as well. I don't force it on people. I'm not a preacher.
And I think it's contagious when you're proud of who you are; if you're proud of your disability, people get around that. They go, 'Yeah, we don't care that he's in a wheelchair; we going to give him the opportunity, see what happens'. Then you take the opportunity and they go, 'Oh, that works'.
selfies in north london
One of the hardest things for people with a disability is dating, and how all of that works. I love talking about it in the media because the No.1 question I get asked is: Can you have sex? How does that work? Can you have a partner?
People are scared to talk about that. Why, though? And of course you can. That's one of the biggest fears of people who have a car accident. They're like, 'I'm done'.
You're not. But there is that myth, so I've been really lucky to have supportive partners in the past. I'm single at the moment, at the dating ATM, and I get a lot of people with disabilities messaging me online saying, 'Thanks for talking about that'.
I wouldn't change my disability for the world. I really wouldn't.
People reach out to me a lot. How well known am I? How do you answer that without sounding like a wanker? It's pretty overwhelming. I reckon maybe 20 people a day come up and get photos. A lot of people.
I was in North London watching the World Cup the other day. Five people came up and asked for my photo. In London. Even people in the pub were going, 'Oh, Dylan Alcott, can I have a photo?' Amazing. Scared the crap out of me, to be honest. I couldn't believe it. I know it happens in Melbourne, but for it to happen in London was pretty cool.
My mates hate it because I always stop and say 'G'day' to people. But also, hopefully, that breaks down barriers, because if someone knows someone with a disability, they might take them out.
I learnt a valuable lesson when I was younger. I was at a nightclub and an AFL team was there and this young guy went up who just idolised him, and they burned him, and it just broke my heart. I never want to do that.
What I find weird is when people are so nervous; when people come up and ask for a photo and they're shaking. I'm like, 'What are you shaking for?' You never get used to that. It's humbling.
'G'DAY DUCHESSES, I'm DYLAN'
I'd had a hit at Kooyong, but never played over here on grass. It suits my game. I'm really fast in my chair, which helps, because grass is a bit slower to push on, so it's an advantage for me. I just love it. I think it's my favourite surface now. Already.
I played with Lucas Sithole, a South African, against Andy Lapthorne and David Wagner, the two top doubles players in the world. Lucas is pretty impressive. He's got no legs and one hand, so he's a triple amputee, and he's a cool guy, as well.
We hadn't played together for four years, and we didn't win, but I had 50 mates come from Australia, there was a big crowd, a great atmosphere, and the other guys played so well. I couldn't have enjoyed it any more.
I really can't say enough about how we hope it's a full draw next year, singles and doubles. There was big-serving, big-hitting, good tennis, so no reason why it shouldn't be.
I met the Duchesses, too. They were lovely! I didn't know what to say to them. They said hello, and I said, 'G'day, I'm Dylan'. Aren't you supposed to say, 'Your Royal Something?'. Well, I didn't and they said, 'Hi, I'm Kate', and 'Hi, I'm Meghan'. They just introduced themselves back.
I think a lot of people might be scared to talk to them. We talked to them for about three minutes, about Australia, about tennis, about how I looked in the whites. They thought I looked great. Sexy! I had a great time.
I just love showcasing Paralympic sport. Not only does it show what people with a disability can do, but I love how it's not the inspirational version of tennis. They report the scores like it's a real contest. It's not like, 'Oh, look at the little wheelchair guys having a hit'. It's legit.
If people patronise me in that sense I say, 'You can go and watch something else, because I train four hours a day every day, dominate, serve hard, play big'. So I don't need that 'Good on you for having a hit' attitude. It's more than that.
I just hope that I get multiple opportunities to come here and win a singles Wimbledon singles title, like Pat Rafter and Lleyton Hewitt and Pat Cash and Evonne Goolagong and some of the Australian legends. I'll never love anything more than the Aussie Open, it's my home slam, but Wimbledon's the mecca.
Today I was sitting at a table with the 'Princesses' Meghan and Kate. Billie Jean came and said G'day. At breakfast, Rafa came and said hello. It's almost becoming normal. Which is how it should be. I feel like I'm among peers. Everyone's been so accepting and I don't get lost for words often. But I am. It's been awesome.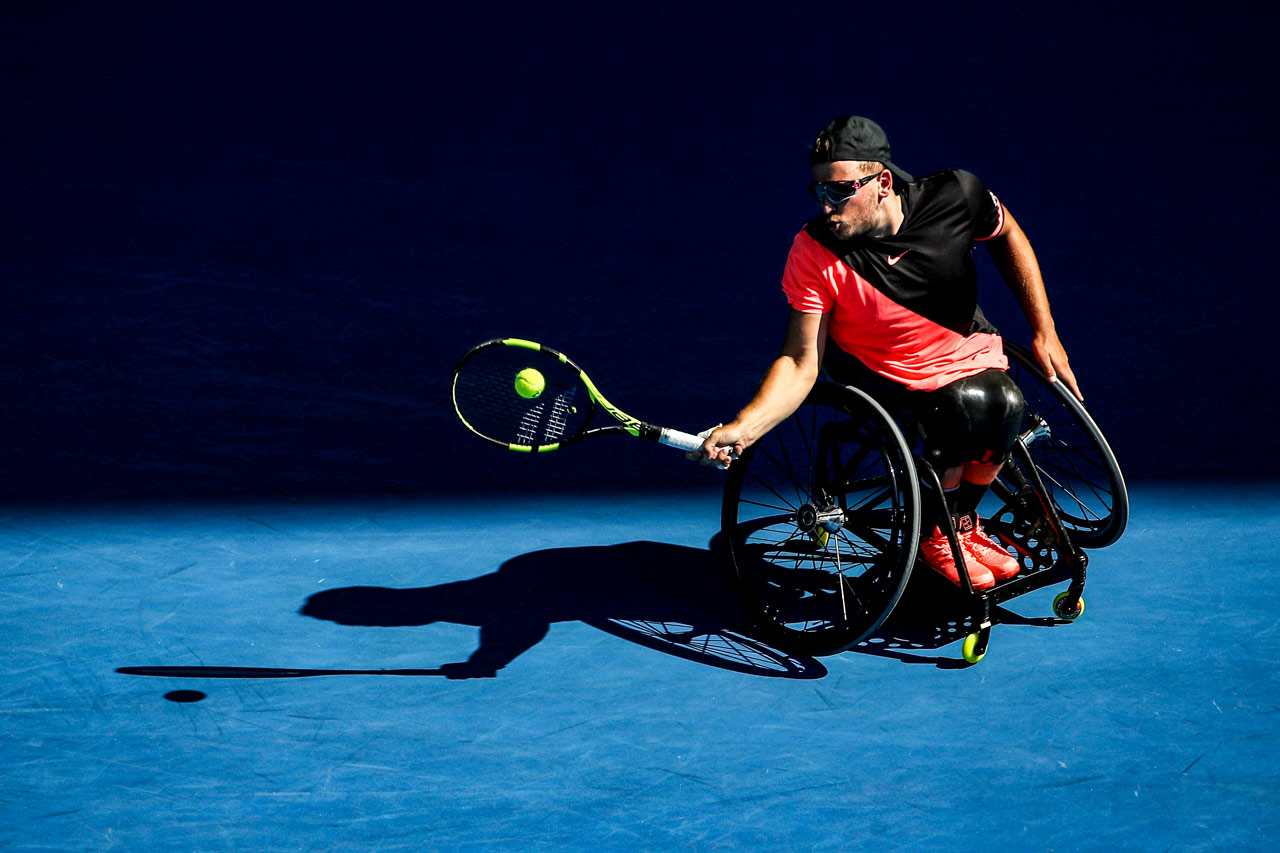 HATING LIFE VS LOVING LIFE
I've still got a lot of things to do. I really want to build up my Foundation to help a lot of kids. I want to be a big deal in the media landscape. I really want to have my own talk show one day, in Australia or overseas. There'd be a bit of wisecracking, like James Corden.
I want to win Wimbledon and want to win more Paralympic gold in Tokyo. After that we'll see what happens. I keep thinking I'm getting old, but I'm still only 27. You keep thinking you're running out of time, so I don't know when it's time to jump ship and give up tennis for media, but I'm doing the breakfast show on Triple J and juggling them all at the moment.
I want to go global. I want to do some acting as well. All kinds of stuff. Summer Bay, maybe? Get me on Home and Away! Get me in Hollywood. I'd love that. How good would that be? There's so much I want to do, and everything seems to be happening for a reason, so I'm just going to keep putting myself out there.
Without sport, I would still be the fat, embarrassed kid on the couch. Honestly. I would be. Who knows if I'd still be sitting here? I hated my life. Seeing people that were like me was the biggest thing. I didn't know anyone else in a wheelchair, or who had a disability, so it helped meeting Heath, and seeing adults who had partners.
Sport's so powerful. You get fit. Confident. Any young person, disability or not, just get out there, exercise, meet people, join a team, because even if sport's not your thing you just make friends.
You don't have to be a gold medallist or playing Wimbledon. Play local E-grade for all I care. It's just a great avenue to get out there and be social, and especially for kids with a disability, because they often don't bother.
More about: Disability | Kurt Fearnley | Para Sport | Paralympics | Resilience | Rio 2016 | Rod Laver | Roger Federer | Tokyo 2020 | Wimbledon