Dean Hewitt - Contributor
Don't call us janitors on ice
Don't ever tell me curling is not a real sport.
I've had people come up to me and say that, and I've even heard someone describe us as "janitors on ice".
If you think curling's not a real sport, I challenge you to give it a try. I'll put you through the paces on the ice, and then we'll see how you feel. I'll give you the feel for a whole game and what it entails, and then you can make your judgement.
If you want to say it's not a real sport after that, fair enough, but I'd just like to see you do it first.
I'll be quite honest. Not so many years ago, curling was a sport where people would drink on the ice and have cigarettes. It wasn't a fit person's sport. But as it's evolved like a lot of other sports, it's turned into a very physical game.
The people that we're watching at the 2018 Pyeongchang Winter Olympics right now are some of the fittest athletes that you'd ever see. These guys are lifting crazy weights in the gym and the capacity of what they can achieve now is just unbelievable.
Probably the biggest thing in terms of fitness for curling is sweeping the ice, which you do to affect the speed of the rock. You can sweep up to 1.5 kilometres in a game, and that's a lot.
Sweeping is like sprinting with your arms. You can liken it to swimming, and we're sweeping for up to 25 seconds, flat out, as hard as we can go. Then we have a minute's break and go again for 25 seconds, and we can do this up to 66 times during a game.
I promise you, it's not easy.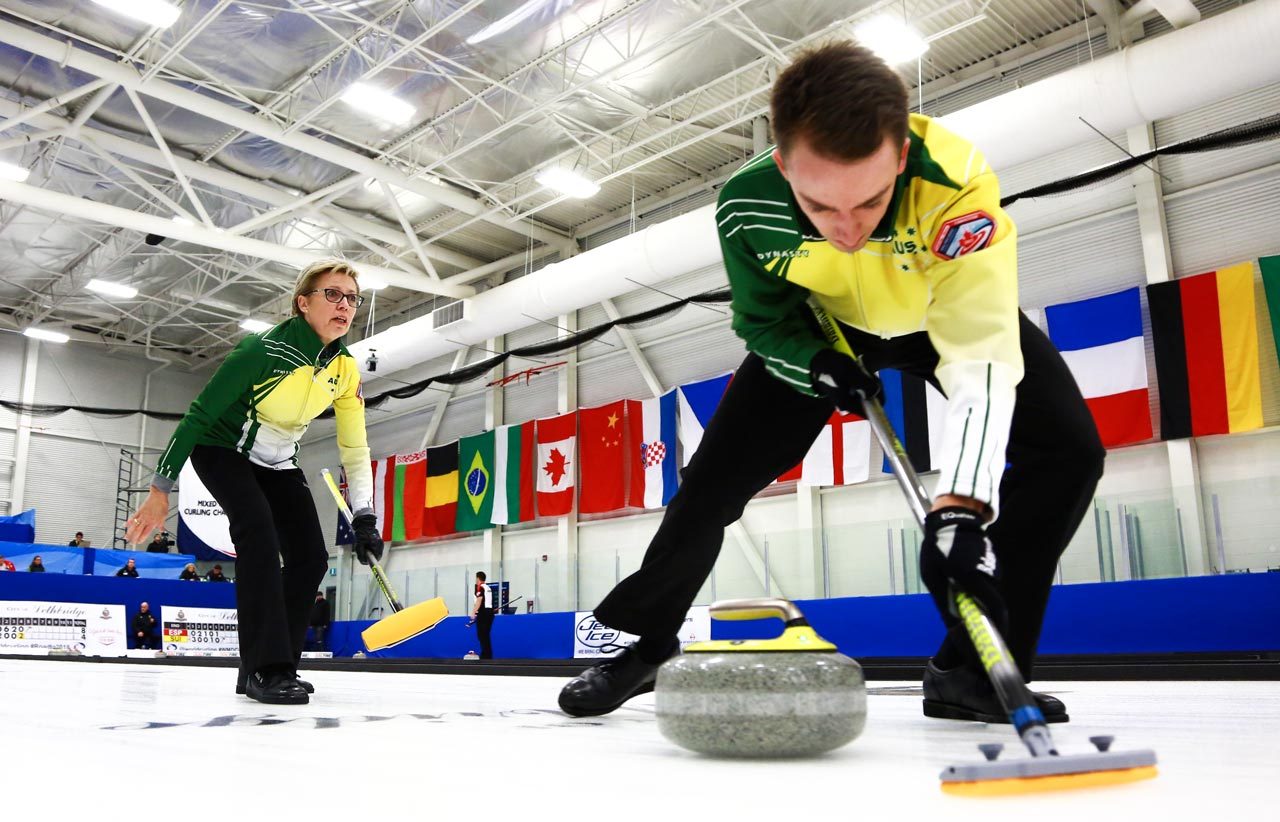 AN UNUSUAL PLAYING PARTNER
I'm 23. I live in Melbourne and have just finished a Master's degree in clinical exercise physiology at Deakin University. I follow Essendon in the footy. I've stuck with them through thick and thin. I love all sport, and used to play cricket, but not so much any more with curling taking over my life.
My mum's from Canada, where they've got over a million curlers and thousands of clubs. She started curling when she was 16. After meeting my dad in her twenties, she came over to Australia 30 years ago. He started curling because of her.
I've pretty much played curling ever since I was five years old when I threw my first rock down the other end of the sheet. I don't think it made it all the way, but ever since then, I've loved it.
When I was younger, I would push small rocks across the lino floor at home. At the age of nine, I played in my first bonspiel – that's the word for a curling tournament – in the Victorian league. I won, which was great, and from then on I started curling more regularly.
When the Icehouse opened in Melbourne – or the O'Brien Group Arena as it's now called –  we started curling once a week, 16 weeks a year. That's still not comparable to overseas competitors who curl six days a week all year long, but it was still a huge step forward.
The ice here is still not close to the conditions you'd hope for. I liken it to playing lawn bowls on the beach. You need dead flat ice for curling but we share an arena with skating. It's pretty tough in Australia.
It's like sprinting with your arms, flat out, for 25 seconds. After a minute's break, you go again.
Despite that, we've had some great results lately in international competitions. Our men's team beat the Koreans, and they're going to be at the Olympics. Hopefully from here on in, we can improve on that. Australia has never had a curling team at the Olympics although my dad competed in 1992 when it was a demonstration sport.
I'm currently working towards the World Championships in April. I'll be competing in the mixed doubles, which is in the Olympics for the first time this year. It's a big opportunity. My partner is my mum Lynn, who's 59.
There are not many sports where you have the opportunity to play with your mum. It's quite amazing! I've taken on the role of sweeping, so in that way I've probably surpassed Mum, but in throwing ability, I've got full confidence that she will make any shot that I can.
We have different dynamics out there on the ice. I'm quite serious, and I like to be honest, while mum prefers pure positivity and being a bit more light-hearted. It was quite tough in our first few competitions together, but we've slowly worked out our differences and worked out a way to play together, and I think we're improving.
YOU'VE NEVER SEEN SPORTSMANSHIP LIKE THIS
Built into our rules is a clause about the spirit of curling, and you have to abide by that in all games and in all situations.
One way you might explain it is that it's about being a gentleman, and not putting down others or doing anything that goes against sportsmanship.
For example, if you touch a rock while you're sweeping, that rock should be removed according to the rules of the game. But nine times out of ten, the curler will say "I touched that rock". Even on a crucial shot when nobody notices or hears the touch, they'll say that.
In cricket, you might see a batsman walk occasionally, but in curling, it really is nine times out of ten that the person will call it.
Often, when you accidentally touch the rock just before it stops, you'll tell the opposition and they'll say "that's fine, that's OK".
That demonstrates the spirit of curling, the sportsmanship of it. We've all touched a rock at some stage. For the opposition to say "that's OK, we'll leave it where it is" really demonstrates what curling is all about.
The other thing about curling is it's a sport for all ages. We've got people from the age of five to 80 at our club. In fact the Victorian Curling Association is having a Come and Try Curling event on February 12 at O'Brien Group Arena.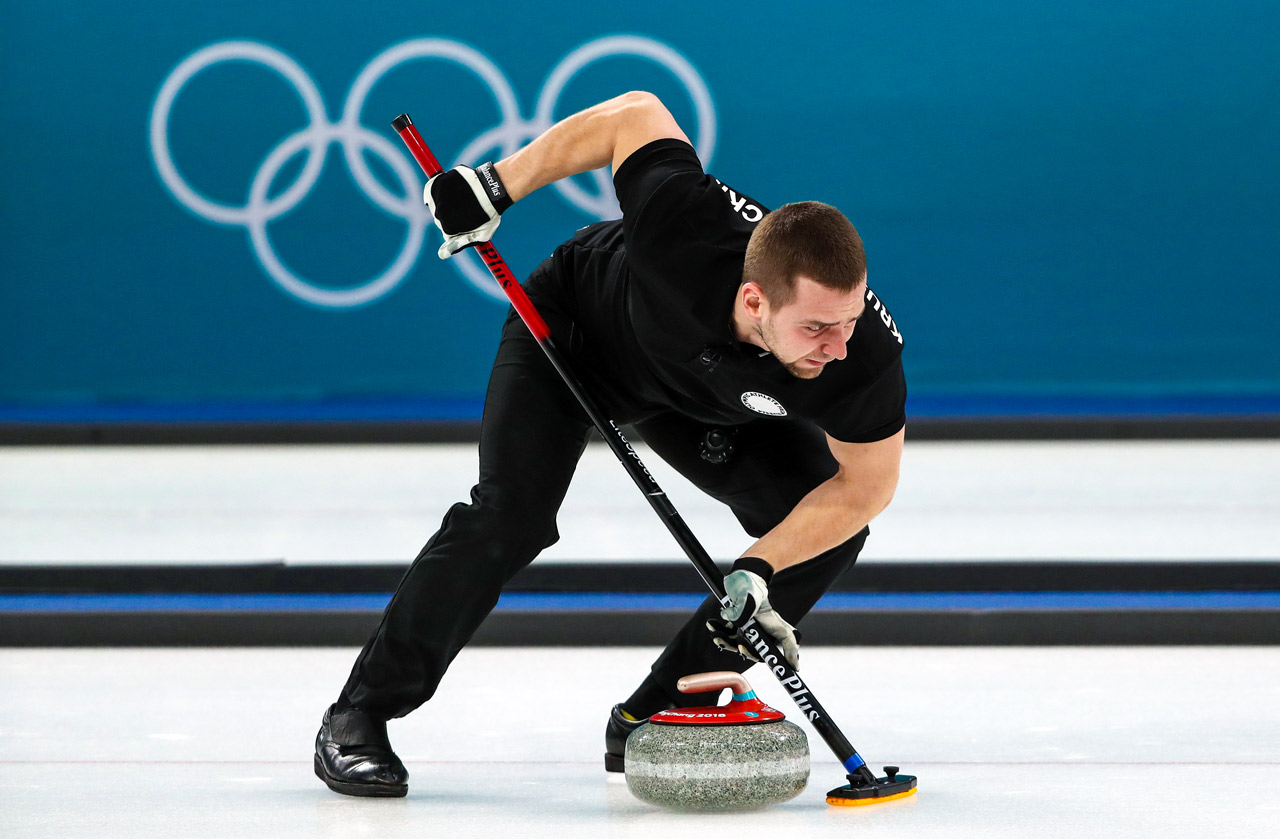 A CLEAN SWEEP
People often ask what's more important in curling – sweeping or throwing the rock.
If you're a good sweeper, you can make the rock travel further by two metres. That's not all that much. It still means the thrower has to be dead accurate.
Sweeping involves exerting as much force as you can onto the ice with the broom. You have a lot of downwards pressure and a lot of quick movement and, by doing this in front of the rock, you will actually make it go further and straighter.
If you sweep in a certain direction, you can actually make it curl more or curl less. If you ever watch curling, there's an arc to the the way the rock moves depending on which way you spin it. It might curve left or right just like a lawn bowl, and by sweeping you can slightly adjust that curve.
One of the hardest things is that while you're being so physical, you're making judgement calls at the same time. Sometimes you're running next to the rock while sweeping, and you have to make a call on whether that rock is going fast enough or slow enough.
Not so many years ago curling was a sport where people would drink on the ice and have cigarettes. It wasn't a fit person's sport. But as it's evolved like a lot of other sports, it's turned into a very physical game.
In some situations you have to draw to a spot 30 metres away and it has to end up basically on a coin. It has to be millimetre perfect, and you have that responsibility as a sweeper to put it exactly where you need it.
But even with the best sweeper in the world, if a thrower misses by three inches in terms of where they're aiming, they're still not going to make the shot.
There are good and bad brooms just like cricket bats. Even as recently as a few years ago, people were using brooms that weighed well over a kilo. My broom now weighs 280 grams. It used to be like moving a shovel around but nowadays they're as light as air.
TRAINING TO WIN
These days I'm at the gym five or six days a week as we're getting closer to the bigger competitions and the World Championships. I'm training hard because at some of these competitions, you're playing two games a day and covering upwards of 10km a day on the ice, seven days in a row.
Meanwhile, I'll be glued to the Olympic curling on the Olympics on 7 app. Hopefully, that'll help us prepare for the mixed doubles Word Championships because we've played some of these teams before and we'll be playing them again.
I'm still looking for a full-time job at the moment, but it's a bit tough when I'm about to take six weeks off in April to go curling at the World Championships.
I've been working casual shifts at Ritchies IGA. They help me out when I've got the time to work, which is great. I work in a customer service role in the Lenard's department which is the chicken area. So I'm preparing food and serving it to customers, and stocking shelves as well.
Every night I have to walk into the fridge for about half an hour. So I'm working in a chilled environment, I get my acclimatisation! it's probably around zero degrees in there, which is pretty close to an ice rink.
It's pretty funny. I do a bit of sweeping in there too when I'm scrubbing the floor.
More about: Winter Olympics