He tried to shear me like a sheep
Former Manly NRL cult hero David 'Wolfman' Williams talks about his famous beard and playing for the Blues and Australia in this extract from the Talking with TK Podcast.
If you ask the beard, it was always there.
But the 'Wolfman' name itself? I didn't hear it, but I've always understood it to be Matty Johns. It was my first game in 2008 and someone in commentary said, 'How does a teenager grow a beard like that?'
Someone pulled them up and said 'He's not a teenager, he's 21'. So they said, 'He's not a teen wolf, he's a wolfman,' and it's stuck ever since.
It was a disgusting beard. Wispy is the best way to describe it.
Of all the things I've grown since it was probably the worst, which includes a mullet.
I started growing it straight after school. I started my rugby league career on minimum wage so I got a job at Manly Leagues Club. I said, 'What about the facial hair?' They said, 'If you keep it tidy you can keep it'. I said, 'Cool, I'll never shave it again'. She didn't laugh at that.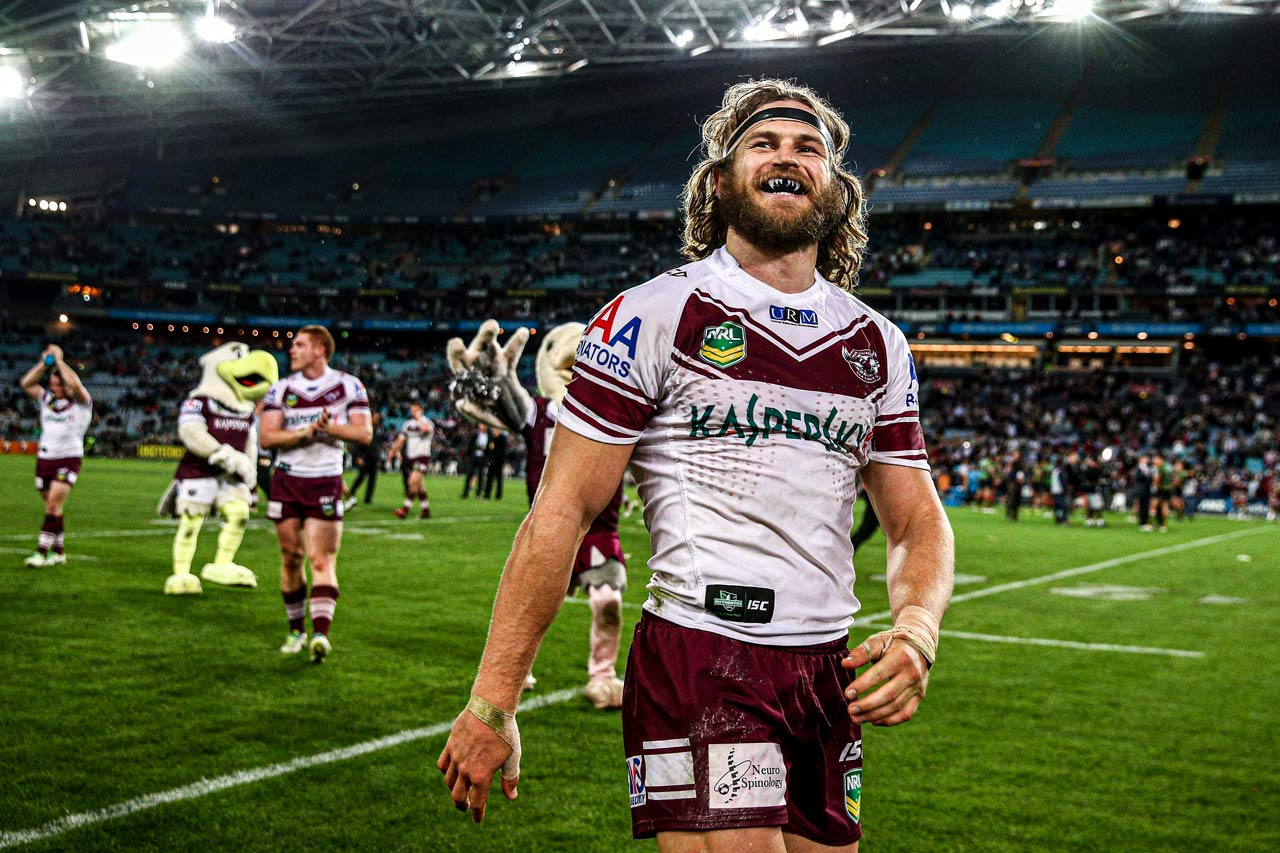 Michael Robertson shaved it off after the 2008 grand final. He said, 'I've had enough of this'. Came straight over and jabbed me. I've still got three scars from where he tried to shear me like a sheep.
Out of everything I've grown, that was a third of the thickness and you could see straight through to my jawline. It wasn't anything to be proud of. No wonder they thought I was a teenager.
I've had more fun with it in recent years and I have some business cards now where I've put my headshot from 2011, '12, '13, '14 and '15 and they're all different styles. I'm using it for good now, as I'm involved in Beard Season, a charity similar to Movember, but melanoma-based.
I guess I became a cult figure. Everyone knew the beard. It was the beard they liked, not the football.
DOWNSTAIRS WITH A MULLET
I played my debut in 2008. I remember the jersey presentation up in Brisbane from Noel 'Crusher' Cleal.
Crusher was great for me that year and sometimes you only appreciate stuff after the fact. He kept coming in and giving me a little tip, and that was it and I made sure I did it.
The simple tip was 'early touch'. Just get in the game. I remember games we didn't touch it on our side because the left side was dominant, a lot of the ball went that way.
What did winning a grand final in my first season mean? Party! The thing about that final is it just turned fun. We were in the thick of it until about 20 minutes to go, then we ran away. Beaver scored when he came on, so all mayhem was breaking loose.
I wasn't that awestruck by what happened, looking back. It brushed over me pretty easily. I remember doing a few interviews afterwards and I was just like, 'Oh yeah, just another game and that kind of shit.'
I had an old little flip Samsung and that broke or something. I had no idea.  While we were celebrating one of them – Robbo or Watmough – said, 'You made the Australian team'. I was, 'Yeah, piss off mate. I'm going to get a drink.' We had a media thing downstairs, all the rough heads.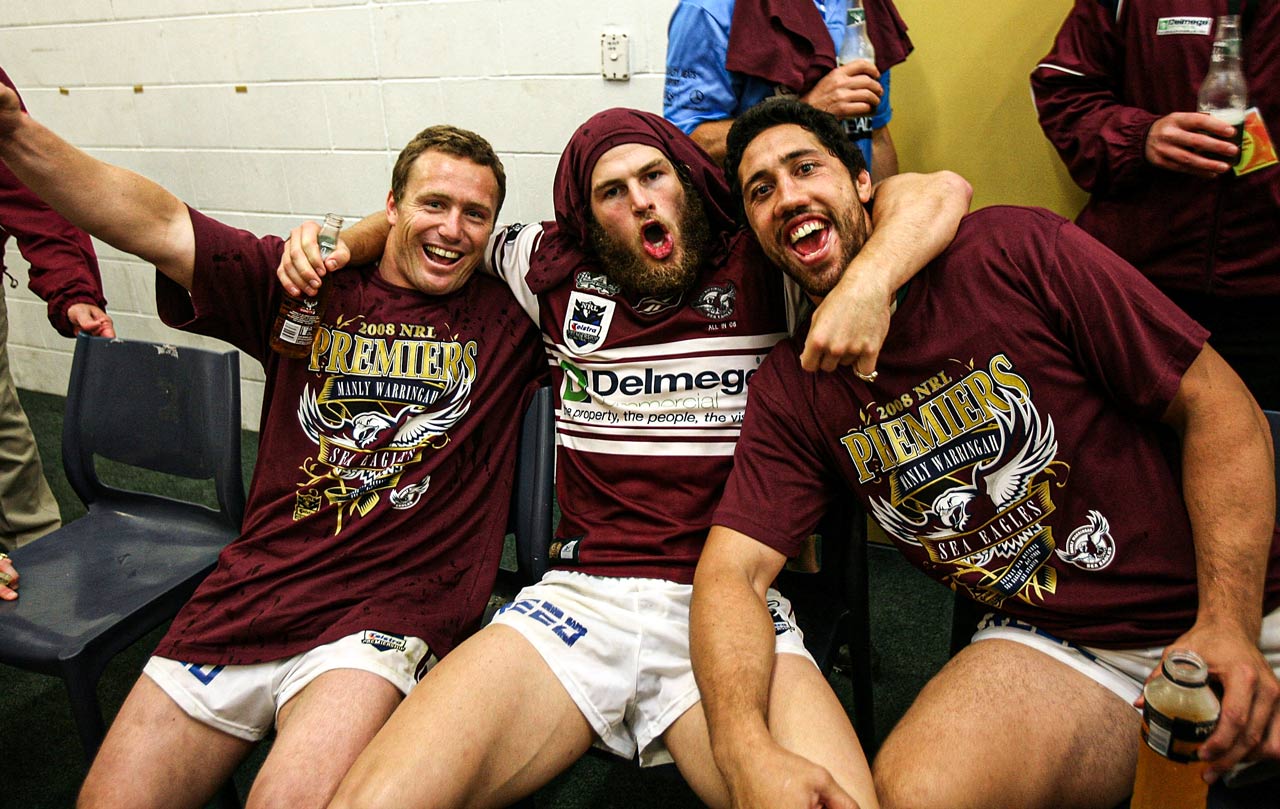 My parents found out on TV because I didn't have a phone. And they probably didn't recognise me either because Robbo had just sheared me.
I went downstairs with a mullet. I went from Wolfman to mullet man. 
I scored three tries on debut for the Kangaroos in Townsville, but it should have been four. I dropped the first one. I was playing outside Brent Tate and I replaced him in the final. But I don't remember it because I got knocked out.
That World Cup we trained under Ronnie Palmer. He was fantastic. We were in the Emus, so the reserves. You knew you were playing Papua New Guinea, to give the main guys a rest.
You get flogged at training, go out, get flogged, go out. That was literally our run. I'd never been fitter. Both piss-fit and fit on the field.
Ricky Stuart was the coach. He was good. I had Craig Bellamy for Origin later as well. You could see if you had them for a year it would be intense, but it's rep footy for two or three weeks and they were both great for me.
More about: Craig Bellamy | Grand Final | Kangaroos | Manly Sea Eagles | NSW Blues | Rugby League World Cup | State of Origin