David Patrick - Contributor
'Ben, why are you quitting footy?'
Eight years before Ben Simmons won the NBA's Rookie of the Year award – and five years before I coached him at Louisiana State University – I was the idiot godparent who asked him, 'Why are you quitting footy?'
Ben was heading into Year 9 at Box Hill Secondary College and he was so big and fast that his AFL prospects were taking off. He'd played a couple of seasons with Beverley Hills in Melbourne's eastern suburbs, winning the Yarra League best and fairest in under-13s. He would have been a great full-forward or ruckman.
But he hated playing out in the cold all winter when he could have been in the gym playing basketball.
Before Aussie Rules, he'd also been a good rugby league player up in Newcastle. I think footy helped him with his basketball. He plays a physical game for his position as a point guard, so AFL and rugby league definitely gave him useful skills.
But Ben's real passion was always basketball. And with the influence of his dad, Dave, he wouldn't have had a choice anyway!
It was a very proud step in the journey this week with Ben being named Rookie of the Year. Like when the Sixers took him with the first pick in the 2016 NBA Draft, we kind of knew it was coming but the moment his name was called out was icing on the cake.
As good a year as Donovan Mitchell and Jayson Tatum had, they came on more towards the end of the season. Ben played well from start to finish and he excelled in all areas of the stat sheet.
And if you take into account the turnaround in the Philadelphia franchise, the 76ers won 24 more games with Ben playing than the previous season. That showed his worth, whereas the Utah Jazz and Boston Celtics had already been playoff-calibre teams.
THE BEGINNING
Ben had a ball in his crib from right when he was born. He was always the kid who was tagging along behind his dad, tagging along behind me or his older brothers – and he was always dribbling a ball.
His dad had Ben playing in the men's league in Newcastle when he was 10, 11 years old. He's been playing against bigger, older guys his whole life. That's how he ended up being a point guard, because his dad had him dribbling that ball around from the start against men.
Those lessons have paid off. We're seeing the results today.
In Australia, players get taught the fundamentals at a young age even better than in the US. In the States, we don't have elite squads, junior state teams, whereas in Australia there's a huge emphasis on fundamentals and team basketball from a young age.
Being able to pass – we've seen how important that has become to his game. It was a great foundation for Ben, coupled with the athletic ability that came to the fore when he came to the US.
I was the idiot godparent who asked him, 'Why are you quitting footy?'
But one of the reasons that Ben left Australia was that he didn't feel he was being played in the right positions, where he was most capable. Australia just doesn't have 6'8" kids walking around everywhere who are able to handle the ball, so he was thrown into the post at a young age despite wanting to be a point guard.
For Year 10 (sophomore), Ben joined Montverde Academy: arguably the best basketball high school in the US. The team was so stacked at that point that a young Joel Embiid actually transferred schools because he wasn't getting to play a whole lot!
There were future NBA players in Dakari Johnson, Devin Williams, D'Angelo Russell. They were loaded with talent.
As Ben competed with those kinds of players and gradually started to dominate some of the best teenage players in the world, the light went on: 'I think I'm as good as some of the best players in US high school and if I am, then it gives me a shot to play in the NBA'.
ONE & DONE
By the time Ben was ready to leave Montverde and enter college, we knew he had the chance to go to the NBA as a lottery pick – perhaps even No.1, as ultimately happened.
I knew he had a chance to be No.1 because of his size, speed and ability to rebound above all else. In the NBA, everyone puts a huge emphasis on rebounding and ultimately, his numbers as a college freshman were crazy.
Dave Simmons and his family are a loyal group; they've been part of my family for 25-plus years. They wanted somewhere where they could trust that their son would be looked after in his one year of going to school. I was working as an assistant coach at LSU. They trusted me.
Although he's confident, Ben is a quiet kid. He and his family wanted someone who would continue his development towards becoming an NBA player.
Doing it the right way, for the right reasons.
I know Ben didn't want to go to college but I think he enjoyed it there for the most part. He made some great friends his own age, rather than going straight into the NBA environment with grown men focused on their job and supporting their families. Some of the guys he hangs with are still guys from Montverde.
I know Ben feels that college kids are somewhat taken advantage of in NCAA sports. But there's also the flipside of the free marketing – people pay millions to get the exposure he got as a kid.
He was on billboards before he even got to campus, his jersey was on sale in the stores. When you see the kind of money that other people are making because of you, it can be hard. But I think it worked out for all parties.
One of the reasons that Ben left Australia was that he didn't feel he was being played in the right positions, where he was most capable.
Plus, Ben got a taste of some aspects of the game that held him in good stead for the NBA.
We had what was perceived not to be a great year with Ben there. We won 19 games, lost 14. Ben only lost one single game in three years of high school.
He hadn't experienced much losing. It's easy to be a winner and it's hard to handle losing. I think it was good for him to experience that. As the star player, the storyline went that it was his fault when we lost. Sometimes he got accolades when we won, sometimes more criticism.
He had to shoulder all that pressure. I have no doubt that it got him prepared for what he's had to endure in the NBA.
From the outset at LSU, Ben was hailed the best player that the Tigers had had since Shaquille O'Neal. He was already getting comparisons to guys like LeBron James and Magic Johnson.
It was a taste of NBA-style hype – and really, it never fazed him.
I don't think anything burdens that kid very much. He's a good poker player, put it that way. He doesn't get too high, doesn't get too low. He can come across as arrogant to some people at times but he's just a confident kid who knows he's good at what he does.
As for me, I moved on from LSU to become an assistant coach at Texas Christian University from 2016-18 and, this year, I joined the University of California, Riverside as head coach. I'm proud to say that I'm the first Australian to be appointed as a Division 1 head coach.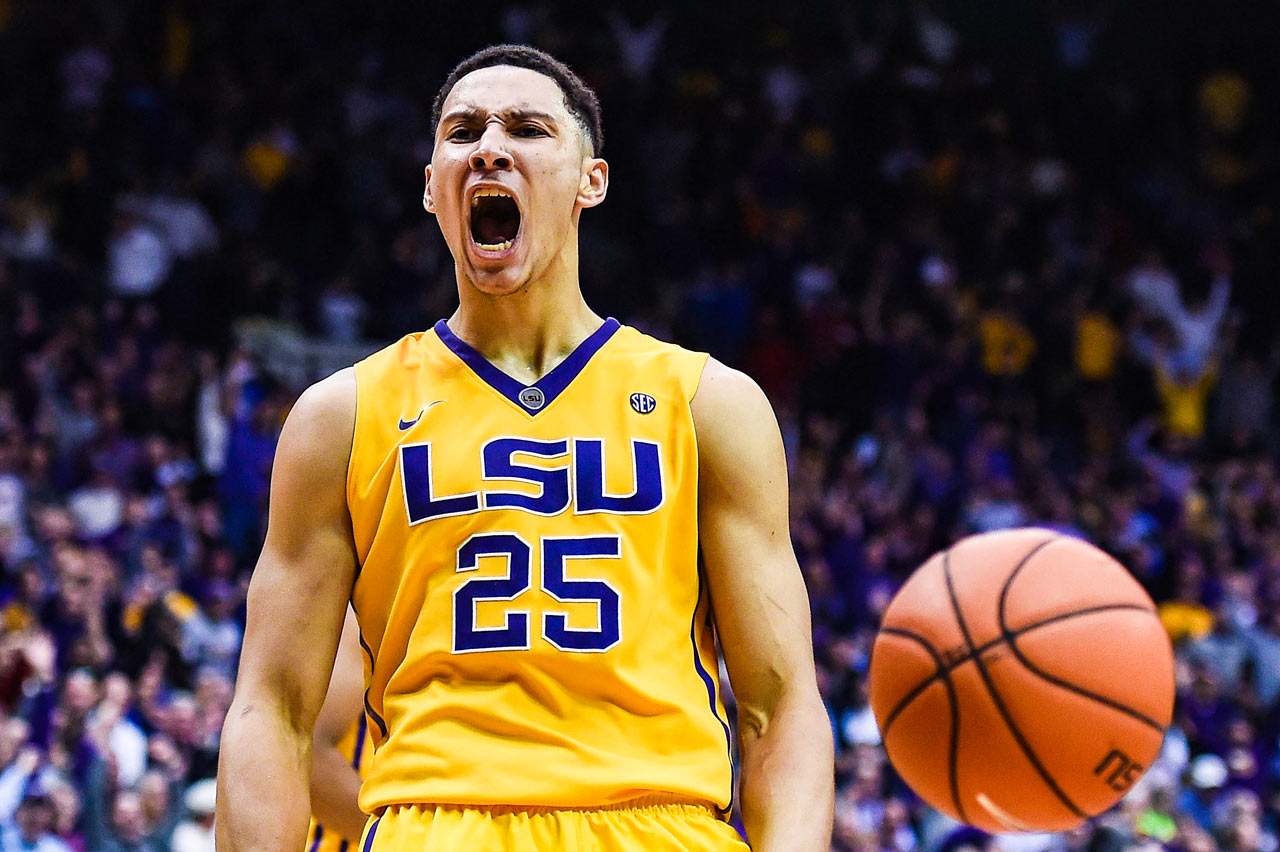 ROOKIE OF THE YEAR
Brett Brown coached me as a junior in Melbourne. He coached Ben's dad. Now he's coaching Ben at the Sixers.
The stars aligned. Ben would have flourished in any environment but it's rare that you get to play college ball for your godfather, then go to the NBA and play for a guy who coached your dad and godfather. It was a great fit for him.
While the NBA is a business, I think Brett sees Ben as one of his own. Having that support there has definitely helped Ben.
I don't even know if Brett knew what he was getting himself into. Before the draft, I think the Sixers were still sceptical of whether they were getting a point guard or a power forward.
I think Brett knew that Ben was good. I don't think he realised that he would be good that quickly. Of course, everyone had to wait a year to see how it would play out due to Ben injuring his foot.
Any time you take a step back and view the game through a different lens, you have an opportunity to learn new things. While Ben couldn't play basketball for some time after having foot surgery, Brett was able to give him a different type of education in the game. Enough was achieved during that season on the sidelines that Brett then trusted Ben to play the point as a rookie.
He can come across as arrogant to some people at times, but he's just a confident kid who knows he's good at what he does.
You'd think it would take a while to find your rhythm in the NBA but Ben found it pretty quick! He did a great job out there in all aspects of the game – although he drew some criticism for one.
The development of Ben's shot is just a matter of time. When you're that fast, that big, can jump that high, you don't have to go into the gym and shoot the same amount of shots as the guy who is 6'3", who can't do what you can do athletically.
Ben knows his shot is something he has to work on. Rome wasn't built in a day. His shooting got better over the course of the year; his free throws were over 70 per cent in the post-season after he shot in the 50s during the regular season.
The next step will be his mid-range shot becoming consistent, then the following year, his three-point shot. It's just a matter of putting time into it. Guys like Russell Westbrook and John Wall make threes now when that really wasn't their M.O. when they first got into the league.
You put the time in and you get better.
As for some of the theories out there about Ben shooting with the wrong hand … I don't think so. He's been shooting with his left hand for 21 years. It would be hard to change. I think it's more a mechanical issue with his jump shot, just building that consistency. Ben is ambidextrous. He'll write with his right hand, throw a football with his right hand but he's been shooting with his left hand for a long time.
Late in the season, I was really proud with how he held his composure when some teams hacked him to target his shooting. And I remember game five of the Eastern Conference semi-finals, after he'd struggled in Boston and they were facing an elimination game, he was as relaxed as could be. He played great and they won the game.
To be that mellow with that kind of pressure on him – that's not normal. I guess that's what makes him a special athlete.
The thing about Ben's rookie season: it was never about competing with the rookies. It was about matching up to the best guys in the NBA. Ben has always set the bar high in life.
And now, he's not a rookie any more. Now, it's about becoming an All-Star from an individual standpoint and, from a team standpoint, about making the Eastern Conference Finals.
Those are the things that are really going to matter when his career is over.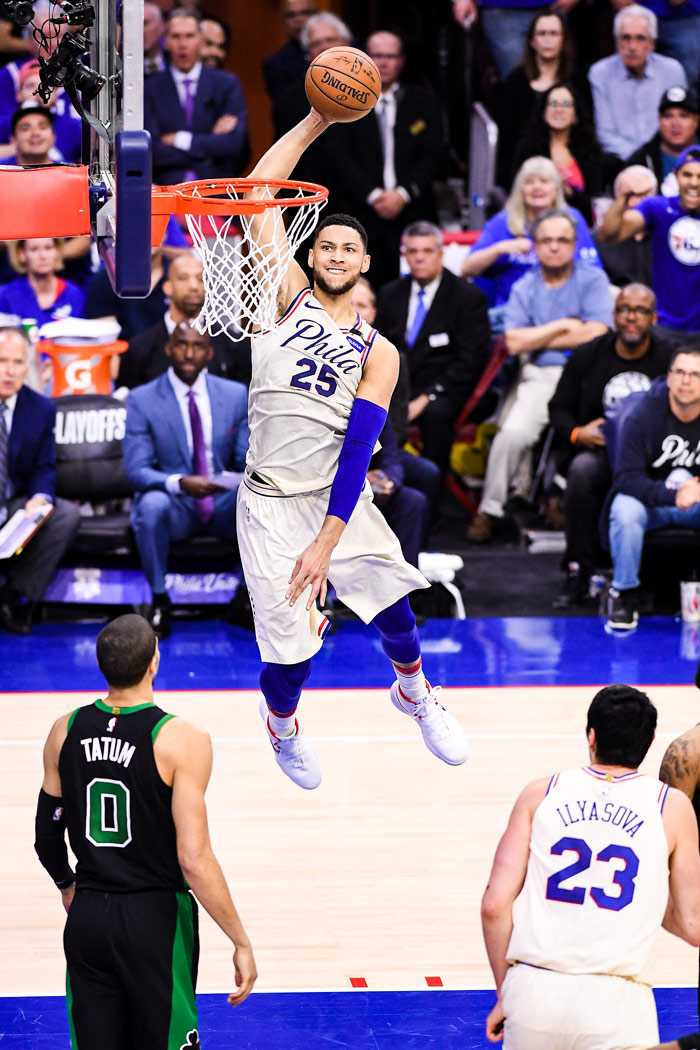 LEBRON, JOEL & FREE AGENCY
Ben is with the same agent as LeBron James – Rich Paul of Klutch Sports Group. He can pick up the phone and text LeBron, ask for advice. Not everyone is able to do that. But at the same time, LeBron is in the Eastern Conference with him, so I don't think he's giving away too many of his secrets!
What Ben does have access to with LeBron is how he takes care of himself – how he looks after his body in the off-season, how he prepares. The development of Ben's body in the past 12 months, a lot of it can be attributed to how LeBron handles himself off the floor.
This off-season, he's going to spend some more time with him, honing his craft, getting his game better. It's a unique privilege to have at 21 years old.
There is a genuine friendship there. I remember when they met at the LeBron James Skills Academy, when Ben was in high school. He was a top-two player in his class at that time.
I think LeBron sees some of himself in Ben. For one thing, the claims that Ben can't shoot – it was the same deal for LeBron when he was young.
LeBron and Ben have a lot of the same attributes as young players. But he doesn't want to be LeBron. He doesn't want to be Magic. He wants to be Ben Simmons.
I know he looks up to LeBron – he's the player that we're all in awe of. It's a big thing to be mentioned in the same sentence as LeBron and Magic. But Ben wants to put his own stamp on the NBA. So does Joel Embiid.
Joel was already the star of the Philadelphia 76ers and to have another young player come in and take some of the limelight, that's not easy. But I know Ben and Joel are growing through that process together. They know they can play well together, know they can win together.
And because they're both international kids, I think there's a connection there that's unique. They could be the two best young players in the league for years to come if they stick together and egos don't get in the way.
And now, off the back of a playoffs season, there's free agency.
If the Sixers can add LeBron or one of those other big free agents who are available, that would be the last piece to becoming a championship contender. It will be exciting to see what happens.
More about: Ben Simmons | Boomers | College basketball | LeBron James | NBA | NBL