A cancer battle inspiring Newcastle
When I first arrived in Newy, a bloke came up and introduced himself.
His face was familiar. He was definitely a footy player from not-so-long-ago. As a footy tragic who watched every NRL game he could growing up, I was certain he was Luke Walsh, the former Knights and Panthers half.
'G'day Walshy!' I said. He smiled politely, said hello and moved on.
For the next four weeks, I kept seeing him around the place. 'G'day Walshy!' I'd say whenever we'd cross paths out on the training field or in the clubhouse or in the carpark.
It wasn't until after Christmas that he actually stopped me. 'Mate, why do you keep calling me Walshy?' he asked. 
'Because you're Luke Walsh. Knights, Panthers, St Helens and Catalans … one of the greats!' I said.
'Klem, my name is Scott Dureau.'
That would be Scott Dureau, the ex-Newcastle halfback who now works as the Knights' Junior Development man and helps out with our first-grade halves.
I've never been so embarrassed in my life.
To his credit, he laughed it off and said, 'Call me whatever you like mate, but from this day on I'm gonna call you Jason Ryles.'
And that's the way it's been ever since: Walshy and Rylesy. What a legend.
Scott is battling cancer at the moment. He has been successfully treated for tumours over the past six years but the cancer has come back again and spread. At only 32, with a wife and two young daughters, it's hard to imagine what he and his family are going through.
You'd never know any of this if you saw Scott going about his business. I can't say enough about the bloke. He's in here every day with a positive attitude, doing whatever he can to help everyone. An absolute champion.
The Men of League Foundation are organising a fundraiser for the Dureau family in April which I hope everyone will get around. I have donated a signed 2018 NSW Origin jersey to be auctioned off and know a lot of the boys are getting things together as well.
That's one of the best things about rugby league, the way the community comes together to support each other in tough times. Please keep an eye out and support 'Walshy' if you can.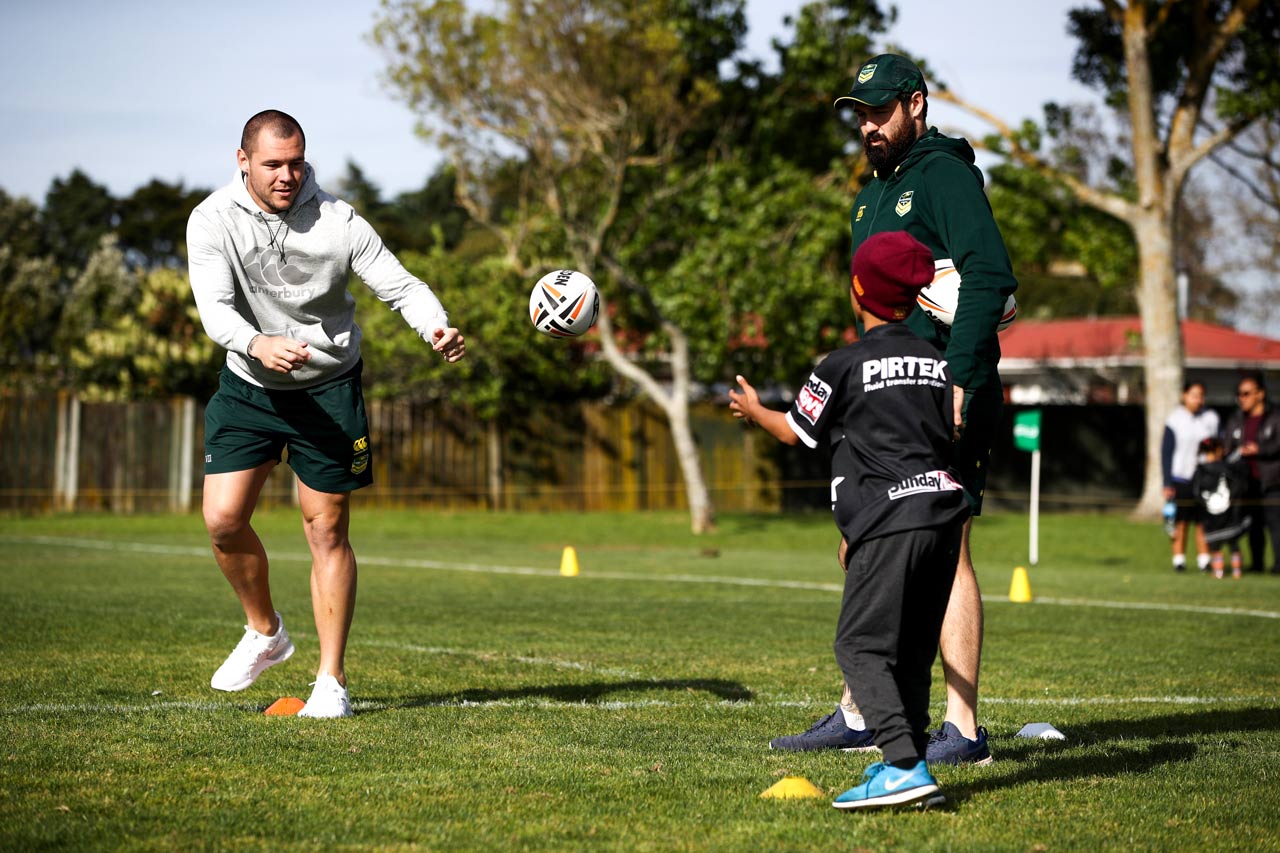 The big change
Scotty isn't the only bloke to offer a friendly handshake and a kind word since I made the move up here from Sydney. Far from it.
Mitch Pearce put me up in his house when I first arrived, which helped me get a feel for the new city. I will always remember that. It was a wonderful gesture.
Alex McKinnon has played a huge big part in helping me get settled at the Knights. We've had heaps of chats about the community, the team and how intertwined they are and I've loved every one of them. We go back to our junior rep days. He really knows his footy and he loves this town.
'You're Luke Walsh. Knights, Panthers, St Helens and Catalans … one of the greats!', I said. 'Klem,' he said, 'my name is Scott Dureau'.
Nathan Brown has been fantastic, too, because he knows how to balance being the boss on the one hand while being a good mate on the other. And our coaching staff have picked up some technical things in my game – the way I catch and pass the ball, the way I move into tackles and other stuff – which I've been working on throughout the pre-season.
I could go on. The people up here have been brilliant.
I've only been in Newcastle a short time but it already feels like home. The Knights' partners have formed a social netball team and invited my wife, Chloe, to join. She was a handy netballer back in the day – we met as teenagers at Westfield Sports High – but she hadn't played since our boys Cooper, Jaxon and David Jr were born.
She's been back into it the last week or two. She's absolutely pumped. We didn't expect to feel so settled so quickly coming off a difficult 2018.
The decision to ask for a release from Canterbury was one of the hardest things I've done. I figured I was going to be a Bulldog for life. I started out at Belmore as a junior groundsman and signed with the club when I was 15.
I was called into first grade straight out of high school and started training and playing alongside guys who were heroes of mine. We played against Melbourne in the grand final in my first full season.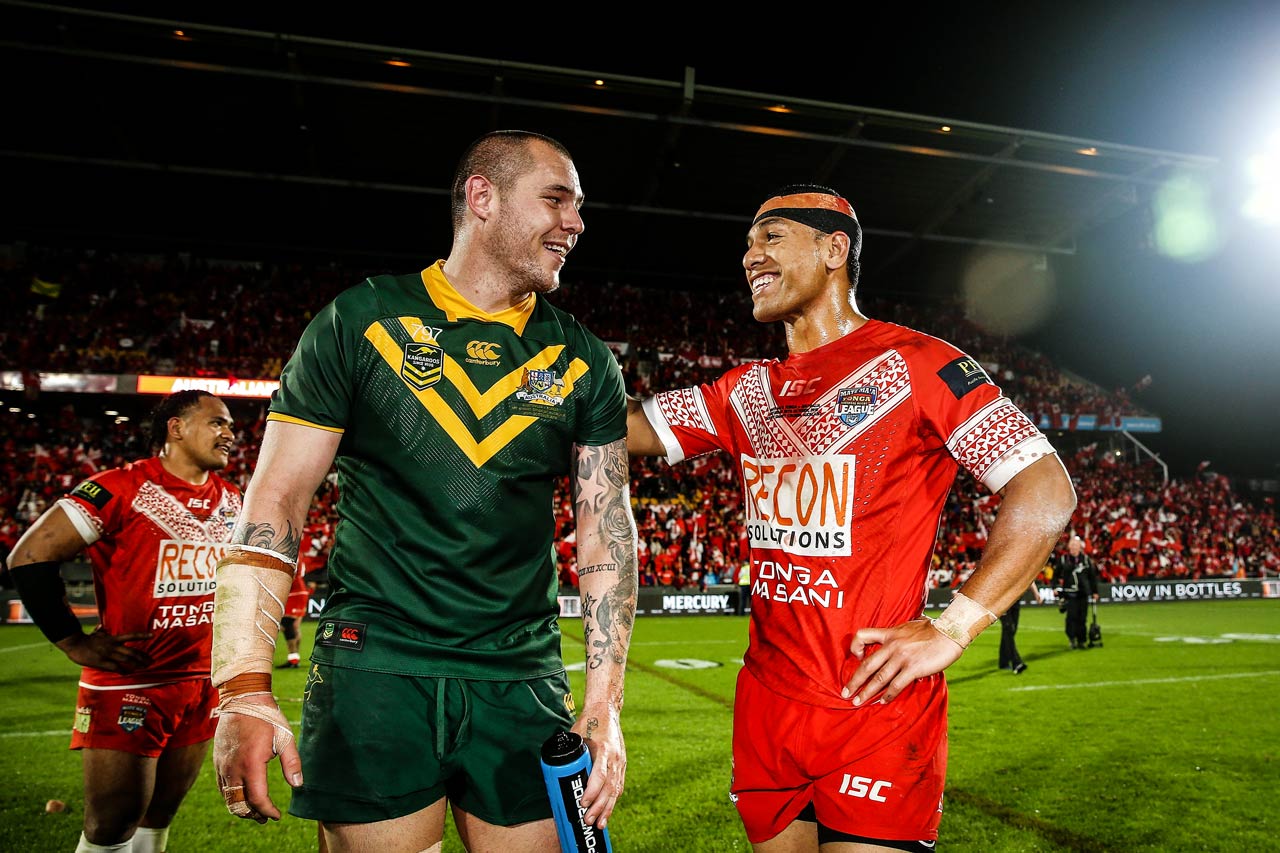 Soon after I was selected to the Australian team and, the next year, Origin. But a lot of things changed over the last few years.
Des Hasler was replaced and so was the CEO and the board. Josh Reynolds and James Graham also went. They were two guys I thought would be at Belmore for as long as they were playing footy. Later, Aaron Woods was moved on just a few months after signing a four-year deal. I really looked up to those boys. I was devastated each time one of them left.
It rattled me. I would come home stressed out and upset, which wasn't fair on Chloe and the boys. After long discussions with Chloe, we decided the best thing would be to try something new. Things came to a head when I was holidaying up on Gold Coast.
I was watching Cooper, Jaxon and David Jr messing around in the hotel pool and thinking about the best way to provide for them long-term. In the end, it all happened pretty quickly. I signed with Newcastle and moved up straightaway.
I wasn't ready – nothing was packed or organised – but the Knights were keen to get me up there as soon as possible and I didn't want to waste any time. And here we are today. I will always be proud to have been a Bulldog, but I'm also excited for what the future holds.
Aside from making new friends in Newcastle, we've also been busy moving into our new family home and organising schools. The kids are settling in well and Chloe is loving our new life. It was the right move.
More about: Cancer | Canterbury Bulldogs | International rugby league | Kalyn Ponga | Kangaroos | Mitchell Pearce | Nathan Brown | Newcastle Knights | State of Origin