The King Gees that swayed Bennett
I'm not the superstar player, but I found the key to being the consistent one. The guy you can rely on. I've signed a lot of one-year deals. 
Obviously I would've loved to have been signing three-year, multi-million-dollar deals, but I don't resent not having done that. I'm not angry about it.
My journey in football has been one of hard work, resilience and persistence that has shaped me into the man I am today.
Nothing for me in footy has come easy, but the way it's panned out has given me drive. It's given me ambition. It's given me all of these key qualities that not everyone who plays rugby league is able to develop.
I've learned from some great mentors and they've given me plenty of ideas to borrow from for the next stage of my career.
The Wayne Bennett experience was brilliant for me.
One day midway through the 2010 season, my manager rang me to say we'd be meeting the St George Illawarra coach at the leagues club. It was the year they went on to win the comp.
I was playing NSW Cup for Balmain Ryde Eastwood Tigers and working as an electrician and I turned up in my King Gee gear and work boots. Wayne liked that. He said, 'Mate, I like that you work hard and you've hung in there and been resilient with your footy, so we're going to give you an opportunity next year'.
I signed a second-tier contract with them for 12 months and I ended up playing five games in first grade.
It was a bit intimidating at the start, the idea of playing under a legend like him, but he was very accommodating and had a dry sense of humour that appealed to me. I really liked him and I have only fond memories of working with him.
I felt like Wayne taught me what it took to be an NRL player. I really had no idea before that year. I lacked physical maturity. Working eight hours a day as an electrician and training three hours in the afternoon, I wasn't getting the nutritional intake I needed.
I was burning a lot of energy – all day, every day – and physically I wasn't able to maintain any weight. I was 93 kilos when I debuted for the Tigers, but when I played my first game for the Dragons I was about 101. I was able to bump up to 103 to 105 in the years after, which I needed to do to cope.
Playing and training fulltime I got the chance to become the player I knew I could be. Being around some really good players all the time helped a lot. Ben Hornby, Ben Creagh, Mick Weyman, Jamie Soward, Matt Cooper, Mark Gasnier, Jason Nightingale and Darius Boyd – it was a great side.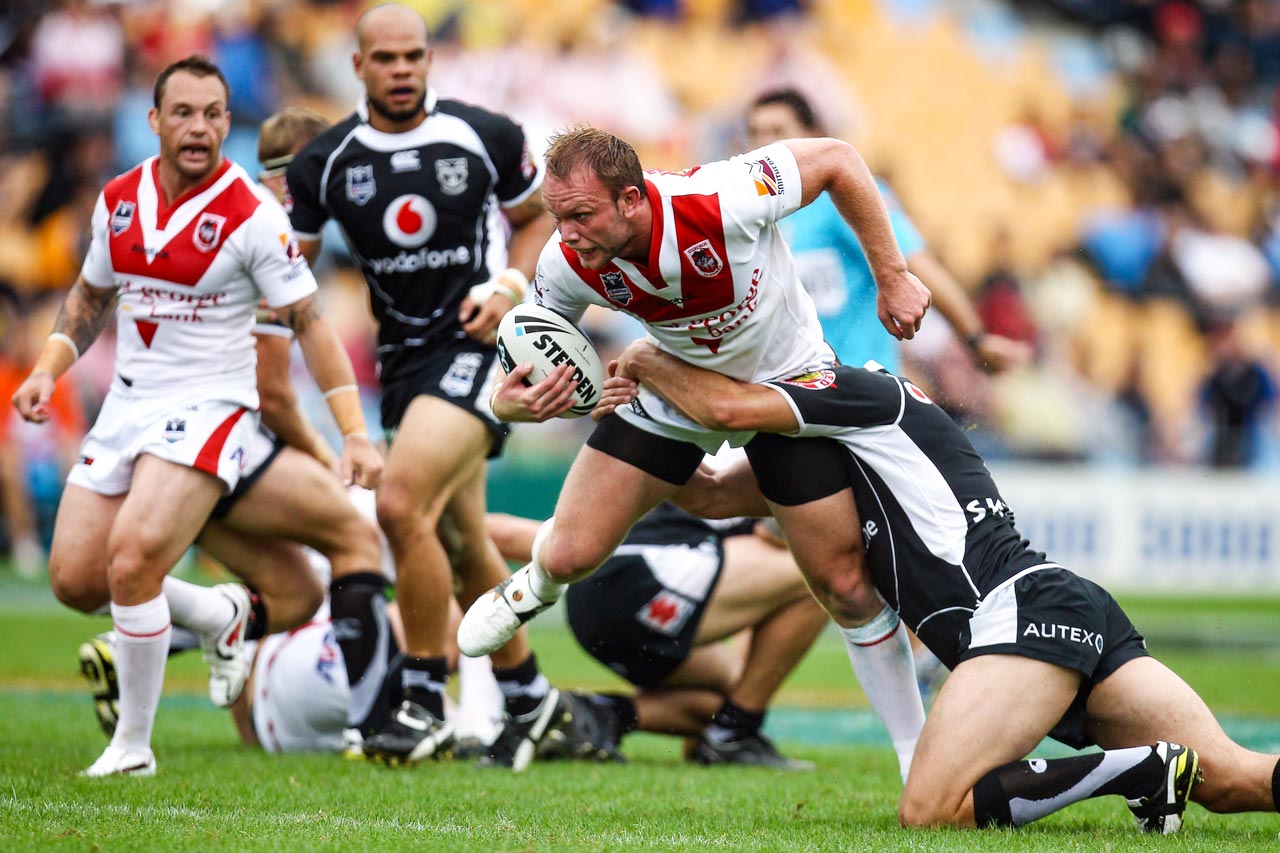 I learned what it took in terms of attitude and preparation to be successful.
There were a lot of things Wayne said that struck me. Two lines in particular have stayed with me and helped drive me ever since. 'If you're not getting better, you're getting worse', and 'offence will get you in a team, defence will keep you there'.
So not even reaching a level and maintaining it is good enough. That's why I do extras after training and keep looking for ways to improve my game. And I was a better offensive than defensive player early in my career, so I needed to hear that.
That same advice Wayne gave me I now give to young players coming up. 
I got a one-year extension at the Dragons, but Wayne left and Steve Price was coach in 2012 and that was a frustrating year for me. I only played two games.
But I didn't drop my bundle. It just stoked the fire in me. I was Player of the Year at Illawarra Cutters, where Paul McGregor was coach, and 'Mary' was an ex-roommate of Geoff Toovey in the NSW side. He said, 'Mate, I think I've got you a gig over at Manly'.
So I rang them and there was a contract waiting for me. I went there and it was the year I thought I really established myself as an NRL player. In the years before I was learning how to be an NRL player and in 2013 I felt like I became one.

I played in the grand final that we lost to Sydney Roosters. I only got to play five minutes, but only 34 people a year get to play in a grand final and some great players never get to play in one at all.
I cherish that achievement.
HE MAKES ME EARN EVERY MINUTE
Brad Arthur was an assistant to Geoff at Manly and during the season he got me aside and asked me what I was up to in 2014. He said, 'I've got a few things in the pipeline and if I get a head coaching job I'd like to take you with me'.
I was in negotiations to go back to England with Wakefield Trinity at the time, but Brad had been good for me. He'd pointed out things I needed to work on, given me individual video analysis and provided plenty of feedback. I knew he'd be great to work with as a head coach.
He was having a break in Bali at the end of the season when he got the job at the Eels. He rang me and said, 'There's an opportunity for you here, if you're willing'. I knew in my gut it was the way to go for me and I've never had any regrets. It's been the greatest time of my career.
Brad just asks for consistency from me. He makes me earn every minute of playing time, but he brings the best out in me. I've got a great relationship with him. It's open and honest. Brutally honest at times, but I quite like that.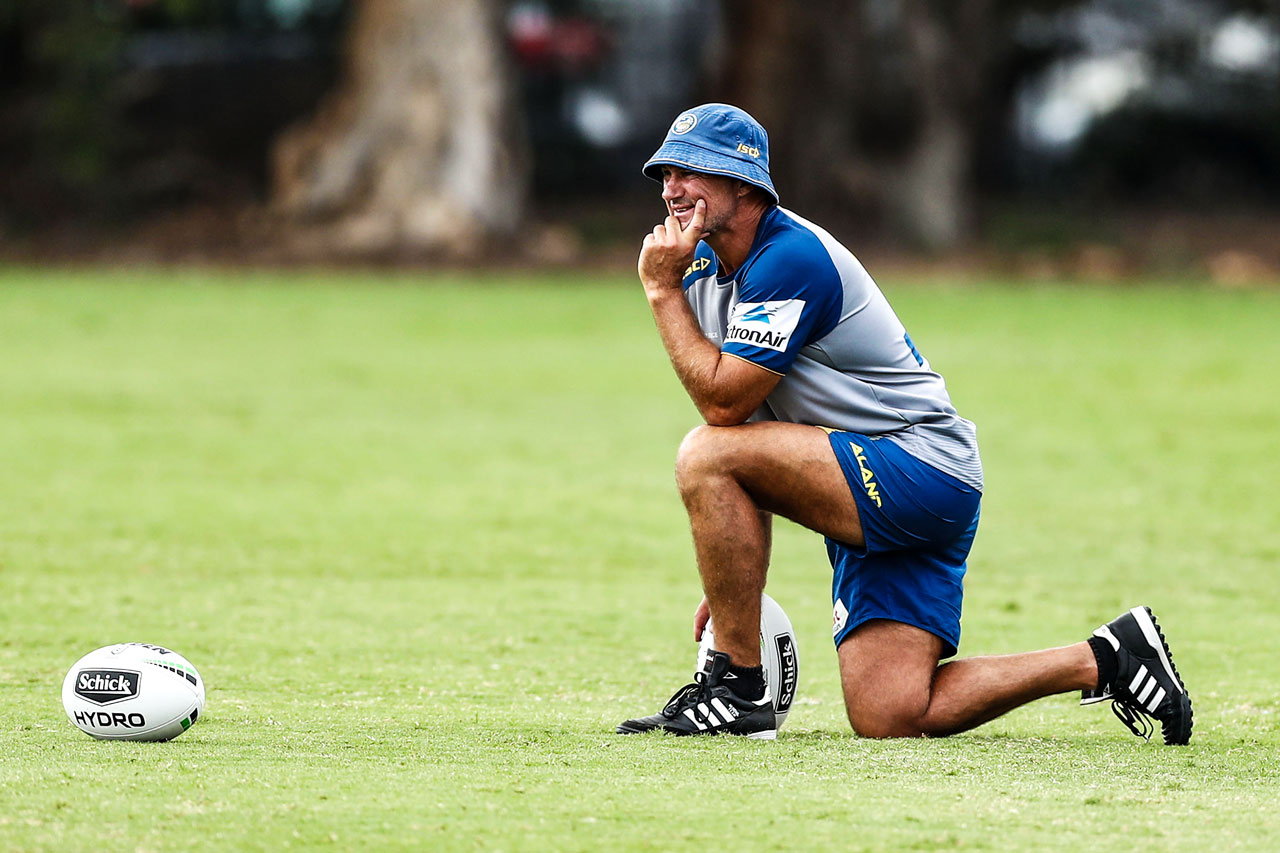 I like to think I've got a high football IQ, so if I go into Brad's office with my head down it's because I know I've played bad. I can deal with an intense conversation about my football, but he's never unfair about it and he'll give you a wrap when you deserve it as well.
There have been times when I've disagreed with his decisions, but I respect his right to make them. It's a healthy relationship where no-one hides their cards. We have a mutual respect, and the respect of my coach and my peers is very important to me.
I'd like to think the guys I play alongside know what they're going to get from me at every moment and that's honesty off the field and a guy who's going to do his best for them on the field.
I'd like to think the fans see me as a guy who gives his best. I'm not the most talented player, but I work hard and that's my biggest attribute, my work ethic. Even if it's not working out for us and we're getting beaten, they know I'm trying.
I've tried to live by the saying "hard work beats talent, when talent refuses to work hard".
More about: Benji Marshall | Brad Arthur | Coaching | England | Manly Sea Eagles | Parramatta Eels | Robbie Farah | St George Illawarra Dragons | Super League | Wayne Bennett