I made a realisation the other day: I'm actually one of the older blokes at Melbourne City. I know, I'm probably the last to figure this out.
It hit me when we were setting up a game between young and old. I went to join the young boys and then realised I didn't really belong in that team anymore.
I'm 31 now and my career stretches back to that period between the NSL and the A-League, when I played for the Queensland Lions. From the very start, I always paid close attention to the senior players because there was a lot to learn. And now, it's my turn to pass on some of those invaluable lessons to the next generation.
At Nürnberg, I was fortunate to learn off an incredible Slovakian footballer named Marek Mintál. He was a number 10 – like me – but he was renowned for his ability to score goals, even finishing as the Bundesliga top scorer in 2005. Everyone over there called him The Phantom.
Anyway, after training each day, Marek would grab a few of us young boys to whip in crosses so he could practise his finishing. Left foot, right foot, volleys, headers, the lot. Shot after shot after shot. That dedication is what made him so clinical.
But the thing about Marek that stands out the most is that everything at training, even simple passing drills, had to be done at match tempo. He did everything at a sprint and unless you matched that intensity, you would not earn his respect.
My father, Rado, coached me like that growing up, so when I saw Marek set that intensity, it wasn't a shock to me. But seeing a top player train like that was proof that success all comes down to attitude.
At this level, we're all talented and skilful. We're all able to match Marek's intensity if we want to, but that requires discipline and determination. I think a lot of young footballers today don't really understand that.
Pep Guardiola said it best, 'If you train like a beast, you'll play like a beast'. That really resonates with me.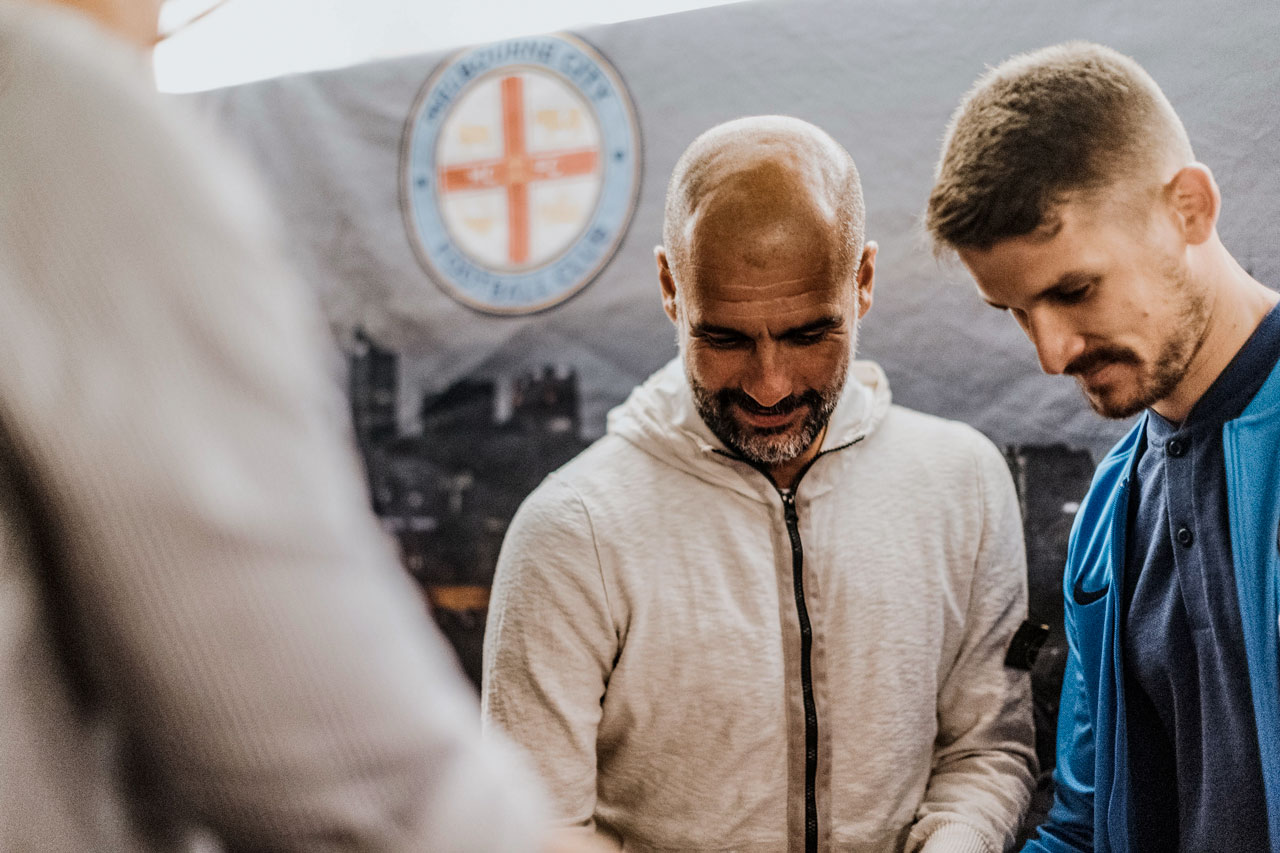 He's not talking about tactics or anything deep like that. It's just the simple, hard truth of professional sport: if you don't train at the highest tempo, how can you expect to go to another level on the weekend?
Regardless of what position I'm playing in a game, I'll have a match-up. If I'm on the left wing, it will be the right back. If I'm the number 10, I'll be up against a centre back. Either way, after 60 minutes I want to look my opponent in the eye and see that he is breaking.
There is no greater feeling in sport than seeing your opponent crack. It's intoxicating.
But that's when you need to go up another gear, to punish a team and kill the game off. You want your opponent to leave the field thinking, 'I don't want to play against him again.'
You can only expect to reach that level if you have been training right.
And we can all try to improve a little bit every day. That's what motivates me. I want this coming season to be the best I've ever played and if all my teammates have that same desire, I know we'll find success.
THE BIGGEST DECISION I EVER MADE
When I think back on my time playing in Germany, I have mixed feelings about one big decision that I made.
I spent four years at one of the bigger clubs in the Bundesliga, Nürnberg, but sometimes I wonder how my career might have panned out if I'd never signed that contract with them.
Perhaps I should have joined Hertha Berlin instead, which had been the plan before I went to Germany.
But when I was weighing up these options in March 2007, the January transfer window was well and truly closed. That meant I wasn't going to be able to play for a new club until the following season.
I knew I was facing months watching on from the outside as my new team played without me. I didn't really want to go through that on my own, in a foreign country, and it had a big impact on my decision.
I thought joining a club with four other Aussies – Matty Spiranovic, Josh Kennedy, Michael Beauchamp and Dean Heffernan – would make it easier for me to adjust to a new life on the other side of the world. So, I chose Nürnberg.
There is no greater feeling in sport than seeing your opponent crack.
And in those first few months, the club did a great job of making me feel like I was a part of things. They wanted me to be with the team for the German Cup Final but I had international duties with the Olyroos. They went on to beat the Bundesliga champions Stuttgart 3-2 to cap off an amazing year.
So, you can imagine that as I was preparing for my first season, there was a lot of optimism around the club. That all changed very quickly.
Nürnberg went from finishing sixth in the Bundesliga and qualifying for the UEFA Cup to being relegated in one season.
It's hard to be the 19-year-old Aussie at a big Bundesliga club in that position. And back then, Australians weren't as highly regarded in Europe as we are now, on the back of four World Cups. The coaches were under pressure and they had experienced players at their disposal. There just weren't many opportunities for me. 
So, it might have been a bigger risk but maybe I would have had better luck at Hertha. Maybe not being around so many Aussies would have forced me to learn the language quicker. Maybe that would have helped my football. I wonder about all those things.
But at the end of the day, I still wouldn't change a thing because I got to experience some incredible things at Nürnberg.
In my second season, I helped the club get promoted back to the Bundesliga. I scored goals in Bavarian derbies. I played as a striker against Bayern Munich. I came up against players like Franck Ribery, Arjen Robben and Mesut Özil.
After loan moves to Duisburg and Arminia Bielefeld, Nürnberg wanted to extend my contract for another season, but I wanted more game time than I thought was on offer. And everything happens for a reason. If I hadn't come home to play for Adelaide United in 2012, I never would have met my wife. Now we have a beautiful son together.
I'm proud of everything I've done but I still hope to achieve a hell of a lot more in the remaining years of my career. I want to be a champion. I want to win the A-League with Melbourne City.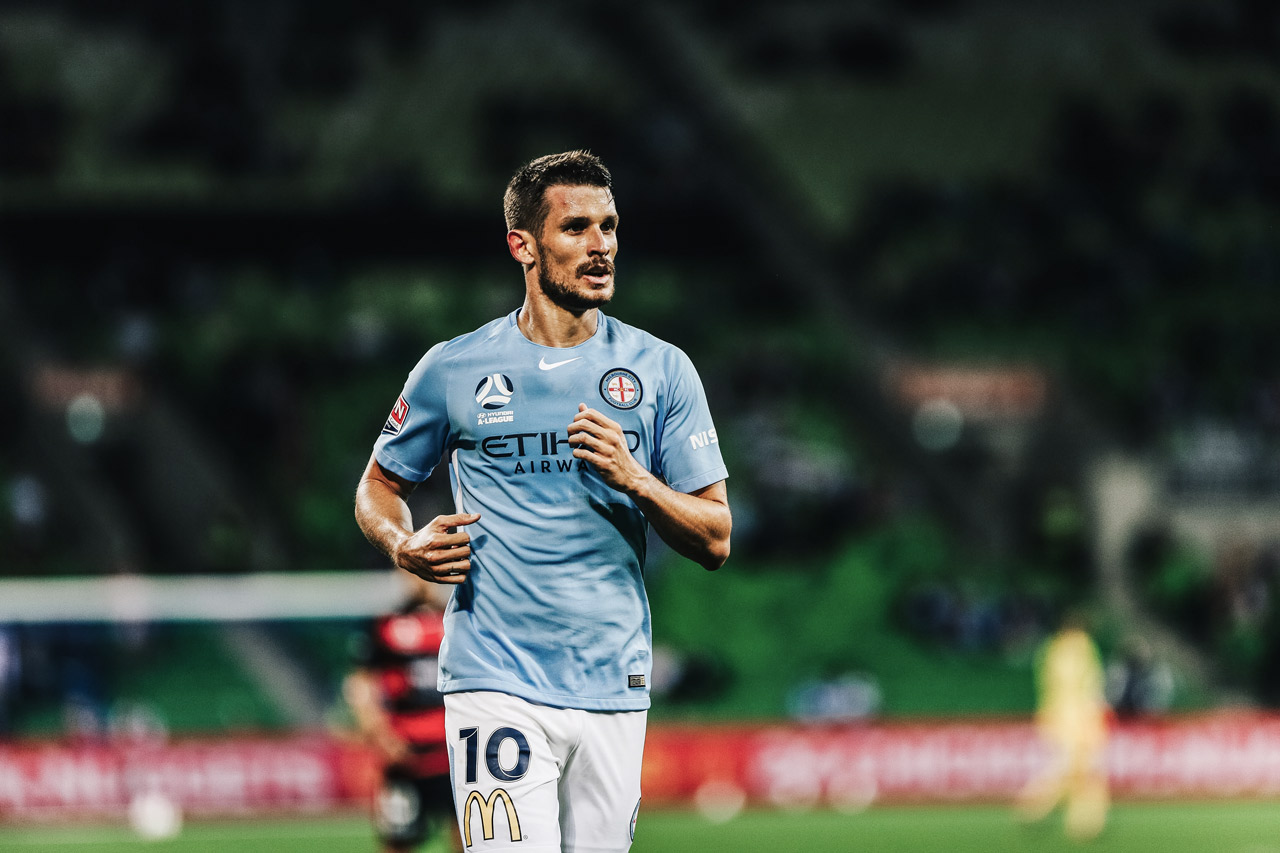 THE BEST MOMENT OF MY CAREER
I have many great memories in football. Making my debut for the Socceroos against Japan in a 2009 World Cup qualifier is one of them. Being a part of two World Cups are also highlights.
And through my career, I've been lucky enough to travel the world and see some amazing things! I even had the chance to head over to Abu Dhabi with Melbourne City and Etihad Airways in the off-season. It was a great adventure, driving on the sand dunes, looking around the city and taking a ride on the world's fastest fastest roller coaster at Ferrari World. Unreal!
But the best moment of my career is undoubtedly carrying my son out onto the field before my former club Wellington Phoenix's game against Melbourne Victory.
He's been kicking a little ball around the house recently, and his left foot is looking alright! My Dad's coaching will start up again very soon, I'd say.
I remember Dad sitting up in the grandstand when I was young, just enjoying watching me play. And I remember the look of pride on his face when I did well. I'd love to experience that too. But of course, as long as my kids are healthy I don't care what they do in life.
I am hoping I'll be able to take my son out onto the field after we win the Grand Final this season! That would be awesome. 
My Dad was a champion of the A-League, as assistant coach of Brisbane Roar with Ange Postecoglou. And I want to be a champion as well.
When I was with the Wanderers, we lost to Adelaide United in the grand final. Then last year with City, we were 1-0 up in the semi-final against Newcastle before Riley McGree scored that crazy scorpion kick goal. We had one foot in the grand final and let it slip.
I still think that was more our doing than the Jets taking the game from us. But credit to them, they smelled blood and put us away.
We can't make the same mistake this season.
More about: A-League | Adelaide United | Brisbane Roar | Bundesliga | Melbourne City | Newcastle Jets | Socceroos | Sponsored | Western Sydney Wanderers