Harvesting our native diet
We were all sharing a special meal. And, I mean, a very special meal.
We were at home in Adelaide, Tara and our two kids. My two brothers-in-law, my sister-in-law and their partners were there, my nieces and nephews from my wife's side, as well as my wife's parents.
I said, 'Right, everybody, I'm cooking dinner tonight. You just sit back, relax and eat. I'll tell you afterwards what you've eaten'.
I'd recently bought into my old Port Adelaide teammate Daniel Motlop's business, which sources and supplies Indigenous foods, herbs and fruits. The idea is to give people a better understanding and appreciation of native foods.
Just like there are so many different cultures, there are many Indigenous diets, each with their own characteristics, often based on what the surrounding land provides.
By creating a viable business we'll be able to invest some of the proceeds into local communities, which can then become part of the process, maybe start their own small business and work in conjunction with us.
When I started serving up the dishes that night at home, everyone could tell they were having an unusual dinner, but they were really receptive to it and ate pretty much everything.
The only stumble was getting my mother-in-law to eat ants. She just couldn't get her head around it – but I'll forgive her!
I told my kids the T-bone they were eating was beef. Once they'd finished, I told them, 'You just ate camel'. Their reaction was great, thankfully. They said it was delicious and would try it again.
Across the evening, we also tried wild boar, marinated kangaroo strips, buffalo scotch fillet, native greens, karkalla, sea blite and samphire. There was a broad range of meats and greens.
The only thing that got negative reviews was the kangaroo. But that was my fault. The cooktop had run out of gas and it was too rare. But, overall, the night was a great success.
For as long as I can remember, I've loved cooking and been interested in different foods. I have a Cert 3 in commercial cookery from when I was back in high school. At home, I'm generally the chef and, though my family say they love what I make, they hate the mess I leave them to clean up!
Apart from food for food's sake, I have a great interest in sustainable production and a lot of pride in my Indigenous heritage. Joining Dan's business has allowed me to integrate those passions.
It's a perfect fit for me and something I've got right into since finishing up playing footy at the end of last season.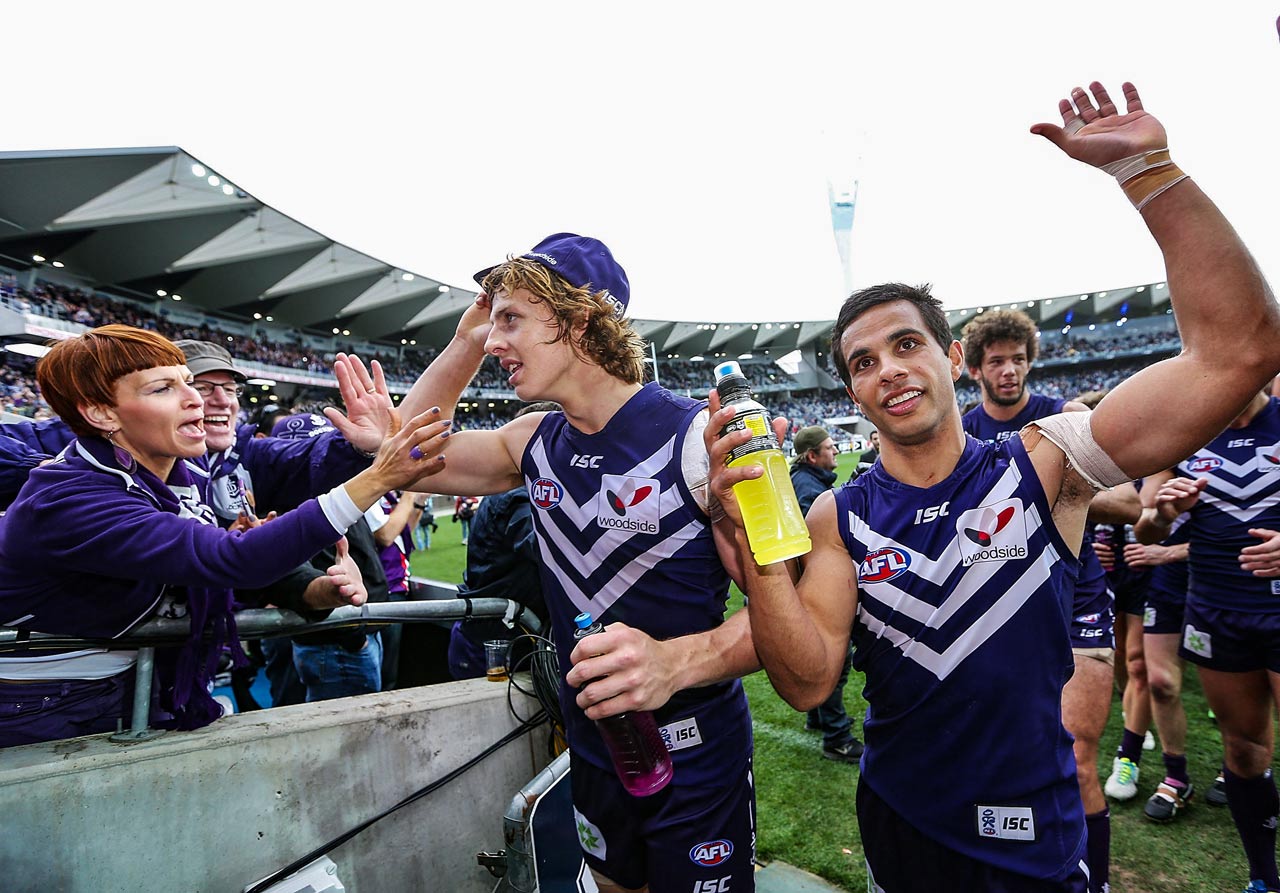 Love and respect
Engaging in the diversity of Indigenous culture is special to me, I will never hide that. I deliberately always refer to myself as Aboriginal Australian. But it's not the full picture of who I am. 
I'm equally proud of my white Australian family – my grandfather, my uncles and aunties, nieces and nephews. I'm proud of the things they've achieved in their lives and their dreams and goals. The colour of someone's skin never paints the whole picture. 
I can stand next to my grandfather Des, for instance, and people wouldn't have a clue that he's related to me. He's got white skin. The point is, I love my black family and my white family just the same and I'm equally proud of both.
My Aboriginal groups are Ngarrindjeri, Narangga, Wirangu, Kokatha and Mirning. I've got a strong cultural reach, almost coast to coast across South Australia. I have ties to the Burgoyne, Davey and Thomas families. I've never shouted that from the rooftops, but it's important to me.
Just like there are so many different cultures, there are many Indigenous diets, each with their own characteristics, often based on what the surrounding land provides.
I count myself very lucky to have played for two clubs with a strong Indigenous history and presence when I was there. At Port, at one stage, we had Byron Pickett, Dan Motlop, the Burgoyne brothers, Gavin Wanganeen, Elijah Ware and myself. As a young lad coming into the system, that made things a lot more comfortable for me than it might have been.
When I got to Fremantle, in a game in Indigenous Round we broke the record for the most Indigenous players from a single team. I've been very fortunate in that way and I think it helped me to go from a non-drafted rookie-listed player to playing the 10th most games by an Indigenous footballer.
It feels unbelievable to me to have achieved that. Apart from the challenges that came with my cultural heritage, I was told I was too short, couldn't see, ran too outside – I copped every bit of criticism you can cop in a career. But the proof's in the pudding.
I was also really fortunate to play under two of, who I consider, the greatest coaches in Mark Williams and Ross Lyon. I owe so much to them, particularly Choco, for taking a chance on me and believing in me. There's a lot of love and respect there.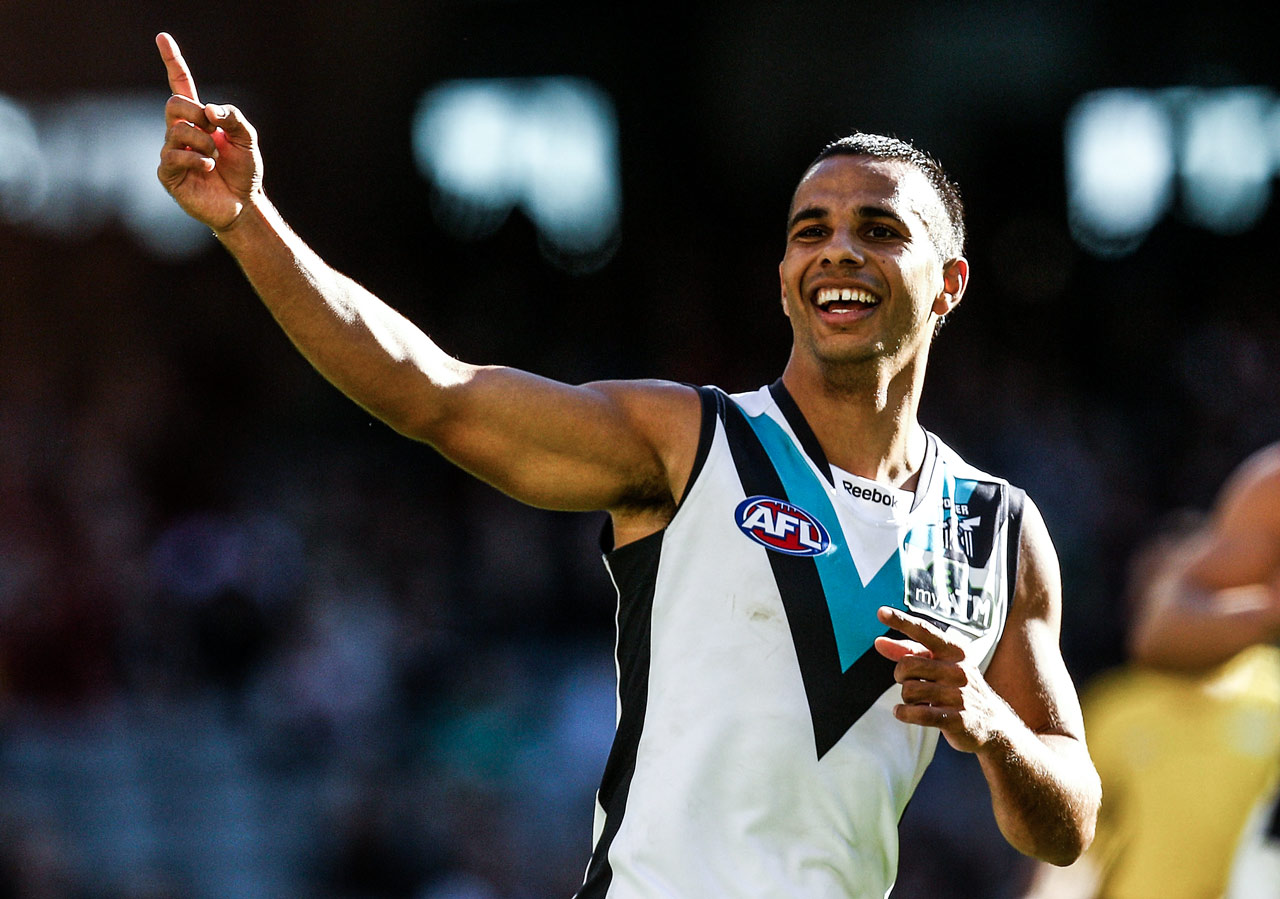 I made the best of my opportunities and can hold my head high for that. But nothing in football, or life, comes easily. All Indigenous people have copped racism at times. I copped it in the SANFL when I'd been dropped for a game. Then it happened one time when I was at Fremantle running laps after a game.
It is there. But what I found throughout my career and then in my work with Dan is there are so many people who know very little about what Indigenous people have come up against. 
If I say to someone, 'Up until the late 1960s, Aboriginal people were counted under the flora and fauna act', they are genuinely surprised. They think it's something that's a hundred years in the past. But it's something I've always known.
People's eyes light up with they are presented with new knowledge about what's happened in Australia in the past. I say to people, 'Did you know that Aboriginal people needed permits to go into certain areas of town?', and they are keen to hear more.
The great thing is, the people I've been around, in AFL especially, absorb this knowledge. They ask questions and want to know the truth. They engage. It opens up conversations and helps get rid of the stereotypes.
More about: Fremantle Dockers | Indigenous Australians | Port Adelaide | Retirement | Sponsored