Three times I thought it was over
There were three times when I thought my NRL hopes were gone.
The first came after my second season playing for the Panthers in the NYC.
Penrith didn't want to re-sign me at the end of 2011 because I was no longer eligible for the under-20s. They obviously didn't consider me a chance for first grade.
There was nothing else doing for me, so I went back to my old junior club, Helensburgh Tigers.
The NRL seemed a long way off. I couldn't see how I was going to break in.
Then the Illawarra Cutters put a team in the NSW Cup with Paul McGregor coaching. I was brought into a squad of about 50 players covering that team and the first-grade side for St George Illawarra.
I had new hope, but my time at the Dragons turned out to be a real rollercoaster ride. After the first trial, I was told I wouldn't be needed for the first-grade squad. They considered me their third or fourth-choice hooker.
I didn't get picked for the first round with the Cutters either and played a trial for Helensburgh instead. But then I made the Cutters side for round two and played the rest of the year there.
It was a bit of a funny role: I'd start on the wing and then go to hooker to give the starter a rest, before going back to the wing to finish the game.
I got a one-year deal with the Dragons for 2013 and made my first-grade debut off the bench in round six. I played another game off the bench in round 10. But that was it.
After those two games, the Dragons told me they weren't going to re-sign me for 2014.
I went back to the Cutters for the rest of the season and Mary asked me to play fullback because they had a few injuries. That was one of my old positions as a kid. I was fine with that. Hooker didn't seem to be working for me and I went out and played some good footy at fullback. There was no pressure. I knew I wasn't getting re-signed, so I just tried to enjoy myself.
But the year was running out, I'd turned 23 and there was nothing coming my way from other clubs.
That was the second time I thought I wasn't going to make it.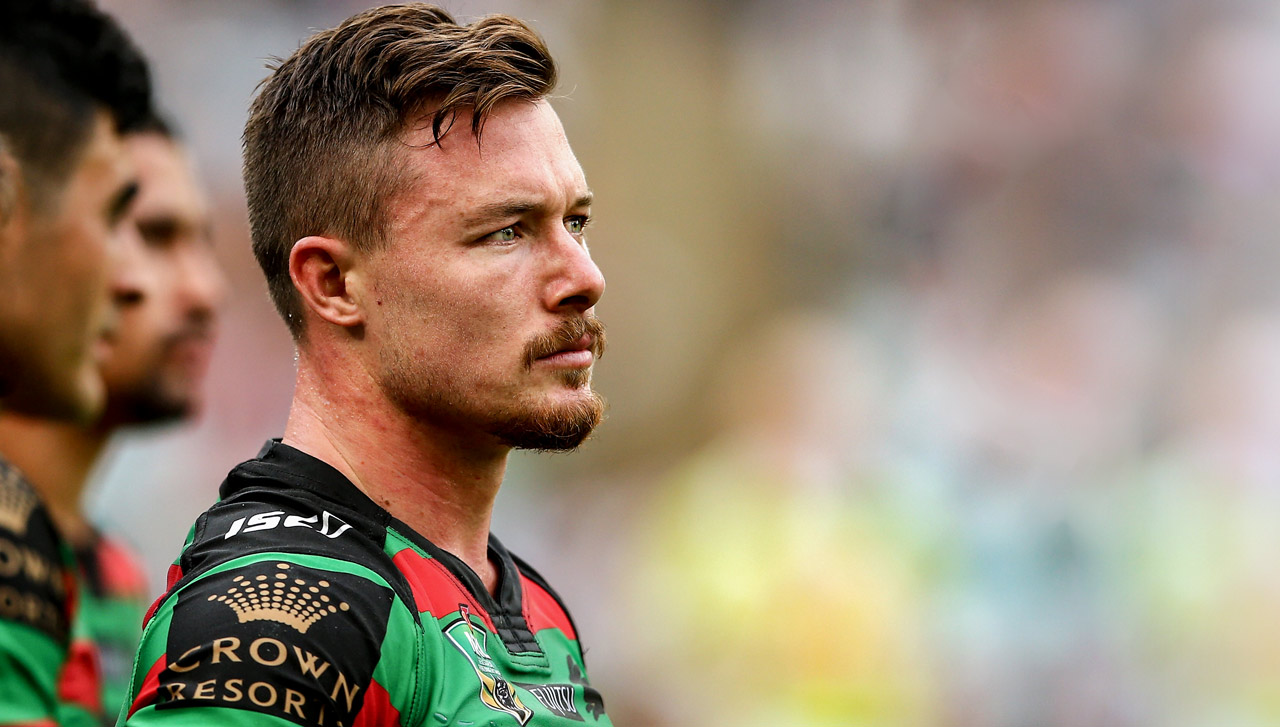 THE BIG BREAK
Footy is a game where, if you show you want something badly enough and you're committed to putting in the hard work, sometimes people are looking out for you even when you don't know it's happening.
Shane Millard was on the coaching staff at the Dragons and, although he has never admitted it, I'm sure he played a major role in getting me to the Bulldogs in 2014. Shane, or Billy as we know him, is great mates with Jim Dymock, who was Des Hasler's assistant coach at Canterbury at the time.
You hear things in footy and you know how the game works, and I believe Billy called Jimmy and put in a good word for me and things developed from there.
Billy knows I'm grateful for what he's done for me. He's been a big part of my career.
I went out and played some good footy at fullback. There was no pressure. I knew I wasn't getting re-signed, so I just tried to enjoy myself.
I actually went to the Bulldogs hoping to get a crack at fullback, but Des said, 'We'll start off training you at hooker and see what happens'.
Michael Ennis was still there at the time and I only got two first-grade games in my first year – one as a starter and the other off the bench. And even though Ennis was leaving at the end of the season, the Bulldogs were bringing Michael Lichaa from Cronulla for 2015.
I got stuck behind Lichaa. Des would always say I was going well in NSW Cup and that I'd be next in if there was an injury, but you don't wish that on anyone.
It was getting towards the end of the season and I hadn't played any first grade. Canterbury hadn't made an offer to re-sign me and no other club had come in.
Again, for the third time, I thought it was all over for me.
How many times can you keep coming back from the edge? After 23 rounds of the 2015 season, I had played a total of four first-grade games for two clubs in three seasons.
I was 24 years old by this time. The older you get, the harder it is to keep snaring deals.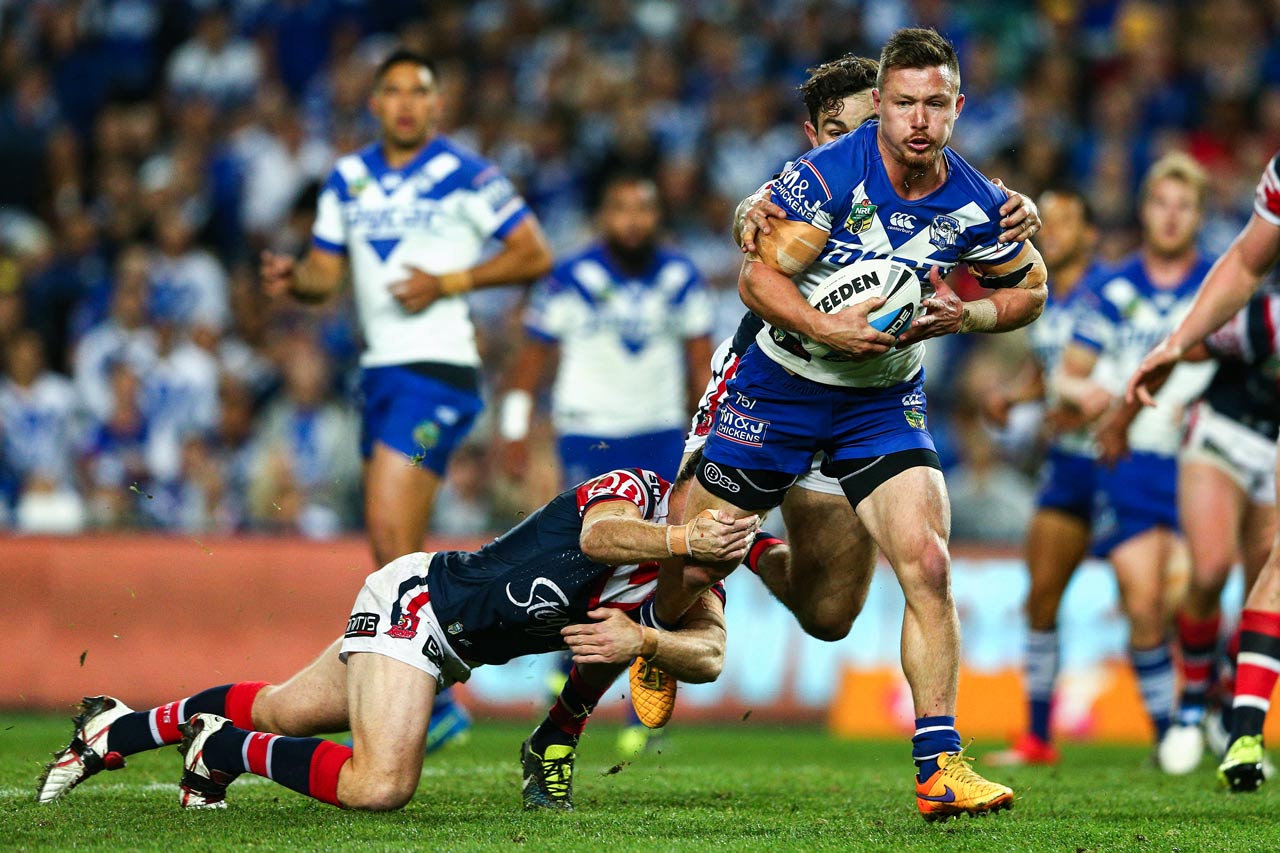 Then Lichaa got a season-ending injury. It was unfortunate for him, particularly with the team heading for the finals, but that's the way it goes in footy sometimes.
Someone had to play in his place and it was me. It turned out to be the biggest break I've had in footy.
I came in as starting hooker for round 24 against the Rabbitohs and had a great game, scoring our first try and setting up another in a 32-18 win.
I scored a try in each of our wins in the last two rounds as well. We beat the Dragons in the first week of the finals and then got eliminated by the Roosters.
Souths made me an offer. There was an opening there with Issac Luke leaving for the Warriors. Then, the Bulldogs made me an offer to stay. Nothing had happened before this.
I met with Madge Maguire at the Rabbitohs. I'd watched players like John Sutton, Sam Burgess and Greg Inglis since I was a teenager and admired them. Now I had the chance to play alongside them. That was enough for me. I signed for Souths and I haven't looked back since.
It's amazing how things happen sometimes. I always believed I was good enough, but I wasn't getting the chance to prove it. That five-game stint turned my career around.
LOVE AND SUPPORT
When you go through tough times in your career, you need support and I've always had that from my family and my fiancee, Courtney Blaine.
Courtney and I met while we were still at school. We live together and, even though she's got a full-time job herself at Racing NSW, she spends a lot of time helping to make sure I'm right to play on game day.
She puts up with my routines and makes me my favourite pre-match meal – spaghetti bolognaise – the night before every game. I'm on a pretty strict diet because of my footy and she cooks everything and follows it with her eating as well, just to make it more convenient for us.
Courtney comes to all the games and she's been there for me when I've taken those calls from clubs saying I'm no longer required. It's a huge blow when that happens, and to have someone you love there to help you get through it is very important. I've stayed humble as a result.
There have probably been a lot of players who got cut and didn't keep trying, who might've stuck it out had they received more of the sort of encouragement I got.
I get to go to the races with Courtney and I like to try a few different suit combinations. I run it by her first, to see what she thinks. She's got a good eye. I tried the no socks with slip-on shoes look at Randwick one day and got a few surprised looks. Not everyone's a fan, but that's OK.

Each to his own and I've found with footy that If you've got a point of difference, some sort of strength that gives you an advantage, you've got to use it.
I've got natural speed. I did surf club and the boys love stirring me about winning an Australian beach flags title when I was a kid. It was only under-15s, so nothing to brag about, but Dane Gagai tipped the journos at our media call last Tuesday and they were asking me about it.
Coaches have always encouraged me to back myself, but in the past it's been difficult for me to make the right calls when to take off out of dummy-half and go for a run.
I was playing regular first grade in my first two years at Souths, but splitting time with Cameron McInnes and then Robbie Farah. It's hard to get a feel for the game if you're coming off the bench. You haven't had the chance to judge how it's flowing and see who in the opposition is getting tired.
You can make bad decisions and become inconsistent under those circumstances. I'd get on the field knowing I had limited time and I'd make the mistake of over-playing my hand.
But it's different this year.
Our new coach Anthony Seibold told me before the season began that he was going with me as the starter and wanted me to play 80 minutes every week.
He put a lot of trust in me and being out there for the whole game has allowed me to read it a whole lot better. It helps enormously that I've got a great forward pack as well that is making big metres and bringing me into the game.
I always believed I was good enough, but I wasn't getting the chance to prove it. That five-game stint turned my career around.
I'm consistently making good decisions. I'm not wasting runs like last year.
Seibs believes in me and has encouraged me to play to my strengths and, with Robbie still at the club as a former NSW and Australian player, the pressure is on me to perform every week or lose my spot.
There's been a lot of talk about me being in the running for the NSW team. You can try and ignore all of that, but it's hard to miss it.
I don't get ahead of myself, though. There's no danger of that happening after the fight I had to secure my career. Everyone asks whether this player or that player is ready for Origin and the truth is you don't know until they play it. But I'd certainly back myself to handle it if I got the chance.
If it comes, it'll be off the back of playing consistently good footy at club level and the Rabbitohs have got an enormous game on the road against the Warriors on Saturday.
It's hard to think about anything else when you're preparing for a game like that.
That's the way it should be.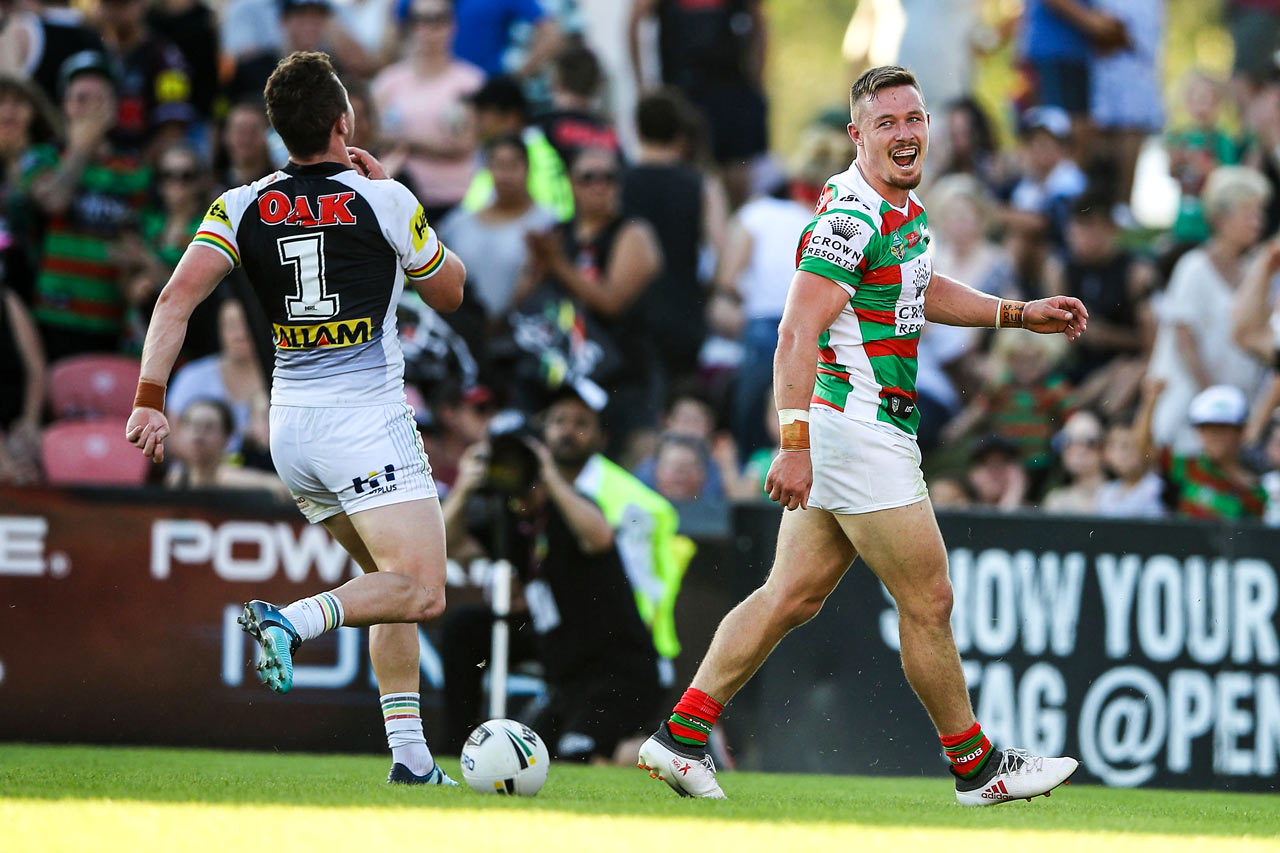 THE TRUE MEANING OF F.A.S.T.
I've been known to write 'FAST' on the strapping on my wrist, as well as other messages and names.
I wasn't being cocky about being quick, as some people apparently thought. Courtney was at a game when someone sitting nearby said to his mate, 'What the hell's he writing fast for, who does he think he is?'
They obviously thought I was just giving myself a wrap, but she quickly corrected them by pointing out it stood for the Foundation for Angelman Syndrome Therapeutics.
Angelman Syndrome is a genetic disorder that affects the nervous system and can lead to intellectual disability, developmental disability and other problems.
I became aware of it through my manager, Mario Tartak, who introduced me to his friend, Frank Caracoglia. Frank's son, Jacob, has Angelman.
I'd never heard of it and I wasn't looking for a specific cause to devote some time to, but sometimes these things just happen and you connect with someone and you feel the desire to do something.
I became friends with the Caracoglia family and then I took on an ambassadorial role with FAST. I try to help the foundation raise funds through an association with rugby league and other opportunities.
Sio Soliola from the Raiders is another ambassador and we were able to help arrange a fundraising day around a Souths-Canberra game last season.
I'm learning more all the time about Angelman. Jacob is a happy kid, but you see all the work the family has to do to look after him and keep him safe. The foundation is self-funded and needs all the support it can get.
I've written the names of other people with Angelman on my wrist strapping for games. It's just a way of showing support. We've had families out to games so they can just relax a bit.
I'm very family-oriented. Courtney and I are getting married in October and we're looking forward to having kids ourselves. You wish every child was OK, but it's a fact of life that there are going to be challenges for many of them.
I've found that if you can help the families going through that, even just a little bit, it's worth it.
More about: Canterbury Bulldogs | Damien Cook | NSW Blues | South Sydney Rabbitohs | St George Illawarra Dragons | State of Origin