The most impressed I've been with Billy Slater didn't involve him wearing boots or holding a footy in his hands.
He was fighting a mental battle, trying to convince himself at 32, 33 years of age that he could come back from his second shoulder reconstruction in less than a year, taking on yet another painful and lengthy rehab.
He came out on top.
There would've been a voice in his head telling him to give it away. 'Mate, you've done a fair bit in your career. Is there any point putting in all this hard work when you might not get back on the field anyway?'
To face that challenge with no guarantee that your shoulder's going to be strong enough for you to play again? I reckon 70 per cent of players would've said straightaway, 'No, that's not worth it'.
Of the other 30 per cent, some might've gone through the process but perhaps without the full effort, because it's such a big ask.
But that's not Billy. He's different.
What he did to not only get back on the field but be successful again summed up the person he is.
Incredibly determined. Extremely competitive. Tremendously strong in his character.
Billy's usually quite bubbly around our club but there were a few times when he'd come in dragging his feet and kicking cans. We knew why.
He wasn't the type to come out and say, 'I'm doing it tough' or, 'I don't think I'm going to get through this'. But he would get frustrated when the healing process wasn't going quickly enough, or when the doctor wasn't sure about something. Completely understandable.
I probably only saw the half of it. I wasn't living in the same house as him, so I didn't see him after he went home at the end of the day. He would have had some down times.
It must've been hard for Nicole, too, and the Slater family. It's difficult to stay positive when your career is on the line and you're not sure what the future holds.
Towards the end, when it was coming time to really test the shoulder out in training, I reckon he would've had that talk with himself where you prepare for whatever outcome happens. 'I've given it all I've got but if things don't work out, I've had a really good career. I've done a lot of good things, a lot of great things, so what will be will be.'
But he did come back. He's still here. And he's about to play his last State of Origin game for Queensland as captain of his state.
Amazing, really.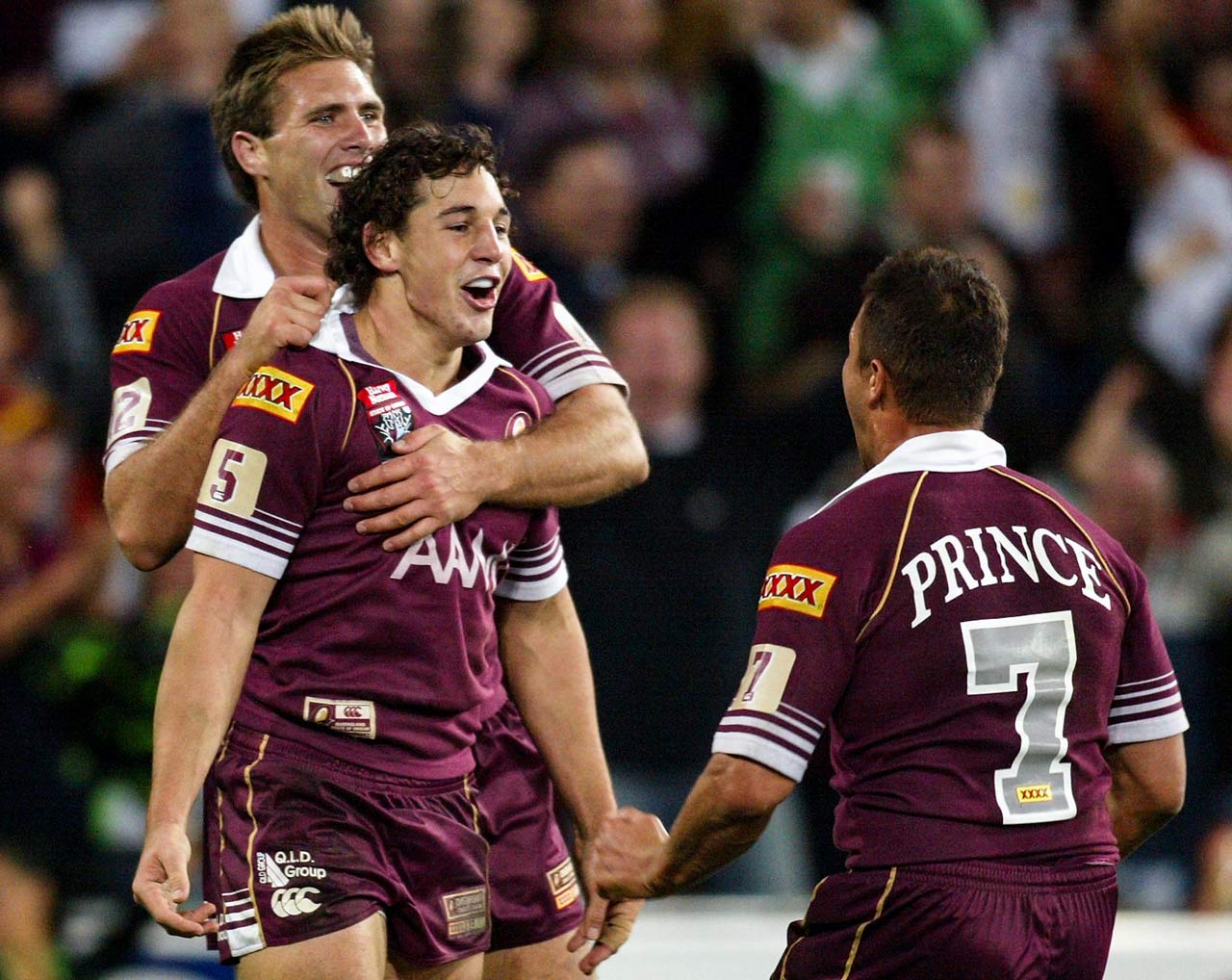 THE KID BECOMES THE MAN
Billy came to the Storm the same year I did, 2003. To be quite honest, you would have needed to be blind – as well as stupid – not to recognise his potential as soon as you saw him train.
He was still trialling for a contract. Of course, he got one. Through all the time I'd played for the Raiders and been an assistant coach at the Broncos, I'd never seen a guy put so much effort in.
I was stunned. He was winning the sprints but he was winning all the endurance stuff, too. You don't usually get someone who's great at both. He wasn't the best in the gym but he put in hard there as well. He wanted to be the best he could be at whatever we did.
We had two spots open and Dallas Johnson was the other pick. Not a bad double. We got lucky there.
Billy came here as a centre. That's where he'd played and where we were thinking of using him but that changed pretty quickly.
Watching him at training, he just wanted to be where the ball was. He wasn't interested in holding a corridor or some area and waiting for the ball to come to him. He wanted to be around it all the time. That's what I like in my fullbacks. He had that speed and competitiveness on top of that.
I thought to myself, 'He'd go OK at fullback, this kid'.
Bill played a bit of fullback in the early rounds and then in the centres when Robbie Ross came back from injury. But when Robbie got hurt again, he took over at fullback for good.
It was inevitable.
You would have needed to be blind – as well as stupid – not to recognise his potential as soon as you saw him train.
Billy was only 19 when he made first grade and was still very green in the subtleties of the game – the tactics and technical stuff – but we knew we could teach him that.
He became a great student of the game and, to this day, he watches a hell of a lot of footy. His own game, his own team. Other players, other teams. What he does on the field isn't by chance. It's preparation, a lot of study.
He's a very smart footy player.
We'd say to him, 'Look at this player, you might get a few ideas about how he handles certain situations' and, just like Cameron Smith did, he always took that on board.
Robbie Ross was a huge help to him. Billy was sort of taking his position but Robbie's time was limited anyway by then, because of increasing injury problems. They used to sit down together a couple of times a week to examine Billy's game.
Review his previous match. Plan for the next one. Robbie didn't have Billy's pace but his positioning was great. He had heaps of experience and a terrific footy brain.
I know Billy's really grateful for the help Robbie gave him. It helped him on his way to being the great player he became.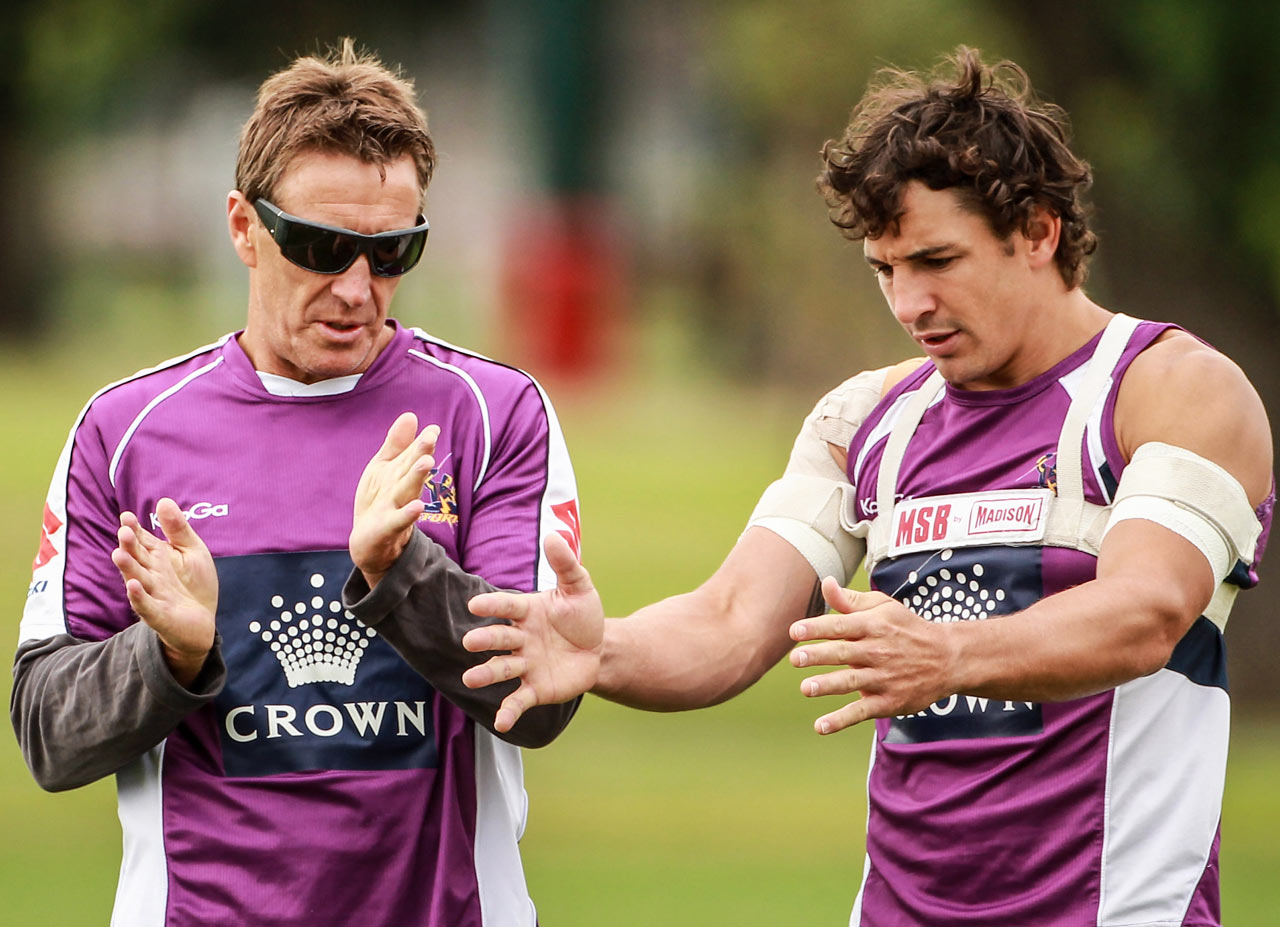 A MATE & LEADER
I was in my early 40s and 24 years older than Billy, so I was a bit of a father figure to him in his first couple of years at the Storm.
I think I was like that to all of the young guys at the club, because they had come down from interstate and had no mums or dads, grandparents, brothers and sisters or even their old mates from school around.
I made it a responsibility of mine to try to help them, not only on the field but outside of footy as well.
If I sat down with Billy or another player for a review of their game, I'd sometimes have a bit of a chat about life off the field as well. Who are you living with? Do you get on with those guys? Do you have a partner? Have you made any friends outside footy?
They didn't ask for advice much but if I thought they needed some, I'd give it to them. Sometimes they didn't like it but you get close to your players and you look out for them.
I was building a relationship with Bill.
I was stunned. He was winning the sprints but he was winning all the endurance stuff, too. You don't usually get someone who's great at both.
I remember a game in my first year and Billy was playing out of his skin this night. So sharp. Every time he got the ball, something happened. I thought, 'I'm pretty lucky. Other NRL coaches have got to face this every week'.
But eventually I had to face it myself, when I coached against Billy in Origin in 2008.
It was tough – tactically and emotionally. I felt the same about all of my Melbourne boys who were playing for Queensland.
I had to drop Billy to reserve grade in 2006, after he'd served a couple of suspensions in quick succession and missed a lot of footy.
This was already two years after he'd exploded on the Origin scene by scoring that magnificent try when he regathered a kick and then kicked ahead to score. But the Storm were winning in his absence. I had to recognise that.
I hated doing it to him, because I knew he was going to cop it from the crowds at those games. But I knew I had to do it and he accepted my reasoning. You've got to be up-front and honest with a player like Bill in a situation like that. He'll understand.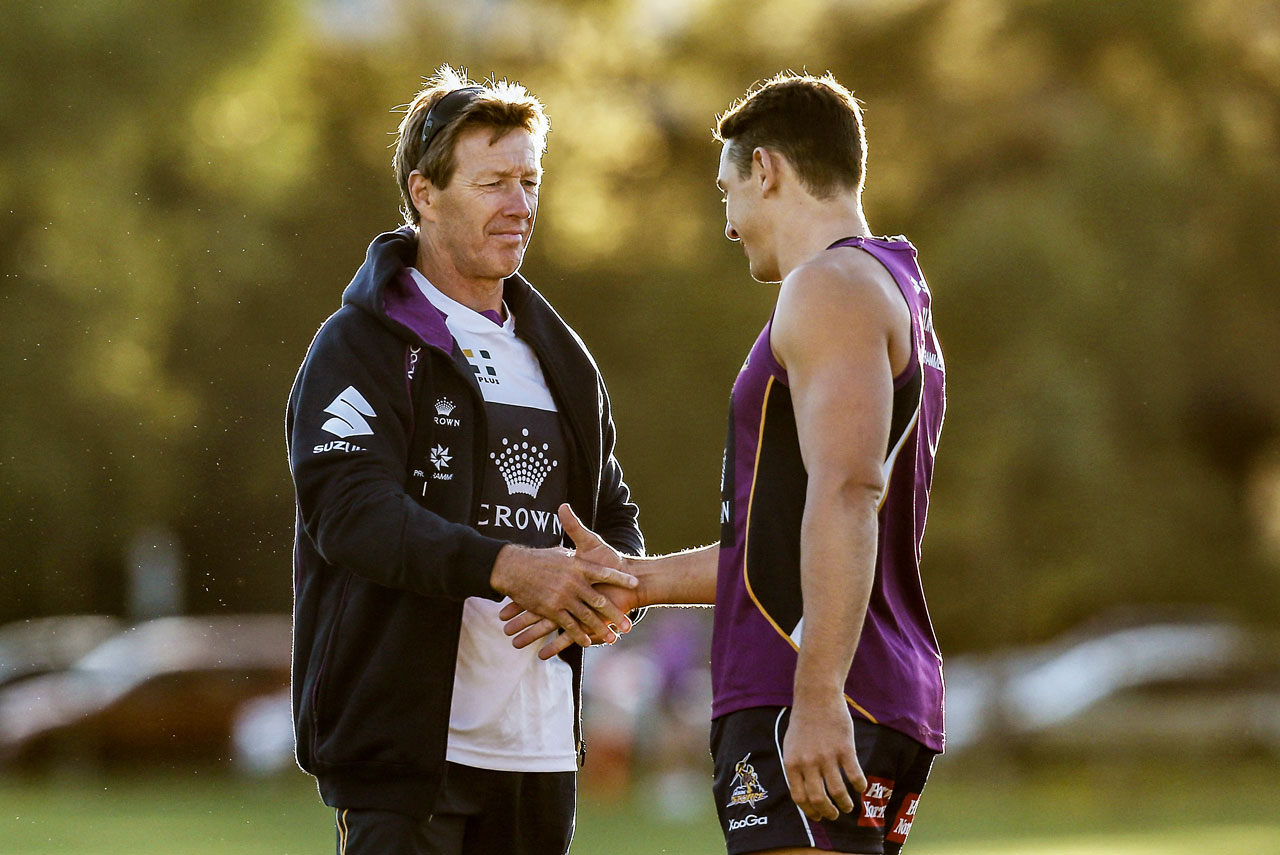 He was a great help to me in our salary cap penalty year in 2010. All our senior guys were.
Early on, it was really tough going for them. They didn't understand what was going on. There was a lot of confusion about what had happened and no one really came down from the NRL to explain why the penalties were what they were.
It was a horrendous time and I needed blokes like Bill to help keep everyone motivated to play every week.
I don't think Bill would call me a father figure now and I wouldn't say he's like a son. I'd describe it as a very comfortable relationship. Good friends. It's probably unusual to have two people with such a big age gap being good mates but we are.
We've got a lot of respect for each other. What used to sometimes be arguments about footy have turned into discussions.
I was very stubborn in a bit of a negative way when I was younger and basically footy things had to be done the way I wanted them done. Now, I'm a lot more flexible.
Guys like Billy and Cameron and Ryan Hoffman and Cooper Cronk, while he was still here, have all been playing at the top level for 15 years or more. They've got a better idea of what happens on the field than I do.
I take more advice off them than they do off me about footy things at this stage of their careers.
STUBBORNNESS & WORK ETHIC
It's hard to say where Billy ranks among history's greatest players.
Comparing players from different eras over more than 100 years leads to arguments that are tough to resolve. The game is a lot older than me. There are many great players I never saw.
But I will say this: he's certainly the best fullback I've ever seen and I go back to the late 1960s and early 1970s.
He has changed the way fullbacks play. A lot of fullbacks have tried to copy his particular style. I don't think you can get any better endorsements than that.
It's not just his high level of involvement and his try-scoring ability, although both are extraordinary. It's the lines he runs and how he can make split-second adjustments. A lot of fullbacks prefer to pass the ball or run the ball; he does both, brilliantly.
Early in his career, he had a high rate of low-percentage plays. Too many for us to get away with. Bill used to go out there to play with a lot of ideas in his head, which was great, but sometimes he'd try something that would be too big a risk at the wrong time of the game.
He's certainly the best fullback I've ever seen and I go back to the late 1960s and early 1970s.
Probably the best bit of coaching direction I gave him was that before he tried something on the field, I wanted to see him practise it at training. That way, we'd know which ones to persevere with and which ones to forget about.
We just had to refine things. It didn't take away from his ability to create. Even now, he's always trying things at training and he and Cameron are still probably the last two to leave the session.
As good as he looked when I first clapped eyes on him, if someone had said to me that he'd go on to play for at least 16 years and 30 Tests and six grand finals and be about to play his 31st Origin, I would've said that's reaching for the sky.
The thing that made him great and has kept him great for so long is his work ethic. He has never lost his passion for the game or for hard work.
What I see when guys start to lose their work ethic, that's when they should be thinking about retirement, because their game is going to fall away along with their work ethic.
I see greatness as a high standard of performance over a long period of time. That's Billy. Some players have a couple of really good years but don't go on with it.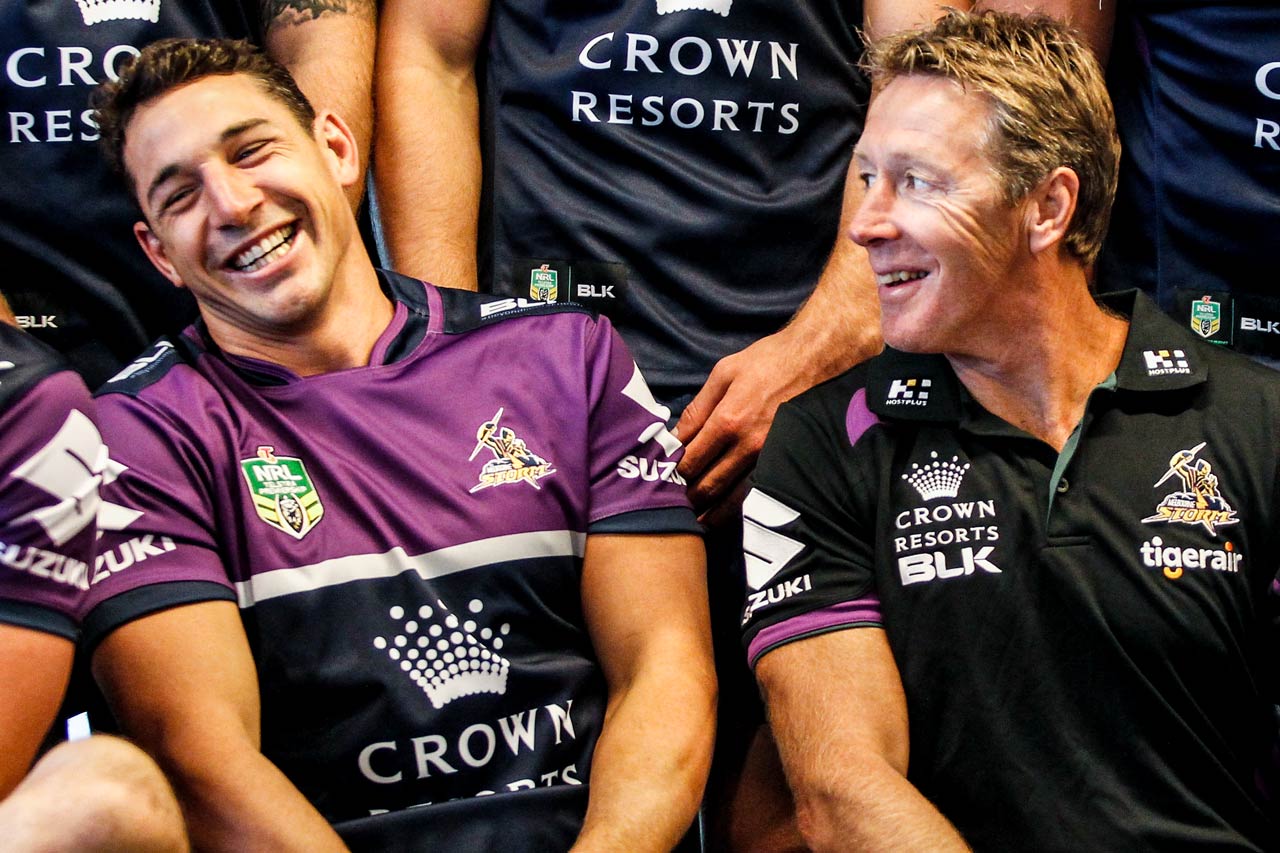 Billy's a very outgoing, friendly person. He's got an air of confidence about him but he's not arrogant. He's grateful for the opportunities he's had and he knows there have been some key people who have helped him at the Storm, Queensland and Australia.
He doesn't forget that.
The support he gets from Nicole and their kids and from his mum and dad and sister means the world to him. He has always remembered where he's come from and treasured the people who are most important to him. That's always been his outlook on life and footy.
He's got a certain stubbornness about him, which I think all great people have.
Stubbornness can be a strength or a weakness – you have to be careful to make sure it works for you – but when Billy believes something's right or something needs to be fixed and he gets stubborn about it, he's usually spot-on.
I don't know whether he'll play on beyond this season but I trust him to make the right decision for himself and his family. I'll leave him to make it. After all he's done for our club and the game, he deserves that right, whichever way he goes.
ORIGIN SWANSONG
I'd love to see Bill exit the Origin arena on a good note.
I'm a New South Welshman but we've always had a lot of Queenslanders here at the Storm. I always like to see our players do well in Origin. Rather than talk about who might win, I prefer to leave it at that.
I wouldn't say anything to Billy before a game like this. He knows Origin a lot better than I do. I'm pretty sure he's got it sorted.
But I do have some advice for everyone watching the game: sit back and enjoy seeing one of our all-time great Origin players go around for the last time at this level. Savour it.
It should be something special.
More about: Billy Slater | Cameron Smith | Cooper Cronk | Craig Bellamy | Melbourne Storm | NSW Blues | Queensland Maroons | State of Origin