I smile a lot on the court. I know some people like it and some people don't.
But I love it when a kid or a parent comes up to me and says, 'You just look like you're having the absolute best time out there', because it's the truth: I am. I'm out there enjoying every single moment.
I used to take myself way too seriously, so being able to get out there and smile and love every second of it the way I do completely takes the pressure off me. It allows me to stay relaxed and enjoy the moment, because, honestly, you don't know how many opportunities you're going to get with the Diamonds or even in Suncorp Super Netball.
Not everyone approves, but if the kids love seeing me out there having fun and if that motivates them to keep playing, that's what I'll be doing for the next 10 years.
I'm smiling right now. I literally can't stop.
It's been such a crazy year since I played my first Test last September in Brisbane. But I now feel really comfortable in this Diamonds environment and I do have to pinch myself that I'm getting this opportunity to start and to run out games.
It's kind of all clicked. Fallen into place. I'm confident, so my game's blossoming.
The two goal keepers before me, Sharni Layton and Laura Geitz, were absolutely fantastic role models and players, but I don't look at it as having big shoes to fill. The most exciting part is that Lisa Alexander is allowing me to evolve the goal keeper position into what I want it to be.
Geitzy and Sharnz were very different to each other and now I'm something different to both of them – maybe even a mixture of the two. So I'm just trying to get out there and play my brand of netball. I know that if I try and be anyone else then I don't get the performance I want.
I think I've got that hardness and mongrel that we see from Sharni, but also a bit of that light and shade from a game like Geitzy's; that ability to be a bit elusive. Being able to come out and contest and win the ball is definitely one of my strengths. The more comfortable I feel in my role and in myself, the more I'm starting to really have a fly at it.
When I do, it kind of feels like I've got all the time and space in the world. It looks like the ball, everything, has slowed down. Coming through and knowing that you've got two hands in there and that you've timed it perfectly is quite surreal.
There's definitely an adrenaline hit. I'm absolutely buzzing. I'm hearing the crowd, obviously, but helping get the ball down for us to score is such an amazing feeling because it means we're doing our job and setting the tone, defensively.
We all play for each other, and if I'm coming out flying, it's all because of the hard work my teammates are doing out the front for me.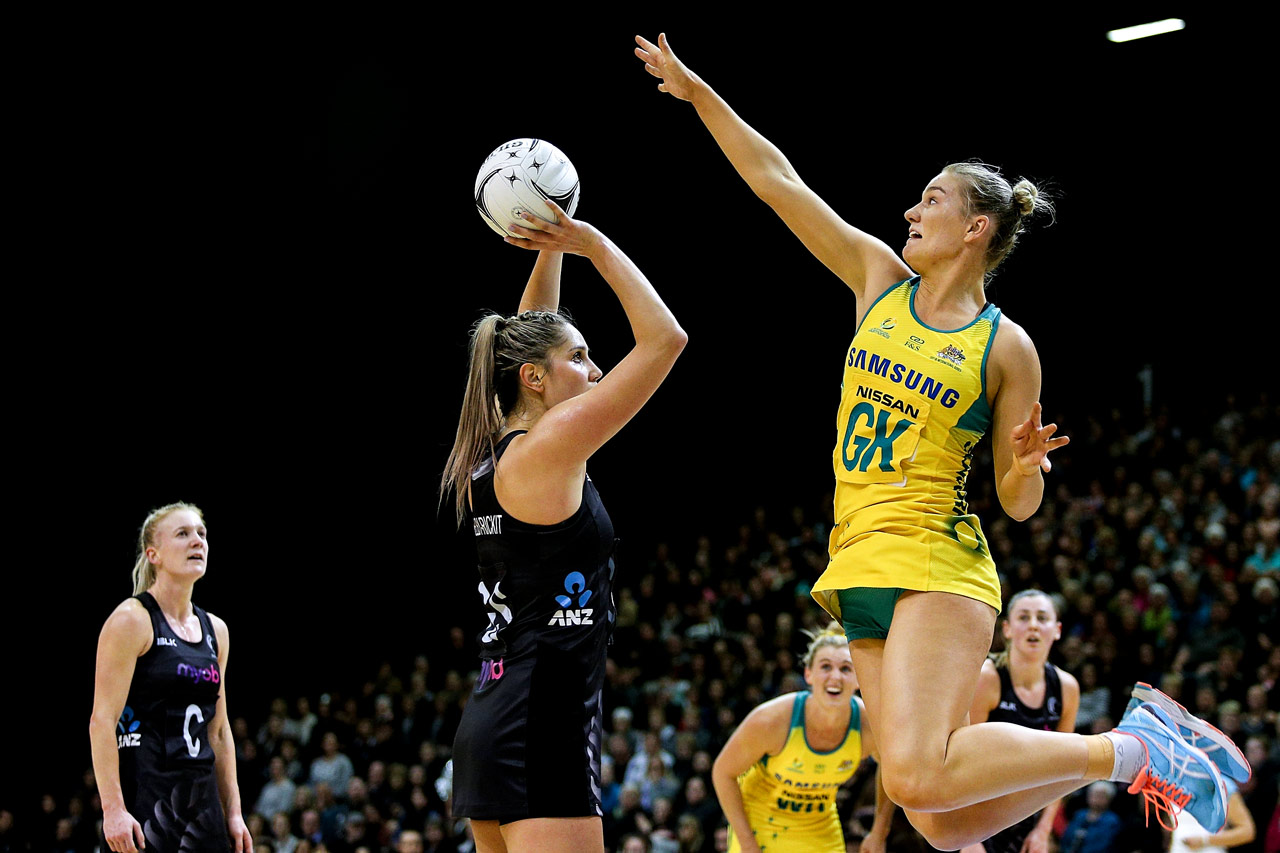 GOING BACK TO NETBALL
I didn't actually like netball at first. I was about seven or eight, and started playing at our local recreation centre with my twin sisters.
I was very, very shy, so I liked my own time, and being around a bigger bunch of girls was a little bit overwhelming. So I had a few years off and did athletics – I was a high jumper, went to nationals twice – then picked netball back up when I was around 12.
Mum and dad thought – well, decided – that doing some form of team sport would help with my shyness, and they were right. Playing with some of my school friends at my local association, Southern Districts, definitely brought me out of my shell.
Going back to netball was 110 per cent the best decision I ever made. The older I got and the further I went along the athletics pathway, the more I hated how individual the sport was. Being around netball, being around the 10 or 11 other girls, it was the opposite to how I felt when I was younger: it was like having another family.
I was in the WA junior teams in under 17s, 19s and 21s. There hadn't been a lot of WA players in the Diamonds, but I was quite lucky when I came through that I was put into Aussie junior squads quite early. I got to see that it didn't matter if I came from WA or you were from the east coast, I still had an opportunity to represent Australia at some point.
I was also lucky getting picked up by West Coast Fever when I was in Year 12. Just turning 16, I had Caitlin Bassett to look up to, and could aspire to follow a similar path.
Going back to netball was 110 per cent the best decision I ever made.
As a team that struggled for so long, I definitely had moments where I wondered if we would ever be good enough. In the West, in the past, I think girls have been excited to just be in the team, just to be there. We'd never really tasted success.
That changed in the last couple of years with our under-age girls and then obviously for us this year at Fever, but I've always felt like we were definitely on the brink of something. Even when I was coming through nationals, we had a few thirds and a few fourths, and just couldn't push to that next level.
To be voted by the girls this year as the Fever's first West Aussie captain was huge for me. I've grown a lot since I was that 16-year-old to now being one of the older ones – at 24, which is not old! I can't believe that I got the opportunity to walk out each week with the girls behind me, to walk out at home in front of that Perth Arena crowd as captain, as a proud West Aussie captain.
When we beat the Giants in Sydney to earn a home grand final, I just cried my eyes out. It was just an overwhelming sense of pride – just knowing we had got there. I couldn't fathom that, and the fact that in my opinion we were unbeatable at home at that time in front of that huge home crowd, I was just over the moon.
It was obviously disappointing that we lost to the Lightning, but it was still an amazing Suncorp season for everyone in the west. So many people came up to us and said how proud they were of us as players – and as people, first and foremost.
It's given girls the opportunity to see that there's a pathway for success if you want to play netball in Perth. It's shown that we can have success and we will have success in the future. We set a crowd record in the grand final, we literally painted the city green, and I know that the whole WA community got behind us.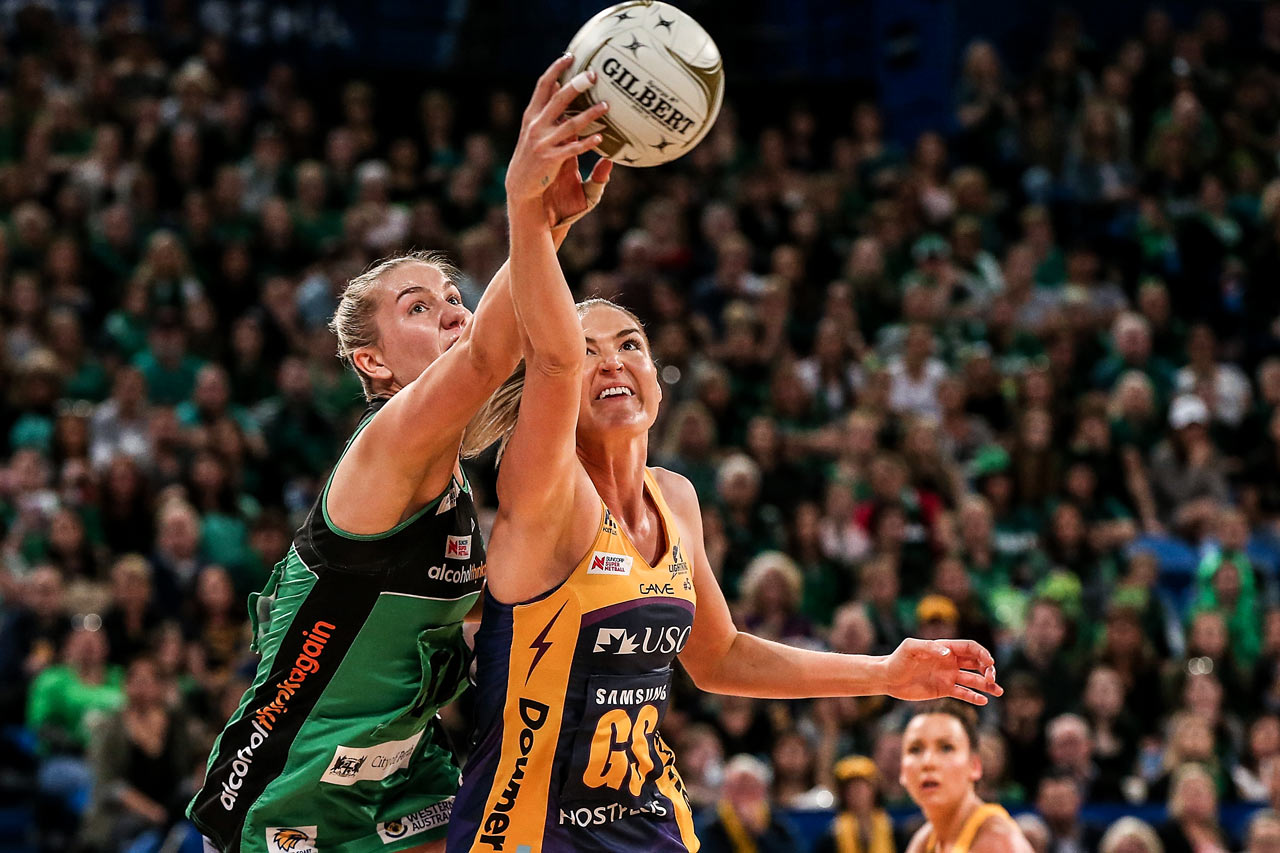 More about: Diamonds | Giants netball | Gold Coast 2018 | Laura Geitz | Sharni Layton | Silver Ferns | Sponsored | Sunshine Coast Lightning | Super Netball | West Coast Fever | Women's Sport