The footage I can never watch
When I see an athlete rupture an ACL, I react differently now. It pulls at the heartstrings. 
I did my first ACL playing for the Adelaide Thunderbirds in 2016, and my second, on my other knee, 13 months later in 2017, with the Collingwood Magpies.
When the Swans' player, Alex Johnson, did his sixth, I felt sick. Knowing the pain and process that lies ahead for the athlete, it's hard to watch, for sure.
I've never watched the footage of my injuries. That was a conscious decision I made at the time. I just thought 'I can't bear to listen to it, more than anything', because I was distraught, I was in excruciating pain.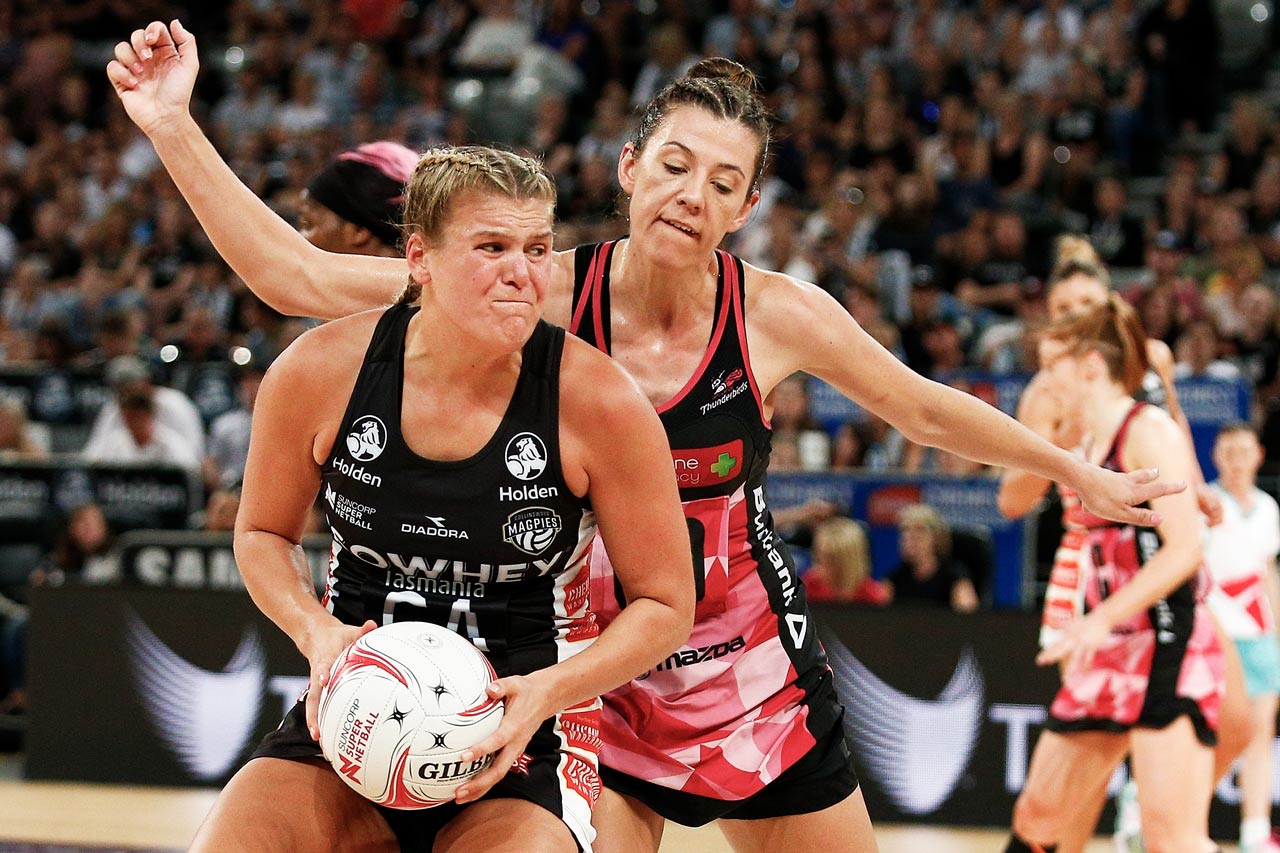 A PM, A FOOTY PLAYER AND ME
I grew up in Bordertown, in country SA, where Bob Hawke was born. He'd be the most famous person to come from Bordertown, then there's Lincoln McCarthy, who's playing some awesome footy for the Brisbane Lions.
It's a small place, but I'm not the only sports star, and I'm not the biggest, either!
There was a lot of sport in my childhood, but netball and basketball were the predominant two. I moved up to Adelaide to go to boarding school at Immanuel College for Years 10, 11 and 12, graduating in 2012.
At the time I was pretty scared, because I was happy and comfortable in Bordertown, but looking back now it was the best thing I ever did. There were endless opportunities, and not just for sport. Living with your mates in one big house is just all-time.
I got my first contract with the Thunderbirds at 16, which was crazy, amazing, and daunting.
I was so young, and it was awesome to train and play alongside some of the best.
Maddy Proud and I were both new that year, so we quickly became close. I remember the leaders of the club being Nat Von Bertouch, Sharni Layton and Bec Bulley, who were all superstars that we both looked up to.
I was still at school in the 2011-2012 seasons so I was sort of living two lives.
At the time you go with it and you're working really hard, but looking back now it all did happen super-quick for me. Having been through what I have, I can appreciate it a lot more, looking back. If there was any downside, it was probably just juggling netball with schoolwork and everything else at that age.
At times, it was difficult to comprehend how different my life was from my friends, but at the same time I felt extremely lucky to be in the position I was.
I made the Australian national squads in under-17s and -19s, and went to Glasgow with the 21-and-under team for the 2013 World Youth Cup. We lost to the Kiwis, which was devastating. We had a strong team: Gretel Tippett, Kim Ravaillion, Gabi Simpson, Maddy Proud, Jo Weston, Paige Hadley, Courtney Bruce, Kaylia Stanton… But the Kiwis had a great team, too, and a lot of them are playing for the Silver Ferns now. 

It felt like my leg had snapped
I was so excited to start 2016. I'd had such a good pre-season with the Thunderbirds, and I was fit and raring to go.
Then came round two and that injury, which was horrendous. 
I came on not long into the second quarter. The first pass I was going to receive was an angled drive down the court. I was ready straightaway, but unfortunately my teammate didn't pass the ball until the last second, so I sort-of twisted my body back to get it, my feet were positioned awkwardly underneath me and then I collapsed on my right leg.
It felt like my leg had just snapped. I was just in such terrible pain.
I had surgery quite quickly and I was very determined to get back. Straight after surgery, I was on the doctors' and the physios' backs saying: 'right, let's get started, let's get the rehab going'. I knew it was a 12-month gig and I was going to do everything I could to be right for the next season. The way I had started 2016 gave me confidence that I could play at the elite level.
I've never watched the footage of my injuries. I just thought 'I can't bear to listen to it, more than anything', because I was distraught, I was in excruciating pain.
What I couldn't have known was that it would be for the Magpies. They didn't even exist then, and neither did Suncorp Super Netball!
I was approached about halfway through my rehab, when I wasn't certain if I'd be playing the following year or not. I knew for sure that I wanted to, and when the opportunity came for me to move to Collingwood I thought, 'You know what? this is a new experience, a fresh start, a new team and a great opportunity for me to get myself outside of my comfort zone and really see what I can do with my netball'.
And it was awesome. I loved my experience there.
After such a major injury, I obviously wanted to put my best foot forward and do my job for my new team, but I was also just grateful to be playing netball again. It was a really tough challenge to push myself to make it back to elite netball/SSN so quickly. Looking back I'm proud to say I did that and I'm proud to have represented Collingwood in those nine games.
Then the second one happened.
More about: Adelaide Thunderbirds | Collingwood Magpies Netball | Injuries | Sharni Layton | Silver Ferns | Super Netball