Pick 132 to All Australian
I wanted to be an Opal growing up – a member of the Australian basketball team.
That was back when the WNBL was on TV all the time. Watching those elite women players was inspiring. They became my role models.
I started playing basketball in primary school and I was very passionate about the sport through my teens. I planned to go to college in the US and chase my dream of playing for Australia.
Then, when I was 18, I did my left ACL. College went on the backburner as I did my rehab and by the time that opportunity arose again, I found my interest had waned.
That was lucky, in a way. I ended up finding footy.
I started playing when I was 22, when I was at RMIT University studying teaching. Steph Chiocci introduced me to the game and we played together for the RMIT Redbacks.
A few uni mates, including Steph, were also playing with Diamond Creek, the VFLW club. They invited me down one day and I never left.
I loved that first season of footy, but I needed another left knee surgery afterwards. I've also had surgery on my right hip, thanks to footy.
My biggest challenge as a player has been self-belief. I'm a big doubter of myself and my ability, and injury played a major part in that during my first season in the AFLW.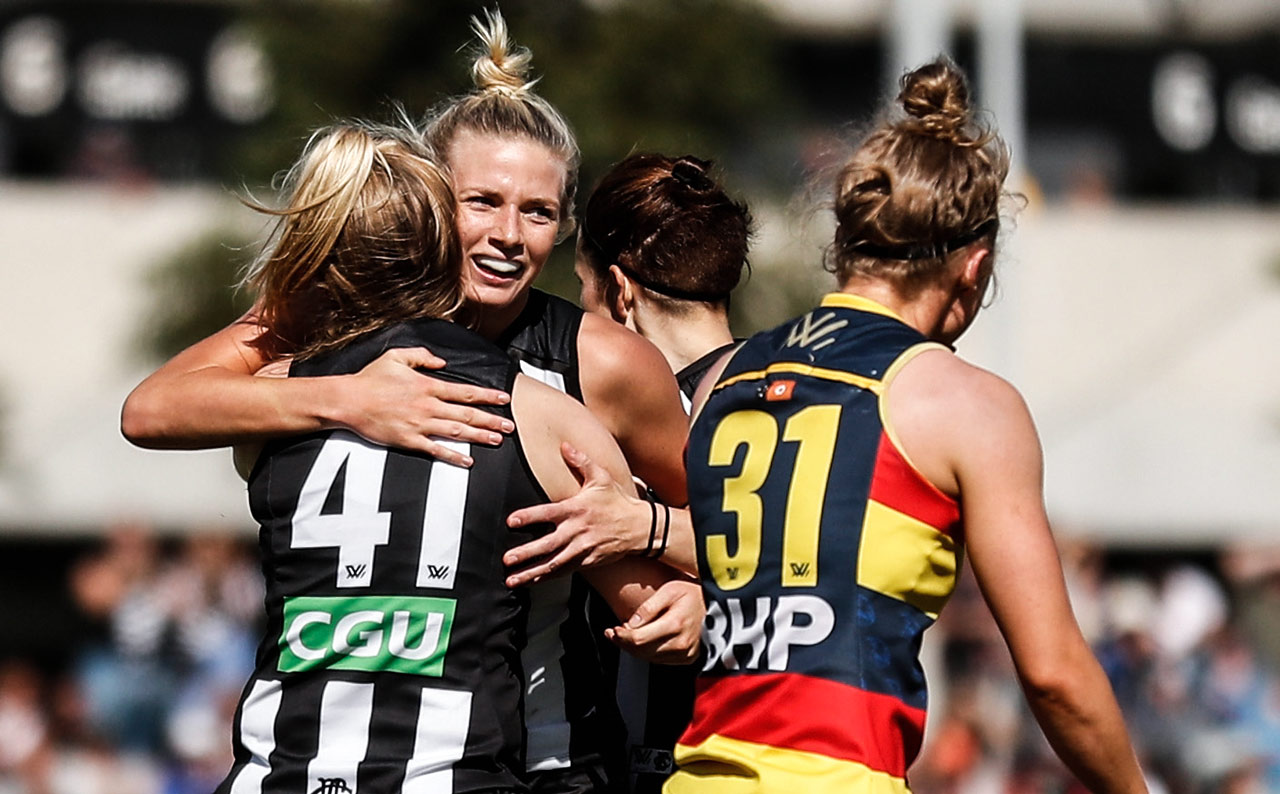 TALE OF TWO SEASONS
I almost didn't put my name in to the first AFLW draft back in October 2016, to be honest. I wasn't sure if I'd get picked up.
As the draft unfolded, I watched quite a few girls I'd played against get selected. That made me think I had a chance, but it was getting tight towards the end and I was very nervous.
Collingwood was the only club that had spoken to me and our discussion went well. I thought, 'Maybe that's a chance'. I was absolutely ecstatic when I got picked up by the Pies.
Pick No.132, of 145 players selected.
But that self-doubt got to me in season one. I thought I was out of my depth, and my injury history also played on my mind.
I was shocked to be picked as an All Australian after that second season. I did not see that coming … I'm just glad I was able to improve so much.
That's one problem with the short AFLW fixture we currently have: even a semi-serious injury puts your entire season in jeopardy. It can wipe out your entire campaign and all that pre-season work in one go, or it can put you out for a few games and leave you fighting to regain your spot.
I had a concussion that first season which put me out for one game during 2017. I was lucky enough to get back into the team, but the risk of injury played on my mind a lot. I'd be running into contests and in the back of my mind, I was worrying about my knee. I'd pull up sore after games and wonder if I was about to break down again.
I ended that first season feeling that I'd wasted my opportunity. Collingwood felt similar – I was told that they didn't know if they had a spot for me in 2018.
They told me that I needed to work on the mental side of things. I saw a sports psychologist, plus the well-being staff at Collingwood.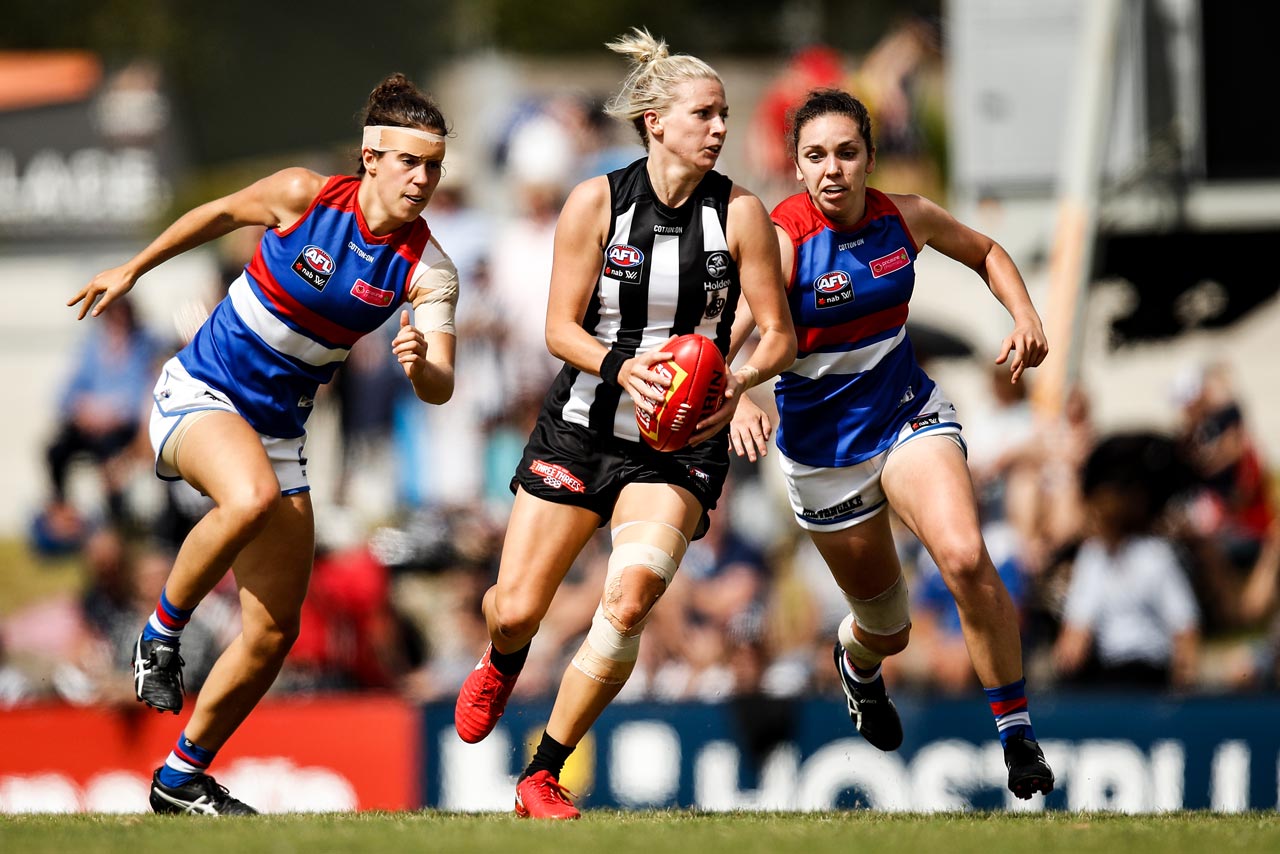 Our coach, Wayne Siekman, spent a lot of one-on-one time with me, fixing my kicking and other skills. Talking strategy. He was a big support in all areas of my game, including the mental stuff.
Season two was so much different. My mindset was far better. I guess I just got better at dealing with certain situations, because the injuries didn't go away. I had a new injury nearly every game and never really played at 100 per cent fitness. I was really tested mentally, with my ability to push things to the side and just play without fear.
I was shocked to be picked as an All Australian after that second season. I did not see that coming and it wasn't something I aspired to. I'm just glad I was able to improve so much.
I really wanted to be a player who my teammates wanted to play with, not a girl who was making up the numbers.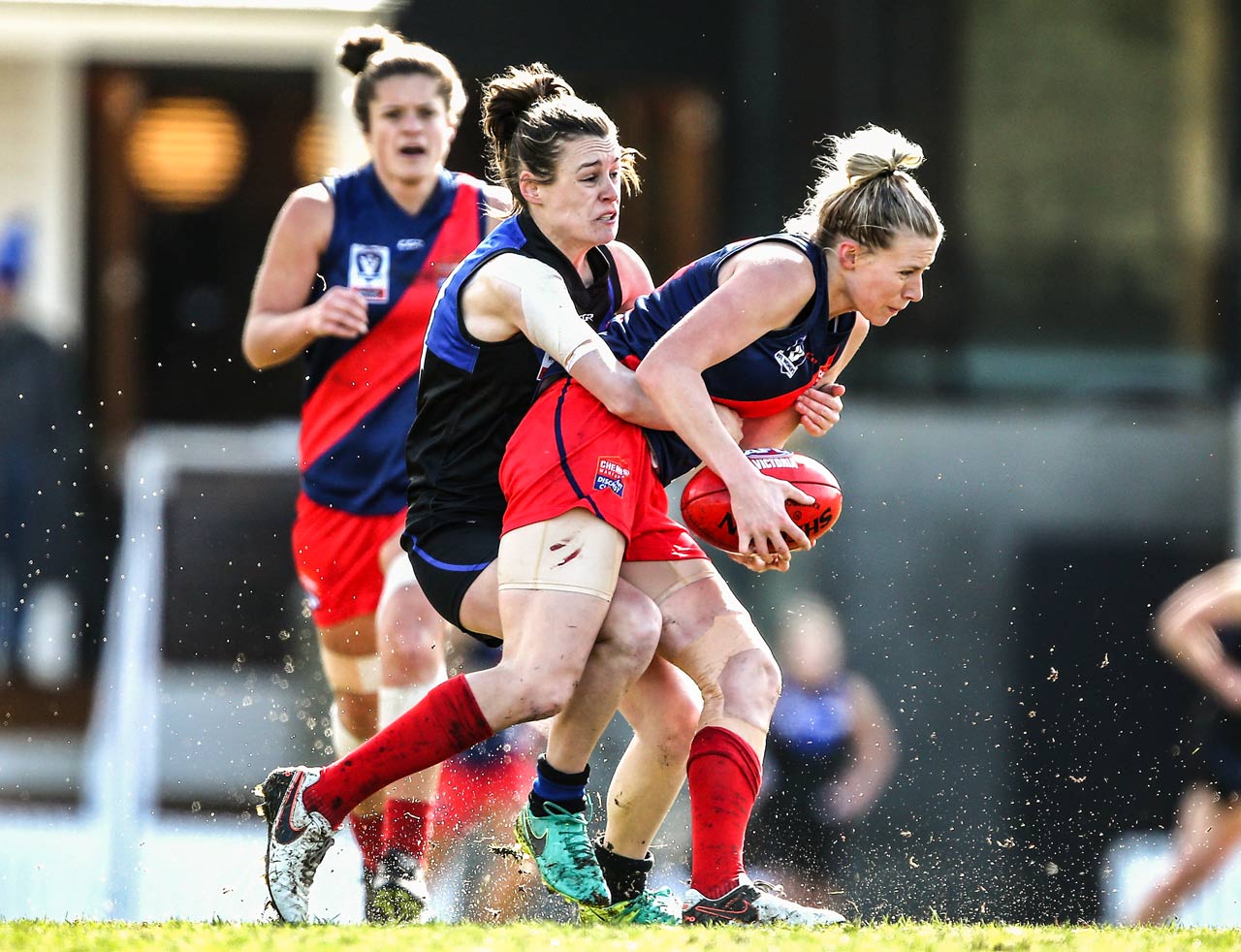 A MISSED GF & THREE TOWNSHIP KIDS
Before our Diamond Creek side reached the 2017 VFLW Grand Final, I had arranged to go on a school trip to South Africa, taking six Ivanhoe kids over to a conference with the global organisation Round Square. It has 180 member schools across 50 countries, aiming to make the next generation aware of the important issues in communities across the world.
Our Creekers had a great game to get in to the Grand Final against Darebin, a huge rival of ours. As soon as we won through, I was like, 'Oh no … now I don't get to play the Grand Final!'
I tried to get out of the trip, but it wasn't to be – luckily, as it turned out. I'm very thankful I went. And I got to watch the GF.
I got up and was trying to stream the game, but it wasn't working. A friend of mine was watching it on TV, so she Facetimed me for the whole game while I was standing outside near the pool of our accommodation in Johannesburg, in the dark at 3am. I was rooming with a teacher from Peru and I didn't want to wake her, so that was the only option.
It was an agonising one to watch – the girls lost by seven points.
That first week in Joburg, we went to Soweto, got the kids out to experience different things. We worked with local schools and community organisations to help where we could and provided them with teaching supplies.
The second week, in Cape Town, we went in to a small township and worked with a small primary school that was on holidays. We fixed up the school and looked after some of the kids, trying to occupy their time away from their normal lives, which were very confronting.
We heard some of their stories. One kid spoke about seeing a parent shot in front of them. It was shocking to us – but not them. It's something the township people deal with every other day.
At this point in the trip, I'd had a pretty major dose of perspective about my VFLW Grand Final. These kids were living in poverty and danger. It made me thankful that I could play footy at all, never mind missing one game.
In that sprawling collection of shanties where those kids lived, I saw something that I will always remember.
We were at the school painting a hopscotch board on the ground. It started raining. At home, we probably would have stopped, but the local guys just kept going. There was a dirt patch nearby – their oval, though it was really just dust, which turned to mud as it rained.
Three little kids, who I don't think were part of the school, came off the street and crossed the dirt patch, coming towards us. Two boys and a girl, I think aged between three and seven. They were wearing oversized clothes. They had missing teeth. Only one of them was wearing shoes.
They were adorable kids, but they were not well off at all. They came over to ask for some of our food. One of them took the paint brush from me and started painting on the ground. They just wanted to be involved.
Those kids were so small, born into such hardship, yet were still so happy. They had so little, yet their faces beamed with a beautiful spirit. I will never forget those faces.
It was a moment where I told myself, 'We are so lucky at home'. It was a big moment for me.
Another lady and I sat together on the bus on the way back to our accommodation. We cried. You just wanted more for those kids. And you couldn't give them that. We were there for such a short time and no matter what you do, you can't change their living circumstances.
It was confronting, but also a very valuable experience. You could never begin to understand that life until you have seen it for yourself. It makes you thankful for the many opportunities we have.
More about: Collingwood | GWS Giants | Injuries | Opals | Resilience | Women's Sport