It's one thing I'll definitely miss when I hang up the racquets: that feeling of walking out onto Rod Laver Arena and knowing the whole Australian crowd is behind me.
The adrenaline rush is exhilarating. I'm grateful to have been able to experience that in my career, and to have memories that I'll carry with me for the rest of my life. Even in a second-round mixed doubles, a night match, the atmosphere is amazing.
There's nothing better than playing at home, representing your country. Even now, leading up to January, there's just that sense of comfort of, 'Ok, now I'm in Australia for the next few months.' It's exciting. After travelling so much, you're heading into something special in your own backyard. 
I've always thrived on that. The Australian Open is where I've played my best tennis over the years.
You want to put on a good show, you want to perform for the Australian public and you want to give it your all. That's probably why it feels different. But every grand slam has a different feel.
The US Open is so big and loud, there's so much advertising, music playing in between matches, noise everywhere. Wimbledon is very traditional. The French is quite different again.
The Australian Open just has this real family-friendly feel where everyone gets behind you. Not only is it my favourite grand slam, it's the first one of the year, so you're really fresh and ready to go.
There's extra pressure – yes, absolutely. But you just learn to embrace that. The Australian public just want to see you play well. For me, as an Australian, it doesn't matter who I'm watching – whether it's our team sports or individuals – you just want to see Australians have a red-hot go. And as an athlete, I know that if you do that, the public will really embrace you.
Obviously the higher ranked you get, the more pressure and expectation there is, and there were definitely years where I did find that difficult. As athletes, we always put so much pressure on ourselves, and that's multiplied by 100 with everyone else's expectations on top of your own.
But the older you get, the more you learn to deal with that. You've just got to try to use it to your advantage.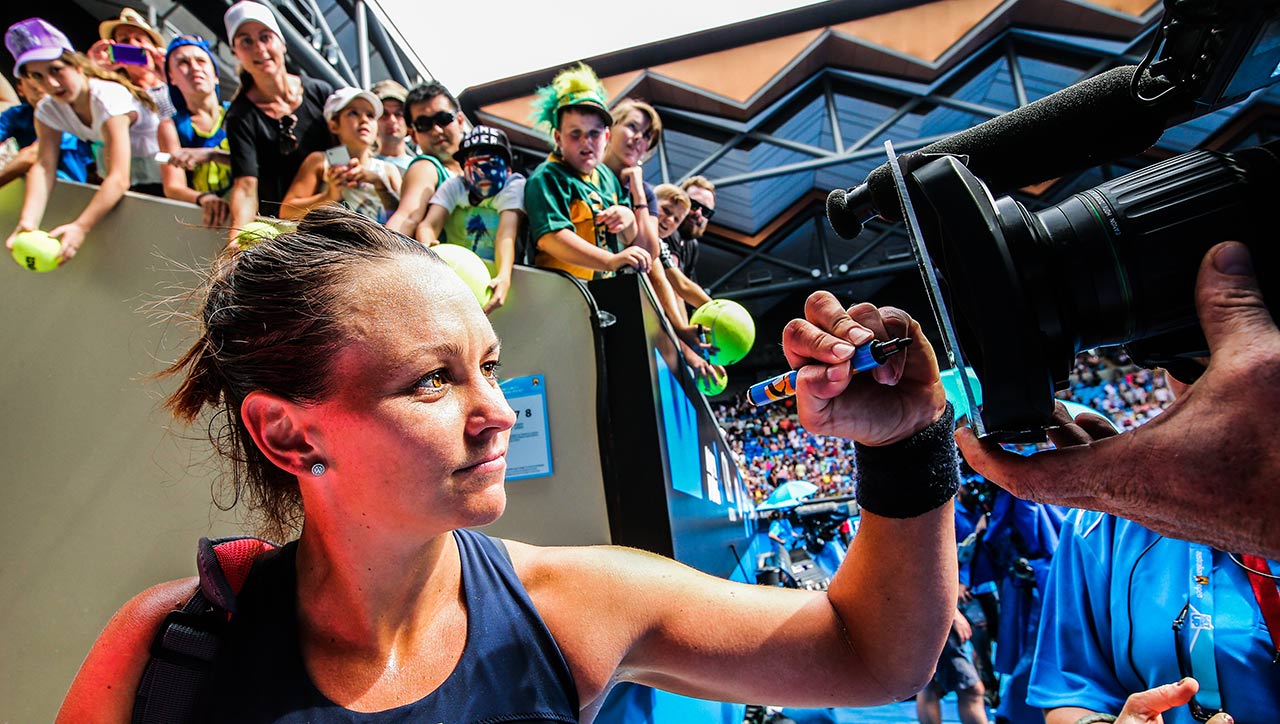 THE TARGET KID
I was 22 the first time I reached the fourth round in singles. It was 2008, and it was so unexpected that maybe I wasn't even ready for it. I'd only won one match at a grand slam before that summer, so to then beat Amelie Mauresmo, who had been a world No.1, when I was ranked 78th at the time was just a surreal experience.
I was so young, physically and mentally, and unaware of a lot of things. But I'm grateful for that experience, because it was the first tournament that gave me the confidence and belief in myself that I could be a really good player.
My Nan got a fair bit of publicity that year, too. She had watched me play all my junior tournaments, so it wasn't anything unusual to have her there; it was the same as if I was playing down the road. Except that this was Rod Laver Arena, and she was on TV with the Aussie flags in her hair and all of that. 
That was the year I was wearing clothes from Target. The funny thing is that I buy all my kids' clothes from Target now…
I try to always be as open, honest and authentic as I can, and maybe that resonated with people. I'll never forget the support I had during that time, and the way everyone embraced my whole family. I just wish I was a little bit older, or mature enough to understand exactly what was happening.
For me, as an Australian, it doesn't matter who I'm watching – whether it's our team sports or individuals – you just want to see Australians have a red-hot go. And as an athlete, I know that if you do that, the public will really embrace you.
The second time, in 2014, was very different. It was so much more memorable and rewarding, because I'd had injuries, I'd come back from surgeries, I'd worked so hard.
I was able to soak it all in, the whole experience. I knew how to prepare for each match. For an Australian, as the tournament goes on, doing all the extra media and publicity stuff can get a bit exhausting, but by then I was older and able to comprehend what was happening and enjoy it all a bit more.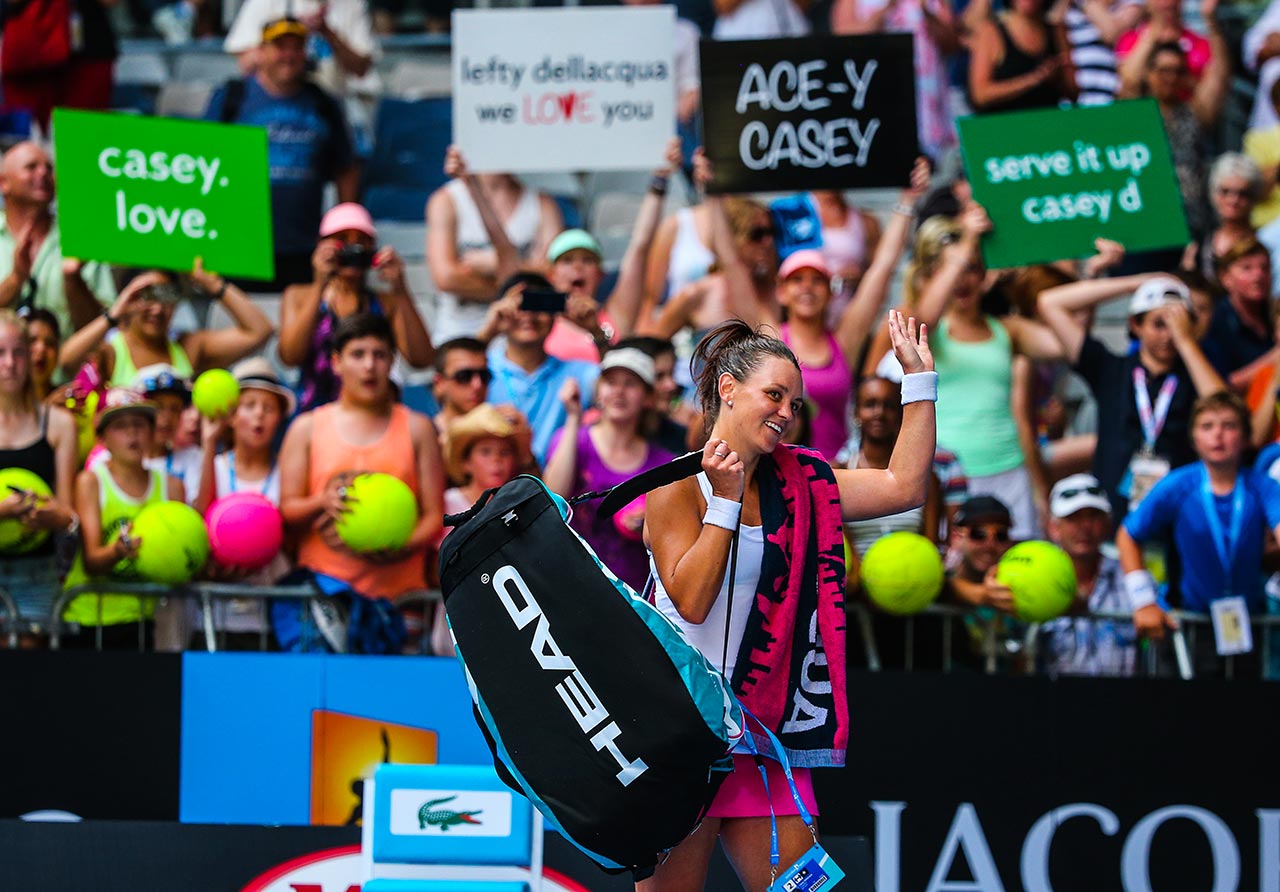 JELENA'S BATTLE
Sam Stosur has been our No.1 player for so many years, and her consistency and ability to stay inside the top 20 for so long has been really phenomenal. But she has always played her best tennis outside of Australia. On clay, often. Or, of course, at the US Open. Maybe it's not always appreciated just what an achievement that was when she won there in 2011.
I've seen Sam play some ridiculously good tennis, and consistently, but I think in Australia she finds it is a different expectation. Sam puts more pressure on herself than anyone I know. She's the ultimate athlete in the way she trains and prepares herself, and she's so professional that maybe it sometimes gets the better of her.
Some players do struggle, but it would be nice to see her relaxed, to realise what an exceptional player she is, to understand that what she's achieved is just incredible, and just watch her enjoy playing in Australia. 
Playing well at home can be so beneficial for your profile, and for everything. I remember when Jelena Dokic had that great quarter-final run in 2009, and how much everyone got behind her.
I don't know all the exact details of Jelena's life, but to come back even then and play like she did, after all the family stuff she'd had to deal with, it's quite phenomenal when you think about it now.
I didn't get to know her until I was a little bit older. I didn't play much junior tennis with Jelena because she was such a talent that she was way ahead of most of us. Later in my career, we were in a few Fed Cup teams together when she was back playing for Australia again and we've always got along well together and had a really nice relationship.
The more I got to know her, the more I could see the hardships that she'd been through, and how troubled she sometimes seemed. I always tried to talk to her, but she never went into any depth about anything with me. I've watched a lot of her interviews since her book came out and they've been quite harrowing to listen to.
But it does seem like having spoken about it has given her some sense of relief. Maybe if she could have got it all off her chest a long time ago, who knows how different it might have been? She was already an exceptional player,
My parents have always been supportive in every way, so I can't even imagine what Jelena went through. I'll be buying her book and I can't wait to have a read. I have a lot of respect for the fact she's reached a point in her life where she feels like she can talk about it.
We've chatted a little bit on social media and I really wish her all the best. I praise her for being brave enough to tell her story.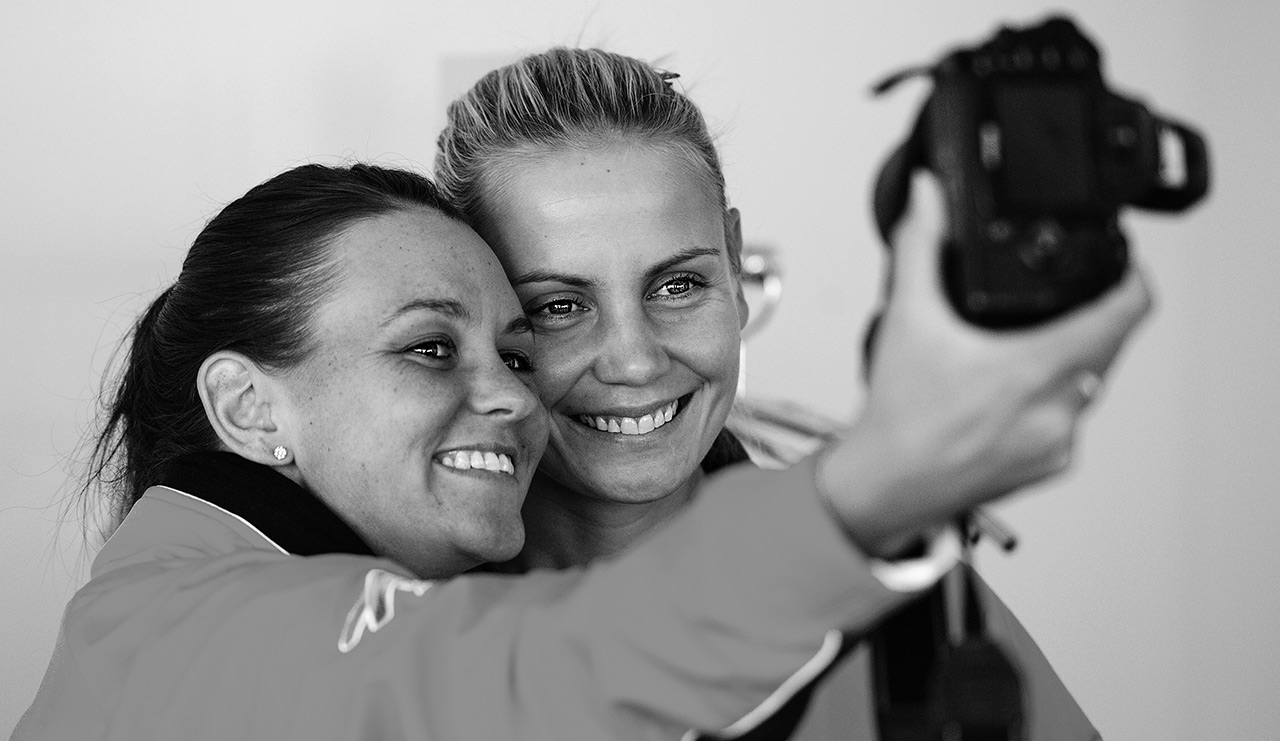 HERE COMES ASH BARTY
This summer, there'll be a lot of eyes on Ash Barty. She's had an amazing year and I've been very honoured to be by her side – not just as her doubles partner, but also as her friend. Since she's come back from the break she needed to have, I've seen her blossom, come into herself and realise what a great player she is.
She finished the year at No.17, which is crazy! But, for me, not too unexpected because I knew she had that in her. Going into next year, I think Ash will understand how good she really is, and take into the Australian summer all the confidence that she's gained from all the great results she's had, beating so many really good players.
All she needs to worry about is the process – what she does on a daily basis, and I know Ash will do that, because she's so mentally tough. The results and ranking will then take care of themselves.
People don't really know Ash that well yet, but they will. And they'll like what they see. There's no fuss about her, she does her thing, she works hard, she goes about her business on the court, and that's what the Australian public will really enjoy watching.
She's obviously a great talent. The way she plays, the way she mixes it up, people should be excited to watch Ash over the summer. She's now our No.1 player, man or woman, she's a great kid, and she's a really patriotic Aussie.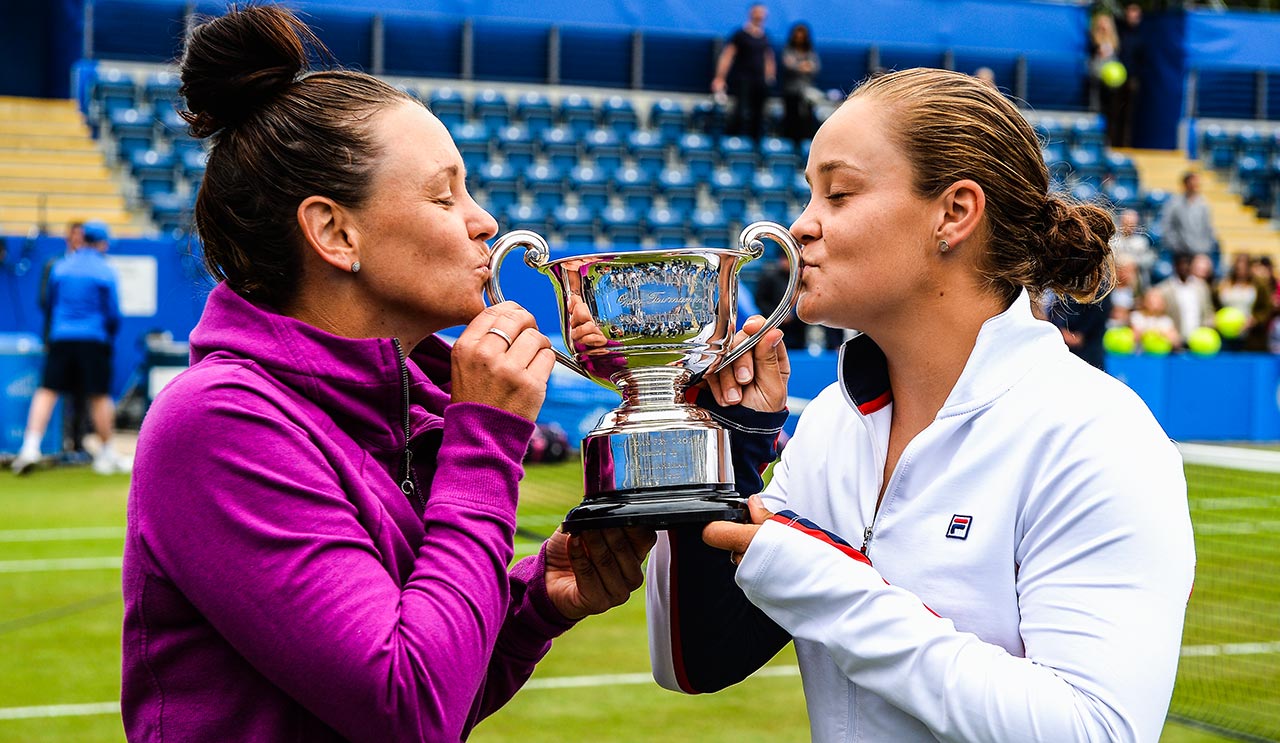 We made the doubles final together in 2013 and I can't wait to get back to Melbourne Park to try to go one better. I've definitely got one more Aussie Open in me, and then I'll reassess, because I can't possibly think past next year. But there's not too many left, that's for sure. I'm definitely heading down the final straight.
I've won a French Open mixed title, and made seven grand slam women's doubles finals – four of them with Ash, including at Roland Garros last year – so winning the Australian Open would be like the icing on the cake.
But as Jason Stoltenberg has said to me: so many people would love to say they had made eight grand slam finals in their life, and to have won a mixed, so just be grateful for that. And I'm like, 'You know what? You're right.'
If I don't win one, it's OK. I'm all right, I've given myself every opportunity. If it happens, it happens. But it's not my destiny; I have to earn it, I have to keep working and doing the right things to make sure I keep putting myself in the position.
I am enjoying my tennis at the moment, I'm really glad that I came back playing after my concussion and everything that happened in 2015, because after my concussion I didn't think I would probably ever play again.
So I feel proud that I came back. I went to the WTA Finals in Singapore, I ticked that off the list. There's so many things I'm happy I've done in my career. However much longer I play is great, then we'll just see where life takes me.
I'm happy that I've had longevity in my tennis, and to be able to make a grand slam final last year and all that stuff, it's still very rewarding. It's given me a lot, tennis, so I'm very very grateful.
More about: Ash Barty | Australian Open | Casey Dellacqua | Sam Stosur | US Open Tennis | WTA