Goodbye to the sport I love
Back in 2012, my coach Shannon Nettle asked me what legacy I wanted to leave behind when I finished playing. It really struck a chord with me in the sense of what I stood for out on court and how I wanted to be remembered.
I never said, 'I want to be remembered for winning three Wimbledons, or this title or that'. It was always about being a good competitor. Being really nice to the staff, and to everyone. Being the person my parents taught me to be.
Being authentic. Being who I am.
I know that might not be most people's answer. But it's what I stand for, and what I've always told my friends I want on my gravestone – everyone goes eventually! – that has always been most important to me. 
I've never forgotten meeting Alicia Molik when she was top 10 in the world and I thought, 'How wonderful is she? She is so lovely. She is a top 10 player but genuinely hasn't changed who she is'. That really resonated with me.
I never wanted to change who I was or what I believed in just to be successful. Maybe I wasn't selfish enough. Believe me, I know a lot of tennis players who are. Maybe I could have done things differently. But I don't regret anything.
I've retired having been inside the top 30 in the world in singles, and No.3 in doubles, with seven titles, including a French Open mixed. I obviously never got a women's doubles title at a major, but it's OK. I'm fine with that.
A lot of people don't even get to make one grand slam final and I've made seven of them – six in women's doubles and the one mixed – with a couple of different partners. I'm proud of that consistency.
My most memorable moments were here in Australia; those two Aussie Opens in 2008 and 2014 where I made the fourth round. I had such amazing crowd support; those runs were embraced so warmly. I've actually always played a lot of my best tennis here in Australia, and a lot of Australian tennis players don't get to experience that. 
Then obviously winning a slam will always be a highlight, along with two Olympic Games. And, I've never said no to a Fed Cup tie or playing for my country; it's something that I've always been passionate about. Getting to experience a lot of my highs with my family at the end of my career, and having our son Blake on the road was also pretty special.
Looking back on my career now that it's over, it's been a roller-coaster ride but a really exciting one. I am proud of what I've done. I'm proud that I've represented my country the way that I have. It's been a great career. I've loved every minute. Even the downs, because you always learn something.
I've been able to set my family up financially and I've had so many great times and made so many amazing friends, and I have so many memories to take away from my sport that I'll carry with me for the rest of my life.
I'll miss competing the most. I'll miss the adrenalin of being out on court, the winning and even the losing. I'll miss the competition, I'll miss the crowds and the people and the fans and playing in front of them.
But other than that I think I'm ready. Actually, I know I am.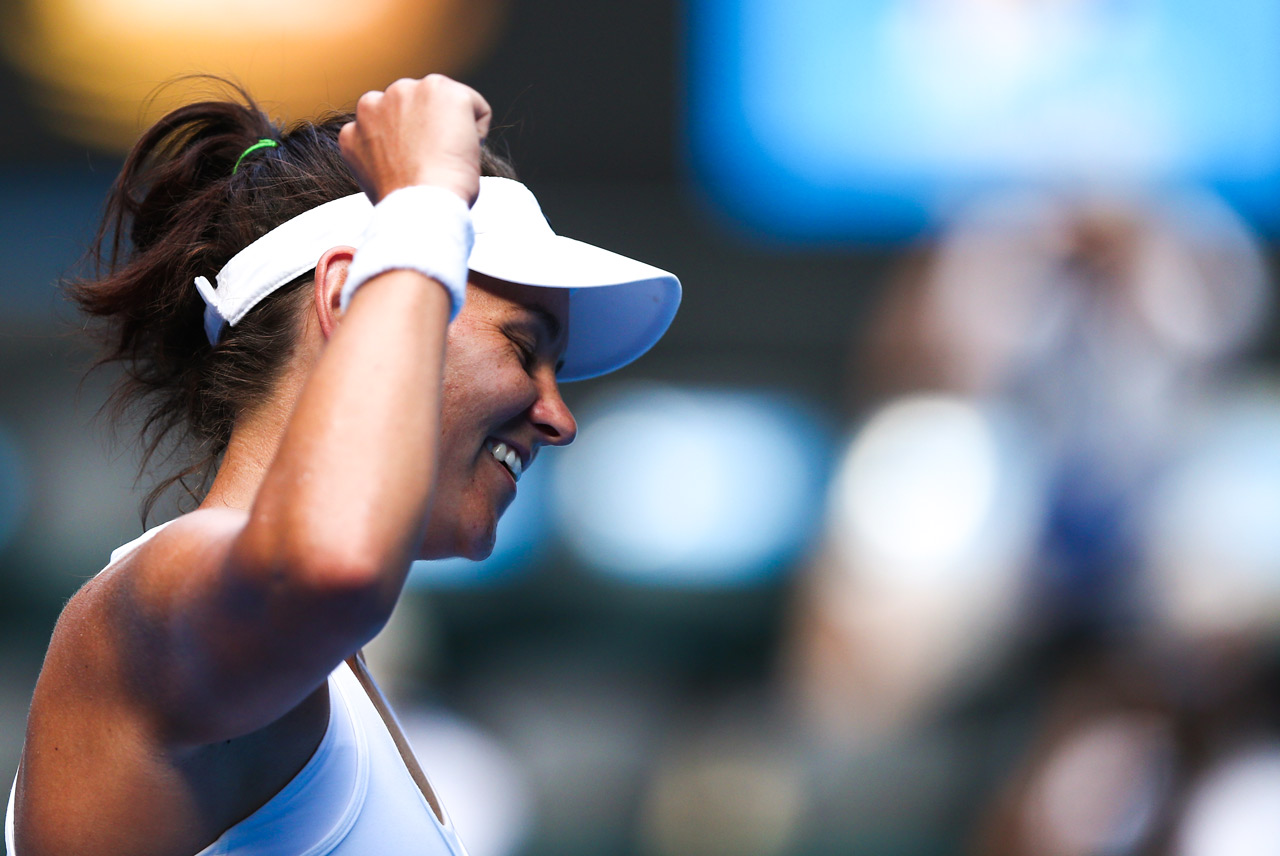 THE DECISION
There wasn't a particular day or moment when I decided. It was just an accumulation of months of being on the road that made me really start thinking about everything after the season-ending championships in Singapore.
I was back inside the top 10, so my tennis was going really well. Even my body was great – I hadn't really struggled with injuries last year. The biggest part for me was the travel. The long trips through Europe, the US. Asia. I felt that doing it for 15 years on tour had caught up with me. Especially now with two kids.
A big part of me just didn't want to be out there travelling and playing anymore, and that was a sign that it was time to spend more time with my family. I always said I was never going to keep going if I didn't want to, or didn't have the passion. This wasn't about being injured or not loving the sport. It's a matter of family.
So I sat down with my partner Amanda. We chat about everything, and she's always been 110 per cent supportive. If I wanted to play on for five years we would, as a family, make it work. Somehow we always have. But I felt I wanted to be at home more with her and the kids. Amanda was fine with that.
? A little video message.I'm officially saying goodbye tennis.It's been an awesome & fun ride & I've loved every minute but I'm so excited for the next chapter of my life ? #movingon #grateful

Posted by Casey Dellacqua on Monday, 9 April 2018
I didn't want to make any rash decisions. It was important to me to play another Aussie summer, and I wanted to play in our Fed Cup tie against the Ukraine in February.
Even when we got to Canberra, I was only 99 per cent sure that was going to be it for me. I was always going to take some time off after Fed Cup to come to a final decision. I just wanted to be at home for a couple of months, not being injured for a change, to be sure that was exactly what I felt. You only have one career.
We did travel with Blake for a long time but, with two kids, it was a lot more difficult. The thought of it is great, but the kids also like a bit of routine, and I think it's important for kids to have stability. I was only playing doubles, too, which made it tougher financially.
But I still wasn't sure. My mindset going into the Aussie Open was, 'My body's good, and once I'm back in competition mode I'm sure I'll love it'. Even at Fed Cup, I had the best week, it was great.
That's why I was so emotional when Ash and I won that deciding rubber, because I knew then that I was done.
I'd told everyone when I rocked up that this would potentially be my last Fed Cup tie, so they all knew. But I didn't say anything publicly because I didn't want to make it about me. I never have. All I wanted was to be sure, do it on my terms, do it when I felt I was ready.
I do now. I feel like it's right.
I'll miss competing the most. I'll miss the adrenalin of being out on court, the winning and even the losing. I'll miss the crowds and the people and the fans and playing in front of them.
Ash was sad. She knew that I had been contemplating it, obviously, with my family situation. She was like, 'I'm going to miss you, and it's not going to be the same'. But she's at a stage where she's been on tour long enough and I had that year with her where she could develop herself, and she can now do it all herself. She's going to be fine without me on tour, put it that way!
It was funny, actually. At 2-2, walking out for the fifth rubber, I was not thinking it might be my last match – it was all about winning, just like I'd told Alicia we would. It was important for me to get the job done and enjoy it with all my teammates. But afterwards, I was very emotional.
It was a pretty well-kept secret. Amanda was there, obviously, and my mum and my dad, my coach 'Stinger' (Nettle), Giselle Martin, my fitness trainer, and Sam Maxwell, my manager. All the people in my team who'd been part of my career. The people that mattered to me knew, but I liked the fact that no one else did because it made it more special.
There were definitely a few speeches that night, everyone said a few nice words, but I tried to keep it more about the team. I just said to them all, 'If I don't get a message from the next tie saying you miss me, I'm going to be upset!' Obviously being one of the older ones now, I was kind of the mum of the group and the veteran. I love the girls, I love hanging out with them. 
It was a great way to finish: having my family there and everyone who's special to me, winning the tie with Ash in a deciding rubber. It was actually pretty perfect.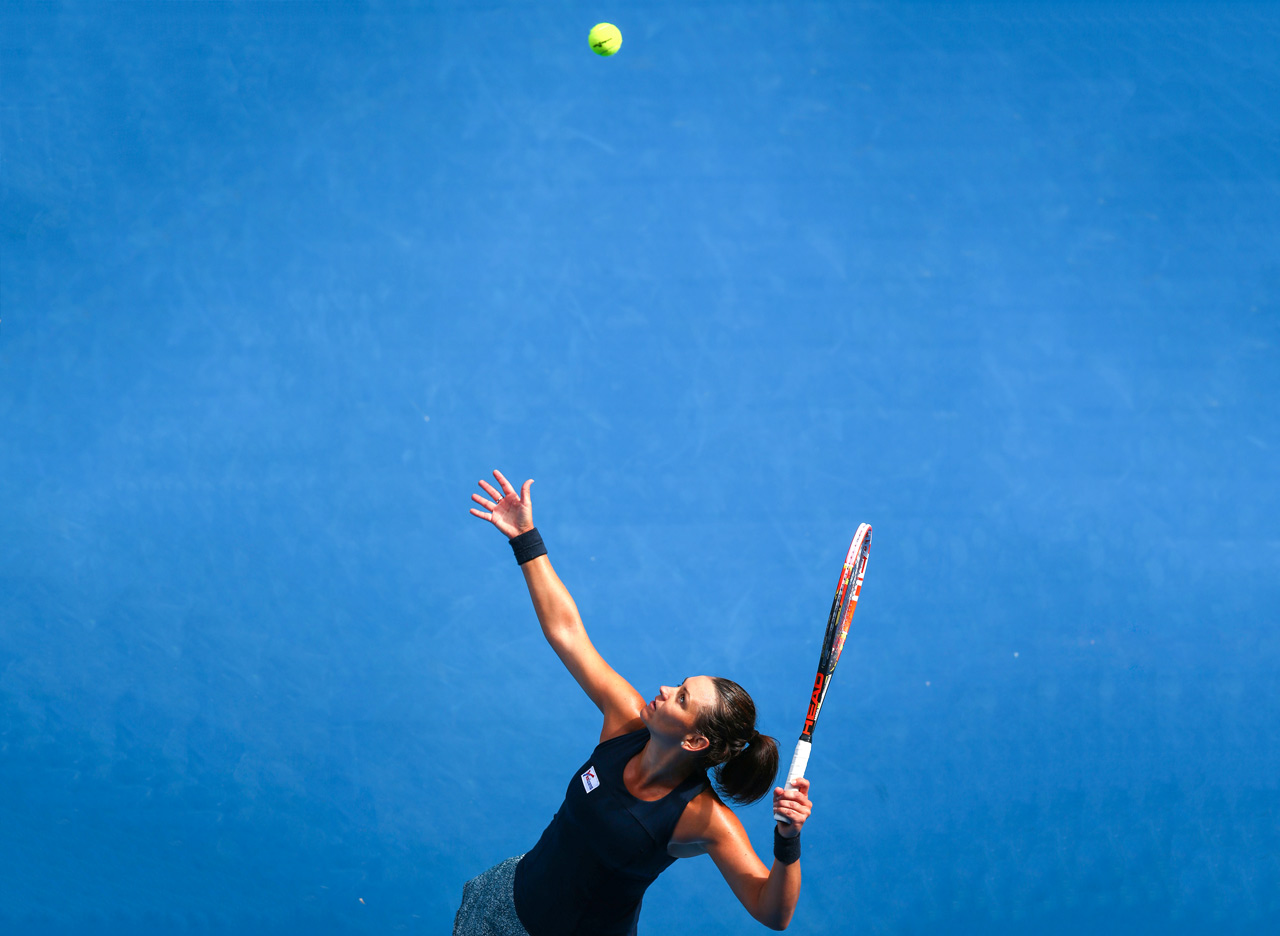 CONCUSSION & CONFIDENCE
I often get told I come across as a regular, everyday person. That's because I am. I was just the little girl from Woodvale in Perth who wanted to be an athlete. I had the potential and the ability and the desire, so sport was the path I followed.
I'd definitely tell my younger self to believe in herself a bit more. I struggled with confidence in those hard teenage years, for sure.
But obviously your journey is what makes you who you are, so I don't have regrets in terms of thinking, 'I really made a bad decision,' like some athletes have recently, or anything like that. One thing, though, is that I wish I'd asked more questions to different people and received some better mentoring in the sense of where to head.
At some point after my shoulder surgery in 2009, I knew I needed to make a change. That's why I moved to Sydney and I hired my trainer, Giselle. I made a choice to get fit, to work hard, to get the best out of myself.
Some people might say, 'She could have got more, she could have been better,' but at the end of the day it was my journey and I'm OK.
Whether the decision came at 22 when it could or should have come at 19 is not something I regret. After I'd made it, I became more accountable and picked a good team and good people to put around me, which all helped.
I often get told I come across as a regular, everyday person. That's because I am.
The resilience that being on tour and being an athlete teaches you is something you can't buy. There were plenty of times when I wasn't in a good headspace or I'd had bad results, but there was always something inside me that wanted to keep on going, to keep hanging in there.
Then, later down the track, from 2008, I had even better results. Not just in doubles, but in singles.
Of course, everyone has injuries and, looking back, the shoulder and the foot didn't really faze me too much. It was the concussion I suffered during that fall in Beijing in 2015 that really turned my career on its, well, head. It was a really unfortunate incident.
I was still playing singles at the time, I was still fit and healthy and going well. But the period after I had that break to recover from the concussion was when I decided to come back and play with Ash and only play doubles.
It kind of finished my singles career. Not that I couldn't have come back and done it; it was just more difficult. As you get older, it is harder. I know how much work you have to do to be at the top. Even my doubles career might have gone a different way if not for Beijing. Who knows? The concussion really did throw a spanner in the works.
It was more than just the physical stuff. I was really struggling with a lot of things, and for a lot longer than I'd expected. I've never had anxiety in my whole life and still, to this day, I don't.
But during that time I do feel like I suffered from a bit of anxiety, just in terms of getting out of the house, getting back on track, getting my confidence back up. The after-effects really knocked me around.
I'm really grateful for how much Amanda helped me during that period. We were expecting our second child, it was a really difficult time and it tests your relationship, but we've always been really strong. I'm so glad now that I got to spend the first six months at home with Andie as a newborn. The four of us got to be a family. That's a great memory.
I'm still that girl from Woodvale, except that I'm not. There's so much of me that's different from the young player who started on the tour back in 2002, but so much of me that's the same.
It's sometimes hard being an athlete in the public eye when you're younger, but I'm confident now, and happy. You sometimes dread getting a bit older, but these have definitely been the best years of my life. I wouldn't change anything. It's nice to be in a position where you're just really content. It's a good place to be.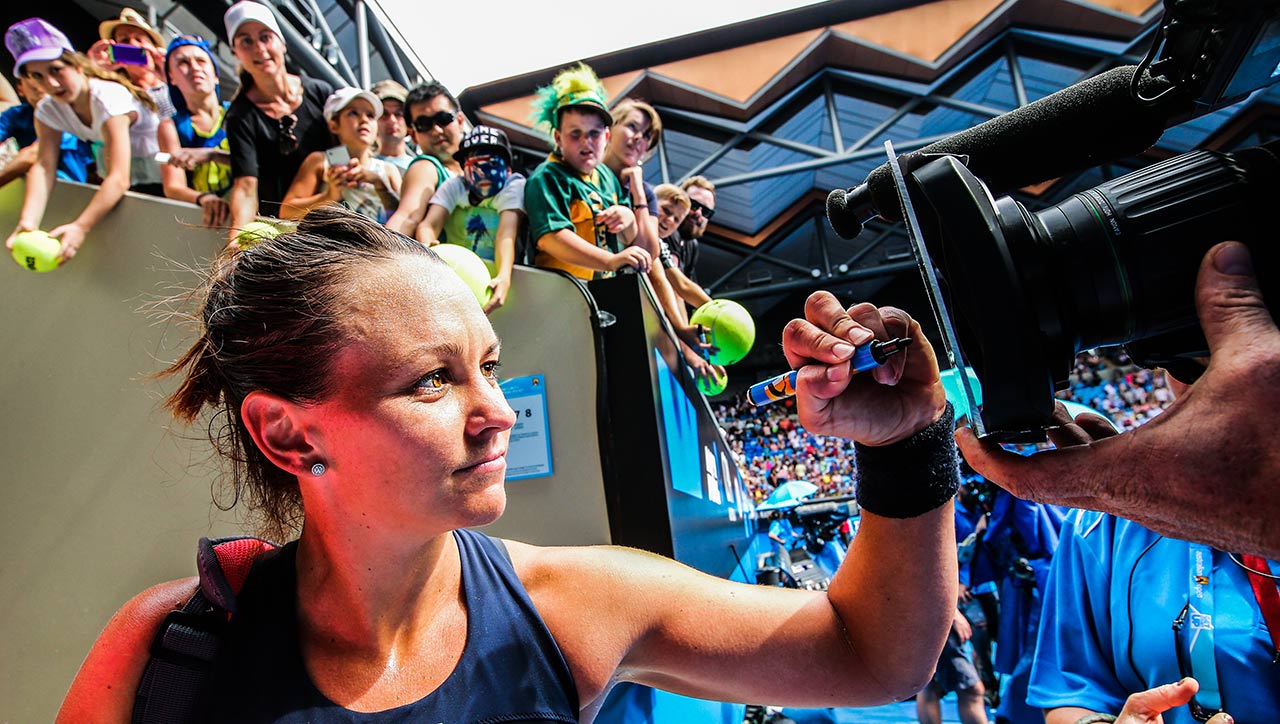 THE NEXT CHAPTER
I'm hoping something will lead me in the right direction from here. I know what my strengths and skills are, but I'm not entirely sure which area I want to go into. I'm happy to explore lots of different options and see what I enjoy.
I'm going out with a passion for women's tennis, a passion to see all the younger girls go on their own journeys and be proud of how they finish their careers. I'm passionate about women's sport in general. That's getting bigger and bigger, which is awesome.
I'm pumped. I'm really excited about whatever's next. I'm generally a pretty upbeat, positive person and I feel very grateful for what I have outside my sport because I know a lot of athletes don't have that.
It's often talked about how athletes struggle post-career, but I've got a wonderful partner, I've got two beautiful kids, an amazing family. Since Fed Cup, there's not been one moment where I've sat down and had time to think, because I'm so busy with the kids, doing loads of washing, organising meals. Whatever it is, I'm just enjoying that part of life because I've never done it.
I love tennis. I love watching tennis. At the moment I'm definitely happy at home, but there's certainly different areas within tennis that I would like to explore. I'm still going to work for the rest of my life.
I want to give something back to the sport, because I'm grateful for what tennis has given me. I know how difficult it can be. My journey has been up and down, it hasn't been all smooth sailing, so it would be rewarding to pass a little bit of the knowledge I've gained on to the next generation of girls.
I've been so lucky my whole life to have such positive parents and an extremely supportive extended family and friends – they know who they all are. They created such a positive environment no matter if I was winning or losing.
I consider myself so fortunate to have played the wonderful game of tennis and for everything it has given me. I truly love the sport and I will forever be a tennis fan.
More about: Australian Open | Casey Dellacqua | Fed Cup | Injuries | Retirement | Sponsored | Women's Sport | WTA