A quiet word from Big Sam
I stood in the background with a few of my South Sydney teammates recently when the club held a media conference at Redfern Oval to announce Sam Burgess had re-signed.
The way he handled the situation was no surprise to me, sitting alongside the club bosses and in front of all the television cameras. He talked about the club and what it meant to him, not about everything he'd done. There's no ego with Sam.
He's been fantastic for me, too, as a young player.
Last year, we went down to Melbourne in round 25 and got smashed 64-6. It was only my fourth game in first-grade. We were all hurting after that game.
I remember the next day Sam pulled me aside and said, 'That's the benchmark and that's where our club belongs. That can be the future for us'.
Just last week, after our disappointing loss by a point to the Storm in the first week of the finals, Sam said, 'This is a big competition we play in and it's the business end of the season. We have to learn from this sort of defeat and bounce back better'.
We made a few errors and I came up with one of them. Sam pushes the point that if you make a mistake you have to forget it and move on to your next job. You have to stay in the present. Everything's a learning experience.
Sam has opened my eyes up to the learning process and what footy's all about. He says himself he's still learning and he's 10 years older than me. I'm glad he's staying long-term, because I believe he's going to be huge for not only my development but the club's development in the near future.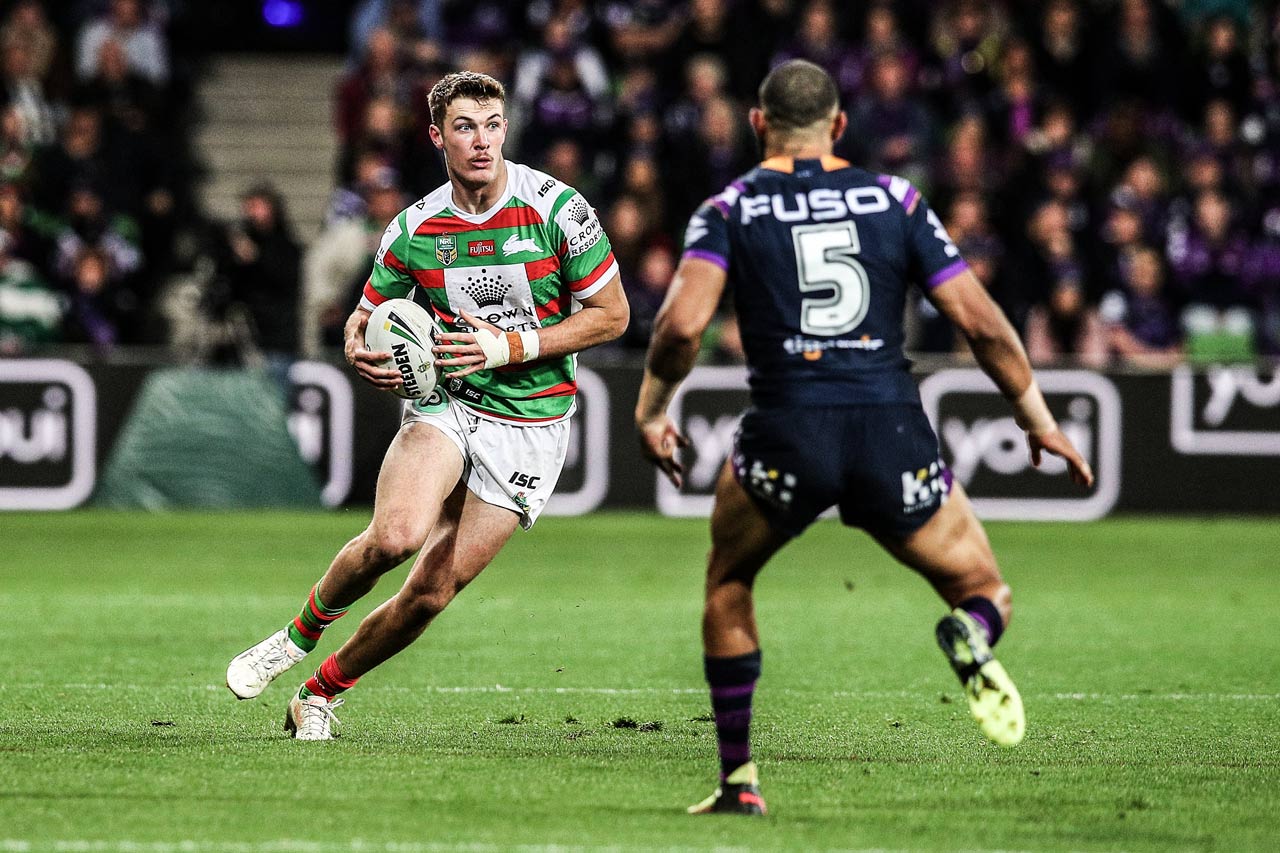 FROM CLASSROOM TO FIRST-GRADE
I was at home one Friday morning in August last year when I got a phone call from Michael Maguire.
I was due to play under-20s that night. I'd just had breakfast and was planning to do some studying for my next exam in the trial HSC on the Monday. Geography, it might've been. Not one of my favourite subjects.
Madge said, 'Robert Jennings has gone down with a knee injury and won't be playing tonight, so you're in'.
It definitely took me by surprise. The nerves started kicking in straightaway and my mind was racing.
I didn't end up doing any studying that day. I couldn't focus on anything. I just tried to calm the nerves as much as possible and get my head around the fact I'd be making my NRL debut that night alongside blokes I'd idolised growing up. And the game was at the Sydney Cricket Ground!
It was probably a good thing I didn't find out until the day. That way, I didn't have enough time to overthink it. All my family and mates came along to watch. We won, too.
It was a night I'll never forget. It was a surreal feeling and an experience that'll stay with me forever.
Madge had been preparing me. He'd had me coming to first-grade training when I could fit it in around school and told me I was in the mix to play before the season was out. I'd done the captain's run a few times in previous weeks.
I played the last five games of the year and, after I completed my HSC, I went into the full-time first-grade squad to prepare for this season. It worked well for me coming from school, a place that had structure and a timetable, into that first-grade environment.
A meeting at this time, out on the field at this time, in the gym at this time.
It was an easy transition for me in that way.
The best thing about the transition into the full-time squad is the environment that surrounds you every day coming into training. The balance between intense professionalism out on the field and in the gym to the high energy and laughs around the dressing-room.
I know how lucky I am. I was a Souths fan growing up, but it's not just the club that means a lot to me, it's the district. Coming from the area makes playing for the Rabbitohs even more important to me. I love what I'm doing. I'll never take it for granted.
I hope to stay at this club as long as possible.
A SOUTHS STORY
I'm South Sydney through and through. I was born and bred in the district. But I'm actually the product of a Scottish dad and an English mum who just happened to meet in Sydney.
My dad, Stewart, is a sewing-machine mechanic from Glasgow and still has a thick Scottish accent. My mum, who's from Coventry, was out here travelling and one night she met my dad.
Her plan was to go straight back home, but those plans soon changed and the next time she went home was with dad to get married.
They had two kids – myself and my brother, Fraser, who's three years older than me – and the family set up at Kensington, where we've been ever since. I've also got a sister, Stacy, from my dad's first marriage, who is a huge supporter of mine. We're very close, too.
Coming from Scotland, dad loved his soccer and he had me playing that from a young age, but my friends at school and my cousins were into me to play league.
I remember the next day Sam pulled me aside and said, 'That's the benchmark and that's where our club belongs. That can be the future for us'.
I got into the game when I was about nine and played juniors for the Maroubra Lions and Coogee Randwick Wombats. I progressed through the junior reps at Souths into the under-20s, NSW Cup and finally first-grade.
I've had some fantastic influences in my short career so far. Ryan Carr, my under-20s coach. Matt King in SG Ball. Scott Wilson, the former Souths player, at the Wombats. He's a great bloke, a bit of a larrikin who was always very supportive of me. Nat Wood helped out there, too.,
I'll be eternally grateful to Madge for giving me my chance in first-grade. This year, Anthony Seibold has helped me immensely with my game and developing a real first-grade mentality. I've learnt a lot playing next to Gags this season. He's brilliant at talking to me through the game and constantly tips me up on little areas of my game to improve. He has definitely helped me gain a greater understanding of the game.
But away from footy, my dad is the biggest influence in my life. He has helped me with all the big decisions I've had to make, but without forcing his opinion on me. Just guiding me. Despite coming from his soccer background, I reckon he now loves footy more than I do.
He gets to nearly all of my games with my mum and he watches a lot of footy on TV as well, but he doesn't bombard me with footy talk when we're at home. He knows my life isn't just about footy and he encourages me to have other interests as well.
Dad has really helped me grow as a person and I needed that coming into first-grade as a teenager like I did. I found it easier to work with grown men because of that. I really look up to him and I hope to one day be a similar role model for my kids.
My mum's always there for me as well. She cooks and cleans up after me. She's always in my corner and backs me to do what I want to do in life and that's what you need from your parents.
THE DRAGONS
It was a crazy experience heading down to Melbourne for my first finals game.
Some players have to wait many years before they play finals footy. Even the best players don't always get in there straightaway. I know I'm blessed to have this opportunity.
But the reality is we lost to the Storm and now we've got to beat the Dragons to stay alive.
I was more nervous against the Storm than I'd been for normal games and once I got out there, it was everything I expected. There was that big-game feel and at the end both teams had left everything on the field. I was spent. We all were.
We led by six points inside the last 10 minutes and couldn't finish the job, so we go again this week.
Now I know what's in store for me in games like this and I'm looking forward to getting out there again. This week has all been about our next job, which is preparing well to take on the Dragons.
More about: Anthony Seibold | Melbourne Storm | Michael Maguire | Sam Burgess | South Sydney Rabbitohs | Sponsored | St George Illawarra Dragons