Our squad was pretty much finalised.
It was 2001 and Norths Devils were already a fair way through the pre-season. We'd played one or two trial games, the season was just around the corner and we had a decent idea how we'd be lining up for round one.
Then a beat-up old Mitsubishi Magna pulled up to training. A kid none of us knew wandered over.
'This is Billy and he's going to have a run with us.'
That was the first time I met Billy Slater. 
He'd driven that Magna through the night from Innisfail, a trip of about 1,600km, to train with us. But none of us were aware of his story. There'd been no heads-up about his arrival. We figured he was just another local kid looking for a game.
He played in our last trial game at Bishop Park and scored a bag of tries. The opposition couldn't get a hand on him – his speed and agility were incredible. Whenever he had the ball in his hands you'd be thinking, 'Wow, he's going to be handy.'
The Devils picked him and the Storm signed him a few months later.
That's how it all began.
As for the old Magna, he still cops grief for it. He held onto it for quite a while after that first pre-season. It's amazing it got him all the way from far north Queensland to Brissie in one piece.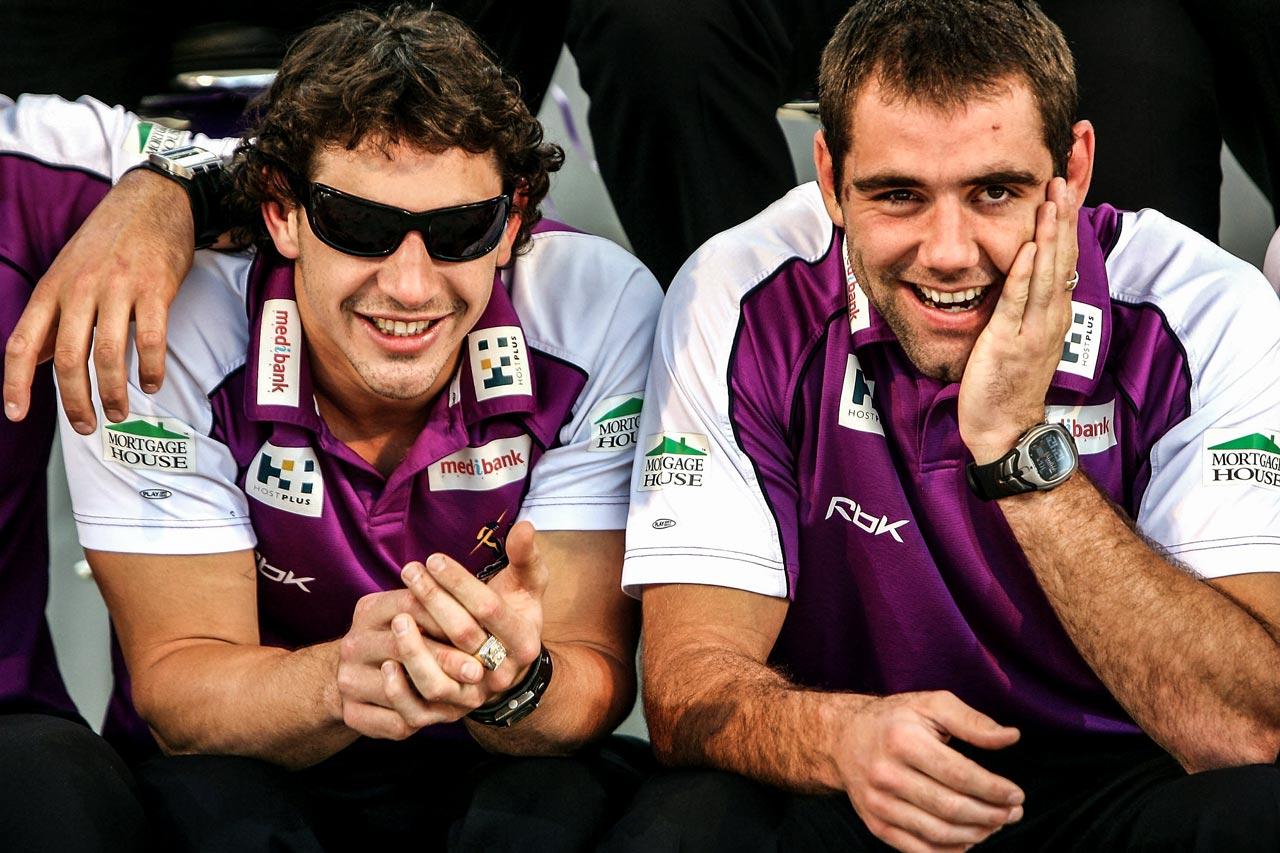 THE BIG CHANGE
My friendship with Billy really started in Melbourne. It was a time of huge adjustment in our lives.
Here was a kid from Innisfail who didn't wear shoes to school suddenly living in a Richmond townhouse with a kid from Logan, a small-ish place about 40 kilometres out of Brisbane. Melbourne was so much bigger than anything we'd ever known. People everywhere. Traffic jams. It was daunting, but it was also an adventure.
Bill was probably more prepared than me in terms of being away from family because he'd spent six months in Sydney as a 16-year-old working in Gai Waterhouse's stables. In saying that, I had made my NRL debut the year before Bill moved to Melbourne, so I was a little bit more familiar with the first-grade system and the expectations within it. 
We all leaned on each other in those early days. 
We'd dreamed of playing first-grade since we were kids, but none of us had put much thought into the other elements of living in Melbourne: being so far away from family and friends, hardly anyone knowing rugby league, the weather.
It was hard. We'd all sacrificed a lot. After our first season, it didn't feel like we were chasing dreams anymore, but instead knuckling down and working out how to become the best footballers we could be.
Did I mention the weather? That took a bit of getting used to for the Queensland boys! There'd be days where you'd be standing in the middle of Gosch's Paddock, rugged up but still freezing, thinking, 'What the hell have we gotten ourselves into?'
Here was a kid from Innisfail who didn't wear shoes to school suddenly living in a Richmond townhouse with a kid from Logan.
The older players had fun with us. 
The Storm back then didn't have the facilities we do today. When we first arrived, the ice baths were a couple of wheelie bins. Then the club received a little bit of funding and upgraded to two iron bathtubs, set in some timber framing, that they stuck outside in the weather. 
The senior players would get priority so they could finish and go home early. A couple of them, like Matt Geyer, used to stir the rest of us up. He'd be finished – hot shower, all dressed and ready to go– and then he'd wander over to see us all shivering away doing our recovery. Some days it'd be 10 degrees outside and blowing a gale.
He'd pick up a hose and spray us with near-freezing water. He knew we were stuck and couldn't do anything about it. You can imagine how that went down with the Queensland lads!
Billy and I have a similar 'roll with the punches' attitude towards life and that helped us in those early days. There were a couple of other players who came through first grade together with us – Coops, Jake Webster, Dallas Johnson, although he was a year older than us – and we all relied on each other in different ways.
I didn't realise it at the time, but this was the period when my life began to run parallel with Billy's. It started with footy – first at the Storm, then Queensland and Australia – but it would also apply to our lives as husbands and fathers.
We did all those things around the same time. I think now about how lucky I've been. 
I mean, how many people in life get to share all of their biggest moments in their professional and personal lives with one of their best mates?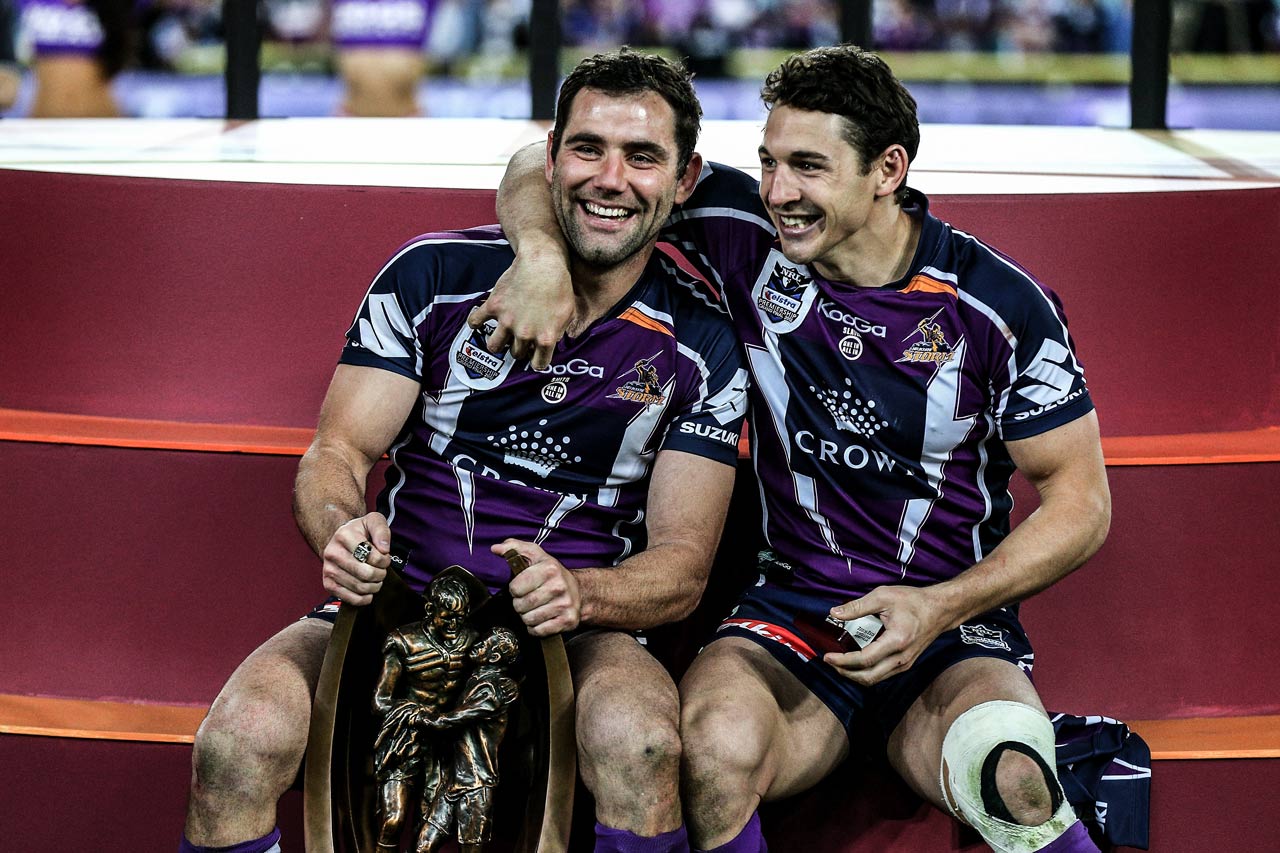 DEVASTATION & TRIUMPH
From the early Norths and Storm days, there were two things that were obvious about Bill.
He didn't mind taking risks. And he was bloody determined.
I think back to that famous Origin try in 2004 – when he regathered Darren Lockyer's grubber then chipped over Anthony Minichiello to score – and I reckon it's the perfect summary of Billy Slater in his early days. He didn't think about consequences on the footy field. He played on instinct. It's a good idea and I'm doing it.
If it didn't come off, he didn't dwell on it. It was like, 'Oh well, that didn't work,' and if he got the opportunity to do it again two minutes later, he would. He was the ultimate high risk, high reward player. There'd be games where he'd have a crack and nothing would come off for him. Then a week later, he'd take the exact same approach, score four tries and win us the game.
I'm wired differently. I think low risk is high reward!
There were parts of me that looked at Billy with admiration. He could do things I couldn't. The speed, the agility, the ability to take on defenders down a three-metre blind-side – I just didn't have that in my game. There have been many times where I have seen Bill do things and thought, 'There's no one else in the world who could've scored that try from that play.'
But, I'll be honest, there were other times in the early days where I'd think, 'Mate, you don't need to do that.' Craig Bellamy and I are similar in terms of our approach to footy. We're the kinds of people who would naturally lean more towards plays where you know the likely outcome. He had to open Billy up to that. It was about picking his times.
From the early Norths and Storm days, there were two things that were obvious about Bill. He didn't mind taking risks. And he was bloody determined.
He's done that brilliantly. Over the last decade, Billy became the best attacking weapon in the game by retaining all his aggressive instincts while understanding the right time to employ them. And because we knew each other so well, we could kind of anticipate what the other was thinking. This applied to Coops, too. We all knew each other so well and that helped on the field. 
Then there is Billy's determination. There's been a lot said – and rightly so – about his successful return from a two-year battle with shoulder injuries but, really, Bill has been overcoming setbacks his whole career.
I think back to that first season in Melbourne. He had a groin injury that would've stopped many other players. He'd play on the weekend, have three days off his feet, train for two days, play on the weekend and repeat.
Along the way there have been knee problems, a broken collarbone and plenty of other obstacles placed in his path. Bill has beaten them all. When he puts his mind to something, nothing can stop him. He's meticulous in his preparation and the way he looks after his body.
The first shoulder surgery was difficult for Bill, his wife Nicole and the kids Tyla and Jake. The frustration of missing most of the 2015 season and the pain of the rehabilitation all took their toll.
The second one was worse. Billy returned for round one of the 2016 season against the Dragons, but found out soon after that the initial surgery hadn't done the job. His season, and quite possibly his career, was over.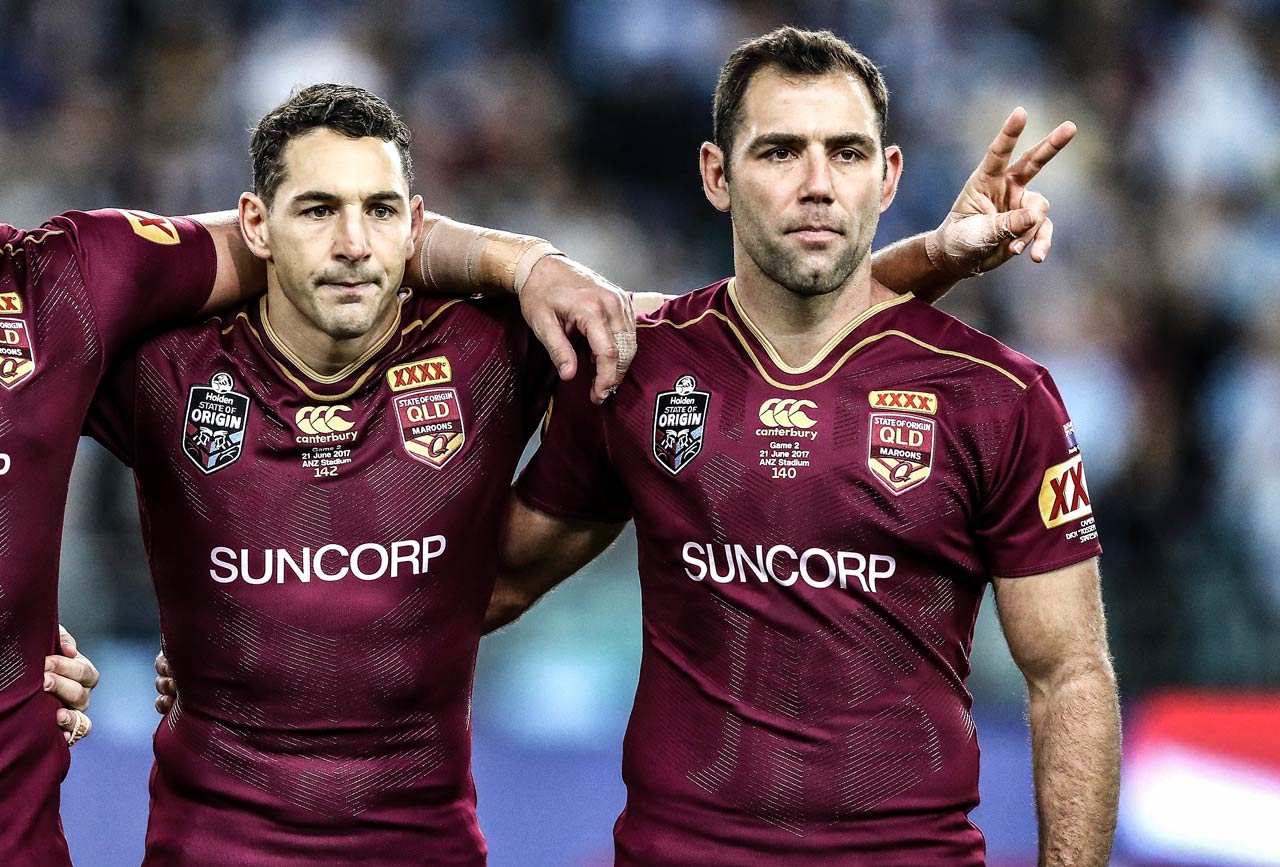 I remember Nicole contacting my wife, Barb, to tell us the news. You could sense the heartache in her voice. Barb and I were out somewhere but dropped what we were doing and headed straight over to where the Slaters were. We wanted to show our support. 
I remember seeing the devastation on Billy's face and not knowing the right words to say.
He had a decision to make. He could've called it a day or pushed ahead with more surgery and the risk of permanent damage. I just wanted him to do whatever was right for his future. The footy didn't matter. If he'd played his last game, and that was the right thing for his family, it would've been fine. Difficult, but fine.
Once he'd decided to get it done, I was confident he'd be back. I know what Bill's about. The rehab was hard and there were plenty of tough days, but if you know Billy Slater like I do, you're backing him in from there.
His comeback in round three last year against the Broncos was very emotional – not only for Bill, but for our club, our fans and all of his teammates. I can't overstate how much he means to this place.
I said something to him in the sheds before the game along the lines of, 'It's so bloody good to have you back.' And when he ran on from the bench, I remember thinking, 'Thank God you're out here again!' As good a job as Cameron Munster had done in Billy's absence, I'd really missed my partner in crime for those two seasons. 
It didn't take Bill long to find his feet again. That's incredible in itself. The game would have passed a lot of players by if they'd spent two years out at the age of 33, almost 34. Billy? He went on to win a premiership, an Origin and a World Cup!
It may well be that those two seasons off allowed his body and legs to freshen up. He has looked as sharp and fit this season as at any point in his career.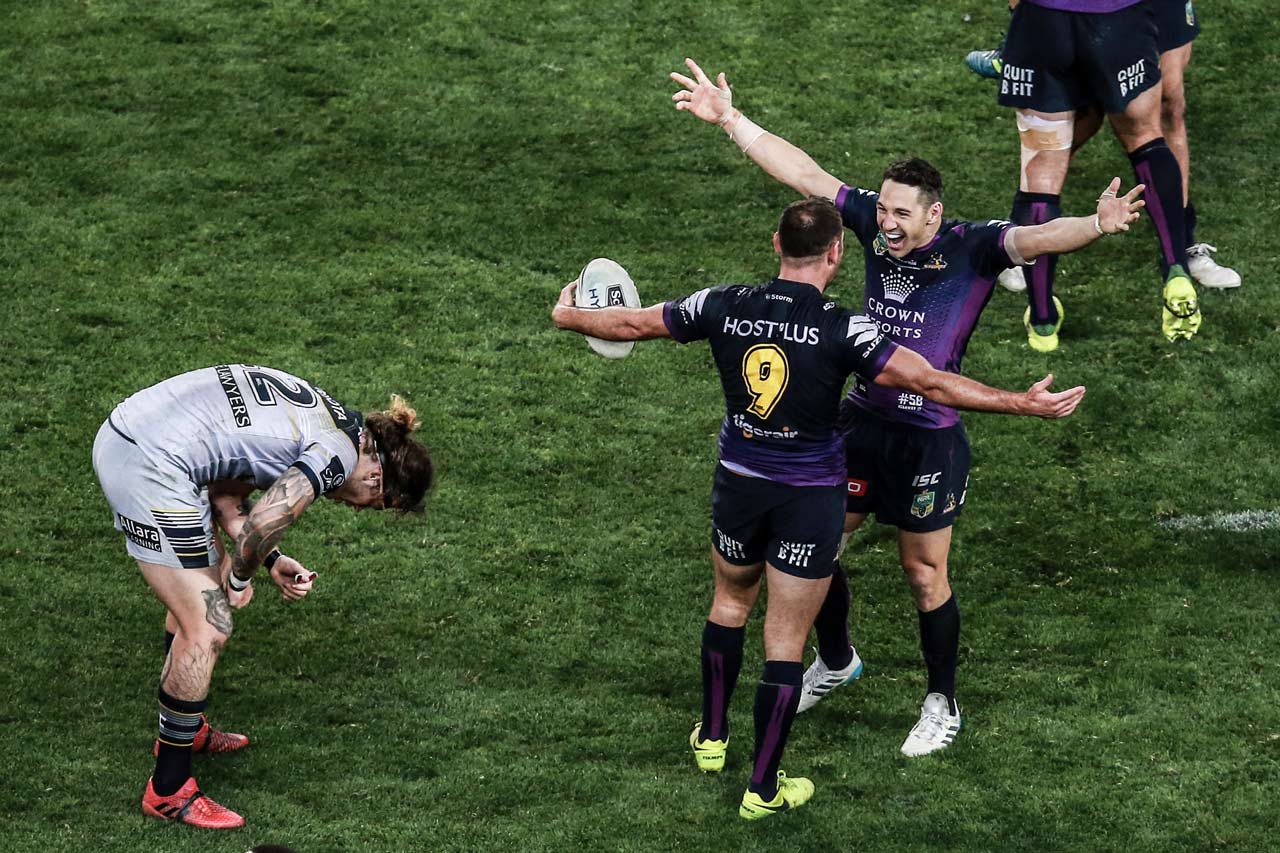 THE FINAL CHAPTER
It's difficult to sum up my relationship with Billy in a few paragraphs. There are so many memories from the premierships, the Origins, the Test matches and our families' times together.
Hopefully, we can create a few more in the next few weeks.
Bill told me before the Rabbitohs game that he was finishing up. I'd tried not to think about it too much this year. Did I have a feeling he was going to retire? Maybe. But he's been playing brilliantly this season, so every time I've thought he might call it a day I'd think to myself, 'He could easily go round again the way he's going'.
When he told me about his decision, I wasn't shocked. Maybe a little surprised. But then I stopped and thought about all the great things we've shared together. Not just on the field, but off the field as well. We've been very lucky. We've pretty much been side-by-side through life since March, 2001.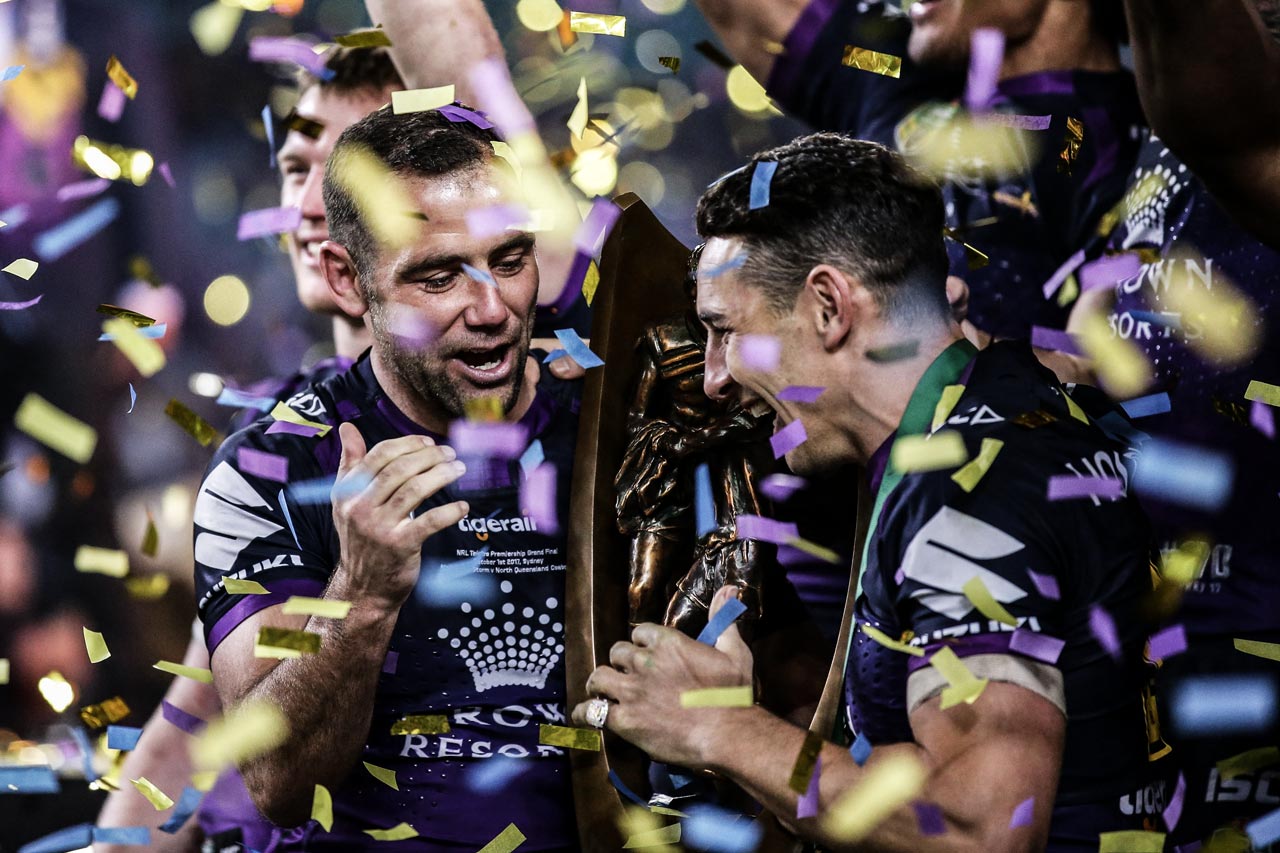 On a personal note, I would like to send Billy out a winner. 
We'll all be doing our best to make that happen. It will be extremely tough. There are plenty of teams out there who want exactly what we want. Not many people in rugby league get the fairytale finish.
But if anyone deserves it, it's Bill. We're going to have to find something special to make these final few weeks as memorable as possible.
More about: Billy Slater | Cameron Smith | Cooper Cronk | Craig Bellamy | Greg Inglis | Injuries | International rugby league | Johnathan Thurston | Kangaroos | Melbourne Storm | Queensland Maroons