It hits me at random moments.
We'll be doing individual extras after training. I'll be kicking bombs for Billy Slater and hitting Ryan Hoffman with passes from dummy half. We've been doing these for so many years. We started these training processes when we were kids.
That's when the thought strikes me. 'This is all about to end. I don't have many of these left.'
It pops into my head at random times. There's a tinge of sadness but I try to focus on the good times, the great memories, but also the tough periods we've shared together. We got through them all, one way or another, and we became stronger people and better footballers for the experience.
I shared with you a few memories of Bill on AthletesVoice a few weeks ago.
This one's about Hoffy.
THE COLE TRICKLE DUEL
Hoffy and I were roommates from the very beginning.
I made my debut in 2002 and joined the full-time squad in 2003, the same year as Hoffy. I moved into an apartment with Barb a stone's throw from the Crown Casino just before pre-season started. Hoffy was touring England with the Australian Schoolboys and moved in with us a few weeks later.
Living across the road from the casino might have been tempting for some blokes, but fortunately we weren't big punters. Instead, we were big gamers. There was a huge Timezone arcade under Crown back then and, whenever Hoffy and I had a few hours spare, we'd buy $20 worth of tokens and play.
We'd always end up at Daytona. It was a driving game and really popular back then. Hoffy and I had a massive rivalry going, trying to rub each other into the wall. Real Cole Trickle stuff. Rubbing's racing!
As fun as it was, I can see now how important those moments were. We were two young blokes from other states going through new life experiences a long way from our families. Loneliness and homesickness are always lurking around the corner and it helps to have guys of a similar age, going through a similar set of circumstances, to lean on.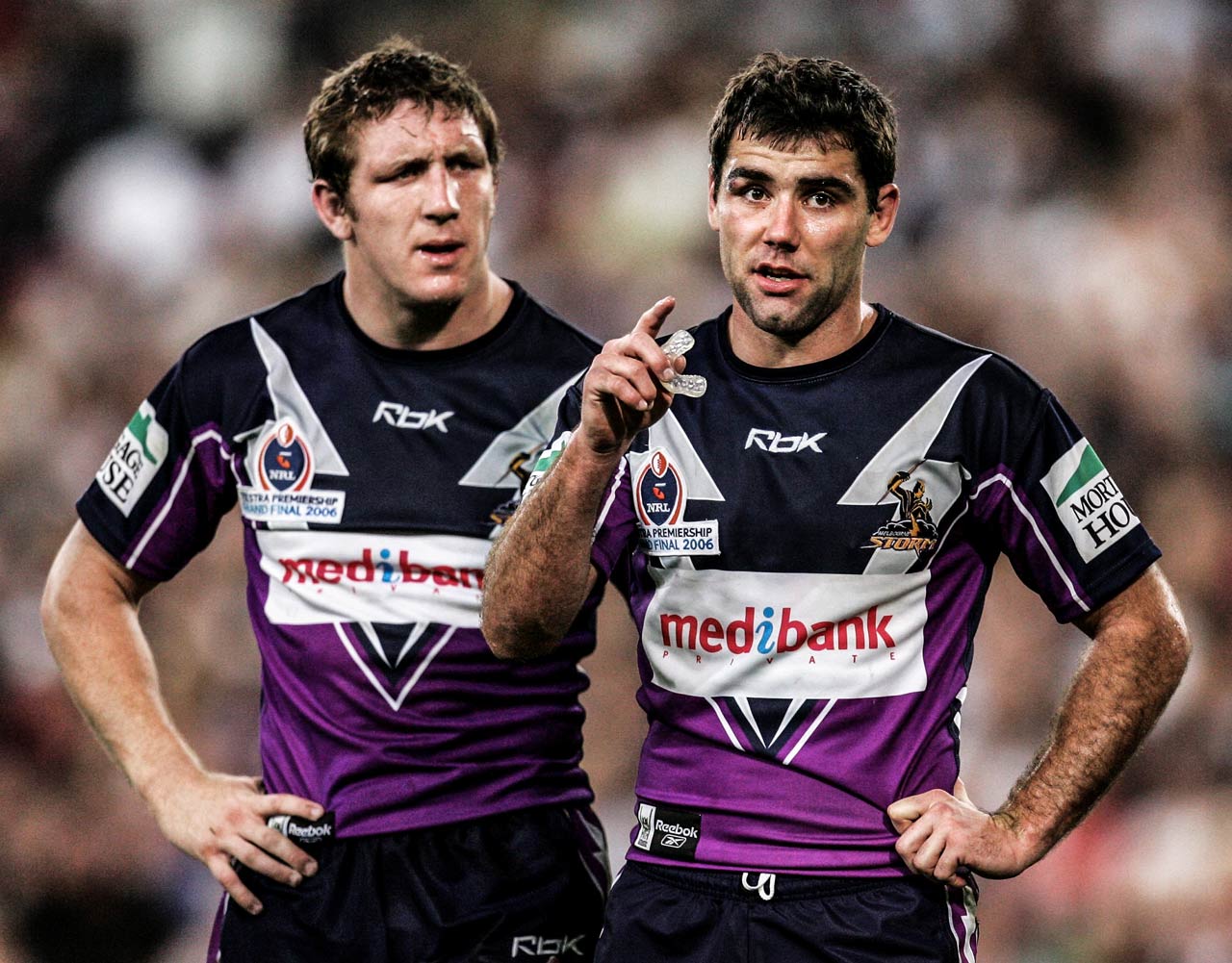 We might have looked like lunatics playing Daytona, but what we were really doing was setting the foundation for a lifelong friendship. Hoffy and I got along right from the get-go. He had similar interests to me. And, above all, he was a really, really decent person. He'd never do anything wrong by you. He cares deeply about his friends.
After the apartment in the CBD, Hoffy, Barb and I moved in with Billy into a townhouse in Richmond. They were great days, having a few quiet ones at The Swan Hotel down the road or playing the local nine-hole golf course, 'Royal' Burnley.
We'd always end up at Daytona. Hoffy and I had a massive rivalry going, trying to rub each other into the wall. Real Cole Trickle stuff. Rubbing's racing!
Barb was the mum of the house. She cooked for us, made sure bills were paid and everything else. Hoffy and I would help with the dishes, but Bill wasn't really into it. He was happy to eat dinner in front of the tele and pile his plates and cups around the couch. Out of sight, out of mind!
We were training long hours. Out early, back late. It seemed like a lot of responsibility at the time, but now that we're all in our mid-30s with families of our own, I can see that we didn't really have all that much to worry about at all. Just train hard and look out for each other.
There have been plenty of examples through the years of how we've propped one another up and one that comes to mind was the 2008 finals series. That was played under the old format – first versus eighth, second versus seventh and so on. We were minor premiers, but we lost on the bell to the Warriors in the first week of the finals. That meant forfeiting a home semi, the week off, all of it.
We played the Broncos at Suncorp the next week. Greg Inglis scored in the corner for us with about 20 seconds to go. I still reckon it's one of the best wins I've ever been involved in.
But there were some pretty heavy consequences from that game. Hoffy picked up a serious ankle injury and I was suspended for two weeks. If the boys were to progress to the grand final, which they did, we were both going to miss it. There were a lot of emotions, but we were aware that we still had to present ourselves in a positive way in front of our teammates. It wouldn't have been much good if we were sulking around the joint.
Hoffy would get his treatment and I would take part in training, albeit acting as an opposition player. We had different roles but we did the best we could to support each other through it. When the boys would have a meeting or a session where we weren't required, we'd take a few moments to check in on each other.
That care still exists to this day.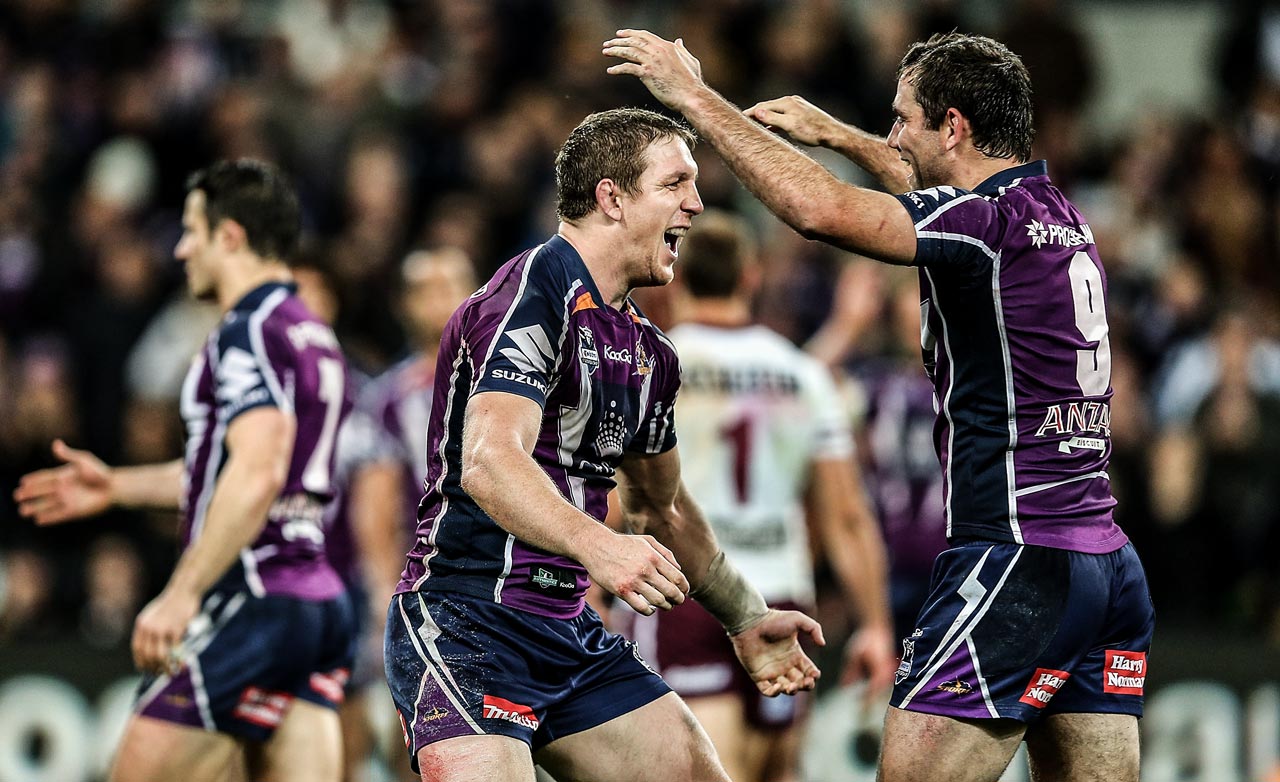 More about: Billy Slater | Cameron Smith | Greg Inglis | Melbourne Storm | New Zealand Warriors | Retirement | Ryan Hoffman | Super League