The four words driving us
I don't know if I'll ever experience another month quite like the one just gone.
It started with a tough NRL finals campaign and an emotional Grand Final win. Then there was the whirlwind week of functions and ceremonies and a party at Molly Meldrum's house. Then it was into World Cup camp, a quick warm-up in Fiji and a trip back home for the tournament opener against England on Friday.
Let's just say there's been a bit on!
Rugby league is quite unique. We play across three different tiers – club, Origin and Test footy – whereas in something like AFL, you can be the captain of your club and that's pretty much it.
Asking me which level of footy I prefer to captain is a very difficult question to answer. I enjoy captaining all three teams for subtly different reasons.
Being a premiership captain gives you great satisfaction because it's so bloody hard to win one. You play a long, hard season. Then you've got to be the best team over the last four weeks of the year. Then you have to win a Grand Final, which is pretty much ten months of work rolled into 80 minutes.
Leading Queensland and the Kangaroos fills you with a sense of pride because of all the people you're representing.
At Origin level, it's an entire state. With the Kangaroos, it's every Australian – all 25 million people. You feel that bond every time you pull that jersey on. At the end of a Test match, to lift a trophy on behalf of so many people is really humbling.
Captaining your country in a home World Cup has got to be up there with the greatest experiences an athlete can have. I'm privileged to be in that position this year.
I was lucky enough to captain a World Cup-winning squad in the UK and run out as captain in the Centenary Test – wearing the traditional maroon-and-sky-blue jersey at the Sydney Cricket Ground – but this year's tournament might just top the lot.
'WHAT DAY IS IT AGAIN?'
The week after the Grand Final was hectic, to put it mildly.
Saying goodbye to Cooper Cronk from the Storm and realising it was the last club game he, Billy Slater and I would play together was pretty emotional. No matter what Cooper decides to do from here, the Storm will always be grateful for everything he's given to the club. It was fitting that his last game with us was a Grand Final win.
Mad Monday is a lot different to what it used to be. We used to just find a pub and put the beers on for a few days. But this year we flew back from Sydney on Monday morning and went to a civic reception at Federation Square. That was massive. The boys loved it.
On Tuesday we had our end of season presentation night. Wednesday was our season review. On Thursday, the guys who were selected to play for Australia had a day trip to Sydney. And then on Friday we had a party at Molly's place.
You might be disappointed if you're expecting some wild stories from Molly's party. At the end of a week like that, everyone was stuffed! The music was good. He had all the No. 1 hits cranking. But we were all pretty tame. At times we were like, 'Hang on, what day is it again?'
Molly's a great fella. He's had the Storm logo painted on the fence in front of his house for years now and there are a few things written about some of the players and the coach. Craig Bellamy's on there. Billy and Cooper are all there, too.
My head switched into World Cup mode with the trip to Fiji for the warm-up match. Mal Meninga was great about it. He extended an invitation to all the players' partners and children to kick-off the tour.
It was nice to get together. A lot of the partners and kids met each other for the first time. Mal's big on an inclusive, family-friendly culture. He acknowledged that the World Cup is a tough period for partners and families. We're away for a month and a half. Fiji was an opportunity for everyone to get away, relax and enjoy each other's company. It was a nice way to get our campaign under way.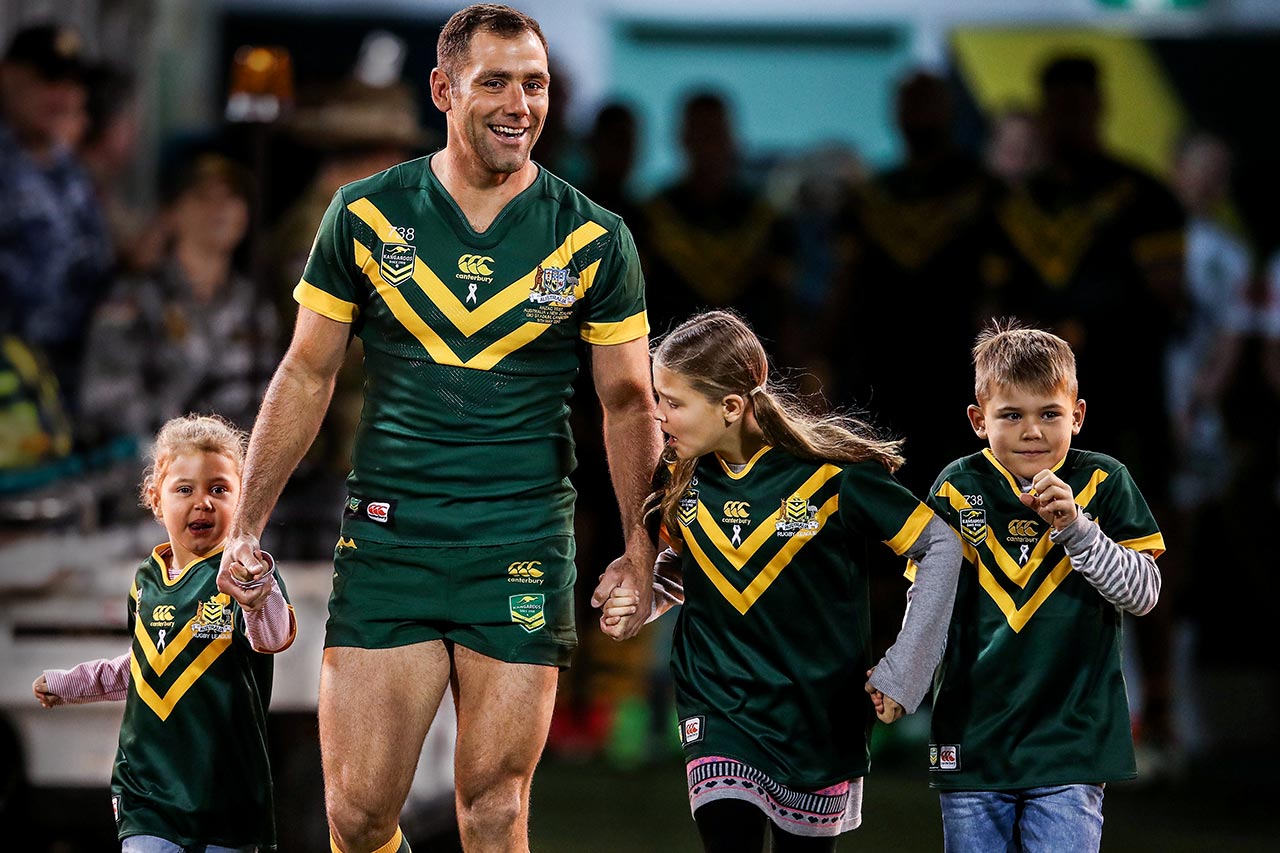 LEGENDS & ALL-IN BRAWLS
We were treated to a history lesson when we got back to Australia.
Mal invited one of the curators of the rugby league museum to talk to us about the great Kangaroos teams of the past and, in particular, Test matches we've played through the years against England and Great Britain.
Some of the stories surprised me. We were told about one Test match that featured a handful of all-in brawls, including a massive one after the fulltime siren!
We were shown images of past teams and players and told stories about the conditions they played in and the eight-week boat trips to get to England.
Mal is big on history and so am I. He talks to us about what people have accomplished in the Kangaroos jersey before us and the records and standards they set. He encourages us to uphold that and further enhance the Kangaroos brand.
With the Kangaroos, it's every Australian – all 25 million people. You feel that bond every time you pull that jersey on. At the end of a Test match, to lift a trophy on behalf of so many people is really humbling.
I love wearing the same jersey those past legends did. When I was a young fella, I would turn on the TV in the early hours of the morning and watch the likes of Mal and Ricky Stuart taking on Great Britain at Wembley or Old Trafford.
I loved those games. That's where the dream to represent the Kangaroos started.
A PLAYER ON THE ASCENT
If I had to name one player who has really stood out for me in camp so far, it'd be Jordan McLean.
It was no surprise to me when Mal named him in the 17 to play England. He looked outstanding in the warm-up game in Fiji and the back half of his season with the Storm – particularly through the finals series – was top notch.
Jordan is a resilient bloke. He's been through some tough times personally. He's handled those as well as he could with the support of his family and the Storm. 
Every time he turns up to training he works extremely hard. When he's on the field, he does everything asked of him by the coaches. He's a very respectful young man and he's willing to learn.
I was disappointed when it was confirmed he was leaving the Storm after this season. He improved out of sight over the last two seasons at Melbourne. He's going to have a wonderful time at the Cowboys, but I was hoping he could forge a long and rewarding career in Melbourne.
In any case, I'm really pleased for him. He's fully deserved the opportunity to play in a World Cup squad with the Kangaroos. I'm hoping he continues to work hard and gets opportunities over several games in this campaign.
He probably had a head start from some of the other new guys because he was part of our camp in Canberra before the Anzac Test. He knew about R.I.S.E., the mantra of ours.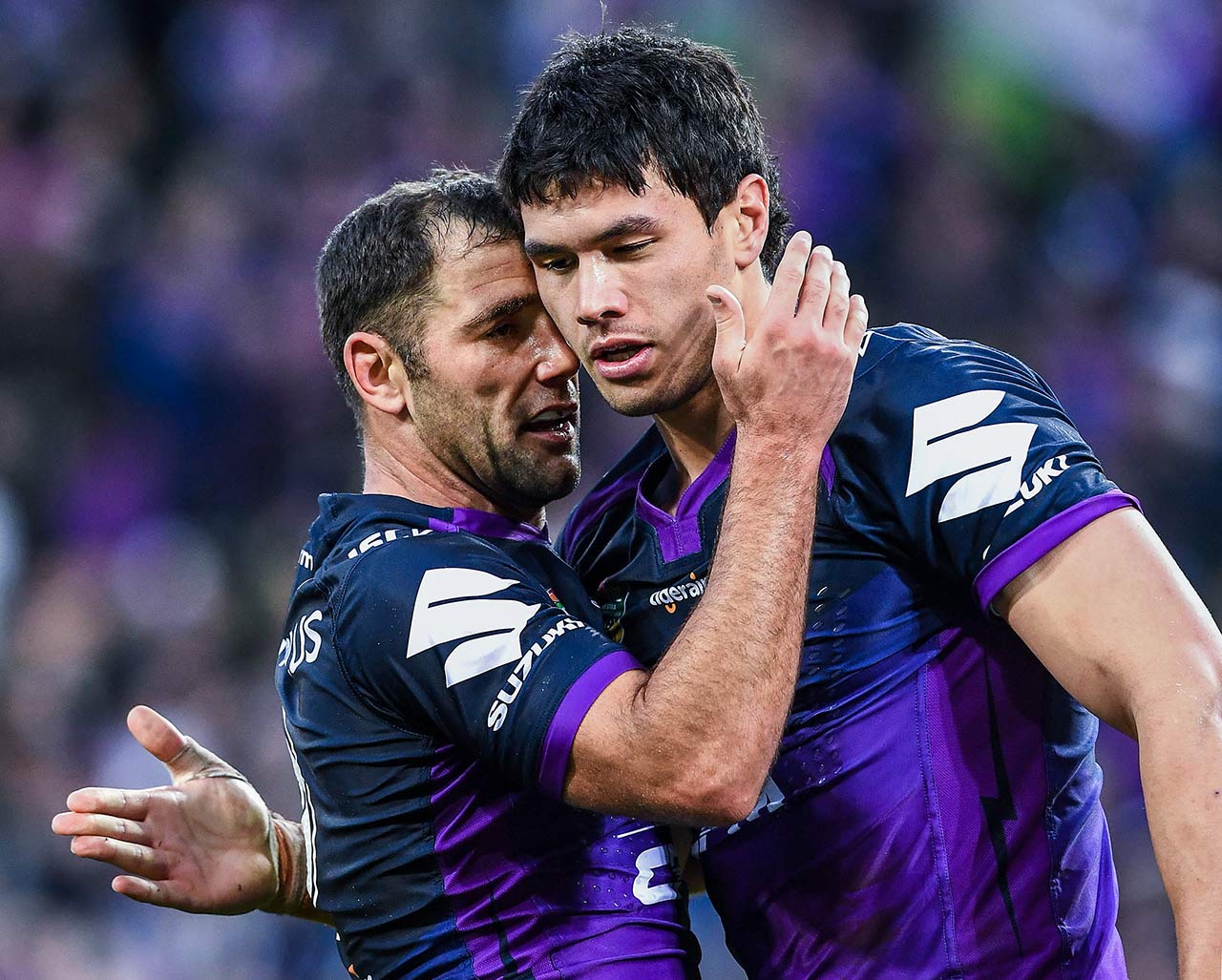 IT'S TIME TO R.I.S.E.
Respect. Inspire. Selfless. Excellence.
We came up with that motto as a playing group before the Anzac Test last year.  It wasn't Mal forcing it on us. It was our attempt to define what the Kangaroos jersey meant to us and an outline of how we wanted to live every day.
We want to show respect for ourselves, our families and the public. We want to inspire people around us. We want to be selfless in all our actions. And everything we do, we want to do it with excellence.
We spoke about this in quite some depth in this World Cup camp. Given we had a few new players to the squad, those discussions were particularly important.
We also spoke whether those four words were still relevant. We agreed they all were. We kept them. It's a good opportunity to keep promoting it through this World Cup.
It's a chance to show everyone what we're about.
We want to show respect for ourselves, our families and the public. We want to inspire people around us. We want to be selfless in all our actions. And everything we do, we want to do it with excellence.
There's no shortage of motivation when you're playing in a home World Cup. Losing the final to New Zealand here in 2008 will be in the back of a few people's minds. It still hurts a bit.
I'm also looking forward to hopefully play six more games with Billy and Cooper. I'm sure it'll sink in towards the end of the campaign, much like it did in the NRL finals. 
Hopefully we can make the most of it and everyone can enjoy watching the three of us three playing together for what might be the last time.
But the biggest motivation of all is lifting the trophy on behalf of all Australians, in front of all Australians. I don't reckon it gets much better than that.
More about: Anzac Day | Cameron Smith | International rugby league | Jordan McLean | Kangaroos | Melbourne Storm | Ricky Stuart | Rugby League World Cup | State of Origin