Expansion lessons we must learn
We would all assemble at Tullamarine before an interstate game, a bunch of big blokes in uniform.
People would be looking at us, tilting their heads a bit, trying to figure out who we were.
Then you'd get the tug on the sleeve.
'Excuse me, are you basketballers?'
'No, sir. We're the Melbourne Storm. We play rugby league.'
Those days – the 2003 and 2004 seasons in my case – are long gone now in Melbourne. Twenty years of on-field success and off-field educational and promotional work has turned once foreign territory into a new market for rugby league. That's been massive for the code, broadcasters and junior development.
I see similar opportunities over here in Perth.
We've been staying in Scarborough for the last four days ahead of our season opener against the Bulldogs, part of a big double-header to open the NRL season at the new Perth Stadium.
The appetite for rugby league here is huge. People know who we are, what we've done and are asking us all the right questions like, 'When's Billy back?' and 'Can you guys go back-to-back?' More than 40,000 tickets had been pre-sold as of Friday.
It's a lot further advanced than those early seasons at the Storm. That stands to reason. An NRL franchise in Western Australia wouldn't be starting from scratch. This is a city that was once home to the Western Reds in the old ARL competition. And, until a few months ago, it had the Western Force.
The withdrawal of the Force from Super Rugby makes the timing of these games particularly interesting. I've played about half a dozen games in Perth through the years, including a Test match against the Kiwis in 2016, but this is the first time we've done so with no Force.
It's a great time to talk about setting up an NRL team over here.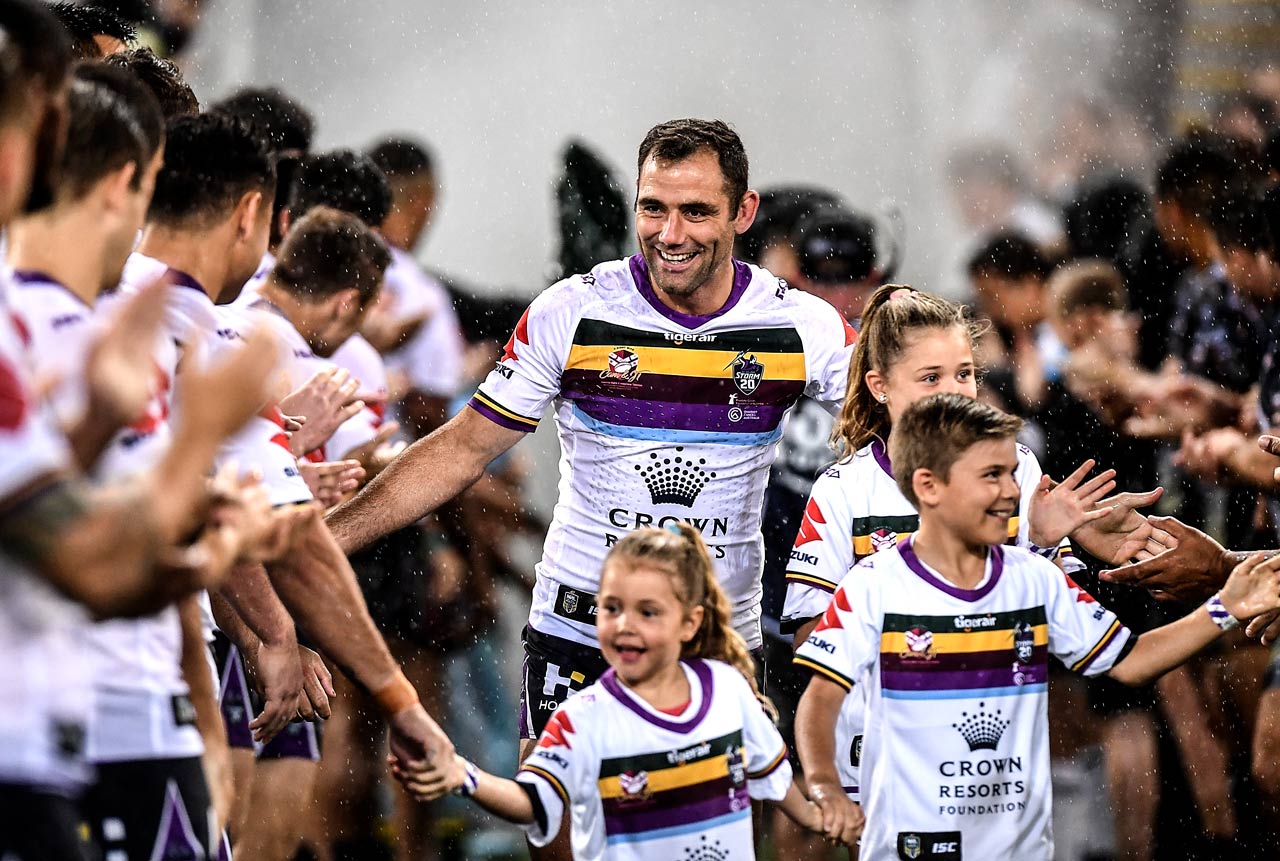 LESSONS FROM THE AFL
I remember the Western Reds well.
When they were wound up, players like Rodney Howe, Robbie Kearns and Matt Geyer found a home at the Storm. They experienced first-hand the affection the people of Perth had for league.
How could you not love a team with blokes like Mark Geyer and Brad Mackay running around?!
I remember watching their games on TV and it always looked from afar like they had a pretty decent, support base. Nothing I've experienced in the games I've played here since has changed that view. There's a genuine passion for the game out west.
If the league is to look at expanding out here again, there are a few lessons we need to take into account.
The first is to take a leaf out of the AFL's book. When they decided a decade ago to push the Gold Coast Suns and Greater Western Sydney Giants into south-east Queensland and the western suburbs of Sydney respectively, they did so knowing that it was a long-term project.
There was a vision, a strategic plan and a commitment to do everything in their power – from draft concessions to recruiting a strong front office and coaching team – to make those franchises work in their new territories.
It's a lot further advanced than those early seasons at the Storm. That stands to reason. An NRL franchise in Western Australia wouldn't be starting from scratch.
By contrast, I've spoken to John Ribot about those early days at the Storm after the ARL-Super League split ended. They were basically told, 'Right, there are a few new franchises launching and only the best ones will survive.'
There was no guarantee the Storm would even be around after 1998.
But Ribot and his team achieved incredible things. They made the finals in their first season and beat St George-Illawarra to win the grand final in their second. The Storm, rugby league and the city of Melbourne owe a tremendous debt of gratitude to John and the team he put together here.
You can see the difference here between this experience and that of the Suns and GWS. A move to Perth can't be a suck-it-and-see thing. It needs long-term planning, funding and an all-of-game commitment to making it work.
The second lesson the NRL would need to take on board would be to learn from the Storm experience. Starting a rugby league team in AFL heartland isn't easy. It takes years and years of winning on the field and work in the community.
You need an experienced coach and a few senior players to build a squad around. You need to win. And you need to commit to spreading the gospel – coaching clinics at schools, interviews … whatever it takes to grow the brand and leave an imprint on the city.
That's been achieved in Melbourne. We don't feel like we're outcasts or foreign to the city. Players like Cronk, Slater, Hoffman, Inglis, Chambers are all household names. We're not naïve enough to say Victoria isn't an AFL state, but we've been able to find a meaningful place for ourselves.
I don't see a reason why that success couldn't be replicated in Perth.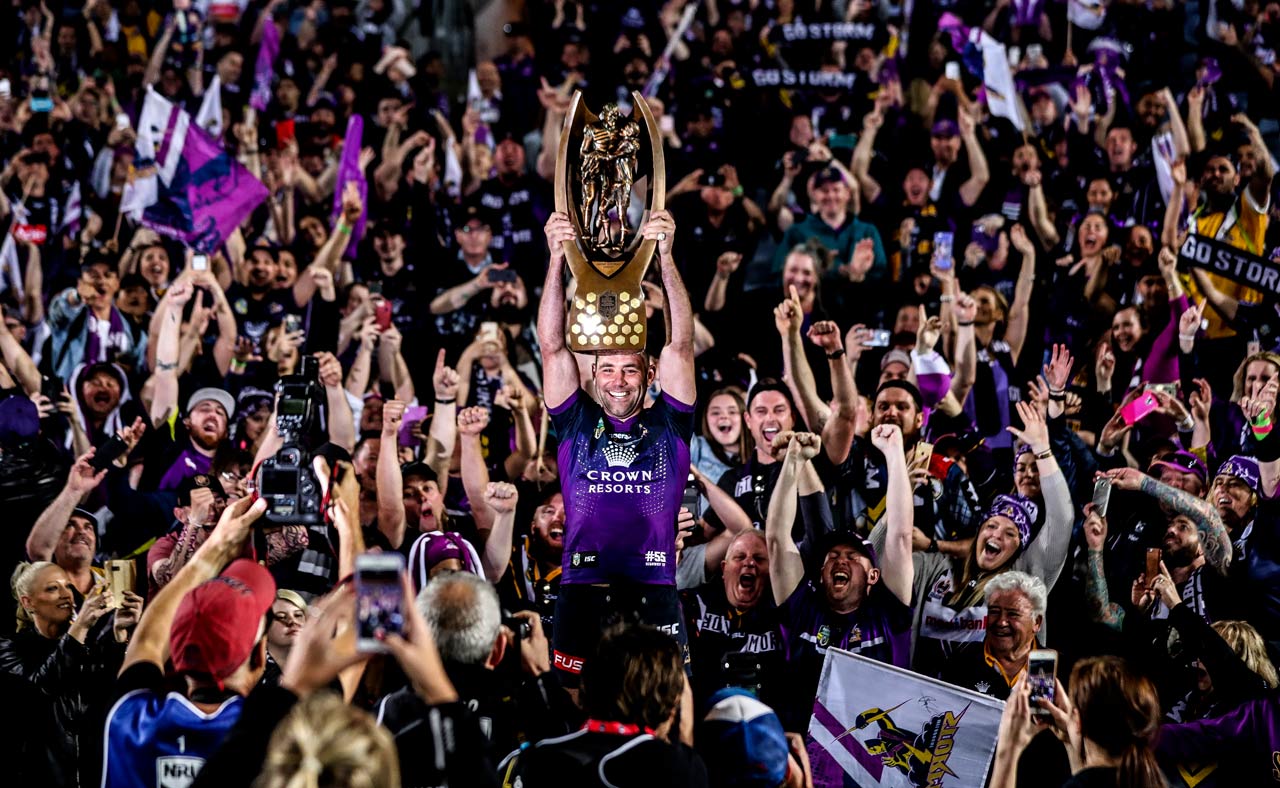 THE (LATEST) REBUILD
I'm excited by what 2018 has in store for us.
In my entire time at the club, I don't think I've ever seen such a young squad. Some of the guys in the squad are 18. I signed with the Storm in 2000, the year they were born! I was having a laugh about it with Ryan Hoffman the other day.
I'm confident we'll have another good year. This year will most definitely be harder than last year – being the reigning premiers always means you've got a target on your back – but I'm confident we've got the squad to be competitive in 2018. 
People have been talking a lot about the rebuild here but, really, it's like this every year.
We were runners-up in 2016 and lost four players – Kevin Proctor, Blake Green, Marika Koroibete and Ben Hampton from that grand final team. We were premiers in 2017 and lost Cooper Cronk, Tohu Harris, Jordan McLean and Slade Griffin from that grand final team.
It's an annual project. We've approached it like every other year. Of course, it's a little bit different given the calibre of the players we've lost, but the challenge of fitting new pieces into the existing ones has been a constant in all my seasons at the Storm.
Some of the guys in the squad are 18. I signed with the Storm in 2000, the year they were born! I was having a laugh about it with Ryan Hoffman the other day.
I like what I'm seeing around the club. I reckon Jahrome Hughes will have a big year. He played a couple of games for us last season and picked up an injury in the testimonial game. He'll make an impact when he's back in a few weeks.
And I think we'll get a chance to see Billy Walters in action this season.
He's the son of Kevvie and he's really impressed the coaching staff with his effort at training, his resilience and the hard work he's put in throughout the pre-season. He's been asked to train at several different positions in the off-season and hasn't whinged about it. He's just gone in and worked hard.
There might be the second generation of Walters in first grade in 2018.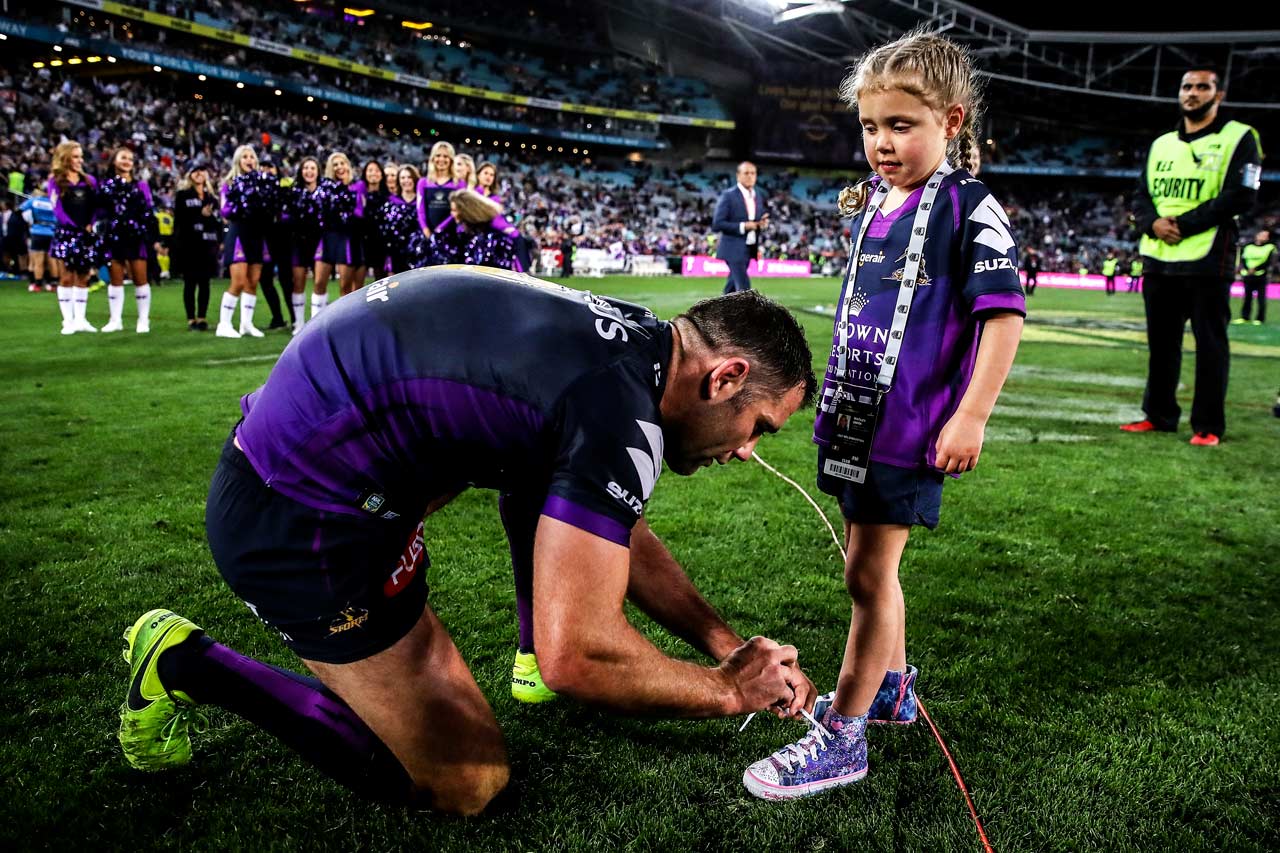 BRODIE CROFT & THE SPINE
I'm also looking forward to putting our new spine into action.
It certainly helps that Brodie Croft played a handful of games with us last year. He's not new to the club. He understands our systems. He's been training with the Storm now for nearly two years.
I would love the transition from Cooper to Brodie to be seamless but, in reality, that won't be the case. When Cooper first started at halfback in our team, we made mistakes as a spine. It took a little while to get that understanding of each other.
We're hopeful that over the first six rounds of the season we can nut those out and, by the time we enter the second quarter of the season, we'll be playing really well as a spine.
Brodie's application to his training and efforts to get the very best out of himself has been great. I've been genuinely impressed with the work he's put in. He's a good student. He's willing to learn and take on advice.
It's an ongoing process each session. We run our drills, we'll stop and have a chat. We'll talk about the way the team performed at training, his thoughts on certain things we did on the field.
It's been a different pre-season for me. I've only been back for five weeks on account of the World Cup. But I'm encouraged by what I've seen and the way the young kids have applied themselves to what Craig and the other coaches have asked them to do.
The biggest thing for them now is to go out each week – whether they're playing first grade or heading back to Queensland to play the Intrust Super Cup – and build consistency in their game.
That's the first thing Craig looks for in his players. That's what this club is built on.
More about: Cameron Smith | Cooper Cronk | Melbourne Storm