Ambulance ride that changed Coops
I didn't grow up far from Coops. He was a 20-minute drive away but we didn't know each other before we joined up at Norths Devils, the Storm's feeder side, as 17-year-olds, when we were both signed into the Storm system as junior players.
I later found out Cooper played a season against me in under-11s – him with Souths Acacia Ridge and me with Logan Brothers.
Apart from that, we hadn't really come across each other. Cooper played most of his junior footy in rugby union rather than league. But once we became teammates at Norths, in their under-19 Colts team, we spent a lot of time together.
 I had a job at Logan and had bought my first car – an old Kingswood – and he didn't have his licence.  We'd just finished year 12, the end of 2000, into 2001.
We trained four days a week and, on those days, he'd catch a train to a local station near me and on the way to training on the north side. I'd come in to pick him up, we'd drive over to Bishop Park and then after training I'd drop him home before heading to my house.
We had some fun times in the Kingswood. Some scary ones too. It wasn't in the greatest shape when I first bought it and those huge Brisbane storms tested it out. The freeway would get wet in a hurry, we'd hit a few puddles, the Kingswood sliding this way and that. There were a few nervous moments where we saw our lives pass before our eyes.
There was no fancy CD player in the car so we'd listen to the local rock and roll station. Just typical young blokes, listening to music, talking about footy – what had been going on in the NRL, our game on the weekend. It wasn't all about footy – we spoke about a whole range of things.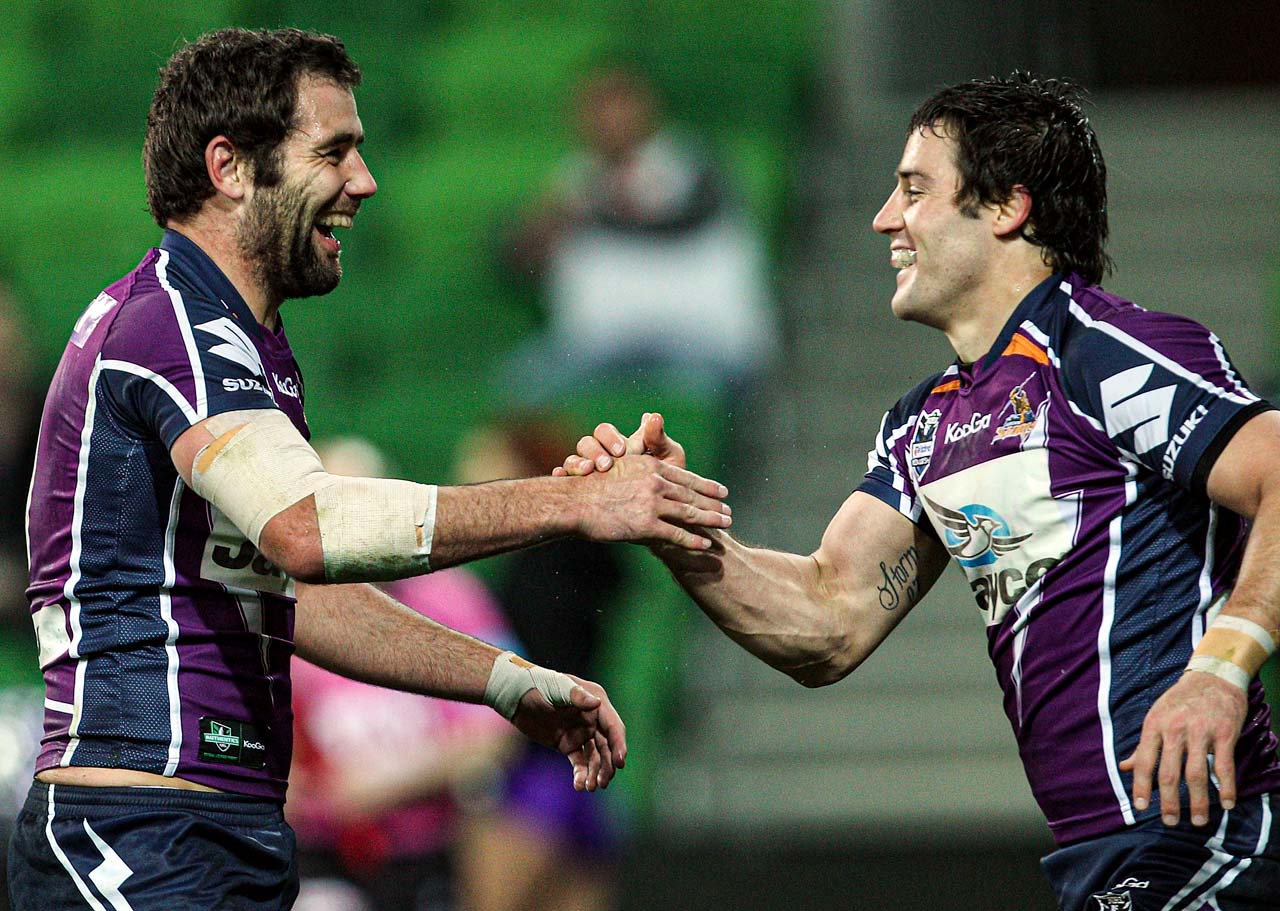 Dreams would have been a part of it. We were two young blokes looking for an opportunity to play first-grade footy, although we had no idea of what was to come down the track.
To get an opportunity to play NRL with Melbourne Storm, to play Origin together, to play for Australia together and achieve some pretty special things together … that wasn't really on the radar for us.
We had plenty of ambition and I'm sure we recognised we had a really good opportunity as 17-year-olds in the NRL system. Play well on the weekends and, if we did that, we'd give ourselves a really good chance of getting into first grade.
We had a lot of fun times in those early days at Norths Devils. As the under-19s we would play the earliest game, then hang around to watch reserve grade, then the Queensland Cup. You look back now and consider them special moments, being young kids with aspirations to play one first-grade game. To look at what we've achieved since is pretty cool.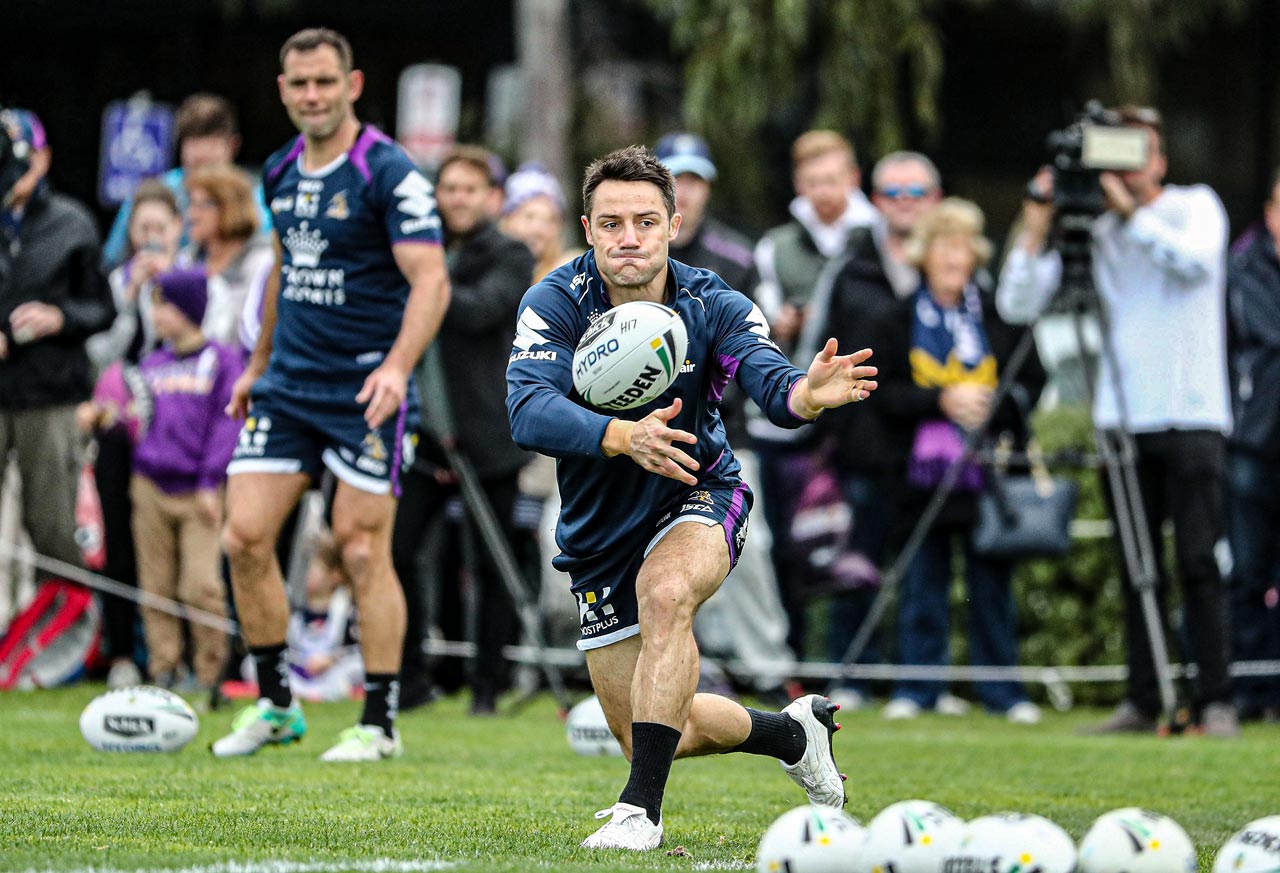 WE DID WHAT WAS BEST FOR THE TEAM
I don't recall us being spoken about as this outstanding group of three junior players – Coops, Billy Slater and me – at all. Maybe internally in the Melbourne Storm system they were talking about it and had an eye on us making it down there.
But we joined a group of kids from NSW and Queensland that were extremely talented juniors and they came with more credentials than what we did in terms of junior representation, but things just clicked for the three us on the field.
There was never a rivalry between us even though we got our chances at different times.
Whatever was best for the team, we went and did that. That's maybe why the three of us were able to achieve that, we had a team-first perspective from the early days.
HIS FITNESS LEVELS WERE RIDICULOUS
The first time Cooper came down for pre-season training he just missed out on the fulltime squad. Craig Bellamy had two spots open on the roster – Billy got one and Dallas Johnson got the other.
I have a memory of him in that pre-season that's funny but also tells you a lot about Coops' character.
It was a very solid session and I remember him falling over, not moving, as we continued the drill. Craig Bellamy went over and told him he was being soft and to get up.
But it wasn't long after that an an ambulance turned up and took him to hospital. He ended up having a minor health issue that caused him to keel over.
Thankfully it wasn't serious, but affected him in that moment.
Looking back, that is a Bellamy story of sorts as well. It paints a picture of his approach to his coaching in the early days: "Get up, stop being soft".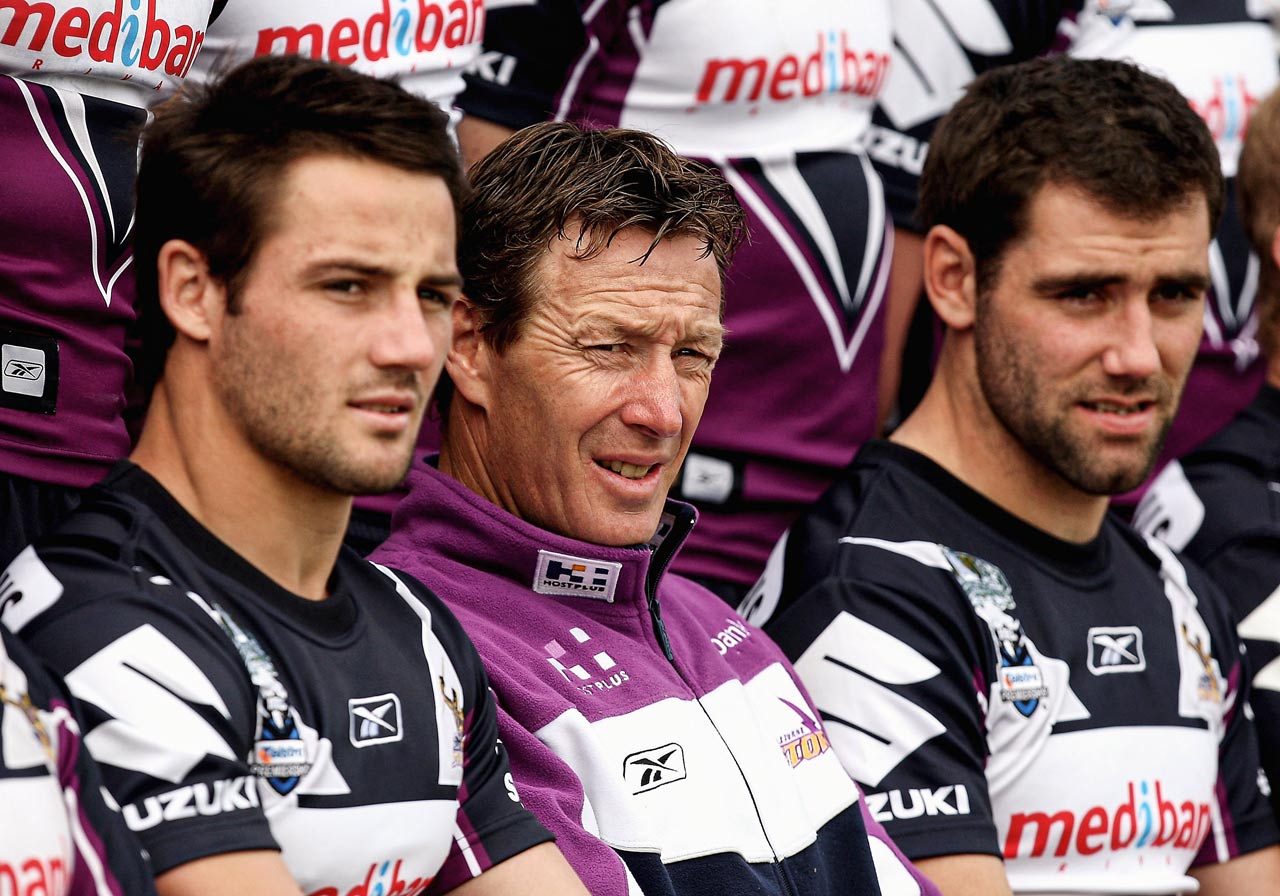 Back in those early pre-seasons, Coops was never the fittest bloke or the one leading the runs. But from that moment where he couldn't complete that session, which took him a little to come back from, he went away and thought: 'I need to look after myself better and get myself right if I want to be an elite athlete'.
Sure enough, he came back the next pre-season and he was running rings around everyone. His fitness levels were ridiculous.
Because of the shape he was in, how fit he was and the way he looked after his body, his game soon went to the next level. From that day, things changed. He never turned up underdone and was fit and ready to go day one.
More about: Billy Slater | Cameron Smith | Cooper Cronk | Craig Bellamy | Melbourne Storm | NSW Blues | Queensland Maroons | Retirement | State of Origin